A newly formed national network seeks to give rural women the confidence and knowledge to exert greater influence in their communities, including in local government.
By JARED DOWNING | FRONTIER
Daw Nyou Nyou San knows how to be self-reliant. When her husband died, she took over the management of their farm in northern Shan State, tending plots of corn, sugar and rice on her own. It was tough, but so is Nyou Nyou San.
But when she became the victim of a sexual assault four years ago, she was powerless to act. Her assailant came from a family with wealth and influence, she said, and the police recommended she drop the matter, go back to her tiny farm and try to put it all behind her.
Four years later, Nyou Nyou San works for women's rights as a member of May Doe Kabar. Roughly translated as "Women's World", May Doe Kabar is a resource and advocacy group supported by the United Nations Development Programme that acts as the voice of the women in the background of Myanmar society. May Doe Kabar's network of about 20,000 women are hidden away in fields and village tracts and left to the mercy of ambivalent administrations, abusive husbands or, in Nyou Nyou San's case, the soil, the sun and the rain.
May Doe Kabar, which gained recognition last month as a national civil society organisation, was created by rural women, for rural women. It grew slowly, farm by farm and village by village, through self-reliant groups (SRGs), small cooperatives that offer education, support and resources such as microfinance loans to their members.
Ms Allison Moore is a program specialist for the UNDP, which has long provided funding and assistance for women's networks in Myanmar. There are some national level networks for women, such as the Myanmar Women's Affairs Federation, but they are mainly urban-based, she said.
"They aren't really representative of the grassroots," Moore said. "[May Doe Kabar] is a national network that is truly focused on rural women."
Last October, UNDP helped to arrange a meeting of representatives from all 31 township-level SRGs to establish a political structure for May Doe Kabar and elect a board of directors. The board includes members of various ethnic and cultural backgrounds. Several emerged from lives of poverty and marginalisation to become 10 and 100 household leaders in their communities, and some aspire to becoming village-tract administrators — a position that has historically been dominated by men.
Last month, board members left their farms and families to travel to Yangon and meet young, tech-savvy volunteers to work on one of May Doe Kabar's first projects: the iWoman smartphone app.
The app will be a simple, accessible tool for rural women to ask questions and share information and their own stories. It has a simple, low-bandwidth design and the latest version will be downloadable and shareable via Bluetooth.
In other words, it is being made for people who typically turn to each other, rather than Google or Facebook, for advice and information.
"It is a source of information they can trust, about violence against women, civil rights, information that has not trickled down to the village level, " said Moore. "It is a network of people that have a common interest in overcoming poverty, in equality."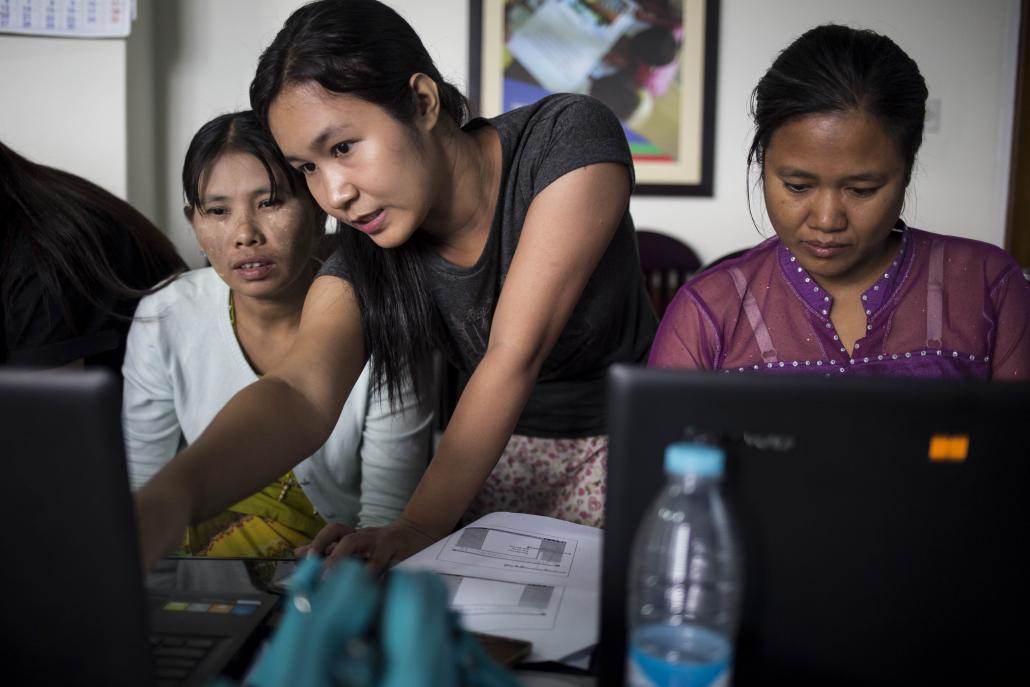 Daw Yaw Paing, a smallholder farmer from southern Chin State who sits on the board with Nyou Nyou San, wants the network to become a channel that connects the upper echelons of government with people like her at the grassroots.
"As I am from a rural area, I know about the life of rural people and local culture. Most rural people are poor, so they don't have that opportunity to be heard."
Myanmar is moving forward quickly, Yaw Paing continued, but action is needed on women's rights. "You cannot have equal rights, but only consider the rights of men," she said. "If you want equality, women must be in their rightful place in society."
As May Doe Kabar looks toward Nay Pyi Taw, where it wants to influence policy-makers, its township-level member groups will continue to take an active role in local politics. Yaw Paing said the administration of rural townships had basically relegated women to the authority of their husbands and families, but her network was beginning to change the narrative. Poor women are speaking up in township meetings, she said, and local leaders had been relatively receptive and tolerant about their interventions in an historically male-dominated civil society.
Nevertheless, the emergence of the network has shaken the administrative establishment.
Nyou Nyou San said when her local SRGs became active at the township level they placed a sign reading "township office" outside their meeting venue.
"But some of the administrators said, 'What is this sign? You're not the township office! We're the township office!'" she said.
Another challenge runs deeper than politics and prejudice. Yaw Paing said her Chin culture and the cultures of other ethnic groups can be permeated by inequality.
"Most Chin girls do not have education," she said. "Most parents do not want to send their daughters to school because people assume they will find a husband and follow him. They don't pay much attention to things like equality or rights."
Yet women do not need to abandon their culture to find respect and equality, Yaw Paing argued. Sometimes a basic education can be enough to dramatically improve their standing and influence.
Nyou Nyou San said her township-level group hosts seminars and workshops on topics such as sexual and reproductive health, microfinance and financial literacy, technology and internet use and – most relevant to her – gender-based violence.
Nyou Nyou San said she has great expectations for May Doe Kabar. "I hope in five or 10 years more and more women will become leaders, not only in their communities but at the national level. And I also hope it will come to be recognised not only in my own country, but around the world."
Top photo: May Doe Kabar members pose for a photo at the official launch of the network in Yangon on October 15, 2015. (May Co Naing)