In Rakhine State mothers are busting village myths and food taboos that have perpetuated stunting for generations.
By JENNIFER MACINTYRE | TAT LAN
Daw Ma Ma Aye is one of 70 mothers in remote Pon Nar Gyi village in Pauktaw Township who are courageously challenging nutrition beliefs held by village elders. She is proud that she took the risk and fed her baby immediately after birth.
Mg Htet Lin Soe is her fifth baby and the first to drink her colostrum. Known as "first milk", colostrum is highly nutritious and rich in antibodies to protect newborns from disease. But in many isolated, rural villages, babies miss out on colostrum because elders fear they will get diarrhoea and die if they drink it.
"Previously, I squeezed my colostrum out until the milk came in – then I was allowed to feed my baby," says Ma Ma Aye, who followed her grandmother's instructions and fed her first four babies sugar, water and milk powder in the three days after birth.
In Rakhine State, it is food myths like this that perpetuate stunting, which is caused by a chronic lack of nutritious food.
Another widely held belief is that for the first month after birth, mothers should only ingest sugary water, rice and salt because other foods might make them sick. For four months they must avoid fish and meat, which elders predict will cause an immune response and make mothers ache. Pumpkin is believed to cause mental health problems in new mothers. Babies are traditionally fed chewed rice and breast milk from one month until their first birthday, as village seniors fear infants will choke if they eat anything else.
They were myths that Ma Ma Aye abided by until she joined a village mother-to-mother support group, where she learned about nutrition and infant care for the first 1,000 days of life.
"This time I knew about good nutrition for my baby. I fed him colostrum and exclusively breastfed him until he was six months," she says.
Stunting begins in the womb
Each remote village has their own pregnancy taboos. Ma Ma Aye was told sticky rice would make the placenta stick inside her uterus, fish with scales would infect her baby with leprosy, and a fish known as nga zin yine would affect her baby's vision. Tragically, these myths deny mothers and young children the essential nutrients they need for physical growth and brain development, both during pregnancy and after birth.
Rakhine State's high child mortality was revealed in the 2014 census, which found that out of every 1,000 live births, 75 children died before their fifth birthday. UNICEF, the United Nations Children's Emergency Fund, attributes 45 percent of child deaths in Myanmar to malnutrition.
When the nutrition data of the Tat Lan baseline assessment was re-analysed in 2015, it revealed that four children out of every 10 under five years of age are stunted. They are short for their age, chronically malnourished, often prone to illness, and may have a reduced capacity to think and remember information, which can delay their mental development. Tat Lan's goal is to reduce hunger by increasing food security and improving nutrition.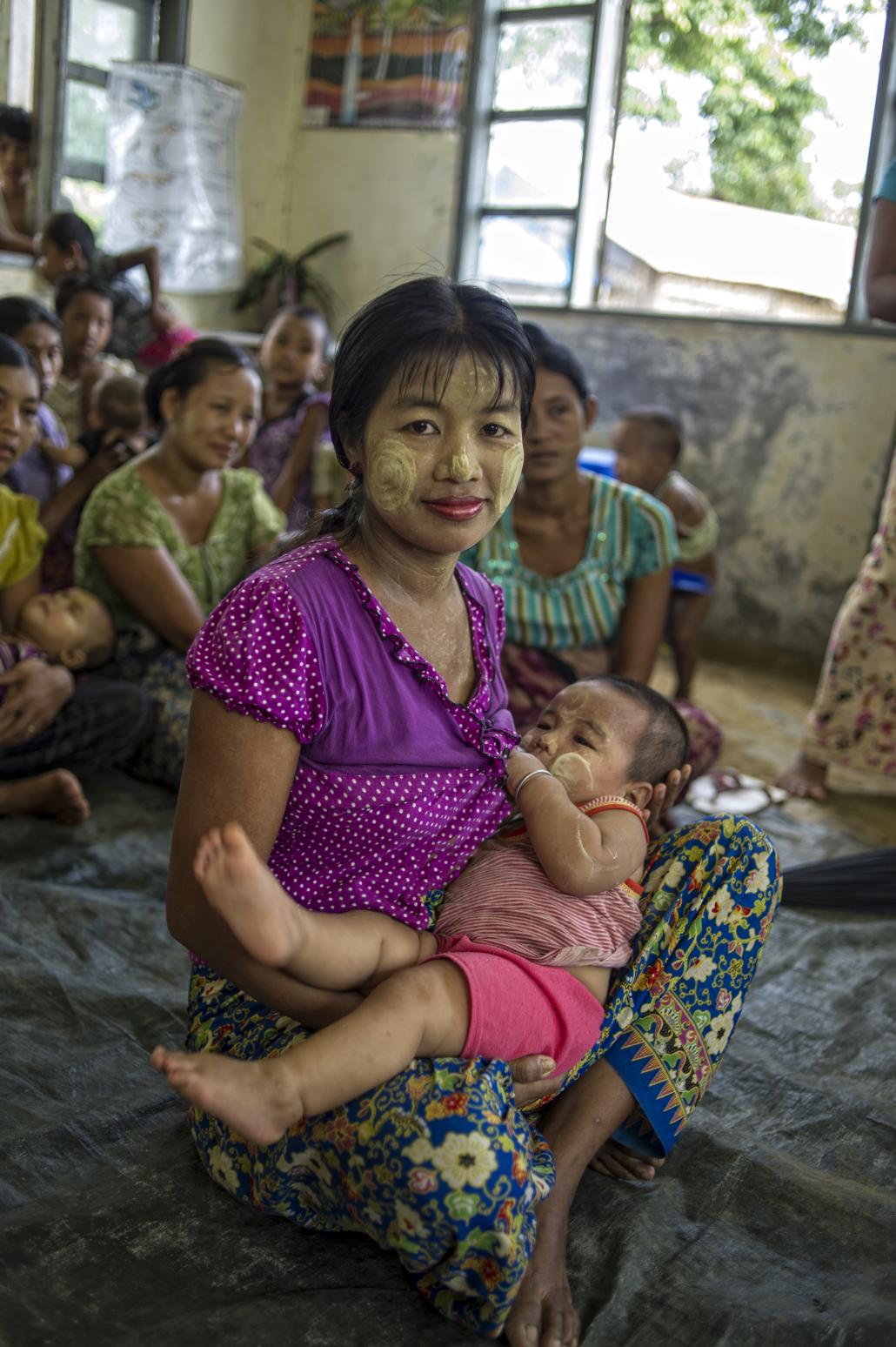 Accordingly, 205 mother-to-mother support groups (MtMSGs) in 140 Tat Lan programme villages teach approximately 5,000 mothers, fathers and village elders the importance of good nutrition, safe drinking water, hygiene and immunisation for the new generation. This knowledge is also shared in Tat Lan infrastructure, agriculture, fishery and livelihood trainings.
Mothers attending the nutrition behaviour change programmes in the MtMSGs also receive monthly cash payments of K13,000 (about US$10) for the first 1,000 days of their baby's life – from conception until their second birthday. This money assists them to exclusively breastfeed their babies and to afford nutritious food.
Evidence of change
Stunting is not just an issue in Rakhine State; it affects children across the country. The success of the Tat Lan programme prompted the Livelihoods and Food Security Trust Fund, LIFT, to introduce similar nutrition programmes in the Central Dry Zone, the Ayeyarwady Delta and Chin State. Ms Jo Raisin, chair of the LIFT Board, says the expansion was necessary to reduce stunting in children in Myanmar.
"When children receive good nutrition in the first 1,000 days of their lives they are 10 times less likely to die of childhood disease and [they] complete more grades at school," says Raisin, who represents the UK's Department for International Development (DFID) on the LIFT Board. "In Rakhine State villages where Tat Lan is providing cash transfers and nutrition behaviour change programmes to improve the diets and health of mothers and their children, there has been a 5.1 percent reduction in stunting among children under two years of age."
Little Htet Lin Soe is already evidence of this. "He is taller and healthier than his brothers and sisters at his age, and he talked and walked earlier," says Ma Ma Aye, whose own health was also better after his birth. "I ate everything, even sticky rice and meat, with no problems to my baby's health. After the birth I ate rice and fish curry and felt much stronger than I did after my other babies."
It takes courage for mothers to face the fear and anxiety of elders who have often seen their own children die of diarrhoea. To establish new health beliefs, mothers need to trust each other, their midwives, and nutrition educators, who discuss the importance of good infant nutrition with the entire community when they pay out the maternal cash transfers.
In Lwan U village, Ma Than Than Win, 32, uses her cash transfer to buy nutritious food and pay for travel to the midwife. Like Ma Ma Aye, she avoided meat and fish when her five-year-old was born and she fed her baby rice from the first month of age.
"Now, I know new ways and my baby boy eagerly wants food," Than Than Win says. "He is more developed than my daughter at this age and he does not get sick. My previous child was cared for like a flower, but Mg Hein Pyae Sone is as strong as stone."
The Tat Lan programme is building resilience in 259 vulnerable Rakhine State villages through an integrated programme aimed at improving food security, livelihoods, water, sanitation, nutrition, community participation and governance. The programme is funded by the Livelihoods and Food Security Trust Fund (LIFT).