The ouster of Nay Pyi Taw Football Club from the Myanmar National League over unpaid players is another problem for efforts to promote the sport, especially among the young.
By HTUN KHAING | FRONTIER
AFTER LOSING its home ground and refusing to pay its players, Nay Pyi Taw Football Club has suffered the final indignity of being expelled from the Myanmar National League.
The departure of the team is a major setback for the MNL, coming after Monywa-based Zeyar Shwe Myay FC, representing Sagaing Region, withdrew at the end of the 2016 season, and Manaw Myay, representing Kachin State, was disbanded.
A statement released by the Myanmar Football Federation on September 13 said Nay Pyi Taw FC had not paid its players since April.
The players boycotted matches in early September and Nay Pyi Taw FC was expelled from the league at an emergency committee meeting on September 12.
The club, which had been experiencing financial difficulties for years, was established in 2010, one year after the launch of the professional competition. The club was chaired Dr Phyo Ko Ko Tint San, whose father, U Tint San, served in the Thein Sein government as sports minister, and earlier, as minister for hotels and tourism.
The club initially took Paung Laung Stadium at Pyinmana for its home ground but was ejected after a successful campaign by local residents.
"Paung Laung Stadium was not built by a government; it was built in 1973 by the people of Pyinmana with their own money," U Ohn Lwin, a member of a committee formed to regain public control over the stadium, told Frontier in September last year.
The campaign forced Nay Pyi Taw FC to hire the capital's multi-purpose Wunna Theikdi Stadium – built for the 2013 Southeast Asian Games – as its home ground.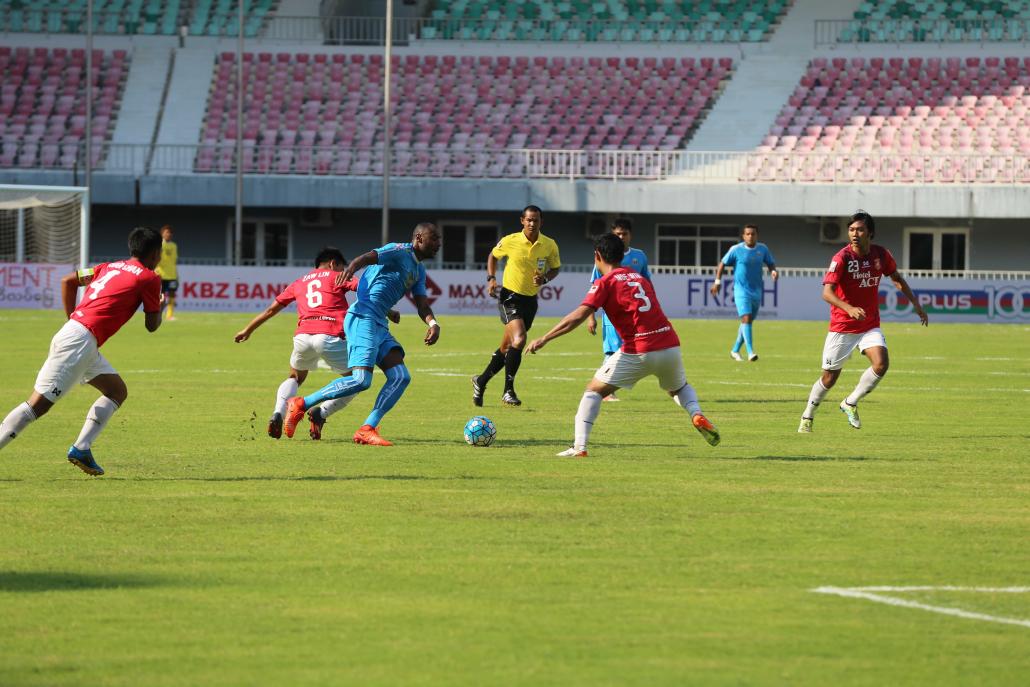 With Nay Pyi Taw FC's owner refusing to pay salaries owed to its players, the MNL agreed at the September 12 meeting to negotiate a settlement that would be paid out of the league's budget.
Initially it offered to cover three of the months for which they were owed. Although players in the club's under-21 and under-19 teams agreed to the reduced amount, senior or selected players, most of whom earned K400,000 to K500,000 a month, insisted on being paid for the full five months. However, they eventually relented and agreed to accept four months' pay. As of September 25, it had not yet been handed over.
The players have been sworn to secrecy about the payouts and declined to discuss amounts when approached by Frontier.
They said they did not want to risk any delay in receiving their payouts or to their future as players by speaking out. Frontier also sought comment from club officials and the MFF.
Despite receiving most of what they were owed, many of the club's players are still facing financial difficulties. They cannot move to other clubs because the transfer window has ended.
U Kyaw Min Htoo, the coach of Nay Pyi Taw FC, said it was uncertain whether the players would be recruited by other clubs when the next transfer window opens.
The situation was disappointing for young players, some of whom had left school to pursue a career in football, he said.
"If there is no future in a career in football, they will have to do something else," Kyaw Min Htoo said. "Opportunities for a career in football may become scarce."
TOP PHOTO: Myanmar National League