Increased rents and advanced technology have made life difficult for publishers in the commercial capital, but a new "Book Street" could inspire more people to read, vendors say.
By ZON PANN PWINT | FRONTIER
THE RECENT initiative by the regional government to move most street vendors to a new night market near the Yangon River may be facing teething problems, but similar plans to move the city's booksellers to a new site in the commercial capital has so far been met with a largely positive response.
For decades, booksellers peddling their wares along Pansodan Street have formed an important part of the city's fabric, but last year authorities forced them to move as part of plans to clear the increasingly cluttered pavements. On January 7, a new home was found for them at the "Yangon Book Street", located on the corner of Thein Phyu and Anawrahta streets, next to the historic Secretariat and Central Press buildings.
"Life was hard when rules for street vendors were imposed," said U Tin Myint, who spent 40 years selling books on Pansodan Street before being moved on last year by authorities. "I have moved my shop several times in the past, but now we have an official book street and can sell books without any problems," he told Frontier.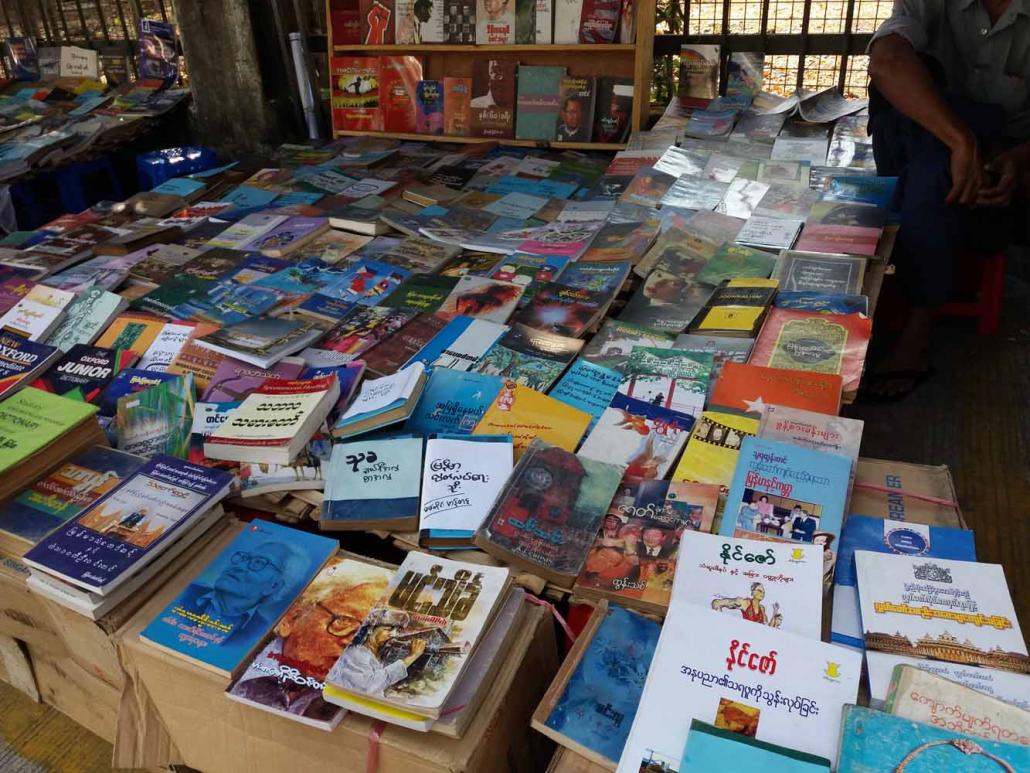 The new Book Street was established as a result of a joint effort made by book publishers and the Minister for Information U Pe Myint, a writer who is passionate about the development of literature.
Open only on weekends, the new market is home to more than 100 publishers and book vendors who sell their products on tables lined up along the street. Each space of eight feet by eight feet can be rented for K6,000 a day and the market will be held each weekend for six months of the year, during the dry season, which typically runs from November to April.
As the country has undergone economic and political reforms in recent years, survival has not been easy for booksellers. Increased rents have put a serious strain on bookshop owners, especially in the downtown area. A number of bookstores have closed in recent years, for example Amay Eain Bookshop on Pansodan Street, which shuttered its doors in March 2015.
Improved internet connectivity has added to the difficulties, with a growing number people more likely to be engrossed in their mobile phone than wanting to pick up a book.
But the new market could inspire a new generation of readers, vendors say.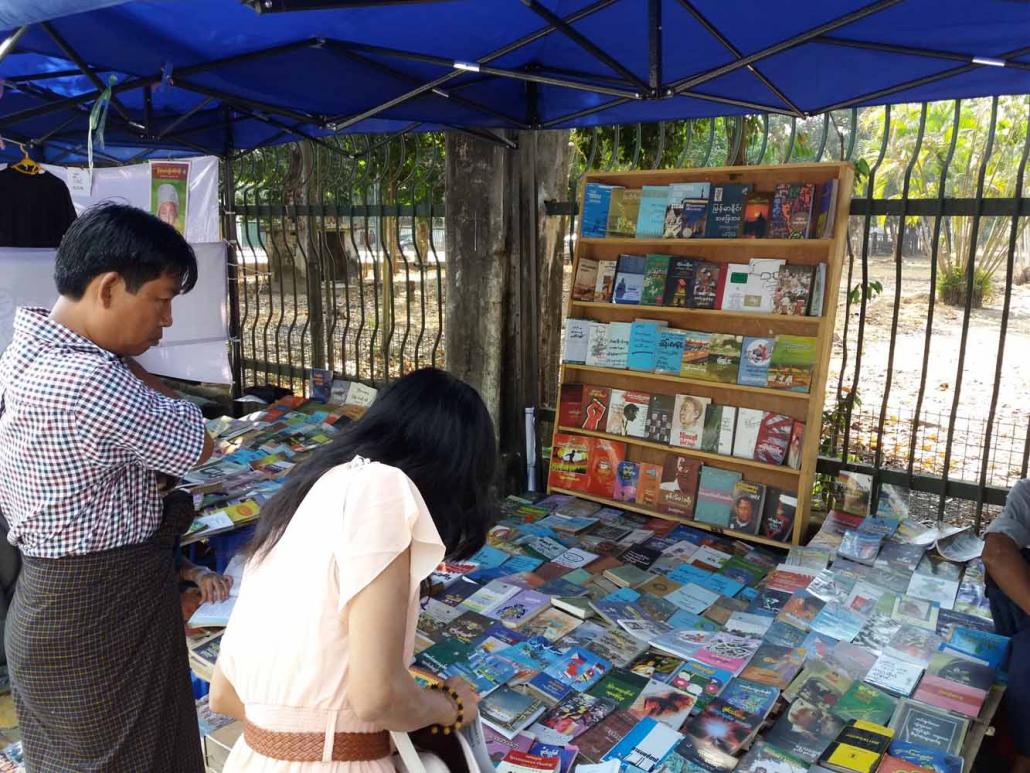 "The display of books outside the Secretariat Office really awakened the curiosity of passers-by," said Tin Myint. "Yangon Book Street could inspire more people to read," he added.
The new market is the first official "Book Street" in Yangon. The previous location, on Pansodan Street, was not officially endorsed by the government and vendors would regularly be hounded by irate residents if they were blocking building entrances.
"There is a book street in Ho Chi Minh in Vietnam and the Paju Book City in Seoul [South Korea], and that inspired us to open an official book street of our own in Yangon," said U Myo Aung, vice chairman of the Myanmar Publishers and Distributors Association and the owner of Green Bookstore in Botahtaung Township.  
"We were surprised by the crowds on the first day," said Myo Aung. "One visitor comes back and buys a new book each week."
The market is inspiring a new generation of young readers too, said Daw Swe Swe Win, owner of Manisandar Sarpae, which distributes illustrated books for children.
Ma Thwe Thwe Myo Nyunt, owner of the well-known Inya Publishing House, believes that the new market could help Yangon's booksellers stay afloat in an increasingly difficult environment.
"As a publisher, I have been waiting for this kind of street for a long time. Over the past few years, some bookstores in the downtown shut down as a result of high rent. It is hard to distribute books to more readers when there are not many bookstores in Yangon. Yangon Book Street helps our books reach more readers," she said.
When the market first opened, Thwe Thwe Myo Nyunt said she was surprised by how many customers came along early in the morning to browse through the vast collection of books on display.
"A bookshop is not like a restaurant. If a restaurant is known for having the best food, people will hunt for it no matter how far it is," she said.
"I hope Yangon Book Street will be a venue for writers and readers in future."