A Myanmar scientist and his team are working to arm the healthcare system with a cutting-edge tech that can target TB outbreaks before they even start.
By JARED DOWNING | FRONTIER
AS HE WORKS to stamp out tuberculosis in Myanmar, Dr Htin Lin Aung turns to Nelson Mandela for inspiration.
The South African anti-Apartheid leader suffered from the disease while in prison. Later, he said famously, "We have known how to cure TB for 50 years. What we have lacked is the will and the resources to quickly diagnose people with TB and get them the treatment they need."
For Htin Lin Aung, a Myanmar infectious disease scientist based at the University of Otago in New Zealand, Mandela's words have never been truer for Myanmar.
First, because TB still plagues the country: It has a prevalence rate three times higher than the global average, according to the World Health Organisation, and is breeding new strains that resist the strongest drugs. 
But second, because the disease has never been more treatable, thanks to an approach based on cutting-edge technology that has the power to tackle TB outbreaks before they spread.
The technology, called whole genome sequencing, or simply WGS, allows scientists to insert pathogens into a machine and map their entire DNA strands in only a few days.
"In layman's terms, we are combatting tuberculosis on the frontline using next-generation sequencing as a molecular weapon," Htin Lin Aung said.
This is a world apart from how the disease is treated at present. Myanmar's healthcare professionals rely on the weeks-long process of growing TB cultures, testing them for generic drug resistance and then treating patients with a sort of carpet bomb regimen of various medicines in the hopes that some of them, at least, will work. 
Htin Lin Aung calls this method the "one-size fits all approach". It is sloppy and imprecise, and while it may be effective in the short run, it does relatively little to help researchers understand and fight the spread of drug-resistant TB strains.
If the "one-size fits all approach" is carpet bombing, WGS is a surgical commando strike. It analyses the DNA of the bacterium to determine its precise characteristics on a genetic level.
The technology seems like it should be in a sci-fi movie, not a Yangon hospital: Just pop a TB swab into a WGS machine, and within 48 hours one has a profile of its entire genetic strand, indicating exactly what drugs the bacterium can and can't resist.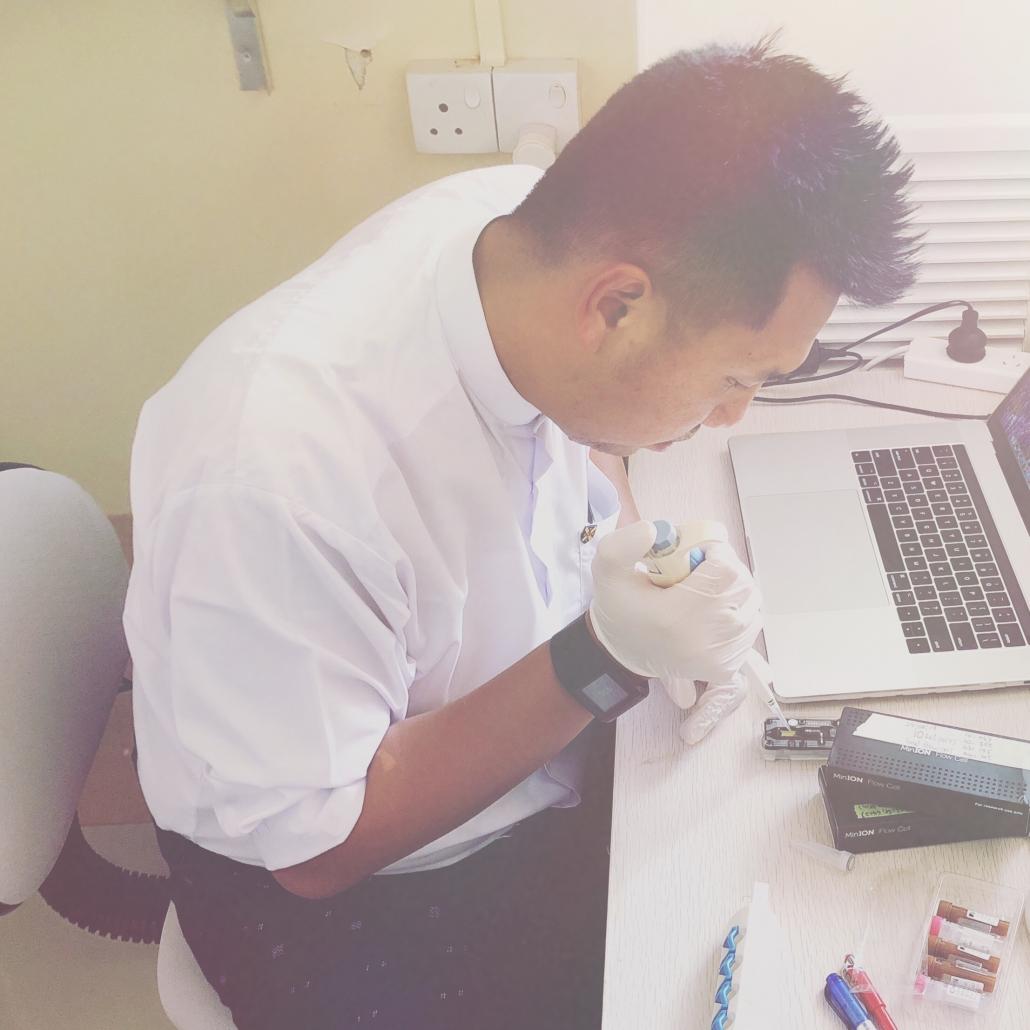 While genetic sequencing has been around for decades, automated, accessible WGS tech is relatively new, especially when applied to TB. A report by researchers from McGill University in Montreal, Canada, titled "The implications of whole-genome sequencing in the control of tuberculosis", describes how WGS "has been transformed from a centralised service used by a select few … into a relatively decentralised lab technique used by many to detect and track infectious pathogens".
The last bit, about tracking pathogens, has Htin Lin Aung particularly excited.
"In case there is an outbreak, through [WGS] we can trace back to where this outbreak started from," he explained. "We can actually see the evolutions of these particular strains."
In an effort to convince the government and NGO community to wield this "molecular weapon" in the battle to track and ultimately end TB in Myanmar, Htin Lin Aung and his team have launched a clinical feasibility study in partnership with the National Tuberculosis Programme. The study uses rapid diagnosis WGS methods to identify and then treat drug-resistant TB strains in a select group of patients.
For Myanmar, project chief technical officer Mr Richard Fong has his eye on two WGS machines.
The first – the MiSeq by Illumina – is what he calls the "gold standard" of genome sequencing. It's precise, accurate and produces extremely versatile data – a high "throughput", as Fong puts it.
The second, the MinION by Oxford Nanopore Technologies, may not be as accurate  but is a versatile device smaller than a mobile phone that plugs into a laptop USB port.
"The beauty of MinION is its deployability and cost effectiveness, as it doesn't need a huge infrastructure," Fong explained.  "This is ideal for field testing in rural Myanmar because we can travel to a clinic and on the spot tell them which strains they have."
Ideally, Fong said, Myanmar teams would have an arsenal of MinION devices for quick, on-the-spot diagnoses, paired with a base of MiSeq machines in Yangon to gather and catalogue more robust data.
But the project is in its infancy. Htin Lin Aung's team is studying about 300 patients in Yangon, gathering data to measure and then, hopefully, prove the effectiveness of the WGS approach over normal treatment methods.
The project is using a single MinION device in Myanmar; the other TB samples from the study must be shipped to the University of Otago laboratory in New Zealand.
The project team plans to expand its patient base, but there are significant hurdles. First among them: WGS technology is very, very expensive.
A single MiSeq machine costs around US$125,000, but the associated infrastructure – a climate-controlled building, backup power, servers and so on – would probably be double that amount, said Fong.
MinION machines are relatively cheap (around $1,000 per unit), but Htin Lin Aung and Fong are hesitant to acquire and distribute them without a gene library and MiSeq-equipped laboratory – not to mention trained healthcare professionals to use them.
"We are not just doing research. We are building capacity in Myanmar. We are not just parachuting the machines in," said Htin Lin Aung. "In developing countries, we find there are very sophisticated modern machines, but they are underutilised because there is no capacity to operate the machines."
Thus, at least for now, the project is moving slowly.
"I want to ramp up support from 300 to 1,000 [patients], but we need the funding," he said. "Of course, we will need a lot of support from non-government organisations to make this work."
Htin Lin Aung is also focused on building relationships with Myanmar policymakers outside academia, which he said is a somewhat unusual approach for scientists to take. 
"I am really into translational research beyond my academic interests, which is translating your research into policy and practice, rather than leaving your research on the bench," said Htin Lin Aung.
In other words, the University of Otago's project is not merely for academic gain. The team will not be satisfied until it leads to real policy change that helps real patients.
"We need multi-sector support," Htin Lin Aung said. "Everyone should be involved in fighting TB – otherwise Nelson Mandela will always be right."
This article originally appeared as part of Frontier's Digital Myanmar 2018 special edition. Top photo: TB project chief technical officer Mr Richard Fong holds a MinION whole genome sequencing machine. (Supplied)