Travellers on the Chindwin are rewarded by idyllic scenery, encounters with unique characters and a chance to play on one of the country's oldest, and most bizarre, golf courses.
By OLIVER SLOW | FRONTIER
SEATED in her home at Hkamti in the far north of Sagaing Region, Jeno Solo claims to be about 100 years old. A shaman from the Ponyu Naga tribe, she spent most of her life in the remote Naga hills, across the Chindwin River from Hkamti, but moved to the town about a decade ago to be closer to her family.
"I remember when tigers used to roam the forest, and would come into the villages and kill the buffalo," she said.
When that happened, hunters would stalk the tiger, often for days, before killing it and holding a ceremony in the village. Jeno Solo also remembers the days when Naga fighters would display the heads of enemies as trophies outside their homes. 
"Both practices have disappeared," Jeno Solo said. "The people don't headhunt anymore … and there are almost no tigers left in the jungle."
The Naga Self-Administered Zone, created under the 2008 Constitution in one of the most remote and least developed parts of Myanmar, is a sliver of land on the border with India's Nagaland state. Naga is a collective word for a group of tribes that live on both sides of the border and who gained notoriety in the past for headhunting.
In his 2010 book, Road of Bones, about a decisive battle at Kohima, now the capital of Indian Nagaland, between Japanese and Allied forces during World War Two, Irish journalist Fergal Keane wrote that, traditionally, a Naga male could not consider himself a true man until he had taken his first head.
"It was believed that in capturing the head, a warrior seized the spirit and vitality of his enemy," Keane wrote.
The Naga people remained isolated from the outside world until the 19th century, when the conquering British sent expeditionary forces into the hills. After a series of often gruesome battles between the colonialists and Naga tribes, the British were eventually able to take control of the area. The Naga would go on to play a crucial role in expelling Japanese forces on behalf of the British during World War Two.
When the British granted independence to India and Burma, in 1947 and 1948, respectively, the land of the Naga people was split between two sovereign powers. The decision still rankles many Naga in Myanmar, who feel cut off from the rest of their people. The Naga in Myanmar are also aware that they have seen significantly less development than their counterparts in India. 
The Naga have many unique customs that they are often keen to share with interested visitors. Anyone travelling to the Naga SAZ is advised to spend time in Lahe, the capital, and the other big town of Leshi, to meet the local people and learn something about Naga traditions.
Most Naga are Christian, a legacy of missionary activity in the hills since the late 19th century, but many remain spiritually connected to their land and ancestors and visits to shamans are common. When I interviewed Jeno Solo in Hkamti, she had just been consulted by a villager with eye problems and another with a sick infant.
"These people were only sick; I couldn't help them," she said. "I can only help them if they are victims of black magic."
Jeno Solo said she was given the "gift" of healing victims of black magic by her parents and grandparents, all of whom were shamans. She believes that when she dies, her powers will pass to her daughter and grandson, who sat beside her during the interview.
We travelled to Hkamti with Yangon-based company Sampan Travel to research the potential for tours in this isolated part of Myanmar. The party included Ko Arkar, a travel consultant for Sampan, and our tour guide, U Kyaw Khaing, an impressively knowledgeable Mandalarian, and we were to spend eight days travelling on, and alongside, the Chindwin. The river is the longest tributary of the Ayeyarwady at about 1,207 kilometres. Beginning in Kachin State's Hukawng Valley, it parallels the mountainous border region for hundreds of kilometres before turning southeast, traversing Sagaing Region and pouring into the Ayeyarwady just south of Mandalay.
From Hkamti, we planned a motorbike journey to Lahe and back before spending two days gliding down the Chindwin, with stops at Homalin, and then Mawlaik, where we planned to take a bus to Kalay, on the edge of the Chin hills, before returning by air to Yangon.
For all of us, it was a journey of discovery to a corner of the country rarely visited by foreign tourists. The highlights were never going to be conventional tourist sites and we were well prepared for the minor glitches that can make a journey like this more memorable. There was also the prospect of seeing the area's striking scenery and meeting an eclectic mix of characters. With that in mind, our encounter with Jeno Solo had got us off to a strong start.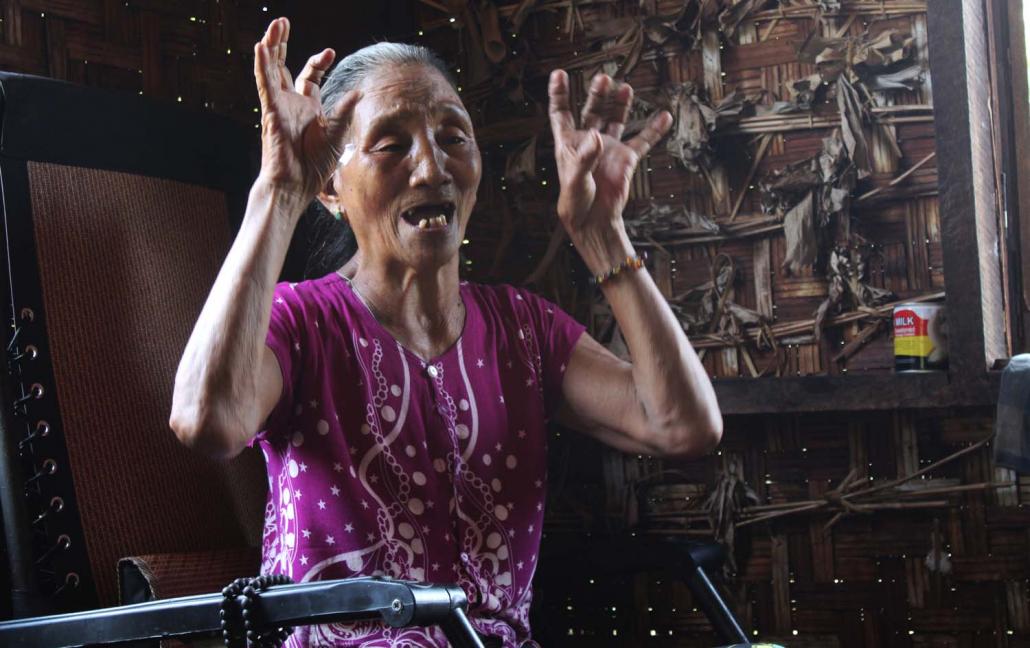 Hkamti to Lahe, sort of
Nestled into one of the many elbows of the Chindwin, Hkamti is a picturesque and quiet town, and most visitors use it as a mere gateway for travel to the Naga SAZ or to the amber and jade mines to the north.
Our plan to visit the mines was rebuffed by a gruff immigration officer when we made enquiries after arriving at Hkamti Airport.
"You can't go there, it's off limits," he said, without specifying whether the ban applied only to foreign travellers.
Instead, we had a relaxing first day exploring Hkamti, during which we met Jeno Solo and browsed the town's market. We rose early the next morning for our motorbike trip to Lahe, with plans to return to Hkamti that evening.
A recently completed bridge has made it easier to cross the Chindwin from Hkamti to the SAZ and the road to Lahe, which crosses several mountain ranges, is being upgraded, but much more work needs to be done to improve access. A few kilometres from the bridge, the paved road becomes a bumpy dirt track.
The contrast between the two sides of the river is stark. The area around Hkamti is developed but there are few buildings on the Naga side of the river. We saw a few thatched homes perched on hillsides, and passed one or two roadside shacks selling snacks and drinks, but the journey was otherwise dominated by the vast, dramatic beauty of the thickly forested Naga hills.
The road is a challenge for motorbike travel, especially during rainy season. Amid a constant downpour, our bikes slipped, slid and groaned in the mud as we tried to reach Lahe by noon. Sometime before 1pm, almost six hours after crossing the Chindwin, we gave up. There was no way we could reach Lahe and return to Hkamti by nightfall. Anyone considering this trip by motorbike should plan on spending at least one night in Lahe, or to travel by car.
"I never surrender, but sometimes I retreat," said an exhausted Kyaw Khaing, as he lent against his motorbike, laughing, and we made the decision to turn back.
We slowly trundled through the hills back towards Hkamti, stopping at small food and rest houses as we went. At the first, we sat for a long lunch of pork and chicken curry with a Chin family, who laughed hysterically at some daytime television show as we ate, and at the second we met the family of an ex-Tatmadaw soldier who had set up a motorbike repair shop in the hills. "Life is nice and quiet here," he told me.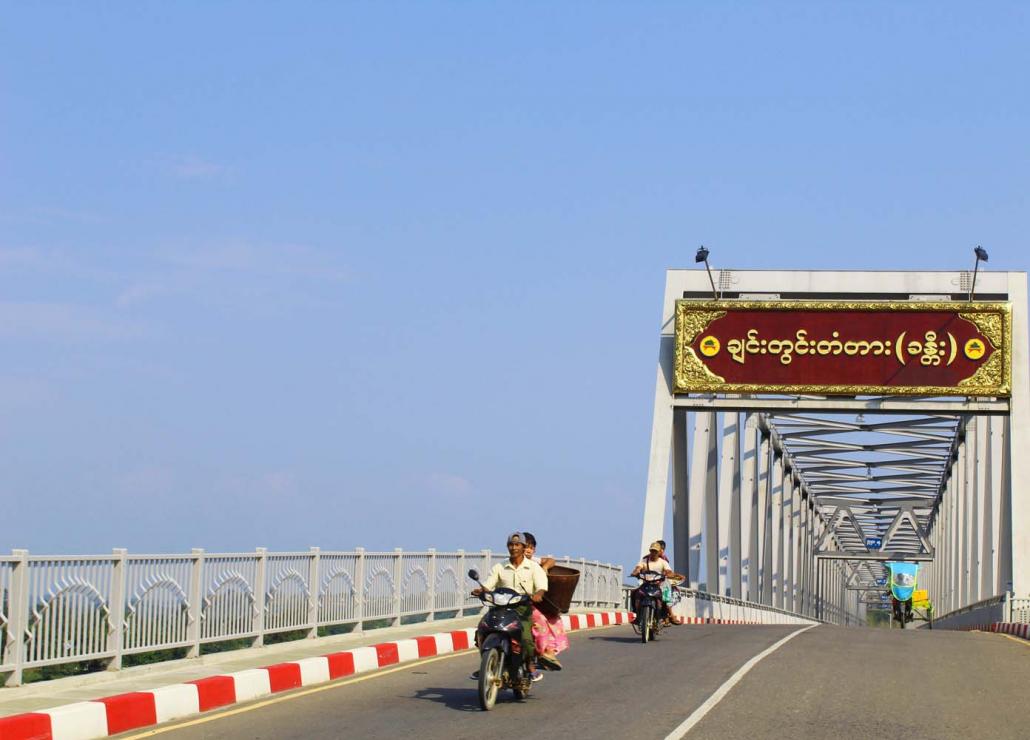 On the Chindwin
There was another early start the next day to catch a boat to Homalin, a journey of about 10 hours. With officials confused by the presence of a foreigner at the jetty, there was a long debate about whether I could board. Questions were hurled at the ever-patient Arkar. Where is the foreigner from? Does he have a permit? Did he watch the football last night?
Eventually, and for seemingly no reason, the official who had been adamant that we could not board changed his mind, and we were allowed to get on the boat.
We were taken to our "VIP" cabin – a metal box with a carpet on the floor – and at 7am precisely our double-deck boat pulled away from the jetty and chugged slowly downstream.
We shared our cabin with a middle-aged man who was travelling to Monywa to visit his family. Soon after the journey began, he pulled out his prayer beads and began a soft rhythmic chant that helped me settle into a pleasant nap.
It was mid-morning by the time I awoke. I went with Kyaw Khaing to the bow to sit with grizzled deckhands, who chain-smoked cheroots and scowled at the horizon as they helped the captain to navigate and keep watch for sandbars. The captain, a weather-worn man in a stained vest and longyi, responded to questions about the river with little more than a grunt, his eyes never leaving the river ahead of him. Asked the name of a passing village on the riverbank, he said, "I don't know."
After a quick lunch of curry and rice at Htamanti, the gateway to Leshi, we continued our journey under a scorching sun. I spent a few hours alternating between naps in the cabin and reading a book on the side of the boat, the latter of which exposed me to the unwelcome experience of being hit in the face by the captain's betel spit.
We arrived at Homalin shortly before sunset, and after a quick dinner of curry and rice, washed down with a few beers, had another early night. We resumed our journey before 5am the next day, passing riverside villages as they were coming to life, with chattering women doing their washing on the riverbank and fishermen heading out in their boats.
Our destination that day was Mawlaik, a little-known Sagaing Region town that was established by the British a century earlier as a local administrative hub. It was to be another journey of at least 10 hours.
The river was narrower this far south, and the second day's journey felt much more varied than the first. There was more riverside life on view as well as more stops, with passengers hopping on and off.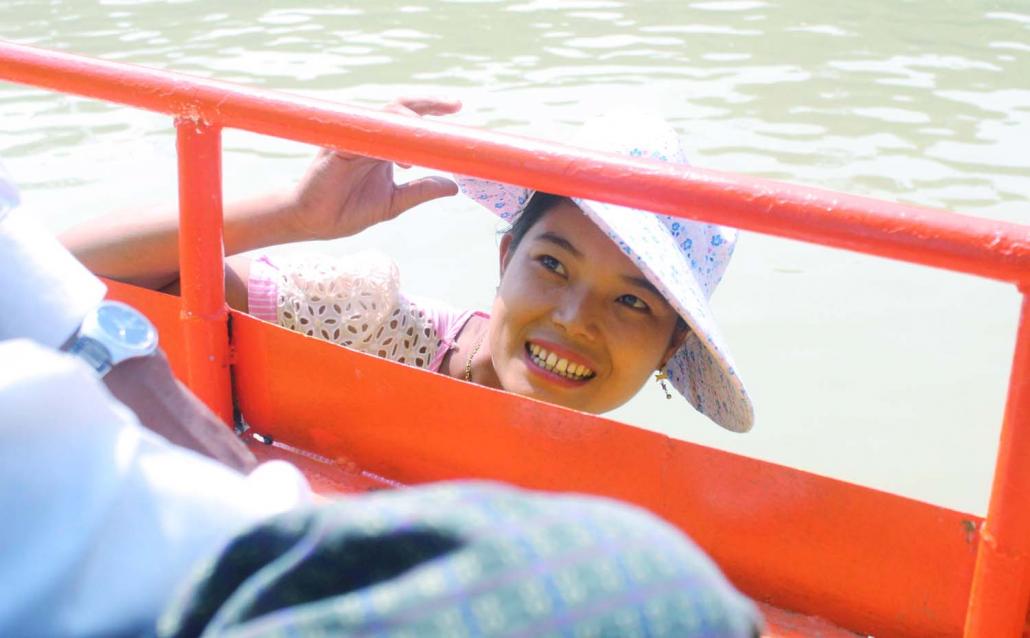 Among those who boarded at Tayaung village was Ma Zaw Na Aye, who makes a living selling snacks and drinks to passengers. "My life depends on this business," she said, as she handed a cold drink to a woman in the next cabin.
Zaw Na Aye boards boats to sell her wares every day. She usually remains on board for a few hours before disembarking at a village and returning home on a boat travelling in the opposite direction. Zaw Na Aye said she is saving money to enable her younger brother, who wants to eventually become a teacher, to continue his studies.
She left the boat after it docked at Paungbyin village, where another group of vendors boarded, rushed around the boat selling their goods and returned to shore. As we were waiting idly for our boat to depart, a shout went up on the riverside; another passenger boat had been spotted on the river, and the vendors – about a dozen in total – boarded a sampan and rushed to greet it. We watched from our own boat, amused but supportive, as they rushed to try and catch the other vessel. Eventually, it became clear that the battle was lost, and they gave up.
"Oh well, we'll wait for the next one," said one of the vendors, shrugging his shoulders and laughing, as their boat returned to shore.
A few kilometres further south, as the sun began descending over the Naga hills, we began chatting with Saw Kyaw Lin Win, a Karen Christian who was returning to his home village near Pyay after spending three months in the Naga hills building a church.
"I fell in love in Naga, with a beautiful Naga girl," he revealed, when asked what he thought of the place. Kyaw Lin Win said he planned to return to the Naga hills in a few weeks to marry his sweetheart, before they travelled back to live in his village.
"I think she will like my home village. I'm nervous, but I really hope she will like living there," he said.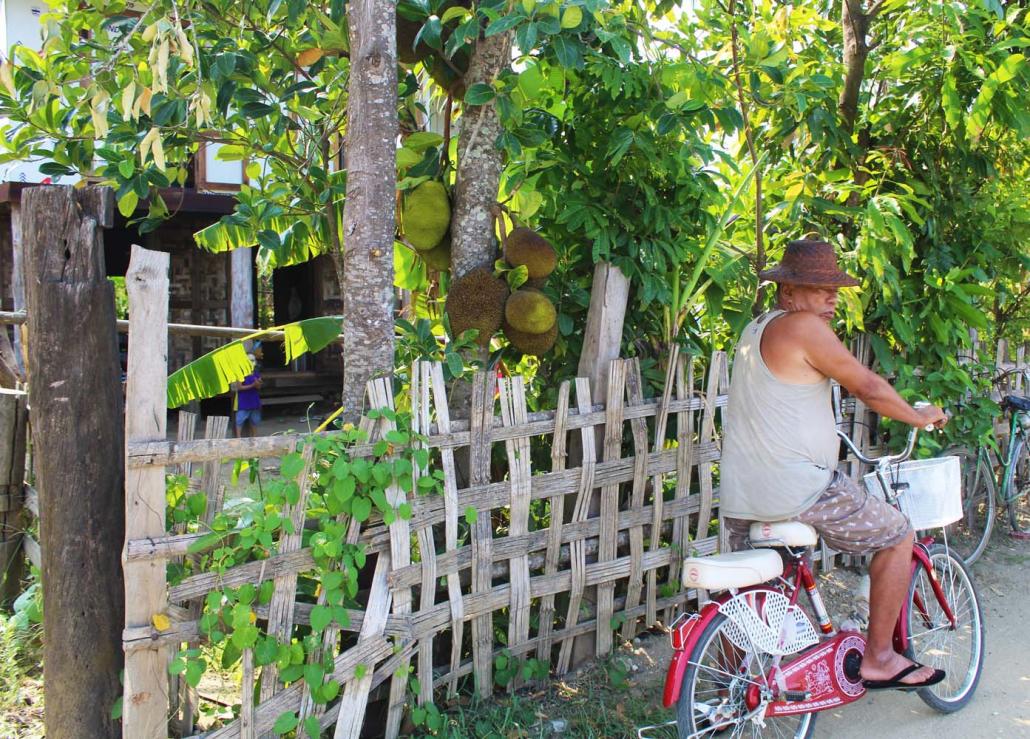 Mawlaik: A colonial legacy
At about 3pm, we arrived at Mawlaik, an agreeable town on the western bank of the Chindwin and only about 30 kilometres from the border with India. Mawlaik isn't on the radar of most travellers, but there's a case to be made that it should be, with its jackfruit and mango trees lining a riverside avenue, and dozens of colonial-era homes dotted around the town. It is said to have a similar feel to Katha, the town on the Ayeyarwady about 215 kilometres to the east that is famed as a former home of a Briton named Eric Arthur Blair, better known as the author George Orwell.
The British established Mawlaik in 1916 as the administrative centre of an area where the main industry was the trade in timber from the nearby forests. The charming colonial buildings that remain in the town include the government offices built in 1916 – in which Japanese soldiers are said to have hanged themselves during the ignominious retreat that followed their failure to break into India through Kohima – and a secondary school built in 1924. (A future issue of Frontier will profile the town's role in the war, and one of its most interesting residents.)
Another British relic in the town is the Mawlaik Golf Club, which is said to be one of the oldest in Myanmar. Being an avid golfer, I enquired about playing a round. After some negotiation, it was agreed that we could play, and after paying the modest green fees, we set out in search of the first tee.
We marched around what seemed like half of Mawlaik in complete bemusement. There didn't appear to be a golf course anywhere; no tee boxes, no fairways, no greens.
Eventually, the club's manager interrupted our aimless search and pointed us in the direction of the first tee, a pile of mud covered in rubbish.
A young boy emerged from the bushes with a broom and swept away the rubbish. Once it was cleared, the manager pointed to a muddy field, in which stood three cows. Through the middle of the field was a road, a line of trees and a row of pylons.
"First hole," he said.
Despite the confusion, we played up and progressed to another muddy field (cow population: four).
The manager asked us to wait when we enquired about the location of the green and another young boy emerged – honestly, I have no idea from where – carrying a flagstick. He ran ahead a few hundred metres and planted it in the ground. We played up again and on reaching the green, discovered that it was a sandpit.
This time, I decided to embrace the confusion and asked the manager whether any shot on the "green" could be treated as what golfers call a "gimme", meaning that with the agreement of other players it did not have to be played but would count as a stroke.
"No," said the manager, looking puzzled by the question. "You have to putt."
As if on cue, one of the flag-carrying boys produced a hoe and flattened the sand between my ball and the hole. After several attempts I managed to hole out and then moved to the second tee, which was another pile of rubbish, and the saga repeated itself. As bizarre as it was, it was an enjoyable experience and by the time we had completed nine holes a small but lively crowd had gathered to show support.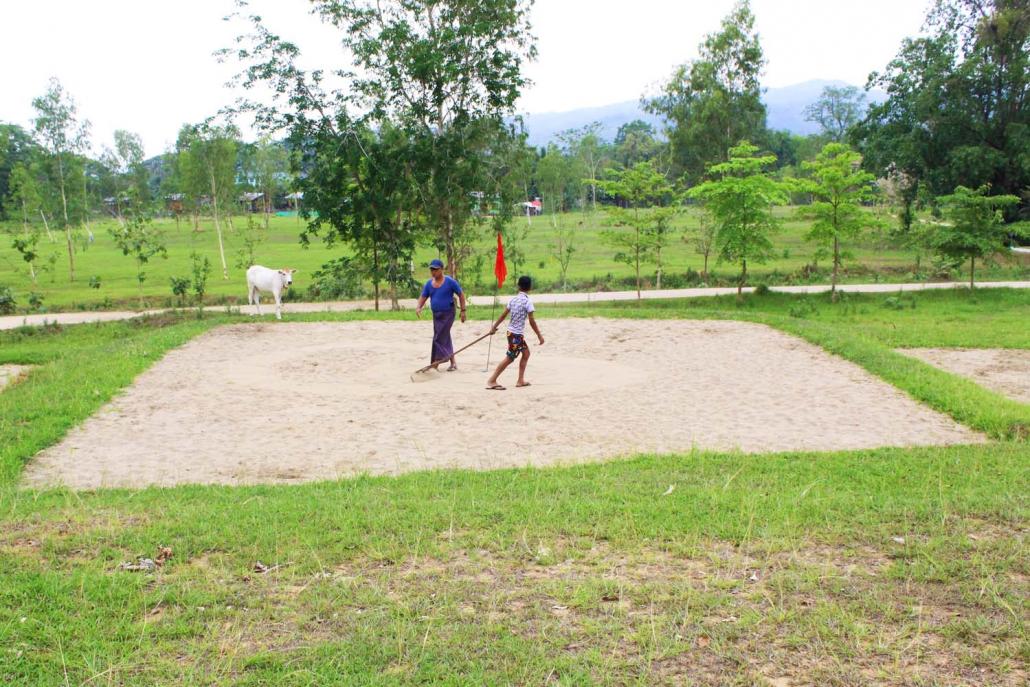 Onwards to Kalay
After a week on and along the Chindwin, we left the river behind and took a bus to Kalay, where Sagaing Region meets the mountains of Chin State, the only state or region with a majority Christian population. There is a strong Chin presence in Kalay and the town is dotted with dozens of colourful churches.
The road journey from Mawlaik to Kalay is less than 100 kilometres. Before we set out, Kyaw Khaing said it took about one-and-a-half hours by car and four hours by bus. "You'll see why," he said, referring to the difference in travel times.
Kyaw Khaing is a devout Buddhist who had spent the previous two weeks meditating at a monastery. His unflappable demeanour was a constant source of comfort and support during the trip, especially at times when I ran out of patience and threw a tiny temper tantrum, such as at the start of the bus trip to Kalay.
We boarded at the allotted time of 9am and waited for half an hour as goods were loaded and unloaded, disagreements erupted and general chaos ensued. We departed, travelled 10 metres and stopped for another 20 minutes to load and unload more goods. We stopped again twice in quick succession. By the time we left Mawlaik it was 10.15.
Kyaw Khaing sensed my frustration and, putting a reassuring hand on my knee, said, "Relax, we'll get there. Just enjoy the journey."
His advice had an immediate calming effect and we sat back and enjoyed the view, making idle chatter as we discussed the highlights of our trip. For the next few hours, we rolled along the western bank of the Chindwin, enjoying the scenery of this area of Sagaing Region, a mixture of green hills, parched land and occasional glimpses of the river that had been our home for the previous week.
At Kalewa, our bus turned west, towards Kalay, and as it did we caught a final glimpse of the Chindwin. We smiled at each other and gave the river a last wave goodbye.
The writer travelled as a guest of Sampan Travel.
TOP PHOTO: Deckmen help the captain traverse the Chindwin River. (Oliver Slow | Frontier)