Goldsmithing has traditionally been reserved for men in Myanmar, but with three women learning the trade it's another gender barrier on borrowed time.
By KATRIN SCHREGENBERGER | FRONTIER
When U Tin Win, 42, a master goldsmith with 20 years' experience, was approached to train women he was sceptical.
He doubted if women had the necessary skills and there was also the gender discrimination barrier that regarded goldsmithing as suitable only for men.
The training request came from Turquoise Mountain, an NGO headquartered in Edinburgh, Scotland, which has sustainable urban regeneration projects supporting the revival of artisan industries in Myanmar, Afghanistan and Saudi Arabia.
"We wanted to open up the opportunity to both women and men," said Ms Katherine Pool, Turquoise Mountain's crafts programme manager.
The NGO advertised for women interested in becoming goldsmiths and received about 20 applications, from which three were selected.
Since July 2017, the three women – and three men – have been learning how to make gold jewellery at a Turquoise Mountain workshop in downtown Yangon's Lanmadaw Township, under the guidance of Tin Win and four other master goldsmiths.
As far as Tin Win knows they are the first women in Myanmar to learn the entire goldsmithing process.
"I have heard of women doing some of the smithing and assisting with other work but none learned the whole process," he told Frontier on March 13.
As in a similar project launched by Myanmar NGO Akhaya Women in 2015, the women were trained initially to work with silver because it is easier to shape than gold while still gaining experience in using a blowtorch, an indispensable tool of the trade. However, the Turquoise Mountain trio has advanced to working with gold.
Tin Win said goldsmithing was traditionally regarded as a man's job in Myanmar, partly because it was believed that women were not capable of heavy hammering work. Parents also did not want their daughters working in a male-dominated environment, he said.
There was also a cultural barrier created in ancient times by the belief that gemstones possessed mystical powers and could not be handled by women because they were regarded as inferior to men.
During their apprenticeships, the women are learning all aspects of the creative process, from jewellery design to production.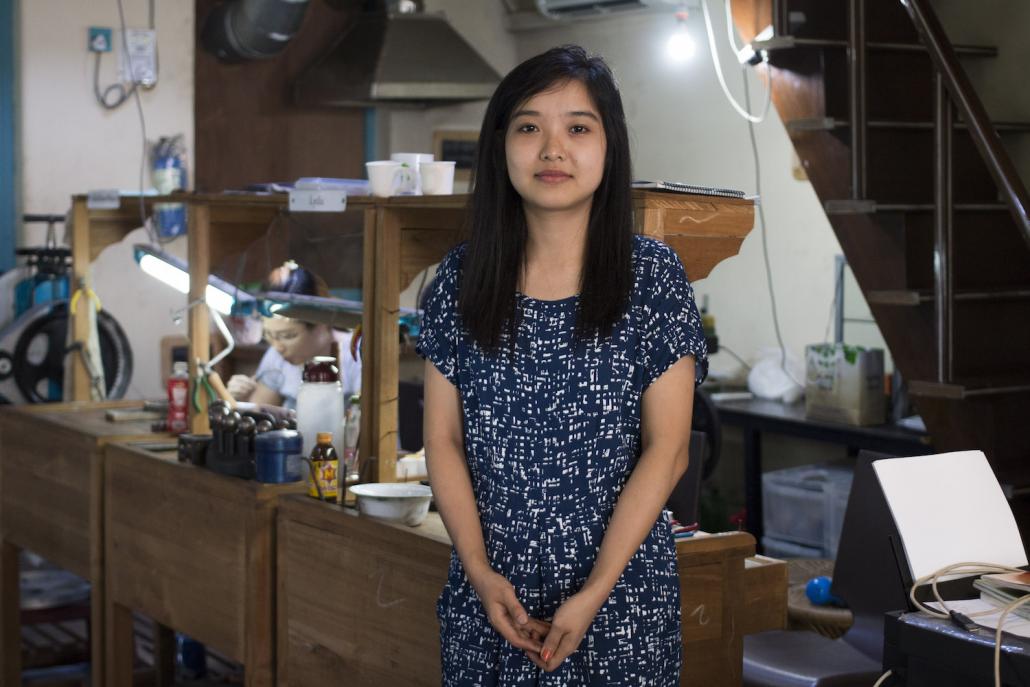 The designs on which they are working were created by British jewellery artist Ms Pippa Small in collaboration with two Myanmar designers and the four master goldsmiths.
Tin Win said that in a traditional goldsmith's workshop, apprentices mainly observe the production process in the beginning and have only sporadic opportunities to work the precious metal.
The Turquoise Mountain training enabled the women apprentices to acquire practical experience from the start of the two-year course, Tin Win said.
He's been training the women for more than half a year and is impressed by how they have applied themselves to their work.
"I thought it would be very difficult for them to work with the flame, but they learned it," he said, adding that they were also acquiring the skills needed to perform each step of the production process.
The use of modern equipment for tasks that previously required force had meant that body strength was no longer as importance as it had been.
Women had an edge over men in design, Tin Win said.
"They are more creative and because they wear jewellery they have more of a fashion mind," he added.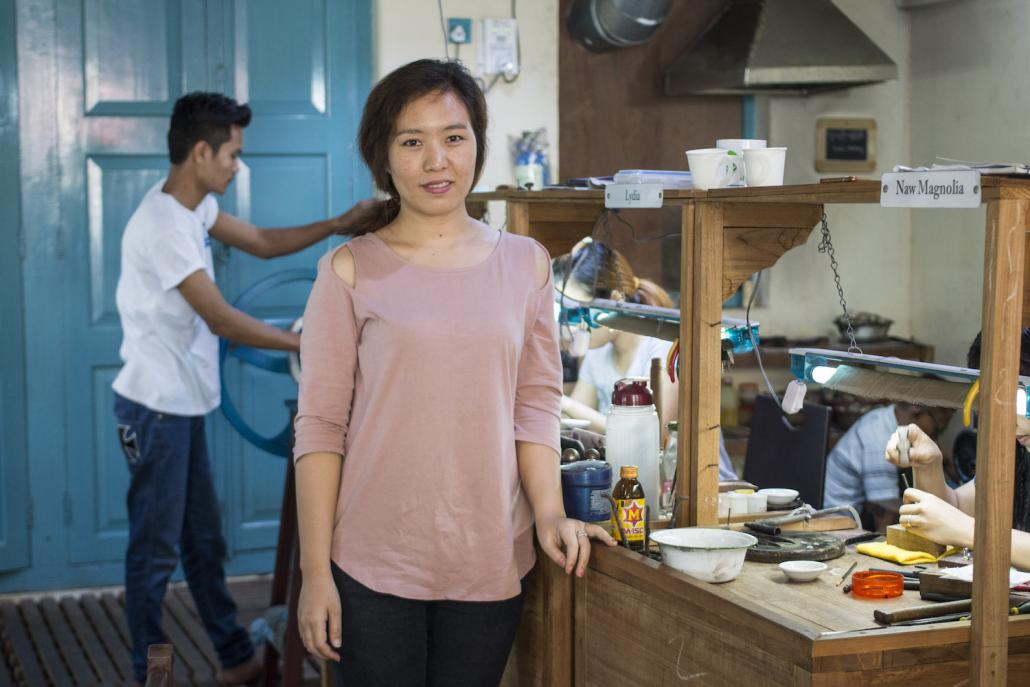 Daw Lydia, 33, is from the famous ruby-mining town of Mogok in Mandalay Region and precious stones are part of her life. "I saw beautiful stones and jewellery and always wanted to make it myself," she said, explaining why she had seized the opportunity offered by the Turquoise Mountain course.
Her parents initially opposed the idea.
"I had a good education and a job as a nursery teacher and they thought that doing this kind of work was less valuable," she said, adding that her parents became supportive after seeing the first pieces she created.
Her biggest challenge is working with a blowtorch. Even after almost nine months of training, managing the fierce heat of its flame remains difficult.
Lydia's preferred metal is silver because it is cheaper than gold and more suitable for experimenting with the production process and making jewellery for her own use.
She eventually aims to open her own workshop, but first needs to acquire more experience and accumulate some capital.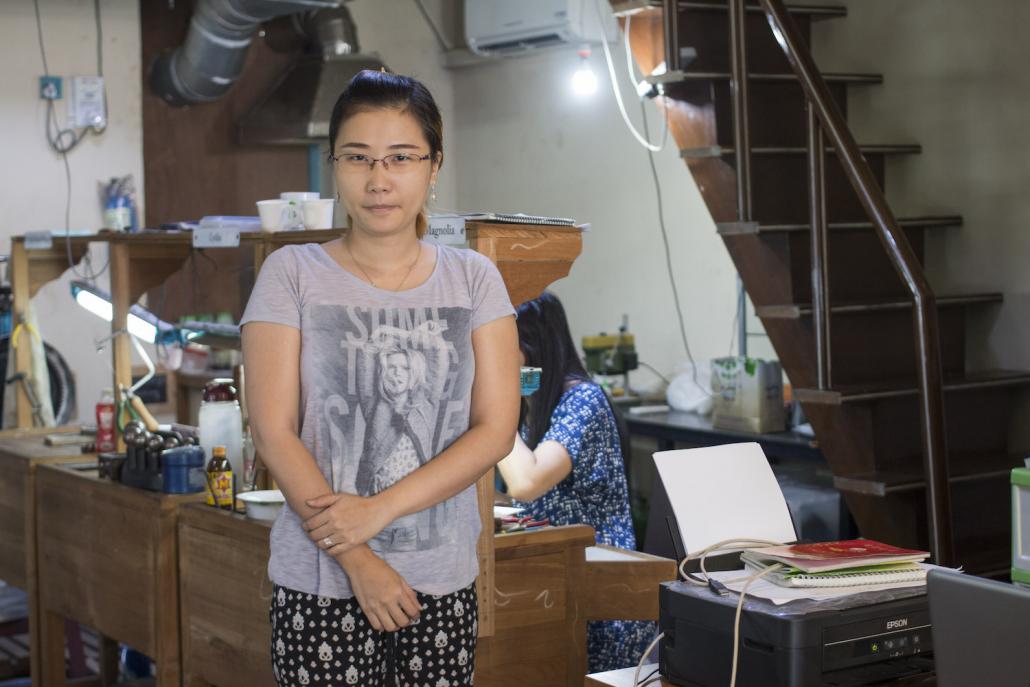 Yangon resident Ma Moh Moh Win, 36, applied for the course because she had a passion for designing jewellery.
The former fashion design says her biggest challenge is setting stones.
"It requires a lot of precision and patience," Moh Moh Win told Frontier.
The third trainee is Naw Magnolia, 24, from Kayin State, for whom the apprenticeship has provided an opportunity to become financially independent.
Before coming to Yangon, she helped her parents at home in Thandaunggyi Township. She supports them with the allowance she receives from Turquoise Mountain, which also provides accommodation and lunch for the trainees.
"Now I can send money back," said Magnolia, who said her parents supported her decision to undertake the course, even if it's far from home.
Magnolia said she does not know what her job prospects will be after completing the apprenticeship, though.
After they complete two years of workshop training and their apprenticeships, the three women and three men will receive a certificate and possibly the opportunity to continue working in the workshop.
The overall goal of the initiative though is to give them the opportunity to start their own business. "We encourage them to start their own workshop," said Pool, adding that the six are also receiving basic business training during their apprenticeship.
"The aim is to hire the [trainee goldsmiths] after they complete the apprenticeship next year but we cannot guarantee this yet," said Turquoise Mountain's crafts programme officer, Daw Win Sandar Aye.
However, she did confirm a new intake of apprentices later this year. "It will be a maximum three persons and we are open to take in both women and men," Win Sandar Aye said.
TOP PHOTO: Ma Moh Moh Win applies a blowtorch in Turquoise Mountain's workshop in Yangon's Lanmadaw Township (Nyein Su Wai Kyaw Soe | Frontier)