Vast blooms of jellyfish are appearing off Myanmar's southern coast for the first time in six years, delighting hard-pressed fishing communities exporting to Thailand, but soaring costs and unfair trade terms sting.
By FRONTIER
The clear night is speckled with stars, but from the shore hundreds more lights can be seen twinkling just above the surface of the sea.
Blooms of jellyfish, the most abundant in six years, have returned to the coast of Tanintharyi Region in far-southern Myanmar and the fishers are out on their boats day and night, battery-powered torches on their heads, catching thousands.
The swarms this season were first seen more than two months ago, on December 10. Fishing communities hope this "gift from God" will keep on giving for more weeks yet, making up for the hard times suffered in recent years because of a scarcity of their mainstay fish and shrimps.
"This year the jellyfish are plentiful. If we get a good price, then we could be wearing gold," laughed 40-year-old Ko Toke Khae who normally uses his boat for crabbing, his skin worn dark brown by the sun. "This week I worked only four days and got K600,000 (US$290)."
Middlemen in Tanintharyi are paying as much as K200 per jellyfish – nearly 10 US cents at the official exchange rate – so fishers work around the clock, following the rhythms of the tides and moon, laying long cone-shaped nets from rafts or using double-hooked gaffs or even their bare hands.
The fishers mostly come from the islands and coastal settlements of southern Bokpyin Township. Some are from the villages of Mope Phyu Taung and Naung Soe Taung but more than two-thirds hail from Kyein Me Taung – Black Rattan Mountain – a village of some 4,000 people, according to resident and jellyfish trader U Tun Tun.
On land, workers use salt and alum to dry the colourful catches of white, blue and pink jellyfish. While the bonanza lasts, the jellyfish create well-compensated jobs – although child labour is involved. Fishers say youths can earn K18,000 ($6.5) a day washing the jellyfish, while those on the boats can easily pull in between K70,000 ($25) and K200,000 ($700). By comparison a typical Tanintharyi fisher may earn K25,000 ($9) for working 15 hours, while the average wage for a day labourer in the region is between K1,500 (40 cents) and K2,000 (70 cents) an hour.
Bobbing prices
As welcome as this windfall is, villagers say they are still worse off than the last big jellyfish season of 2016-17. At the time, one jellyfish also fetched K200 but gold cost around K900,000 ($350) per tical (16.8 grams) while now the price is over K2.2 million ($770).
Back then, jellyfish catchers could earn enough to buy a tical of gold after working for only two weeks. Now they say that they can only hope to feed their families well and perhaps pay off some debts.
Just as villagers have long weighed the value of their catches in gold, the fishers count their harvests according to a 15-day cycle, or phyar. These track strong spring and weak neap tides, starting with the new moon on the first day of the Myanmar calendar and concluding just after it becomes full.
U Soe Tun, chair of the Myanmar Marine Science Association, says these species of jellyfish are not endangered, as lobsters have become. "They reproduce when the season reaches the right temperature. In the [November to February] cool season, they appear spontaneously. Some years it can still happen as late as April and the jellyfish can be seen during the Thingyan festival."
Changes in currents and sea temperatures determine the size and movements of blooms. "In some years you get large numbers of jellyfish and in others less," said Soe Tun.
Toke Khae is delighted to be earning as much as K1,000,000 ($350) in one phyar with his four-metre boat. "I'm praying I keep catching jellyfish and that the prices will stay high till April," he says, hoping that by then he will be able to buy smartphones and "other necessities" for his children.
However, as the price of jellyfish has remained static over six years, Toke Khae will not be buying gold this year – the price of the precious metal having skyrocketed since the coup.
But Ko Hla Myo*, who transports sea products by boat from Kawthaung on Myanmar's southern tip to neighbouring Thailand, is worried for another reason. He says the glut in jellyfish means Myanmar boats are queuing up daily to sell their wares in the Thai port of Ranong, where buyers now have leverage to dramatically lower prices. After paying Kawthaung taxes, porterage and helmsmen fees there may be little left, he said.
One kilogram of cured jellyfish fetched about THB52 ($1.5) in the Ranong markets in January but fell to THB44 by the last week of February. From this, THB8 is deducted by Thai buyers for each kilo of jellyfish as a "transport fee". "If the price of jellyfish is down in Thailand, it will fall in our village too. Thailand usually lowers the price when fishery product stocks are high," Hla Myo said.
Daw Mi Mi* operates two rafts with her husband and a helper, using V-shaped nets to work the two cycles of high and low tides day and night, catching about 2,000 jellyfish a day.
"The coming of the jellyfish means people are flush with money," said Mi Mi. But there is still a lot of uncertainty. "For a while, prices fell to K100 each, but they have recovered again. Now that the market's moving again and the price of a jellyfish is back to K200, people feel relieved. But now the price is good, there are fewer jellyfish in the sea and I'm not catching as many."
As of February 25, fishers reported that the price had again fallen, to K150 per jellyfish, the abundance exceeding the demand of Myanmar's neighbours.
U Myo Gyi, a trader, said there is no Myanmar organisation to negotiate the price with Thailand. "We have to accept the price that the Thai side sets even if we don't like it," he said.
Myo Gyi says he understands the frustration of the fishers who are getting the same K200 price for their jellyfish as six years ago. "But for us buyers curing the jellyfish, the cost of everything is rising," he explained.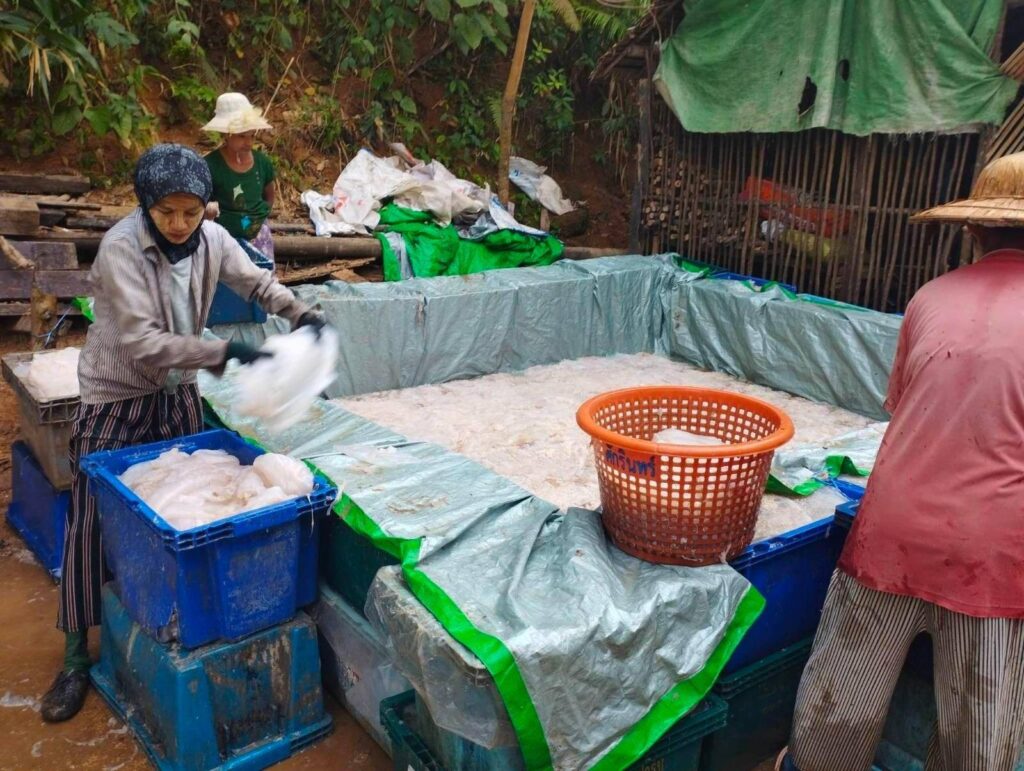 Tangles in the supply chain
Traders like Myo Gyi provide a vital link between the fishers and the wider market. For them, the costs of salt, soda and alum have also risen, reflecting the fall in the value of the kyat after the 2021 coup sent the economy into a tailspin.
Jellyfish trader Tun Tun also complains of a sharp increase in cargo fees and claims the price of fuel has nearly doubled since the last jellyfish boon.
He told Frontier that villagers never used to fish at night, but the financial situation has deteriorated so badly that they are desperate to work all hours.
"They are waiting for me at dawn with boats full of jellyfish. I have to work fast to buy the jellyfish because they want to rush back out to sea."
Because Tun Tun's family has long cured and sold jellyfish to Thailand, he can capitalise on equipment bought by his predecessors. In addition, he has built extra storage tanks on shore for his purchases, using bamboo and waterproof tank bags. Fishers throw their jellyfish one by one into the tanks, where Tun Tun mixes them with salt, soda and alum for drying.
But almost every day he must turn away fishers because he runs out of space. Processing takes 12 days, with six stages of washing and transferring the jellyfish to new tanks. It is labour intensive, creating jobs for poor families.
"We don't want to sell to Thailand, but there is no other market. We don't have a seafood market in Myanmar," he laments. "I'm happy that the jellyfish have appeared when the economy is really tight. But profits like in the past are no longer possible."
"Only traders who invested in equipment needed to process the jellyfish in previous years will profit if the jellyfish leave by March," he said, referring to the high fixed costs associated with the trade.
Fishery products from Tanintharyi are usually exported to Thailand via the narrow Kawthaung-Ranong sea crossing, said Tun Tun. Some jellyfish end up in Thai restaurants but most are re-exported to China – the seafood market in Ranong is mostly made up of Thai buyers working for a Chinese boss. He said that the jellyfish also go by road from Myeik, another port town further north in Tanintharyi, via the Maw Taung mountain border crossing to the Maha Chai seafood market, which is close to Bangkok in Thailand's Samut Sakhon province.
Hla Myo said most of Myanmar's trade in sea products has long gone through illegal channels, but after the National League for Democracy was elected in 2015, the country sought to legalise the trade and became a party to the Food and Agriculture Organization Agreement on Port State Measures, an international treaty that targets illegal, unreported and unregulated fishing.
Thailand is also a party, meaning vessels should be inspected to gain access to Ranong port and require verification papers issued by the Kawthaung Customs Department. Fees are paid according to vessel size and tonnage.
Although more of the Thai-Myanmar trade is now legal, sea traders say they are still usually obliged to pay off patrolling Myanmar navy vessels, adding to the overhead.
Ko Si*, who owns squid boats in Bokpyin, said it costs around K7 million ($2,456) to run one boat of fishing catch to Thailand via Customs in Kawthaung. A large portion of this goes to paying extortion fees to the navy. "If you encounter the navy at sea, you pay K1.5 lakh ($53). From Bokpyin to Kawthaung you usually meet 10 or more navy ships. That makes at least K15 lakh ($526) demanded by the navy."
Ko Win Zaw of Naung Soe Taung village says that while villagers are still celebrating the jellyfish bloom, he misses the days when fishers could earn enough in a season to buy gold, or to build or repair a home.
Myo Gyi, the trader, sums up how the community feels: "When we don't have other resources left in the sea, the appearance of the jellyfish is a gift from God. Even if our profits are low, we have to catch them."