Myanmar's architectural treasures include an ornate teak cinema in Mudon that was built nearly 100 years ago and is probably unique in mainland Southeast Asia.
Words & Photos PHILIP JABLON | FRONTIER
MYANMAR'S REPUTATION as Southeast Asia's jewel box of heritage architecture is well established. From colonial-era masterpieces and rare examples of Tropical Art Deco to vernacular architecture of every age, Myanmar probably has the best-preserved collection of vintage buildings in mainland Southeast Asia.
Almost as well established is the precariousness of that status. Due to lax zoning regulations and weak enforcement of cultural heritage laws, many of Myanmar's historic buildings stand in existential limbo, with market forces holding ultimate sway over their fate.   
Although preservation advocacy groups such as the Yangon Heritage Trust and the New York-based World Monuments Fund have helped to focus much-needed attention on historic buildings in downtown Yangon – and have achieved some key preservation victories in the process – elsewhere in the country, heritage protection has largely been limited to pre-modern sites.
Another constraint on preservation efforts is the simple fact that the full extent of Myanmar's architectural splendour is barely known. One of the unknown treasures that deserves a higher profile is the Aung Nan Mingala Cinema Hall, a 97-year-old teak movie house tucked away in an old commercial quarter of Mudon in Mon State, about 25 kilometres south of Mawlamyine.
Ageing cinema halls, both dormant and functioning, are fairly widespread in Myanmar, and are a testament to both the relative prosperity of the country in former times and to its once thriving cinema industry.
But the Aung Nan Mingala Cinema stands out for a few basic reasons.
"This cinema was built in 1920," said U Ni, 71, the building's third-generation owner. "Everything you see is original."
On a sun-drenched day before the rainy season, U Ni provided a lengthy history of his family heirloom, along with a guided tour.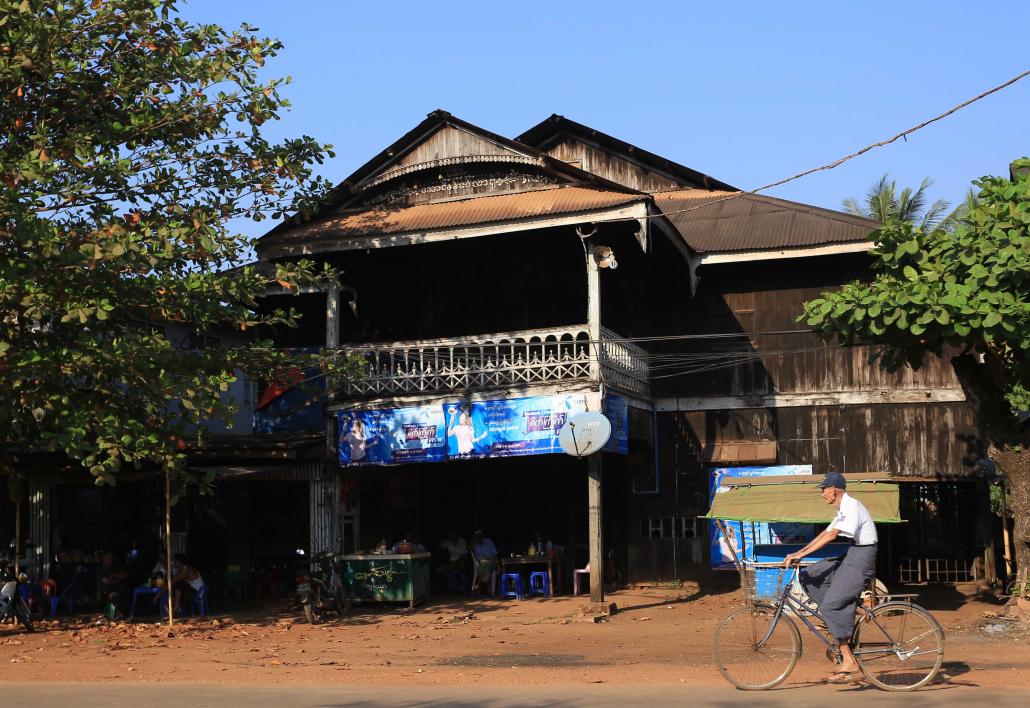 It was the dawn of the Roaring 20s when the Aung Nan Mingala Cinema opened. Burma had played an integral role in the global economic boom as one of the world's biggest exporters of rice. In Mudon, then as today, rice and rubber were the backbone of the local economy. From depots and trading houses around town the commodities were transported to Mawlamyine for export to distant markets. Mudon prospered from the trade in rice and rubber, enabling a businessman of Indian origin to build the town's first cinema.
By the 1930s the current owner's grandfather had moved to Mudon and bought some properties along what is now Bogyoke Street. Among them was the Aung Nan Mingala Cinema.
"I was the third generation in my family to run the cinema," said U Ni as he sipped milky tea at a tea shop in front of the cinema (tea shops and cinemas have a long, complementary history in Myanmar). The septuagenarian, who runs a transport company with his brother, worked at the cinema from an early age, learning the ins and outs of the business, as well as all the big names in the movies.
"Audie Murphy was very popular in Mudon," U Ni recalled, counting the war veteran-turned-Hollywood superstar's autobiographical role in To Hell and Back, released in 1955, as one of his personal favourites. "We even screened Dr No here. That was a big hit," he said, referring to the first James Bond movie, released in 1962.
Unlike most cinema halls in Burma, the Aung Nan Mingala was never nationalised and placed under the control of the Ministry of Information after the Ne Win coup in 1962. "My father had a good connection with a Mon State official," said U Ni, explaining his family's uninterrupted ownership of the cinema.
Decades of self-imposed isolation under the Ne Win regime and successive military juntas and their heavy-handed censorship of the domestic film industry took a heavy toll on the movie house business. "In the 1980s [Myanmar was] only producing 10 films per year," lamented U Ni. "That's less than one film per month. How can you keep employees by showing only one film per month?"
Despite a steady decline in business, it was a technical issue that ultimately caused the closure of the Aung Nan Mingala in 1988. "The projectors were old and began to cut the films," said U Ni, adding that the cinema was unable to procure replacement parts for its foreign-made projectors.
"So that was it," he said. "Gone with the wind."
Most of Myanmar's surviving cinemas were built during the window of democracy between independence in 1948 and 1962. Architecturally, they tend to range between Tropical Art Deco and variations of the International Style, albeit with distinct local flair. Although there are a few pre-World War II cinemas throughout the country – the best known of which is Yangon's legendary Waziya Cinema on Bogyoke Aung San Road – the Aung Nan Mingala Cinema's 1920 construction date speculatively ranks it as Myanmar's oldest surviving movie house.
U Aung Soe Myint, a Yangon-based architectural preservationist, said the colonial-era architecture of the Aung Nan Mingala is fairly standard. "That style can be seen [in buildings] throughout lower Burma, especially in Yangon, Pyay and across Ayeyarwady Region. But they are all residential. I have never seen a cinema in that style before."
At a glance, the Aung Nan Mingala might be mistaken for the residence of a colonial official or wealthy merchant family. Its handsome bi-level portico with gable-fronted verandah extending from the main hall, gives the impression of a luxurious home from the turn of last century.  A closer inspection of the gabled façade, however, reveals the cinema's name emblazoned between floral motifs, and beneath it the name of the town.
But once inside, there's no mistaking it for anything other than a cinema.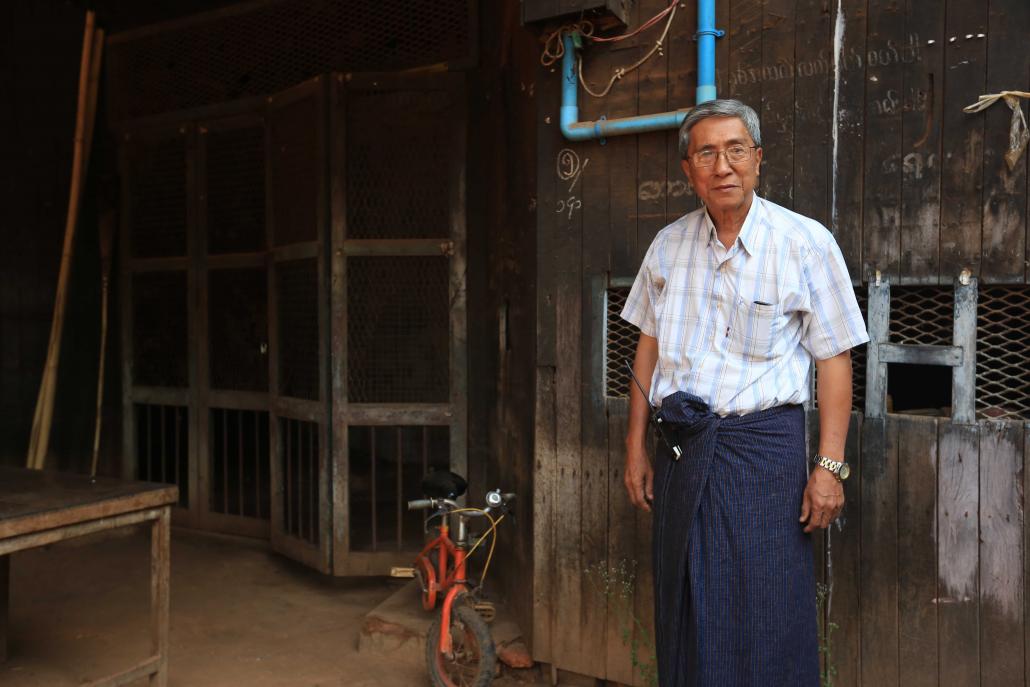 An intricately carved proscenium, capped by a wooden cartouche containing the English greeting "Welcome," provides an elegant frame for a simple cloth screen. Buddhist blessings in Burmese script adorn the wall above.
Higher up, a woven bamboo ceiling is held in place by a series of exposed wooden trusses.
The all-wood construction is the Aung Nan Mingala's defining characteristic. The only feature not made of wood is the brick and mortar projection room – a safety measure meant to ensure that the highly flammable celluloid film used in the early days of the medium did not burn the cinema down should it ignite.
In 2017, purpose-built cinema halls about a century old are rare anywhere in the world. All the more rare are ornate teak cinemas in provincial Southeast Asian towns. "This cinema is very important not just for Myanmar, but for all of Asia," said Aung Soe Myint. "The Ministry of [Religious Affairs and] Culture should implement a plan for conservation."
If the current trajectory of heritage protection in Myanmar is any indication, saving the Aung Nan Mingala will be an uphill battle, but one that will be well worth fighting.