Young people have long contributed to change in Myanmar, but there has been little space for them to be actively involved as decision makers in the current peace process.
By IRENA GRIZELJ | FRONTIER
FROM Bogyoke Aung San, who was in his late 20s when he began to lead Myanmar's independence movement, to the student protestors who initiated the 1988 anti-government uprising, to U Gambira, the 28-year-old figurehead monk of the 2007 Saffron Revolution, student and youth movements have contributed heavily to political changes in the country's recent history.
In early February, thousands of people marched through the streets of Yangon and elsewhere across the country calling for an end to civil war. It was one of the largest anti-war demonstrations in Myanmar in recent years and continues a long legacy of youth-led activism.
Myanmar's youth constitute about a quarter of the population, and more than half of the country's 51.4 million people are aged under 30. Although they comprise a significant demographic, young men and women are rarely included in decisions that will directly impact their future.
The inclusion of youth in Myanmar's peace process is currently insufficient and unstructured; as a result, young people do not feel there is a "space" for them in the process.
Since new life was breathed into the peace process under former president U Thein Sein, there have been some attempts to increase youth involvement. In 2014 and 2015, the Myanmar Peace Centre organised 13 "Youth Forums" across the country. Participants from various ethnic, political and educational backgrounds were invited to learn about the process, and to share their views.
The change of government last year saw a renewed focus on the intersection between youth and peace.
In December 2015 State Counsellor Daw Aung San Suu Kyi met youth leaders from different ethnic groups and organisations and informally promised greater youth participation in the peace process.
In her opening remarks at the 21st Century Panglong Union Peace Conference in August 2016 she warned that generations to come would "have to bear the burden of our legacies". On January 1 she again met with several youth leaders to discuss their role in the process.
However, the substantive inclusion of youth perspectives and youth participation in decision-making is still lacking. As a result, many youth networks across the country have taken the initiative to negotiate their own space in the process, as well as create platforms to have their voices heard.
These include the organisation of national youth conferences and forums – for example the Myanmar Youth Forum and Ethnic Youth Conference, as well as several other initiatives at state and community levels.
It is also important to emphasise that the youth in Myanmar are not one homogenous group: there are vast differences in perspectives and approaches to building peace, and all of these efforts should be acknowledged.
"Youth are the ones who can raise the community voice and educate the community," a young female leader from an ethnic minority told me last year. "Most senior people think that if the fighting stops there will be peace, but they do not think about other problems, like drugs, trafficking and natural resource exploitation, that perpetuate the conflict. If the local community and youth voice are not included, there won't be genuine peace."
A comprehensive peace deal is unlikely to be reached within the tenure of the current generation of leaders who make up the formal structures of the peace process. It is likely that the youth of today will be responsible for implementing any peace agreement that is reached.
Their engagement in the process is critical. It is important to consider how the younger generation is engaged during this peace process as it will shape their perception of the legitimacy of the process: Will they feel part of the process? Youth do not necessarily have to lead, but they must be part of it in a meaningful way, thus giving them a sense of ownership. 
The current decision makers in the peace process need to consider the legacy they want to leave behind, not only in words but in action also. This begins with recognising the youth as a legitimate stakeholder and as the generation who will be implementing any agreements made, particularly at community-level.
In a hierarchical structure like Myanmar, shifting attitudes and perceptions towards youth, from passive to active stakeholders, will enable young people to be viewed as credible voices in decision-making. As a result, collaborative relationships between youth and decision-makers can be fostered.
Huge potential
There exists great potential to support youth groups and networks to contribute to the peace effort. The impetus is on both the youth to coordinate their efforts and on those designing the process to allow young people to participate.
The current framework for political dialogue does not include civil society at the negotiation table, but aims to establish parallel forums and state-level dialogues through which civil society and the wider public can engage in the process.
Several youth organisations and networks have actively sought a space within these formal structures. Steps can be taken by decision-makers to ensure that the design, criteria and implementation of the national dialogue facilitates youth participation and actively provides a space for young people to voice their hopes and concerns.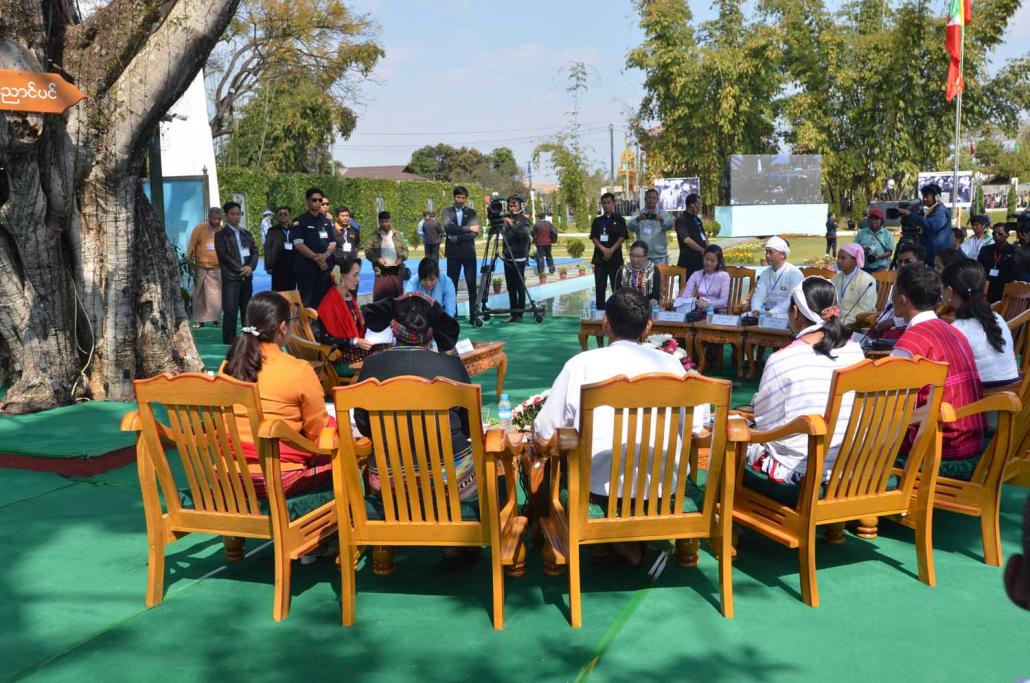 Greater support and funding could also be provided towards the implementation of strategies and programs led by youth organisations.
Research has shown that providing support structures for actors in a peace process can substantially enhance their influence and contribution to negotiations, and thus increase the sustainability of peace agreements. As state-level dialogues progress, providing young people with concrete technical skills could facilitate their effectiveness in participating in the process.
In December 2015, the United Nations Security Council adopted its first resolution on Youth, Peace and Security (UNSCR 2250). It places youth firmly on the peace and security agenda, recognising the role they play in peacebuilding, and advocates for direct involvement from young people in peace processes worldwide.
The resolution urges member states to consider ways to increase inclusive representation of young people in decision-making at all levels, and to offer mechanisms for the prevention and resolution of conflict in partnership with young people. It also recognises the role young women and men can play as positive role models in preventing and countering violent extremism.
As a member state of the UN, Myanmar has agreed to accept and implement the decisions of the Security Council, and has a binding obligation to do so.
But the motivation for youth inclusion should go beyond its obligations as a member state. Recognising the needs of the younger generation and the influence they have on the country's trajectory is essential for lasting peace to be achieved.
Irena Grizelj is an independent researcher and consultant, focused on youth participation in Myanmar's peace process. She has forthcoming publications on this subject in the Journal of International Negotiations and with Berghof Foundation.