By BEN DUNANT | FRONTIER
YANGON — Several dozen youth marched from Insein Road to the shore of Inya Lake in Yangon on Saturday afternoon to demand the release of Reuters reporters Ko Wa Lone and Ko Kyaw Soe Oo and the public's right to information.
The protestors, from the Protection Committee for Myanmar Journalists and civic action groups including Athan and Youth Movement, held black balloons stencilled with the faces of the two reporters, who have been detained since December under a colonial-era espionage act for exposing an army-led massacre in Rakhine State.
On Monday, a judge will decide whether to sentence them to up to 14 years in prison. The eight-month trial, in Yangon's Northern District Court, has exposed multiple discrepancies in the police's case against them.  Both the reporters, and one police whistle-blower, testified that they were set up with planted documents marked as secret.
Their incarceration has sparked global concern over the deteriorating state of press freedom in Myanmar, though in Myanmar outrage has been largely confined to journalist and youth activist groups, given wide public hostility to Rohingya Muslims, whose deaths Wa Lone and Kyaw Soe Oo were investigating.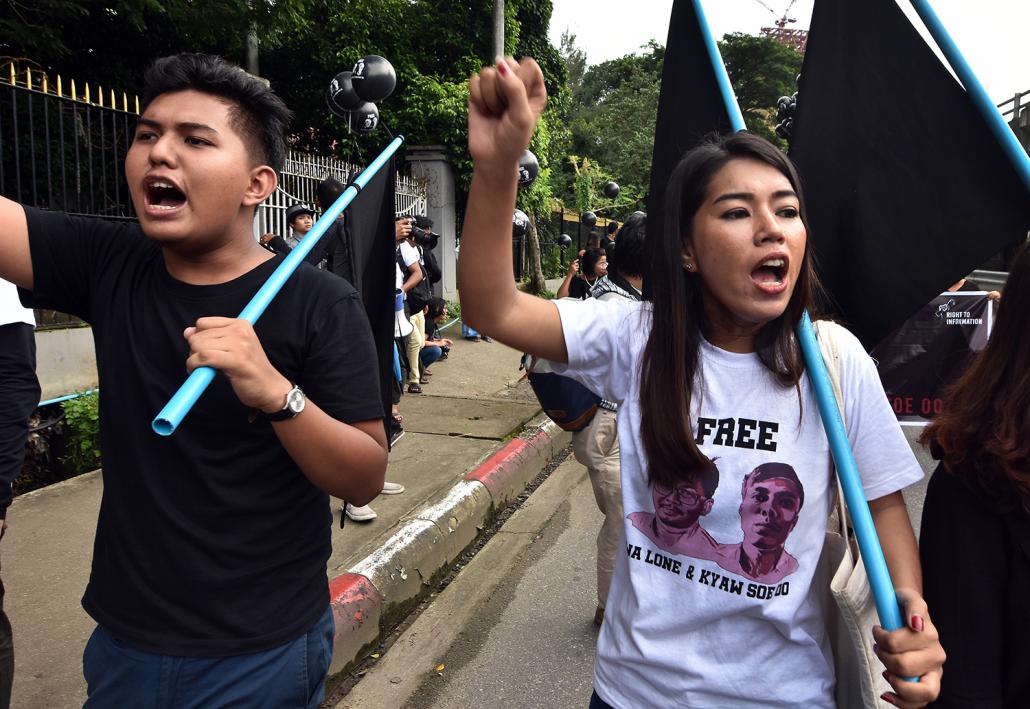 Demonstrators held banners and repeated chants calling for their "immediate release." Some wore t-shirts reading, "journalism is not a crime." Printed sheets were handed to the public with information about Wa Lone and Kyaw Soe Oo, their trial, and the massacre in Inn Din village of northern Rakhine State that they uncovered.
The police presence was restrained, with less than a dozen uniformed officers helping divert traffic. This contrasted with an anti-war demonstration in Yangon in May, which was violently broken up by riot police and resulted in multiple arrests. Several youth activists remain on trial for the "unauthorised" May protest.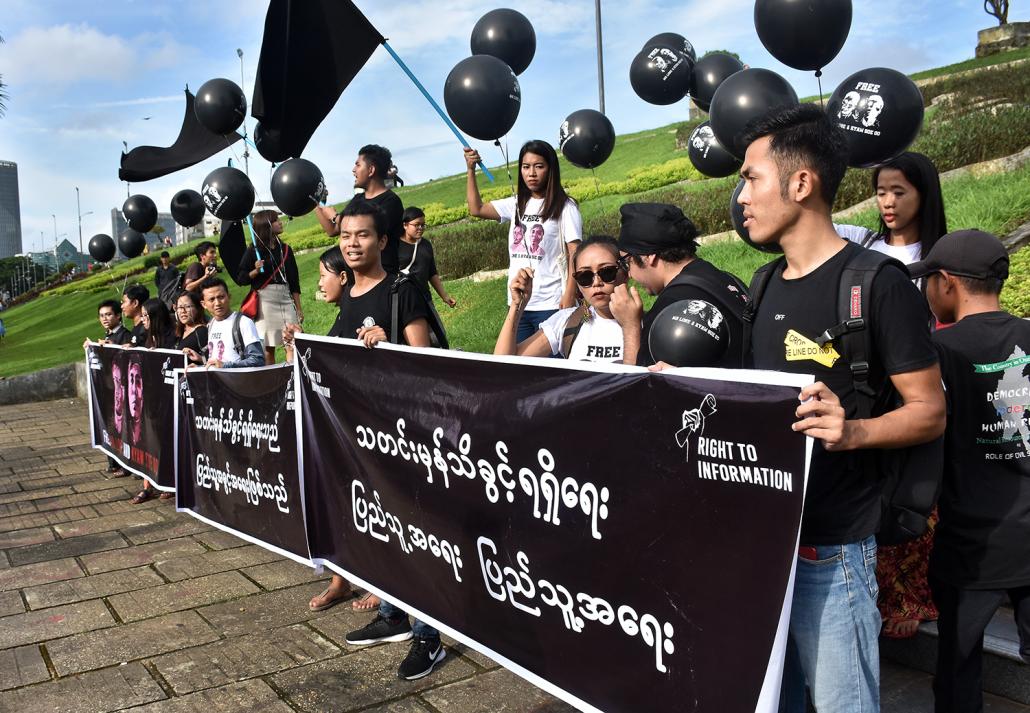 Ko Thar Lon Zaung Htet of the Protection Committee for Myanmar Journalists told Frontier that a protest notification was sent to police on Tuesday, and police made no objections. The protest passed through Hlaing and Kamaryut townships, which are not among 11 Yangon townships where the government has banned protests, ostensibly to avoid "public annoyance" and "traffic disturbance".
Thar Lon Zaung Htet said they had received violent threats from nationalist "radicals", who think Wa Lone and Kyaw Soe Oo are "traitors", but there were no attempts to disrupt the protest.
He told Frontier, "Press freedom is directly proportional to democracy. Our country's transition will not be successful if we don't have press freedom."