Lower prices and a level of tolerance from police have made motorbikes a common sight on the streets of Yangon, even though they are prohibited in the city's urban areas.
By HTUN KHAING | FRONTIER
RIDING A motorbike in central Yangon is banned, but in most areas you wouldn't know it. While they are particularly common in the city's outskirt areas, where public transport is poor, you can even find motorbikes on the side streets around the office of the Yangon Region chief minister, the highest authority in Yangon.
Enforcement measures are almost non-existent; riders breeze past traffic police and signboards that declare motorbikes prohibited and warn of potential penalties if caught.
This is not the case elsewhere in Myanmar. The country has four million registered motorbikes, and many more that have been illegally imported.
Motorbikes have not always been illegal in urban Yangon. But since 2003, a ban has been in place that prohibits their use in the 33 townships administered by Yangon City Development Committee except for Dala and Seikkyi-Khanaungto townships, across the Yangon River from the downtown area.
The prohibition was officially put in place for safety reasons, but it is widely believed that the military regime banned motorbikes due to security fears. According to one story, it was introduced after several youths on motorbikes pulled up next to a senior military officer's vehicle and made a gesture with their fingers indicating a gun being fired.
At the time the ban was put in place, motorbikes weren't widely used due to the high cost. Import duties were high and incomes were low.
But over the past 15 years that equation has changed. Reforms initiated by the Thein Sein government have led to a sharp drop in motorbike prices for both licensed and unlicensed bikes. An unlicensed, entry-level Chinese bike now sells for K350,000, while a licensed bike costs K450,000 – less than half what they would have cost in 2008, not taking into account inflation and exchange rates.
As a result, many residents have decided that the benefits of owning a motorbike outweigh the potential consequences of being caught.
Ko Tayoke Lay, who owns a Yangon bus line company with more than 30 vehicles, said growing motorbike use also highlighted the failings of the public transport system.
"The government banned motorbikes because Yangon was crowded and many accidents were happening," he said. "On the other hand, Yangon lacks reliable public transport, so local people solve this problem through motorbikes."
The enforcement issue
Police have taken some steps to ratchet up enforcement by catching riders and impounding their vehicles. Unlicensed bikes are either auctioned or destroyed if the owner fails to register the vehicle within six months, while licensed bikes – typically registered in another state or region – can be reclaimed after paying a K51,500 fine (US$42).
The large number of confiscated bikes has prompted police to begin filing criminal cases under the Export and Import Law of 2012, which can lead to up to three years' imprisonment if found guilty of importing "restricted, prohibited or banned goods". Police have opened a number of cases under this law since 2013, although it's unclear whether anyone has been convicted and, if so, whether they received a prison term.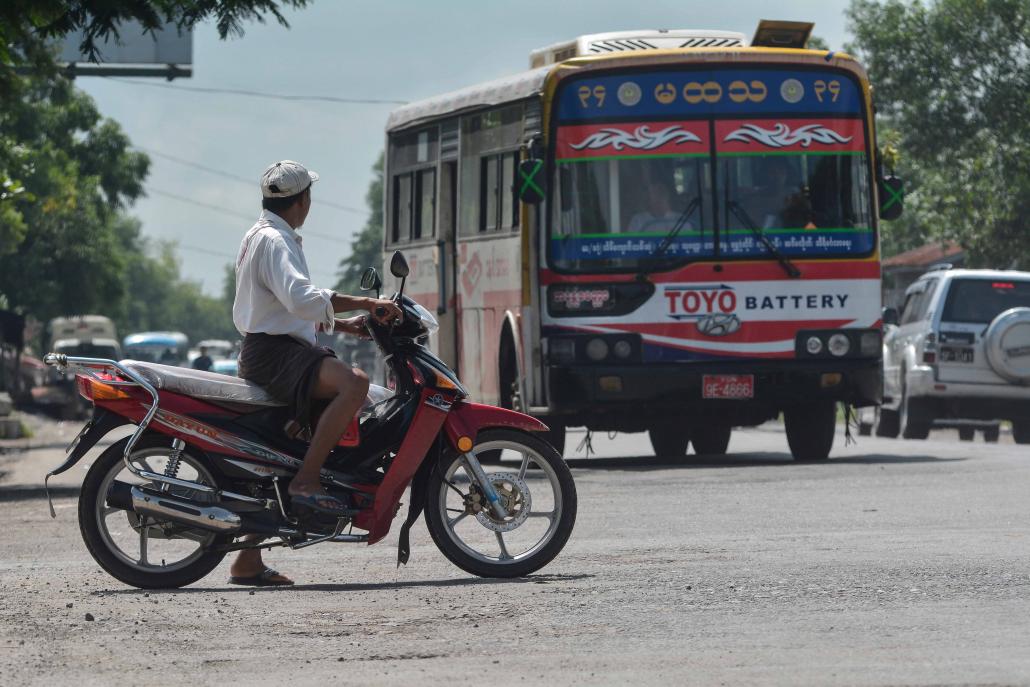 Last month, traffic police launched a crackdown on illegal motorbike use in an effort to combat crime. According to police figures, from August 15 to the end of the month, 490 bikes were seized.
Police Lieutenant Colonel Aung Ko Oo from the No 2 Traffic Police Force said this "strong focus" had resulted in unlicensed bikes temporarily disappearing from the city's streets.
"Some drive away when they suddenly see the police, so they might have an accident. It's very dangerous for them," Pol Lt-Col Aung Ko Oo said.
Now police have a problem: where to store all the confiscated bikes.
"We haven't got any more free space keep them. There are so many unlicensed motorbikes at every police station. In Mingalardon police station you can see a lot of motorbikes," he said.
Mostly, though, police tolerate the presence of motorbikes.
"Our officers don't patrol small streets in the quarter to seize motorbikes. We understand the situation on the ground. But if we see motorbikes being used on the main road, we don't have any choice. We can't ignore the law so obviously," he said.
Most of the motorbikes seized by police are either driven on main roads, driven dangerously or involved in criminal acts, such as thefts or drug dealing.
But police also take action in response to complaints from the public.
"People are annoyed at the motorbikes – we get many people calling us and asking why we aren't taking any action against them."
Public nuisance
North Okkalapa Township is one of the city's "no-motorbike"zones. But visit any day of the week and you'll see motorbikes everywhere.
Residents say they are resulting in more accidents and crime. Fed up with the lack of government enforcement efforts, people have been making their own speed bumps on suburban streets to control the speed of vehicles.
Another menace is thieves on motorbikes who snatch bags from pedestrians and ride away. "We put up signboards reminding people to be careful when motorbikes approach you. [The rider] might snatch your necklace or mobile phone," said U Maung Maung Kyaw of H Ward in North Okkalapa. "Because the motorbikes aren't registered, you'll never catch the culprit."
Most thefts of this nature are not reported to police, but Yangon Region's police chief, Police Brigadier-General Win Naing, conceded that it was a growing problem. Forty-five people were arrested for involvement in this type of crime between January and August, he added.
One group against the illicit rise of the motorbike is trishaw drivers. In many areas, motorbike taxis – common in other cities, but rare in Yangon until recently – have overtaken trishaws as the preferred mode of transport due to their speed.
In December 2013, almost 300 trishaw drivers staged a demonstration in Hlaing Tharyar Township calling on the authorities to take action against motorbike taxis.