Health authorities in Yangon say they are preparing for up to 5,000 cases in the city by building new treatment centres for mild and asymptomatic cases and setting up tents at major hospitals to house patients awaiting test results.
By AUNG PHAY KYI SOE | FRONTIER
In just a few days, the synthetic football pitches at Yangon's Thuwanna Youth Training Centre have been transformed into a temporary COVID-19 treatment site, as health authorities scramble to find space for new cases and those who have come into contact with confirmed patients.
Tents are also going up at hospitals around the city to house new suspected patients, and mild and asymptomatic cases are being transferred out of hospitals into new treatment centres that can house thousands of patients.
Work got underway on a 416-bed treatment facility at Thuwanna on September 11, and is scheduled to wrap up on September 18. When Frontier visited on September 15, workers were busy bolting tent frames in place, preparing electrical cables for installation and putting up partitions to create individual rooms.
The centre is being built by the Ayeyarwady Foundation, the philanthropic arm of Max Myanmar Group of Companies, whose chairman U Zaw Zaw also chairs the Myanmar Football Federation.
Ayeyarwady Foundation says it will foot the entire bill for construction, logistics and medical supplies, but the Ministry of Health and Sports will assign a team of 100 healthcare professionals and volunteers to run the site. It declined to reveal how much it was spending on the treatment centre.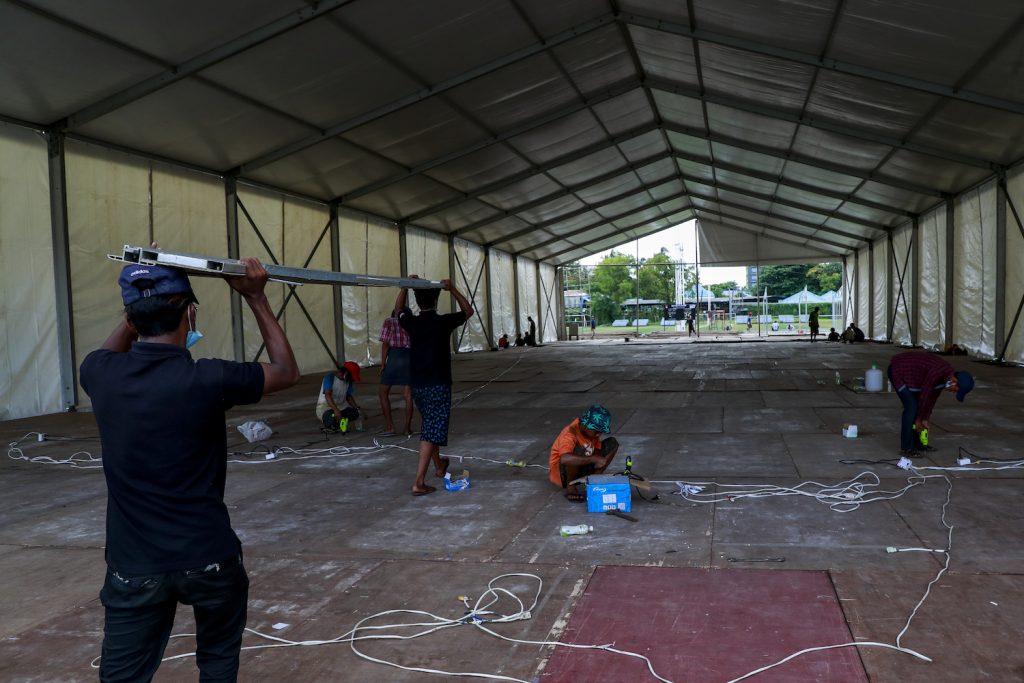 "All construction will finish on Friday. Chairman U Zaw Zaw has been closely supervising the work to ensure that the temporary treatment centre is completed on time," said U Tun Naing Aung, chief executive officer of CMC Advertising & Exhibition, which was in charge of construction.
The Thuwanna treatment centre will be one of three new facilities in Yangon for treating COVID-19 patients, as health authorities seek to quadruple the city's capacity to 5,000 beds in the space of a few weeks.
The expansion has been necessary due to a sharp jump in COVID-19 patients since the first week of September as a second wave of cases takes hold in the country's largest city. Since Yangon recorded its first community transmission of the current outbreak on August 24, confirmed cases rose to 1,757 as of September 14 – the most recent date for which detailed figures are available – prompting fears that the city may soon run out of space for patients.
Yangon has accounted for more than half of the 3,262 cases confirmed nationally since Patient 375 was identified in Rakhine State a month ago. Health authorities say there are 2,765 active cases nationally.
Race against time
On September 9, as the COVID-19 outbreak threatened to spiral out of control in Yangon, the government placed most of the city under stay-at-home orders. Two days later the Ministry of Health and Sports also created a new body, the Yangon Region Coordinating on COVID-19 Prevention, Control and Treatment Committee, to control the spread of the virus and ensure adequate facilities were in place for patients. The committee features 22 health professionals and regional government officials.
The committee's immediate focus was to boost treatment capacity. Vice-chair Dr Zaw Wai Soe, who is also rector of the University of Medicine 1 in Yangon, told the Skynet Up-To-Date channel on September 13 that the city's three main COVID-19 treatment centres were already at 95 percent capacity.
The largest of these is the Phaunggyi COVID-19 Medical Centre in Hlegu Township, which has a capacity of 1,120 beds. The other two, Waibargi Specialist Hospital and South Okkalapa General Hospital, are much smaller, with 90 and 60 beds, respectively.
Zaw Wai Soe outlined plans to ease the bed shortage by shifting less serious cases to new temporary facilities set up in former quarantine centres.
"Our goal is to manage 300 or 400 new patients a day in Yangon. If 300 or 400 new cases are found each day, we'll probably reach 4,000 or 5,000 cases within two weeks," Zaw Wai Soe told the broadcaster. "At the same time, we are planning to control the increase of new cases."
Zaw Wai Soe told Frontier that the Yoma housing complex in Dagon Seikkan Township, which initially has 576 beds, began receiving patients on September 13, and the Hlaing Township Quarantine Center, with 500 beds initially, got its first COVID-19 patients the following day.
Yoma housing now has 272 COVID-19 patients, while an official involved in the COVID-19 response confirmed that the Hlaing COVID-19 Treatment Centre has so far received 354 COVID-19 patients.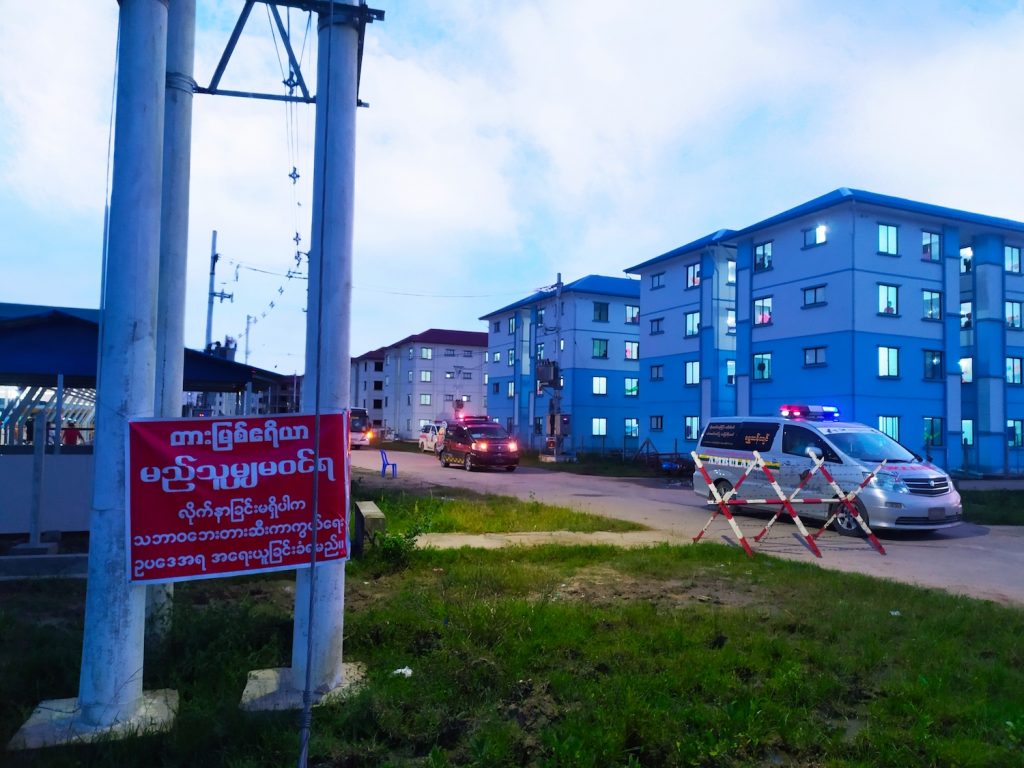 "There are two other facility quarantine centres [in Hlaing Township] that will continue to receive returnees from foreign countries as usual," said an official from construction firm Sae Paing Development, which provided all three facilities for use.
Total patient capacity now stands at around 2,700 patients, but with case numbers continuing to rise – Yangon recorded 212 cases on September 14 – Zaw Wai Soe said the committee had plans to increase it to 5,000 beds.
"Hlaing Quarantine Center can be expanded to accommodate more patients and we will build a COVID-19 treatment centre at Kyaikkasan Sports Ground in Tarmwe Township if necessary."
Meanwhile, the Ministry of Health and Sports dispatched three COVID-19 emergency response teams to Yangon on September 15 to strengthen the city's public health and medical service capacity.
The teams will be led by deputy director-general for medical services Dr Thida Hla, deputy director general for diseases control Dr Thandar Lwin and director for diseases control Dr Sithu Aung, the ministry said.
Speaking to state media on September 15, Yangon Region Chief Minister U Phyo Min Thein insisted the situation was now under control, with adequate treatment and quarantine capacity for the time being.
"Now, we can say that there is progress or improvement," he said. "Therefore, the entire population can remain calm with full of awareness of the current situation".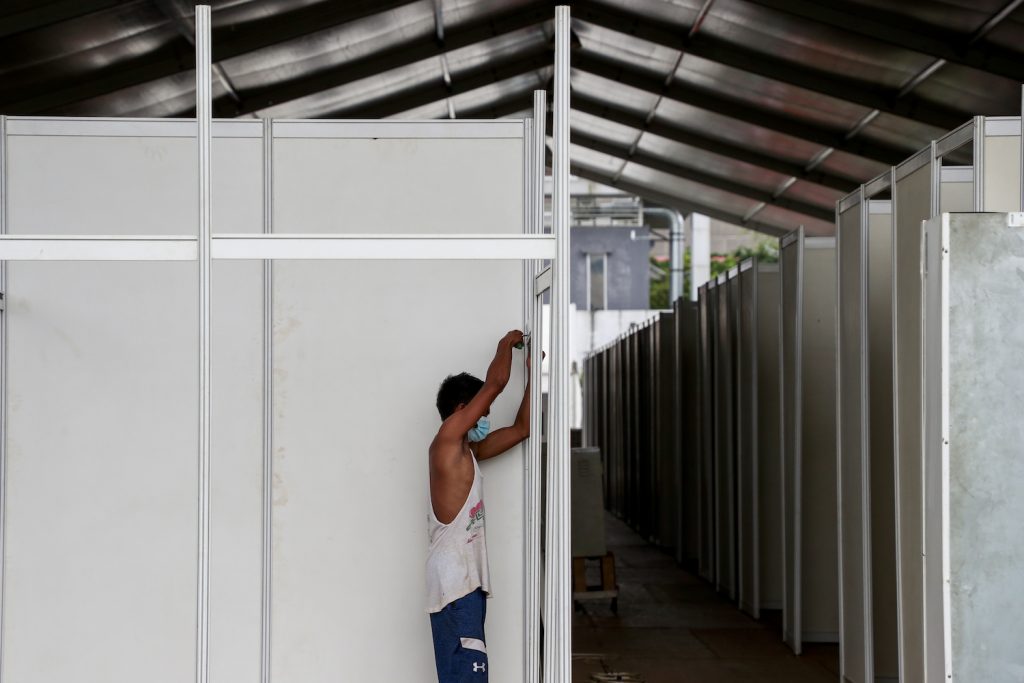 Temporary boost for hospital capacity
Other hospitals across the city are also being modified to better cope with patients and relieve the strain on treatment facilities and quarantine centres.
Dr Maw Maw Oo, head of the Emergency Department at Yangon General Hospital, said four general hospitals – Yangon, Insein, Thingangyun Sanpya and Yangon Western – have set up large tents to house patients under investigation, or PUIs.
A PUI is typically a person who has COVID-19-like symptoms, has been in close contact with a confirmed case or has been to a place where there is an outbreak.
The hospitals will each have one tent with 30 beds spaced 1.8 metres (6 feet) apart, and Maw Maw Oo said on September 15 that work was about 80pc complete.
"In recent days the number of patients under investigation who arrived at these four hospitals has increased, so we set up tents in vacant areas inside the compounds of the hospitals to handle them," he said.
"We will provide medical treatment to patients who [have symptoms] until they get the results of their lab tests," Maw Maw Oo said, adding that if a PUI tests positive they will be transferred to a treatment centre.
Meanwhile, the Myanmar Private Hospitals' Association also offered its support to the COVID-19 response in a meeting with the new coordination committee.
An association official said it has proposed using private hospital facilities to treat COVID-19 patients in Yangon Region.
If the government approves the proposal, the association will also arrange accommodation for health workers who provide treatment to COVID-19 patients to reduce the risk of infection, the official said.
"We are not doing this to make money – we will actually lose money," said Myanmar Private Hospitals' Association president Dr Htin Paw. "The main role of our association is to support the needs of the country … we want the government to approve our proposal."