The amount of green space has shrunk in Yangon as a result of deals between the former regional government and businesses – but the full details of these contracts remain hidden from the public.
By HTUN KHAING | FRONTIER
KO LWIN LATT knows all too well about Yangon's lack of public space. A passionate skateboarder, he saw the city's only skate park, at Thuwunna, handed over to a private school in 2011.
Now head of the Myanmar Skate Association, Lwin Latt said the lack of parkland and recreation facilities is "a big problem across the whole country" – and is encouraging a dangerously sedentary lifestyle.
"For example, you can buy a glass of liquor for K200 or K300 almost anywhere. But it's far more expensive to skateboard," he told Frontier.
Luckily, the skateboarding community soon found a home, thanks indirectly to the former regional government. They've commandeered space underneath several of the flyovers it commissioned, building ramps and bowls. Before the Hledan flyover was built, the skateboarders had to wait until midnight so they could take to the near-empty roads in relative safety.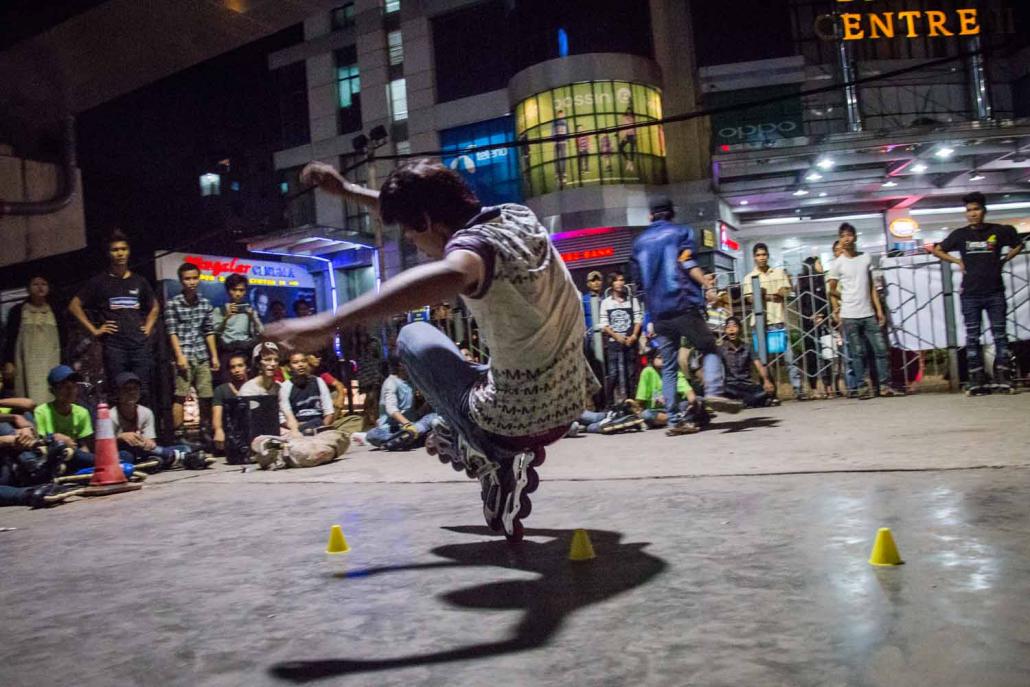 But the skateboarders are not alone in their concern. Yangon had more than 5 million residents at the 2014 census and while the city's population is growing strongly, its public space is going in the other direction.
According to a 2014 survey by the Japan International Cooperation Agency (JICA) and Japan Ministry for Land and Infrastructure, Transport and Tourism, Yangon had park space of just 0.37 square metres per resident, the lowest in the world.
That ratio is only getting worse because the former regional government signed long-term leases with private companies to manage or develop public sporting facilities and parkland. It's unclear exactly how much land has been handed over the private sector, though, because the current regional government has refused to provide details on deals done by its predecessor.
There are a number of examples to back up the claim that parkland and other public space is being lost. Kanthaya Park, covering 10 acres in North Okkalapa township, about 13 kilometres (8 miles) from downtown Yangon, is one such example. "Park" is no longer a good description; since being rented to a private company two years ago, a Sein Gay Har supermarket and "Fun Valley" amusement park have been developed on the site.
The owner has plans to develop the site: a lake that was formerly reserved for emergency drinking water and firefighting will soon offer water sports – to those who can afford to pay for the privilege.
This has incensed residents, who staged a protest on October 16 demanding that the government stop the lake being used by a business.
"For the past two years the owner has used the pretense of making the park greener to basically take over it," U Than Aung, a spokesman for the "Committee for the Reinstatement of Kanthaya Park", which was recently set up by area residents.
Before 2014, the park had many trees and much open space; the only businesses that were allowed to operate were a few beer stations.
"They cut down the existing trees to build these new buildings," Than Aung said. "People now have no place for rest and recreation. Only high-rise buildings and supermarkets have sprung up."
According to a lease agreement seen by Frontier, Yangon City Development Committee rented Kanthaya Park to a company called Phu Pwint San to build an "international-standard theme park", a "recreation centre" and a "relaxation centre". Neither the duration of the contract nor the annual rent were mentioned. Repeated phone calls to Phu Pwint San went unanswered, and company representatives did not respond to emails from Frontier.
The opacity of this arrangement is not unusual. Even the region's parliamentarians are in the dark as to the deals done by the previous regional government.
On October 19, Yangon Region MP U Nay Phone Latt (Thingangyun-1) called on the regional government to reveal the details of 232 contracts signed under the previous administration that had been described as having a "special service rate".
He sought the release of the location and size of the plot of land, the rent and the duration of the contract.
However, when Yangon Mayor U Maung Maung Soe came to the hluttaw to answer the question, he refused to provide information, saying instead that the government would resolve complaints "case by case".
Nay Phone Latt told Frontier he would pursue the matter further and push the government to release the information to the public.
"Which land has been given to who? I want the people to know all about it," he told reporters after the Yangon Region Hluttaw session. Addressing concerns that recreational space may have been lost, he added, "Football grounds and parks might be included in these 232 plots of land."
YCDC officials refused to comment when contacted for comment last week.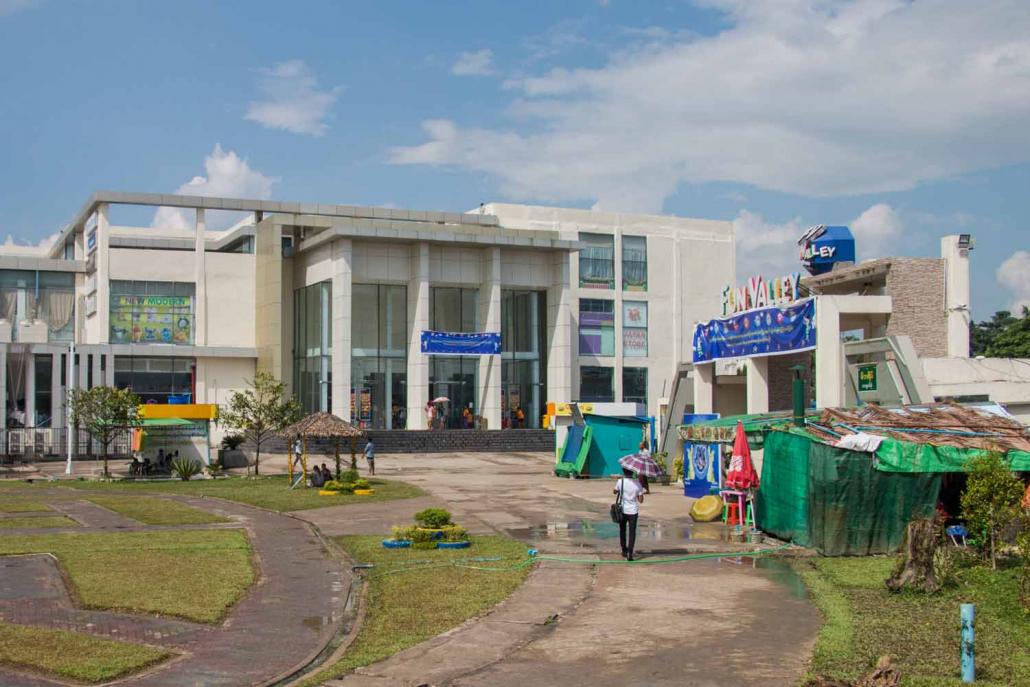 In cases where the terms of such contracts have come to light, however, the details have been highly embarrassing for both business owners and the government.
In December 2015, Yangon Region Auditor-General U Myint Aung revealed to the Yangon Region Hluttaw that Zaykabar company owned by U Khin Shwe – then a Union Solidarity and Development Party lawmaker – was paying just K30 million (US$22,750) a year to YCDC to lease 25 acres of land in Kandawgyi Park, under a 10-year contract inked in 2010. It later emerged that the contract had been revised in October 2015, with Zaykabar paying K60 million for the final five years.
Myint Aung also turned his attention to Mya Kyun Thar Park, where eight companies were leased land in 2013 for just K12 million per acre a year on 60-year contracts. Several have since built large structures on the shore of Inya Lake – the contracts forbid construction within 60 feet of the lake, officials have said – and in the process felled many of the park's towering trees, which sustained a wide variety of birdlife.
In October, YCDC said it had ordered all companies to stop building pending a review of their plans, but some have continued to build regardless.
The loss of public land has also embroiled the Union Solidarity and Development Party. In 1992, the military regime gave a public sports ground and park at the corner of Waizayandar road and Thitsar roads in South Okkalapa Township to the party's predecessor, the Union Solidarity and Development Association.
The USDP built a party office on the site but, much to the anger of some locals, is now also trying to construct a condominium.
Residents argue that because the USDA transformed from a "social organisation" into a political party in 2010 the land should be given back to the community. When construction on the condominium began in 2014, several protests were conducted. Some residents were later imprisoned for staging and illegal demonstration. In July, Yangon Region Chief Minister U Phyo Min Thein told the local assembly that YCDC had ordered the contractor to halt construction at the site, but work has continued and there seems little chance the land will be given back to the community.
"When South Okkala was established in the early '60s, plots of lands were set aside as a firebreak," said resident U Myo Khin, who took part in the protest. "These space were used for holding fun fairs and traditional events, and at other times they are playgrounds for children. Now they have nearly all disappeared."
Similar firebreak plots in wards 11 and 12 in South Okkalapa have also been repurposed. Media reports said the government is planning to use them to build multi-storey car parks.
For many Yangon residents, the first indication that the land has been signed away by YCDC in some quiet, backroom deal is when a big fence is placed around the site.
U Kya Gyi, a resident of Pale Myothit Ward in Mingaladon, said this happened in his community earlier this year.
"This land was used as a playground. Sometimes we used it for donation festivals," he said. "We only knew it had been handed over when they put up a fence and started working on the foundations of a building."
The era of public parkland being signed away for a song could soon be at an end, however. The regional government is working on a zoning plan that would demarcate green spaces and – in theory, at least – make it harder for them to be used for other purposes.
YCDC also appears to be changing its tune on parkland. In March of this year, its urban planning expert, U Toe Aung, told journalists that the municipal body hoped to increase "green space" in the city from 12 percent to 30 percent of total land area.
But Myo Khin from South Okkalapa said he had little hope that the situation would change under the current government.
"Governments don't look at the long term – they just ensure that developers get the benefits," he said. "They don't care about ensuring there is enough public space for people to be able to do physical exercise."
This article originally appeared in Property Insight, a Frontier special report on the Myanmar property market, on December 15. Top photo: A young Yangon resident runs with a kite through Mahabandoola Park in downtown Yangon. (Steve Tickner / Frontier)