Regional ministers deliver an unconvincing performance at a press conference to discuss the Yangon government's achievements in its first year — two months after the government's first anniversary.
By MRATT KYAW THU | FRONTIER
ON JUNE 9, seven ministers from the Yangon Region government, including Chief Minister U Phyo Min Thein, held a three-hour press conference. The event was supposed to focus on their achievements during their first year in office.
It was unclear why the "first anniversary" press conference was being held more than two months after the actual date, but other state and region governments have been doing the same around the country in recent weeks.
In Yangon, though, the press conference took place amid tense confrontation between the regional government and the local assembly, whose members have accused Phyo Min Thein's administration of lacking transparency and failing to keep them properly informed of its plans.
Journalists have also become frustrated by their inability to get interviews or information from the government. It's common to be told that the minister in question is "taking a break" from talking to journalists. These "breaks" can run for months at a time.
As an exercise in building confidence in the capability of the government, the press conference was a failure. The ministers explained the focus of their activities but the key issues affecting the region – flooding, power cuts, traffic congestion, land disputes, religious provocations and labour unrest to name but a few – went mostly unmentioned.
The ministers failed to convey any sense that progress was being made on these issues. When they were touched upon, they tended to blame external forces for the poor results.
The most commonly heard phrases were "it's an ongoing situation", "it's still in progress", "it's on the agenda" and "it will be implemented depending on the budget".
Led by Phyo Min Thein, the press meet was also attended by ministers Daw Nilar Kyaw, U Han Tun, Naw Pann Thinzar Myo, U Naing Ngan Linn, U Zaw Aye Maung and U Maung Maung Soe. The only absentees were Minister for Security and Border Affairs Colonel Tin Aung Tun and Minister for Planning and Finance U Myint Thaung.
Minister of Agriculture, Livestock and Irrigation Han Tun gave a long explanation on the farming sector in Yangon. He said the regional government had helped farmers access fertiliser, and it had built embankments for paddy fields. The ministry also constructed 17 bridges with a combined length of more than 300 metres (1000 feet).
Rakhine Ethnic Affairs Minister Zaw Aye Maung described his organisation of the traditional Rakhine events during the Thingyan festival and what else he is doing for the maintenance of Rakhine traditions.
"I [arranged] Rakhine traditional festivals, songs, dance on Rakhine State Day so that Rakhine people in Yangon can enjoy them and be satisfied," Zaw Aye Maung said.
As Zaw Aye Maung is also responsible for immigration and population, he has also had to handle regular conflicts between factory workers and management. It's a responsibility he also held under the former administration, but he spoke about the topic only briefly.
"We don't stand for either side: the workers or factory owners. We're just working according to the law," he said.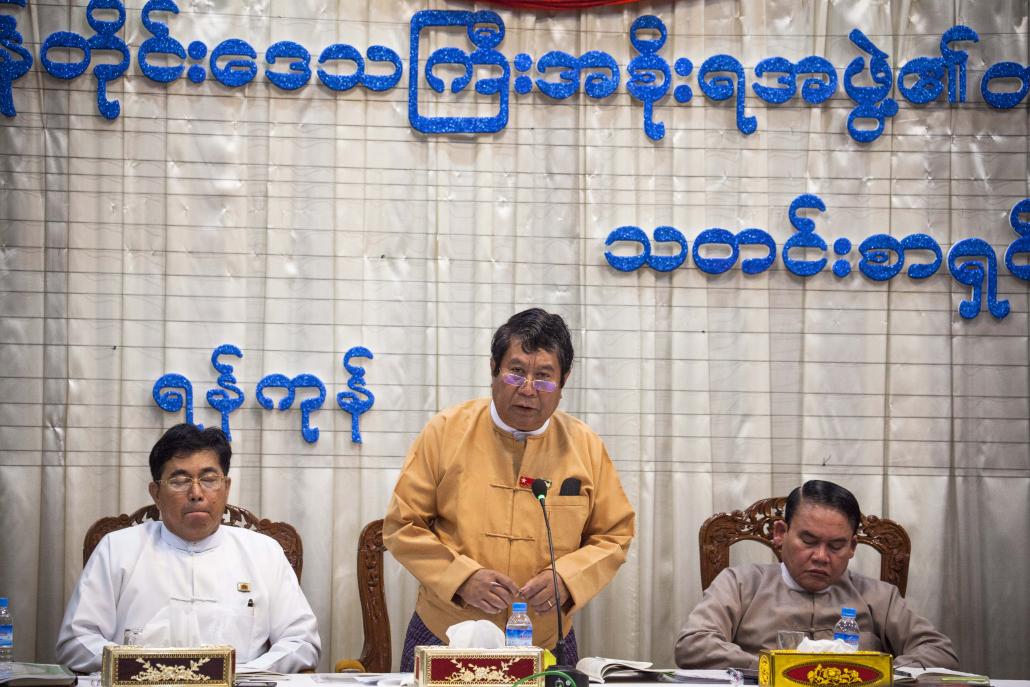 Minister for Kayin Ethnic Affairs Naw Pann Thinzar Myo said she cooperated with other ministers to improve electricity and transportation for ethnic Kayin people in Yangon.
But she also has another important ministerial portfolio: hotels and tourism. She explained that the ministry had received 183 applications for new guesthouses and hotels, of which the ministry permitted 103 and rejected five. A further 21 are still being considered. She did not explain the discrepancy in the figures. The status of the remaining 54 applications was not mentioned.
"We can say that progress in the hotel and tourism industry has increased by 36 percent," Pann Thinzar Myo said, without explaining how this increase had been calculated.
At this point reporters tried to interrupt with questions, but she ignored them.
Then Pann Thinzar Myo added proudly, "We can build a community tourism village in Twante, which is one of 14 such villages across the country."
She also highlighted the large number of cultural events that have been organised over the past year, such as the My Yangon My Home and the Mingalabar! festivals.
Next up was U Naing Ngan Linn, who leads the ministries of Religious Affairs and Culture, Education, Health and Sports, and Social Welfare, Relief and Resettlement.
He appeared very nervous during the press conference, reading from notes on his table but still stammering and stopping frequently. "Almost all of my time is spent on the peace process," he said.
He didn't discuss the recent confrontations between Buddhist nationalist activists and the authorities that have resulted in around a dozen being arrested.
Instead, Naing Ngan Linn said, the government "could hold large religious events at nine famous pagodas". During the Thingyan festival, a mass sermon was held at People's Park.
In contrast to Naing Ngan Linn, Mayor U Maung Maung Soe, who leads Yangon City Development Committee, appeared happy and relaxed.
He explained YCDC's broad remit. "People think that YCDC is just responsible for cleaning, but it's more than that. YCDC is responsible for humans' entire lives, from birth to the cemetery."
He then addressed the recent flooding on June 4, saying that the drainage system had been unable to cope with the extremely large amount of rain that feel in just two hours.
"We just have to pray to the God of Rain to stop the rain," the mayor said helpfully.
Minister for Electricity, Industry and Transport Daw Nilar Kyaw started by complaining of the many problems the government had faced after launching the Yangon Bus Service in January. Although she mentioned the arrival of new buses from China, she ignored journalists' questions on whether a tender was conducted.
If the press conference was a response to accusations that the government had not been transparent, it similarly failed on this front.
The press conference featured a question and answer session. But it was less question-and-answer than question, question, question, question followed by a general response. 
Journalists were told to ask their questions, one after another, while the ministers sat and listened. None of them appeared to be taking notes while the 30 questions were stated.
The first to answer was Nilar Kyaw. She did not answer the specific questions asked. When many reporters called out follow-up questions to her, Phyo Min Thein stood up and said, "Don't be so serious. Don't be afraid of change."
"[People] voted for the NLD for change. We are taking responsibility for delivering that change."
When he stopped, reporters then began directing their questions to Phyo Min Thein, asking him about the promises he made on the day he took up the job to fix Yangon's flooding and traffic problems.
At that moment, he seemed nervous and weary.
"The media shouldn't be angry," he told the journalists. "We have been imprisoned for standing up for media that is steadfast, stable and stands, like today, as the fourth pillar. At that time [when we were in prison] there were no journals or newspapers covering politics. This opportunity [for the media] didn't come free of charge."
Of the questions, Phyo Min Thein answered only one specifically: "What is your most satisfying and successful project during your first year?"
"I'm satisfied with all of the changes I've made during this first year," he said, "because we are not working for pride or self-interest."
TOP PHOTO: Chief Minister U Phyo Min Thein, centre, speaks at the June 9 press conference. (Theint Mon Soe aka J | Frontier)