By MRATT KYAW THU | FRONTIER
YANGON — Three senior editors at Eleven Media Group face up to two years' imprisonment on incitement charges filed on Tuesday by the Yangon Region government, over an article that criticised its business ventures, including a public-private partnership that has regional ministers as shareholders.
At Yangon's Tarmwe Township court on Wednesday morning, defence lawyer U Kyee Myint told reporters the plaintiff had filed a lawsuit over an article written by senior editor and chief-of-staff Ko Phyo Wai Win, published in the October 8 edition of Weekly Eleven News Journal. "They extracted some paragraphs from that article in the court," he said.
U Aung Kyaw Khine, a director in the Yangon government office, filed the lawsuit at Tarmwe Township Police Station on Tuesday. That evening, police went to Eleven Media Group's head office to arrest Phyo Wai Win, editor-in-chief Ko Kyaw Zaw Linn and editor in charge Ko Nayi Min. The journalists were not in the office, but all three appeared in Tarmwe Township court on Wednesday.
Lawyer Kyee Myint accused the Yangon Region government of trying to destroy the entire newsroom by arresting its senior editors. "They should charge just one reporter and give that reporter a chance to explain, but instead they have chosen to sue three journalists, which will destroy the whole publishing house," he told Frontier. Kyaw Zaw Linn and Nayi Min work across Weekly Eleven News Journal and Daily Eleven, which is among the country's most popular newspapers.
The offending article in the weekly journal criticised business ventures initiated by Yangon Region Chief Minister U Phyo Min Thein including a US$100 million contract awarded without a tender to import buses from China. Further criticism was directed at a public-private company, Yangon Metropolitan Development Public, which was incorporated on March 8, 2017. In his lawsuit, Aung Kyaw Khine claimed the article "frightened shareholders and damaged public trust in the company".
The article pointed out that that regional Minister for Planning and Finance U Myint Thaung and regional Minister for Electricity, Industry and Transportation Daw Nilar Kyaw both hold shares in Yangon Metropolitan Development Public, which is 51 percent owned by the Yangon Region government. Myint Thaung alone holds 639,500 shares, worth K100,000 each, the article said.
"Despite the company being established according to corporate regulations, the largest shareholder is a government minister and lawmakers have pointed out this could lead to complications," the article said.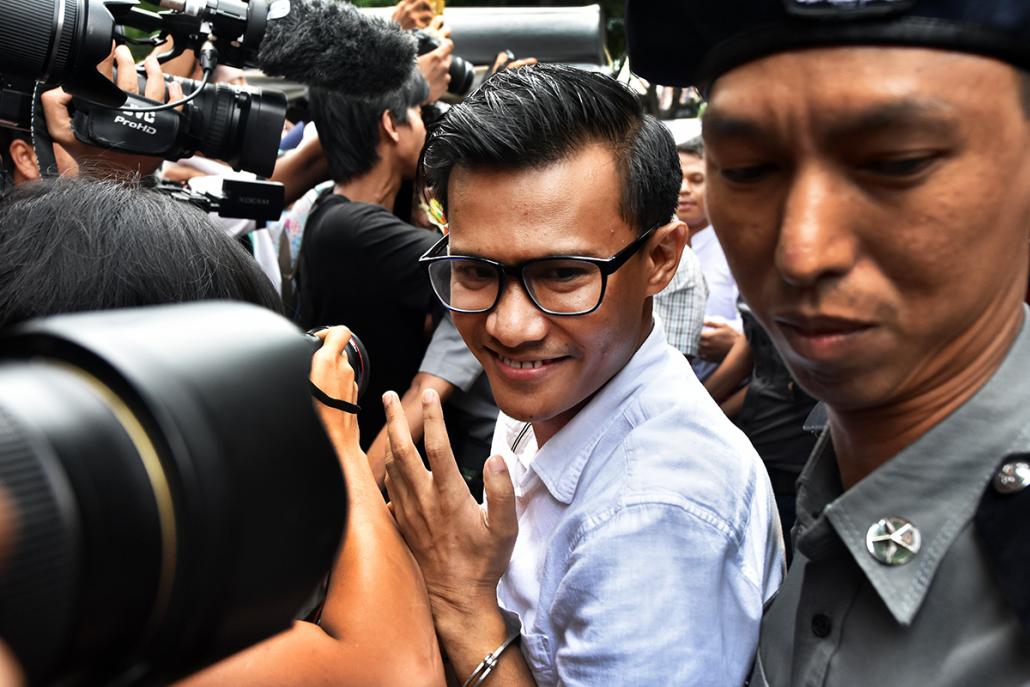 On October 2 regional lawmakers including Daw Sandar Min (NLD, Seikgyikhanaungto-1) accused the Yangon Region government of abusing its power by investing public sector money in public-private partnerships, during a meeting of the Yangon parliament. Sandar Min also warned about the risk of public money being wasted should Yangon Metropolitan Development Public become loss-making.
The three editors have been charged under Section 505(b) of the Penal Code, which prohibits the publication or circulation of any statement, rumour or report with intent to cause "fear or alarm to the public". It is commonly used to target political activists; the Assistance Association of Political Prisoners has said vague terms such as "offense against the state" and "public tranquility" leave it open to abuse by authorities.
"It's obvious that 505(b) is being used to limit freedom of expression. The government has said it accepts media criticism; it shouldn't charge journalists under a law that provides for offenses against the state," said U Than Zaw Aung of the Myanmar Media Lawyers' Network.
The arrests took place just a week after Reporters Without Borders issued an "incident report" about the threat to Myanmar's position in the World Press Freedom Index resulting from grave violations of the freedom to inform since the start of 2018.
This is not the first altercation between Phyo Min Thein's government and Eleven Media. In November 2016, chief editor Ko Wai Phyo and chief executive officer Dr Than Htut Aung were arrested for online defamation under section 66(d) of the Telecommunications Law for an opinion piece that suggested the chief minister had received a US$100,000 watch from a prominent businessman.
They spent almost two months in prison and were released on bail after publishing an apology. Nayi Min, Kyaw Zaw Linn and Phyo Wai Win are being held at Insein Prison in northern Yangon. Their next hearing at Tarmwe Township court is scheduled for October 17.