A lack of cooperation among key township officials is hampering the effort to combat COVID-19 and raises questions about how a city-wide lockdown will be enforced during Thingyan.
By HEIN THAR | FRONTIER
ON MARCH 28, I went to the ward administration office in my township, North Okkalapa, to offer my services as a volunteer in the fight to prevent COVID-19.
I suggested to the ward administrator that a community-based volunteer group, with members from every street, be established to monitor all movement. He seemed to like the idea, but said he had received no instructions to form such a team.
"We can't do anything without instructions," he said.
It's a fairly standard response from a bureaucrat that perhaps in normal circumstances wouldn't raise too many eyebrows. But at time when people are nervous and feel vulnerable because of COVID-19, inaction from government officials can be a significant source of tension.
The following day, matters nearly came to a head in my ward. At the time health authorities had confirmed 10 cases of COVID-19 in Myanmar, most of which had been related to overseas travel. We had seven returnees from abroad in our ward who were self-quarantining at their homes, but they were not being monitored by the ward authorities. That night, a crowd of concerned ward residents gathered in front of the administrator's home to complain about the situation.
One woman described the administrator as "useless" and accused him of "getting the whole ward into trouble".
The administrator appeared and asked people to calm down. He promised to send the returnees to a quarantine centre, which he did two days later.
Before, I wasn't particularly interested in my neighbourhood. But working from home as a precaution against the spread of COVID-19 has enabled me to observe it more closely, particularly the way local officials are responding to the coronavirus threat.
North Okkapala is one of 33 townships that make up the Yangon municipal area, and has a population of about 300,000 across 22 wards. The township includes the Aung Mingalar highway bus station, and Waibargi infectious diseases hospital, where COVID-19 patients are being treated, and it adjoins Yangon International Airport.
Like a lot of outlying townships, many parts of North Okkalapa are poor, heavily populated and under-developed. In this environment it's easy for residents to feel vulnerable, and that they are not being properly protected from COVID-19.
Those feelings were amplified on April 1 when the Ministry of Health and Sports announced that a resident of the township had tested positive for the coronavirus, but provided no further information.
Many worried township residents wanted to know where the patient lived, and rumours quickly circulated in the community and on social media. I called my ward administrator, as well as three MPs and the township General Administration Department administrator U Tint Zaw, but they didn't have even basic information, such as the patient's ward and recent travel history.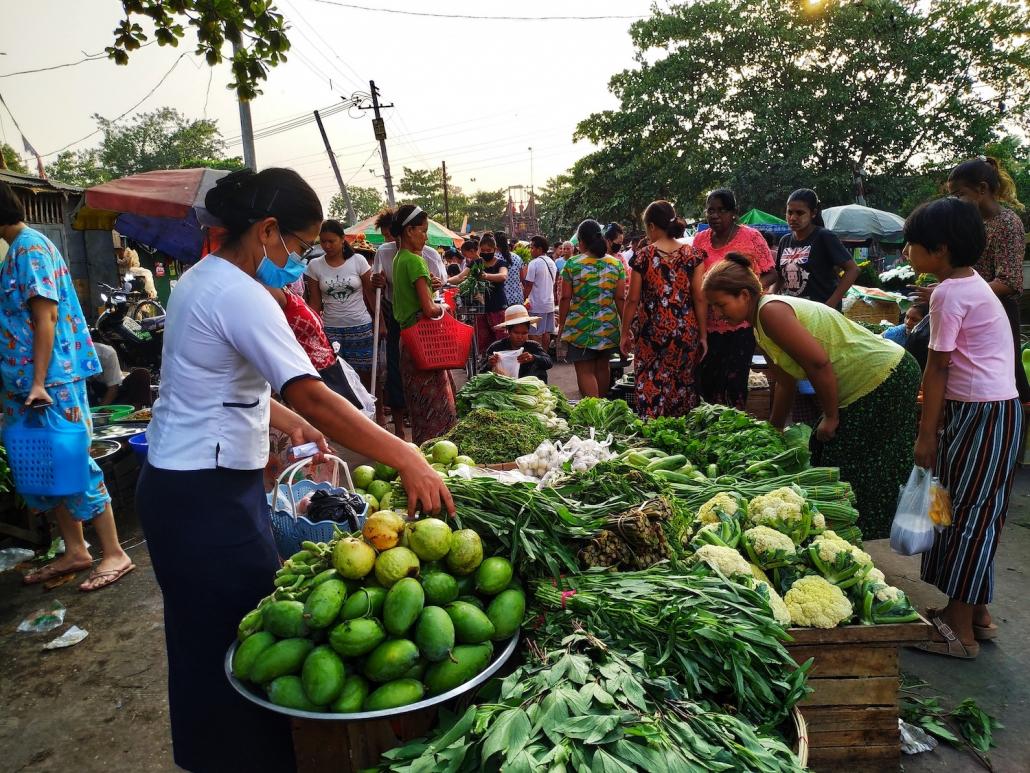 In an interview at his office two days later, Tint Zaw told me that local authorities do not receive any advance information before the health ministry announces new confirmed cases. This means officials are unable to begin taking the precautionary measures, such as spraying disinfectant, that would help to mollify residents, until hours after the announcement.
"It's like waiting for the results of an exam. You only know there is a COVID-19 patient in your township when the ministry announces it. All of a sudden, you've been bitten by a bee," said the township administrator, using a Myanmar expression, pyar tote, for suddenly finding yourself in a difficult situation.
Nonetheless, after the initial delay in being briefed by higher authorities about the confirmed case on April 1, the township authorities responded promptly. That same night, GAD and health department personnel arranged to lock down for 14 days the street on which the patient lived. They also sent more than 20 people who had been in contact with the patient to a quarantine centre and sprayed the street, finishing their work at 4am.
Tint Zaw said it was difficult to arrange transport to the quarantine centre at night and to obtain at short notice from the township health department the personal protective equipment needed for the personnel who sprayed the street. It was also challenging to coordinate with all the township authorities, he said, such as the municipal committee and health department.
"The lack of prior coordination slows the response and makes it more difficult," he said.
The government, though, has been repeatedly emphasising the need for unity and cooperation among relevant departments to ensure an effective community response to the coronavirus.
Under an order issued by the Union government in March, all townships have been instructed to form committees aimed at preventing the spread of COVID-19. The committees are headed by the township administrator and include the township medical officer, the chairperson of the township municipal committee, and police.
During the COVID-19 crisis, these officials should cooperate to keep their communities safe. In some of the township committees, tensions have emerged between heads of township municipal committees, the large majority of whom are from the National League for Democracy, and administrators and other GAD officials, who are often former military officers.
In last year's elections for the Yangon City Development Committee, the city's municipal authority, NLD members won 83 of the 99 elected seats for township municipal committees, on which many were chosen to serve as chairpersons.
An administrator in North Okkalapa complained to Frontier that an argumentative NLD township municipal committee chairperson often turned the COVID-19 committee meetings into a battle. "I don't want to invite him to the meetings anymore," he said.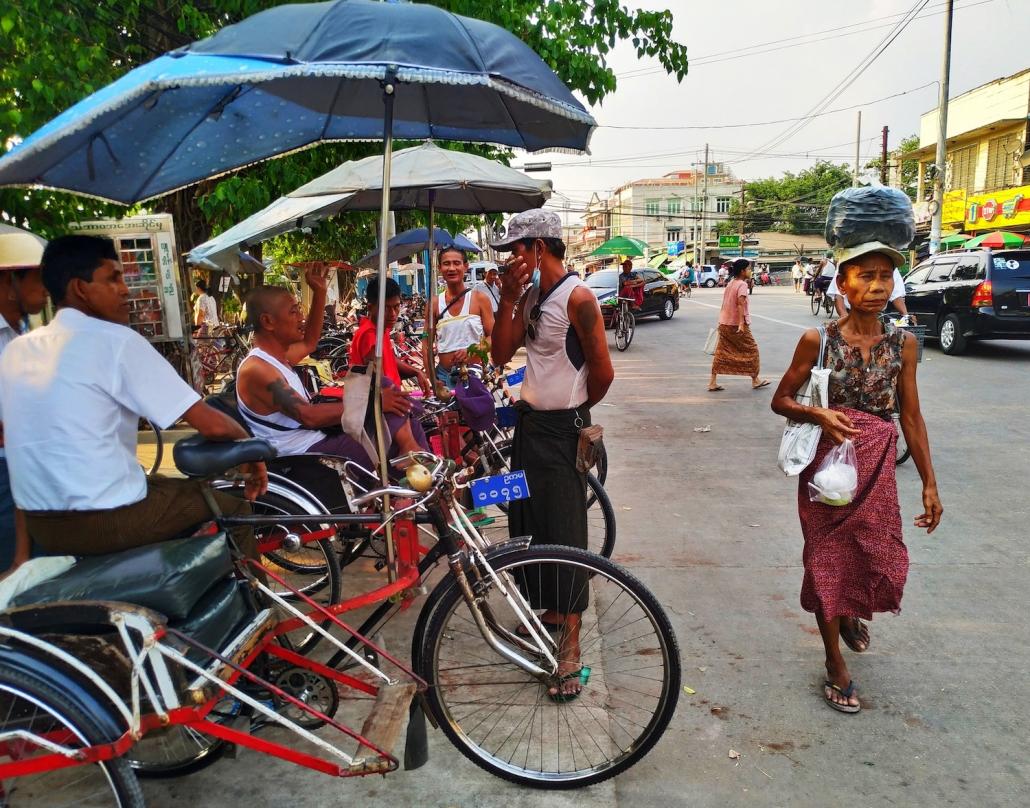 One example of the discord between GAD officials and township municipal committees occurred in late March. Township GADs ordered the closure of karaoke lounges, bars and restaurants that sell alcohol, but township municipal committees said all restaurants and other food outlets were permitted to remain open but only to sell take-away meals.
However, some restaurants and other food outlets, as well as beer stations, have continued to serve customers in their premises because the order to sell only take-away is not being enforced.
Asked why action was not being taken against businesses flaunting the new restrictions, North Okkalapa administrator Tint Zaw said, "That's YCDC's job, not ours."
In response, one member of the North Okkalapa municipal committee, which is under YCDC, said it was unable to enforce the order without the help of the township-level COVID-19 committee of which Tint Zaw is the chairperson.
A similar lack of enforcement in other urban townships in Yangon is apparently the reason why so few food outlets in the city are facing legal action for breaching the order to sell only take-away food and drink.
Another problem in the wards is the circulation of fake news, which is causing unnecessary confusion and anxiety. One baseless rumour says Yangon residents who leave their homes during Thingyan will be sent to state quarantine.
The rumour seems to stem from the Yangon Region COVID-19 Protection, Control and Treatment Committee's April 2 announcement that all residents should stay inside during the Thingyan holiday, from April 10 to 19, and only leave their home for "must-do errands" and for health reasons. The announcement did not say how the measure would be enforced, or what punishment those caught outside without a valid reason would be subjected to, and this seems to have fed the rumours about state quarantine.
There is also uncertainty over the Union government plan to distribute basic consumer goods during Thingyan to low-income households that meet a set of 16 criteria, including not owning land, not having a job and so on. This initiative will be overseen by the township GAD and municipal officials, who are now taking surveys and compiling lists of eligible households. Avoiding waste and ensuring fairness will be extremely difficult. Even with the best will, many doubt that the goods will go to the people who need them most.
In the coming days, Yangon will experience a partial shutdown for Thingyan. During this period, health officials, GAD officers and members of municipal township committees will need to cooperate more closely than ever if they are to protect the people from disease, disorder and hunger.