By KYAW LIN HTOON | FRONTIER
MORE THAN US$25 million is being provided by the Livelihoods and Food Security Fund (LIFT), European Union, United States and Australia to support Myanmar's response to the COVID-19 pandemic, including cash grants totalling millions of dollars to affected or vulnerable groups.
The assistance will benefit workers who have lost their jobs, internal migrant workers and those returned from abroad, mothers, the elderly and people displaced by conflict. It also includes technical support and the supply of medical equipment.
Many of those targeted will receive one-off or ongoing cash payments distributed through the Wave Money mobile platform, making disbursement faster and more efficient.
In separate statements on April 9, LIFT, the EU and Australia announced funding support of $15.8 million, €5 million (about $5.47 million) and AUD$500,000 (about $318,000), respectively.
The announcements came after the US said on March 31 it was providing Myanmar with about $3.8 million in health and humanitarian funding as part of its emergency support for member countries of the Association of Southeast Asian Nations.
LIFT said its funding support was expected to benefit about 5.9 million people and was focused on the most vulnerable: migrants, the elderly, internally displaced people, pregnant women and those with children aged under two.
It said $2.9 million had been allocated for immediate assistance to migrants to prevent the spread of the virus and to provide economic and legal support. The allocation includes $1.7 million to support an estimated 310,000 internal migrants in peri-urban areas, and $1.2 million for 110,000 returned migrant workers.
LIFT is also providing $4.93 million to cover the cost of a one-off payment of K30,000 to pregnant women and mothers of children under the age of two. The payment will benefit more than 1 million people, including 242,000 directly. One-off payments of K30,000, totalling $4.07 million, will also be provided to support the elderly.
Civil society is receiving $1.5 million from LIFT to strengthen the assistance it is providing to the government's response, and the fund is also providing $268,000 to give IDPs in Rakhine State access to clean water and hygiene products. Another $120,000 has been allocated by LIFT to the BBC Media Action Yay Kyi Yar radio show and digital platform.
"With the funding from our donors, LIFT is proud to be able to offer assistance, working with civil society, government, ethnic service providers and all our implementing partners to support preparedness, response and resilience at this crucial time in Myanmar," said LIFT fund director, Ms Katy Webley.
LIFT's donors are the United Kingdom, EU, Switzerland, Australia, US, Canada and Ireland.
The EU is providing support through its Myan Ku "quick assistance" emergency cash fund that will mainly benefit female garment workers who have lost their jobs.
"Quick and unbureaucratic cash payments will help workers pay for food and avoid evictions," the EU said.
It said 80 percent of the €5 million Myan Ku fund would go towards supporting up to 80,000 affected workers in the garment, textile and footwear sectors, who will receive emergency cash transfers averaging K75,000 a month for up to three months.
It said 10pc of the fund would assist workers whose jobs had been terminated illegally, of whom up to 8,000 people would receive emergency transfers of K125,000.
Another 10pc would provide funding support to workers at small and medium enterprises that had agreed to retain employees and match, at least, the assistance provided by the EU. This is expected to benefit about 5,000 workers.
The Myanmar Garment Manufacturers Association says that to the end of March more than 25,000 workers had been laid off at more than 40 factories in Myanmar's previously booming garment sector, which has been hit hard by supply chain disruptions and a slump in orders caused by the pandemic. The garment sector has an estimated workforce of 700,000, most of whom are women, and about 350,000 are at risk of either being suspended without pay or losing their jobs permanently, the MGMA says.
"This Myan Ku emergency cash fund will be a critical lifeline for vulnerable workers and their families as they face extremely challenging months ahead," said Daw Khin Khine Nwe, secretary general of the MGMA, who added that more factory closures and layoffs were likely in April.
EU ambassador Mr Kristian Schmidt told an online news conference on April 9 that it did not matter if a factory was owned by a Myanmar national, or a Chinese, South Korean or European company, because the virus had no passport and did not discriminate.
"We can all get it; therefore, there will also be no discrimination in our support," he said.
Schmidt also urged business owners, workers and labour unions "to show solidarity in this crisis, and no discrimination".
Schmidt said Myanmar exported 70 percent of the garments made in its factories to Europe and the sector had created about 450,000 jobs for women throughout the country.
Garment exports were a great success story that had helped improve the lives of millions of people throughout Myanmar and the industry had seen significant improvements in labour rights and environmental standards, he said.
"It is [therefore] with great sorrow that we witness factories shutting down and tens of thousands of young female garment workers losing their jobs. Immediate action is needed to support these women and their families," the ambassador said.
The support from the EU's Myan Ku was also welcomed by U Maung Maung, president of the Confederation of Trade Unions Myanmar.
"With preventive action implemented locally and support from the international community, Myanmar will surely overcome the pandemic and its consequences successfully," he said.
Myan Ku cash payments will be distributed through the Wave Money mobile application, the EU said. Wave Money chief executive officer Mr Brad Jones posted on Facebook that the Union government had also appointed the company to distribute payments on behalf of the Social Security Board. "The first payments have been made this week for COVID-19 quarantine relief, maternity and medical benefits. We are proud to be supporting the government and the people of Myanmar in this difficult time," he said.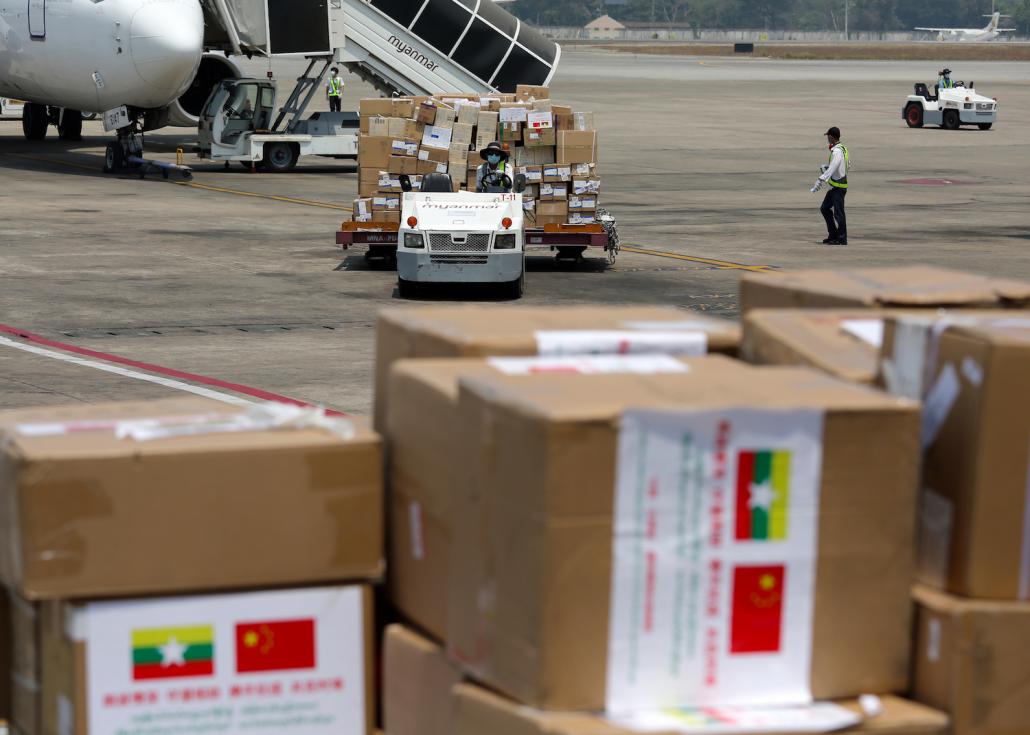 Australia's support will provide AUD$500,000 (about K400 million) in personal protective equipment (PPE) and medical equipment for the public health system and health workers, said a news release from the Australian embassy.
Australia is helping to strengthen laboratory capacity and assisting Myanmar to improve its regulation of vaccines, drugs, diagnostics and disease control tools, it said
The assistance includes 380,000 surgical masks, 2,500 PPE sets (500 full, 2,000 partial), 20,000 examination gloves and five intensive care unit beds, as well as patient monitors, suction machines, defibrillators, autoclaves and tracheostomy sets.
The US said in a March 31 news release that it was providing Myanmar with about $3.8 million in health and humanitarian funding that would go towards water and sanitation supplies, COVID-19 case management, event-based surveillance, and other needs. 
It said the Atlanta-based Centers for Disease Control and Surveillance was helping the Ministry of Health and Sports to launch a nationwide online telementoring session on COVID-19 that is providing Myanmar's frontline health workers with timely, accurate information on the outbreak at more than 100 locations throughout the country.
The CDC is also providing technical assistance on epidemiology, surveillance and laboratory case detection to Myanmar's Central Epidemiology Unit and the National Health Laboratory, and has arranged two rounds of technical consultations.
"As the leader in the global health and humanitarian response to COVID-19, the United States has acted swiftly to support our ASEAN partners in combatting the COVID-19 virus," said the release.
It said the US had provided about $13.8 million in emergency health and humanitarian assistance to the 10 ASEAN members since the outbreak began.
Other countries, including China and Singapore, have also contributed to Myanmar's coronavirus response by providing medical equipment and technical support.
On April 8, China sent a medical team to Myanmar along with a total of 5.3 tonnes of medical materials and equipment, much of it donated by Chinese companies, state-run outlet Xinhua reported.
On March 26, Chinese ambassador to Myanmar Mr Chen Hai handed over medical supplies to U Zaw Than Htun, director general of the Medical Research Department under the Ministry of Health and Sports, according to Xinhua.
The donation included 5,000 items of protective clothing, 5,000 pieces of N95 respirators and 200,000 pieces of surgical marks, it said. Earlier in the month China also donated laboratory equipment to Myanmar.
On March 4, Singapore handed over 3,000 diagnostics tests and two polymerase chain reaction (PCR) machines in response to a request from the Myanmar Ministry of Health and Sports, Singapore's Ministry of Foreign Affairs said.