A scheme to pioneer hemp cultivation in Myanmar resulted in a police raid, three arrests and an ongoing trial, despite being green-lit by the Mandalay Region government.
By HEIN THAR | FRONTIER
AS WE ENTERED the compound of the family home in Myotha West village, we encountered a middle-aged man reading out loud from the Paṭṭhāna, a Buddhist scripture. A woman came out of the house and asked us why we were there. When we told her we had come to ask about Ma Shun Le Myat Noe, her face fell.
"I don't want to talk about my daughter because I'm too sore at heart," said the woman. Both she and her husband became tearful.
Shun Le Myat Noe, 21, lived in the village in Ngazun Township, about a three-hour drive west of Mandalay, with her parents U Myo Min Aung, 48, and Daw Yi Win, 47, and a teenaged brother. The young woman is now in prison with a Myanmar man and an American, who together are making fortnightly appearances at Myingyan District Court and face the prospect of lengthy prison sentences on drugs charges.
In January, her parents had asked her to return from Mandalay, where she was attending a vocational course, and encouraged her to work at a plantation in Myotha Industrial Park, just a few miles from there they lived. Neither she nor her parents knew much about the project. They certainly had no idea she would be getting involved in growing an industrial crop that was new to plantation agriculture in Myanmar – and whose precarious legal footing had, it seems, not been fully understood by those involved.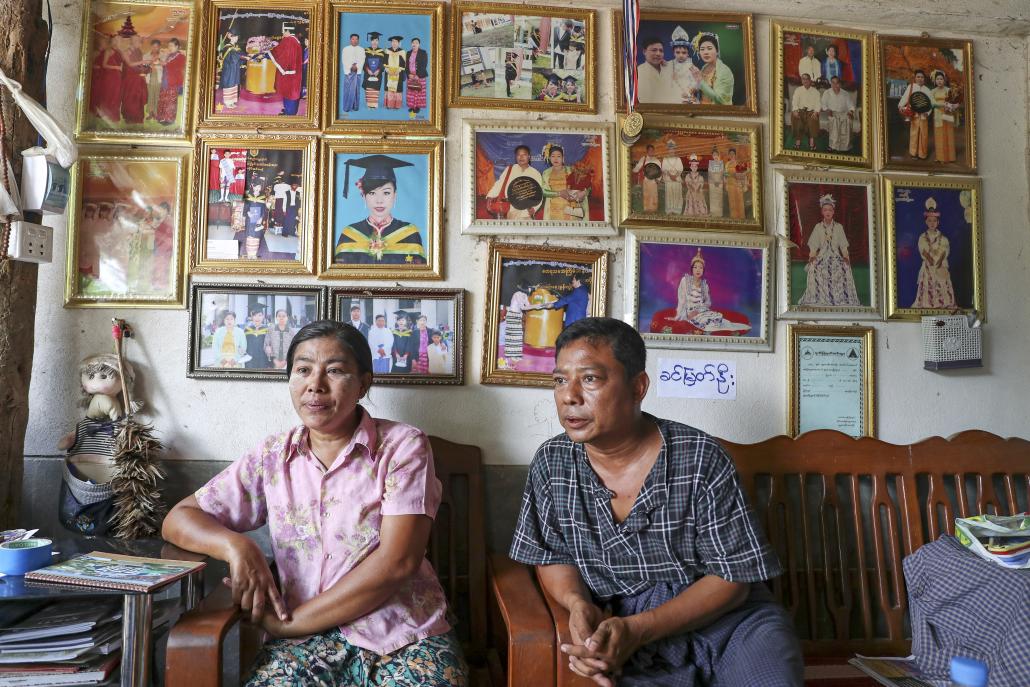 Hemp pioneers
The company behind the project is III M Global Nutraceutical, which registered as a foreign company in August last year.
Though the word hemp can refer to all plants in the cannabis genus, it is mostly used, as in this case, to refer to non-intoxicating strains of cannabis. Because such "industrial" hemp typically contains less than 0.3 percent of the psychoactive agent tetrahydrocannabinol (THC), it is not intoxicating like marijuana, which is a different strain of cannabis plant and accounts for the popular recreational drug. It is used to produce fibre that goes into textiles, paper and construction materials, and to produce medicinal oil and health foods.
Governments have taken various approaches to regulate hemp cultivation. In Thailand, state agencies have been permitted to cultivate the crop for commercial purposes since the start of last year. In China, hemp is increasingly being grown to extract cannabidiol, or CBD, a compound used in health and beauty oils, sprays and balms. Though these CBD products are still banned for sale in China, they make for lucrative exports. III M Global Nutraceutical thought they might gain first-mover advantage in Myanmar.
The company received permission in August 2018 from the Mandalay Region government via an official letter, seen by Frontier, to start a trial hemp plantation for one year over 60 acres in Myotha Industrial Park in Ngazun Township, with the goal of extracting CBD oil.
"[The company] planned to grow hemp over many hectares of land if good results came out of the trial," said a Myanmar national previously contracted by the company who asked not to be named.
U Aye Ko Ko, a deputy director general at the agriculture department in the Ministry of Agriculture, Livestock and Irrigation, told Frontier by phone that an "American company" met with the ministry in December in Nay Pyi Taw to discuss leasing "thousands" of acres of land to grow hemp in Myanmar. Aye Ko Ko, who said he was present at the meeting but refused to name the company, said the ministry explained procedures and how the ministry could help in procuring land. He said the ministry did not approve any proposal and had had no further dealings with the company.
More than 100 people from the villages near Myotha Industrial Park had been employed at the hemp plantation, which eventually covered 20 acres of the concession and was partly supervised by a consultant to the company, Mr John Fredric Todoroki, a 63-year-old American citizen.
The raid
When Shun Le Myat Noe joined the plantation as an apprentice in January, her relative proficiency in English qualified her as an assistant to Todoroki. Despite her meagre monthly salary of about K100,000, she and her parents were happy with the job because it was so close to the family home.
But then a social media post with photos of thriving cannabis plants, captioned as being from the plantation in Myotha Industrial Park and taken by one of the workers there, spread on Facebook in April.
The viral posts seem to have caught law enforcement by surprise. On the night of April 22, anti-narcotics police raided the site the industrial park and arrested Todoroki, Shun Le Myat Noe and Ko Shein Latt, 37, a staff member who also worked on the plantation.
The Central Committee for Drug Abuse Control announced on April 24 that police had found at the site about 350,000 cannabis plants – some of which had grown to two metres – as well as 380 kilograms of seeds and 270 kilograms of dried "marijuana".
"We arrested people who were responsible because cannabis was in the plantation," said Lieutenant-Colonel Myo Aung, deputy chief of Mandalay District Police.
Todoroki, Shun Le Myat Noe and Shein Latt were charged under multiple sections of the Narcotic Drugs and Psychotropic Substances Law for cultivating, distributing and possessing an illegal drug for sale. These offences entail minimum prison sentences of between five and 15 years, extending for some offences to life imprisonment and the death penalty. The three were remanded to Myingyan Prison and preliminary hearings began at the Myingyan District court on May 21.
A warrant has been issued for the arrest of five other people. The fugitives include Mr Martin Chi Cheong Pun – brother of prominent businessman Mr Serge Pun – and Mr Douglas Soe Lin, who police say are directors at the company and are US citizens.
Only one of the wanted men, Mr Alexander Skemp Todoroki, is still listed as a director on the website of the Directorate of Investment and Company Administration. However, the company's filing history shows that on April 25, three days after the raid, the directors of the company were changed. A week later, on May 2, the company submitted a filing to amend its shareholding. Earlier DICA records provided to Frontier show that Martin Chi Cheong Pun and Douglas Soe Lin were previously directors of the company.
The whereabouts of the five are unknown and Frontier was not able to contact any company representatives.
Substantive trial proceedings, including testimony from witnesses, are currently being delayed pending the arrest of the wanted men.
In a May 24 statement, III M Global Nutraceutical described the decision to charge the trio as a "miscommunication" and said it strongly opposed narcotic drugs. The plantation was a research and development project, the company said, and was helping to "build the rural economy".
(Disclosure: Salween Group, a Singapore-based digital marketing agency associated with Frontier's parent company, Black Knight Media, has distributed statements to the media on behalf of III M Global Nutraceutical.)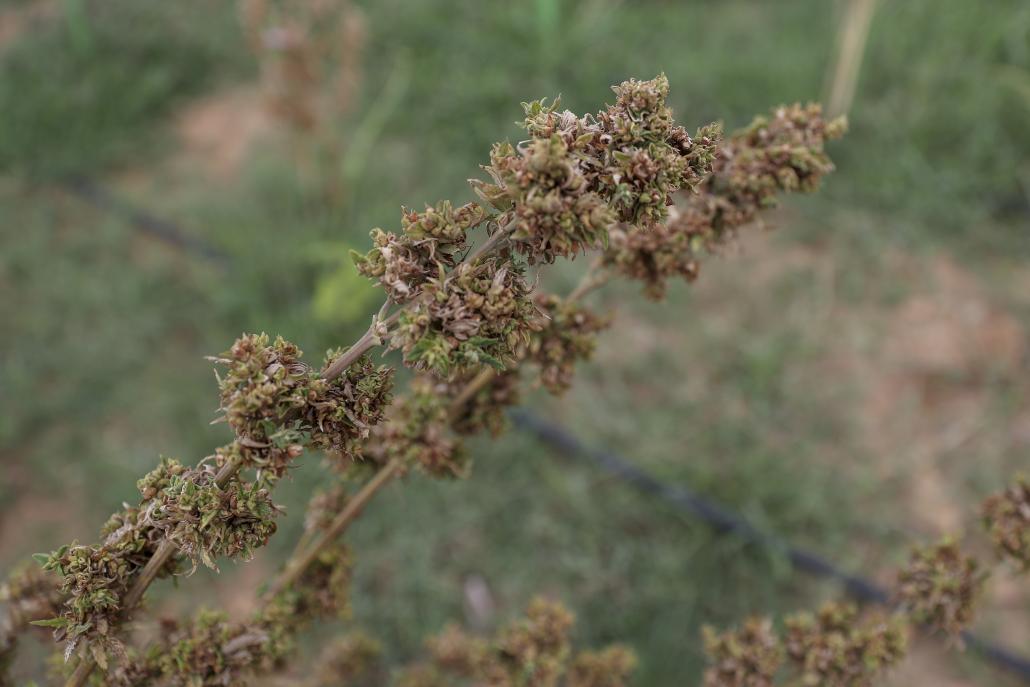 'Written approval'
Frontier visited the plantation on June 11. The only people present were police officers, who were restricting access to the site but allowed us to briefly visit and photograph the rows of cannabis plants, their withered leaves now brittle and yellow-brown.
Forensic officers from the police force were present at the raid on April 22, but no determination of the narcotic properties of the plants has been announced. However, the fact that cannabis plants were being grown, even if they were of a non-intoxicating variety, may be enough to secure a conviction without any such forensic work.
The "cannabis plant" is listed as a narcotic drug according to the 1993 Narcotic Drugs and Psychotropic Substances Law, with no distinction made between intoxicating and non-intoxicating varieties. Possession of all but a small amount of cannabis entails a minimum five-year prison sentence, while production entails a minimum 15-year sentence and the possibility of the death penalty.
But section 28b of the anti-narcotics law stipulates that the law's harsh provisions don't apply to the production of narcotics or psychotropic substances "with the consent of the relevant ministry". It is unclear whether the chief minister's written approval would satisfy this requirement, given that discussions with the agriculture ministry had been inconclusive.
In a letter to State Counsellor Daw Aung San Suu Kyi dated June 11, John Fredric Todoroki's wife, Ms Ann Todoroki, wrote that "the particular plant species that has been grown is non intoxicating fibrous verity Industrial Hemp which the government of Myanmar has officially given permission to grow for research and development."
She stated that the company had received "written approval" in letters from the Mandalay Region chief minister and the chairman of the industrial park and that the project had proceeded after receiving a "legal opinion from local lawyers".
Ann Todoroki also wrote letters to President U Win Myint and Mandalay Region Chief Minister U Zaw Myint Maung, as well as US President Mr Donald Trump, Secretary of State Mr Mike Pompeo and Senator Mr Mitch McConnell, pleading for help in freeing her husband and his two Myanmar colleagues.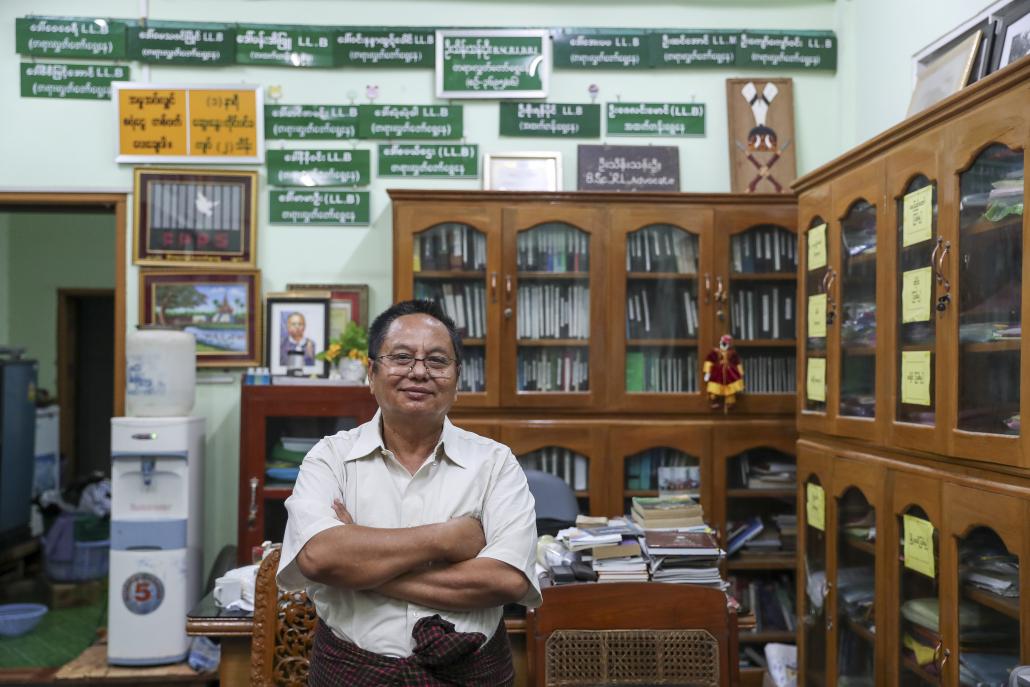 'Growing openly'
Advocates for hemp production and drug reform in Myanmar have decried the arrests and prosecutions.
"In other countries, hemp is grown over thousands of acres," said Ko Aung Zay Toe, a leading member of Mahar Legalization Movement, an organisation founded in 2017 that campaigns for the legalisation of hemp cultivation. "[The government] cannot distinguish between hemp and marijuana yet," he said, saying the arrests had been a "mistake".
The parents of Shun Le Myat Noe said it was unfair that their daughter was in jail because different parts of the government had failed to coordinate and enforce the law evenly.
Her mother, Yi Win, asked, "If it was an illegal plantation, why did the [regional] government give its permission? If I had known it was illegal work, I wouldn't have let my daughter work for that company no matter how high the salary."
"With the permission of the government, [the company] was growing [hemp] openly, not clandestinely," she said, adding that, if the plantation had indeed transgressed any law, it was the responsibility of the company rather than low-level employees. "If the police want to arrest someone, why don't they arrest the responsible persons from the company? Why did they [arrest] my child who knows nothing?" she said, crying.
The chief minister, Zaw Myint Maung, told local media in Mandalay on April 29 that he had given permission because the company said they would grow hemp to produce medicinal products. Frontier contacted the office of the regional government but they refused to comment further on the case.
U Thein Than Oo, a Mandalay-based lawyer who is representing the three defendants, said the raid might have been motivated by tensions between the Ministry of Home Affairs and the Mandalay Region government.
The home ministry administers the police and is controlled by the military, whereas the regional government is controlled by the ruling National League for Democracy party.
"It was a dirty arrest," said Thein Than Oo. "Because the police clamped down on something the [regional] government had allowed, it puts pressure on the government. The government is the first to be blamed."
Shun Le Myat Noe's father Myo Min Aung said he suspected rivalry between military and civilian branches of the government might be driving the case. "Just because they are not on getting well, why does my daughter have to go to jail?" he said, adding, "When she comes out, it will cast a dark shadow over her."
Thein Than Oo said the arrests could deter investment from the US, and that this could also be one of the motives, given the huge Chinese interests in Myanmar industry and agribusiness. These interests would be hostile to Western involvement in these sectors and may have co-opted parts of the government in trying to keep it out.
"Our Myanmar farmers, whatever they grow, they have to depend on China," he said. "I'm happy to learn that American companies are growing hemp in Myanmar. As far as I know, hemp is an easy crop to grow and it provides good income."
TOP PHOTO:  Frontier visited the remains of the hemp plantation in Myotha Industrial Park on June 11. (Nyein Su Wai Kyaw Soe | Frontier)