Security forces were woefully unprepared for the October 9 attacks in northern Rakhine State, while a week later communities are in lockdown and the government has backpedalled on its earlier statements.
By MRATT KYAW THU in MAUNGDAW
& OLIVER SLOW in YANGON
Photos TEZA HLAING
WHEN MILITANTS conducted three separate but coordinated attacks on Border Guard Police outposts in northern Rakhine State in the early hours of October 9, the security forces were severely underprepared.
The attacks took place at the BGP headquarters in Kyikanpyin, a police outpost in Ngakhuya – both in Maungdaw Township – and a police outpost in Kotankauk village, Rathedaung Township.
In the initial attacks, nine police officers were killed and various weapons, including guns, ammunition and bayonets were seized. In the immediate response, eight attackers were killed and two arrested.
Maungdaw is a predominately Muslim township affected by a range of complex issues, including drugs, immigration, crime, poverty and religious tension. Although the majority of the town's business owners are Muslim – many of whom self-identify as Rohingya – it's also home to a small Rakhine Buddhist population and is governed by Buddhist authorities.
Security is a major concern in the area but the BGP appears to have unprepared for attacks in the border area.
There are two BGP checkpoints on the road from Buthidaung to Maungdaw, the only official route between the two towns. Frontier observed two BGP officers, one holding an old M-22 gun that was rusty, old and didn't appear to work properly. The officers were not wearing body armour and they were not paying attention to the cars that were passing through their checkpoint.
"Terrorists won't want to take my gun because it can't even shoot through thick thatch," said one officer after the October 9 attack.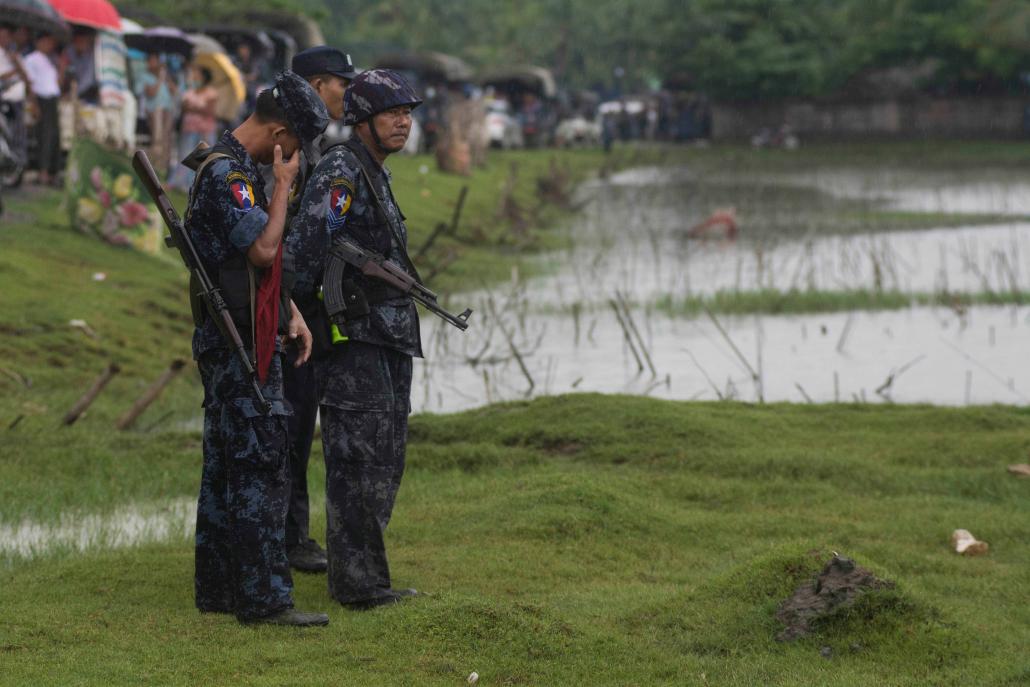 The road between Maungdaw and Buthidaung is mountainous and there are at least two Muslim villages on the way. There are many BGP outposts in the villages, especially the Muslim-majority settlements in Maungdaw Township.
About 50 miles north of Maungdaw is Taungpyo sub-township, the last border-gate before the frontier with Bangladesh. The Kyikanpyin BGP office that was attacked is on the road to Taungpyo.
In this corner of the country, close to the Naf River, which marks the border between Myanmar and Bangladesh, most of the farms and land are owned by Muslims. On the road to Taungpyo, all of the villages are Muslim majority except two that are Rakhine.
When Frontier visited Taungpyo days before the October 9 attack, there was no security checkpoint on the road all the way to the border gate.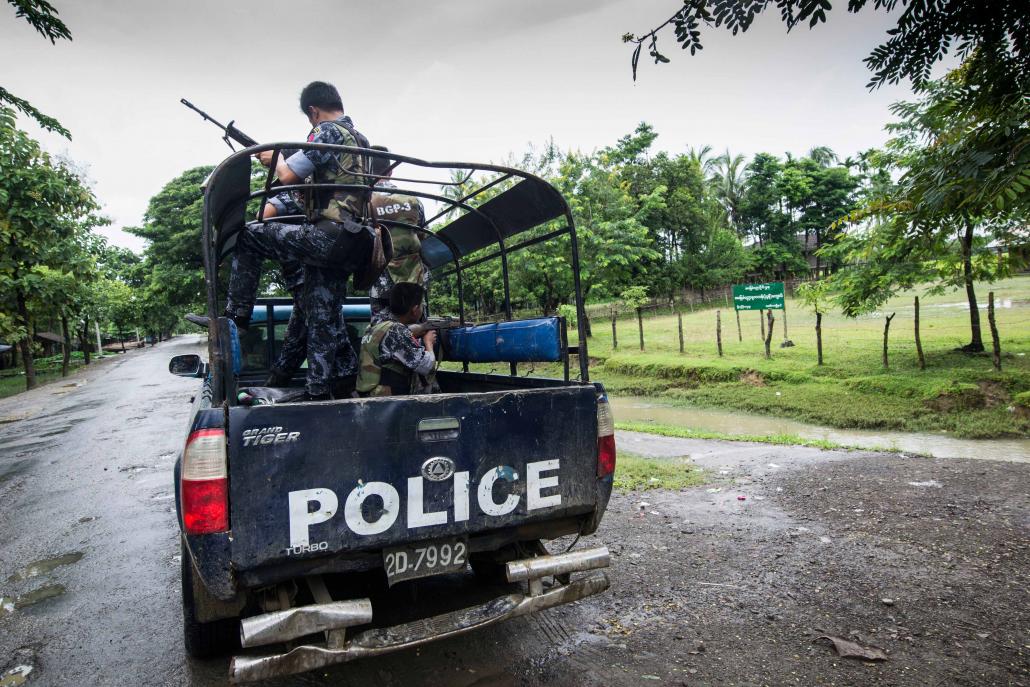 Frontier arrived at Kyikanpyin a few hours after the attack started and heard the sound of gunfire and grenade launchers, but there were no security forces near the command centre's entrance.
"I haven't experienced a situation like this before," said one BGP officer. "If my office accepts my resignation, I want to get out of here immediately."
While the attack was happening, one of his colleagues was listening to hip-hop music on his phone.
Police were using mobile phones to communicate instead of walkie-talkies. Phone service is poor in the area and communication is regularly broken. While the fighting was happening at Kyikanpyin, authorities at other outposts had no knowledge of what was happening. At Kyikanpyin, the officers also had no knowledge of the other attacks that were taking place at about the same time elsewhere in Maungdaw and in neighbouring Rathedaung.
The day after the attack, one BGP officer in downtown Maungdaw told Frontier: "I had a lot of phone calls that night from my friend who stays at the command centre [in Kyikanpyin], but I ignored them because he sometimes calls me when he's drunk."
Government response
A statement issued by the President's Office on October 14 said the attackers on October 9 belonged to a group called Aqa Mul Mujahidin, which was led by a man named as Havistoohar, 45, of Kyaukpyinseik village in Maungdaw Township.
"According to the findings of the interrogations, Havistoohar and his organisation mobilised extremist youths in the Maungdaw area. They secretly ran weapons training and self-defence training in remote locations in the hills and forests," the statement said.
However, in an interview with India's Hindustan Times published on October 18, State Counsellor Daw Aung San Suu Kyi backpedalled from earlier official statements, telling reporters that the full details about the attackers had not yet emerged.
"We are also told [the leader] had been receiving funding from various Islamic countries. That is just information from just one source, we can't take it for granted that it's absolutely correct," she was quoted as saying.
The President's Office released another statement on October 18, saying that the government was still reviewing its findings, after a delegation including Information Minister U Pe Myint, Immigration Minister U Thein Swe and Rakhine State Chief Minister U Nyi Pu travelled to the region to meet with local people, including representatives from the Buddhist and Muslim communities.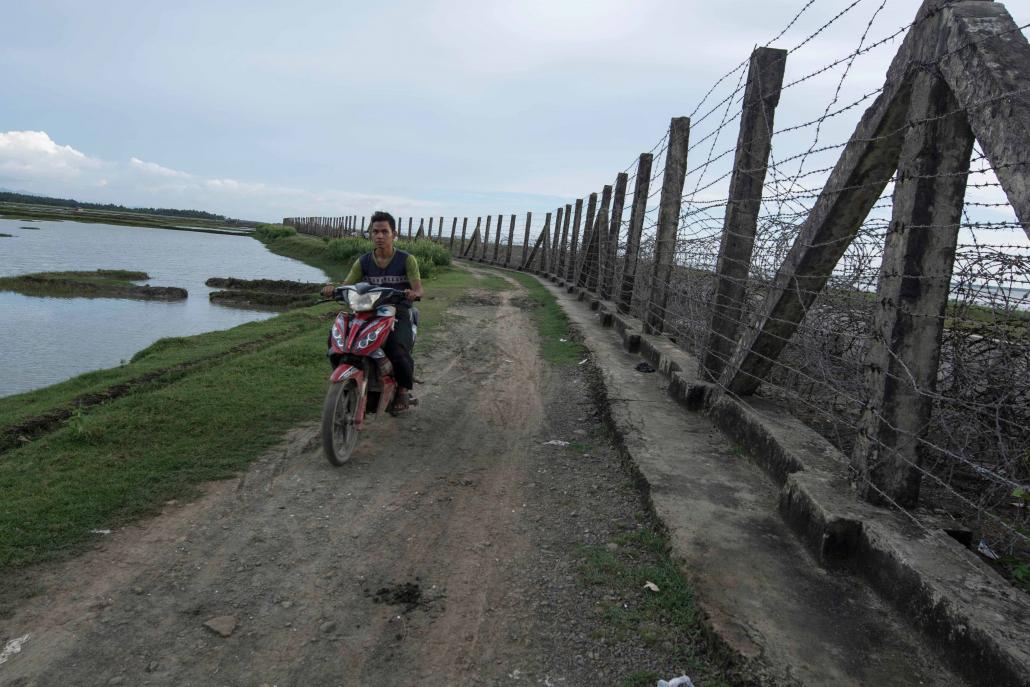 The October 18 statement said that through interrogations they had learned of relations with the Rohingya Solidarity Organisation, a group that was active in the 1980s and 1990s but is largely thought to be defunct. However, the release noted that "some weakness can be found in receiving news and information" and analysts have cast doubt on suggestions of an RSO revival.
Reference to Havistoohar and the Aqa Mul Mujahidin was also omitted from this statement.
Local people called on the government to implement a security strategy where security forces and local residents work alongside one another to deal with potential future attacks, the statement said.
"Leaders of the Islamic community also expressed their sadness over the recent violent attacks," it said.
The delegation reported their findings to the State Counsellor on October 15, the statement said, and that "the government will handle the issue in a transparent and timely manner."
Major-General Aung Soe, the Deputy Minister for Home Affairs, said 14 security members had died in operations – five Tatmadaw members and nine policemen – and 30 "attackers" were killed, including two women.
Director General of Myanmar Police Force said 29 attackers are being detained – two in Sittwe and 27 in the Maungdaw area.
Heightened security
Authorities have put in place strict controls in the area, which has created difficulties for humanitarian response.
The United Nations and other NGOs have offices in Maungdaw's downtown area, but are not able to gain access to the north to assess humanitarian needs, Mr Pierre Peron, spokesperson for the UN Office for the Coordination of Humanitarian Affairs, told Frontier on October 19.
"We therefore don't have a full picture of the number of people displaced and affected by the recent violence and security," he said. He added that there are at least 2,600 displaced people being sheltered in monasteries and schools in the downtown areas of Maungdaw, Buthidaung and Sittwe.
Before the attacks, Peron said the agency was providing much-needed health, food, education and malnutrition programmes to some of the country's poorest and most vulnerable people.
"We are therefore concerned that these activities have been suspended and that we aren't able to assess and respond to new humanitarian needs. For the sake of all communities in Rakhine State, we hope that the situation will improve as soon as possible so that these vital humanitarian activities can resume."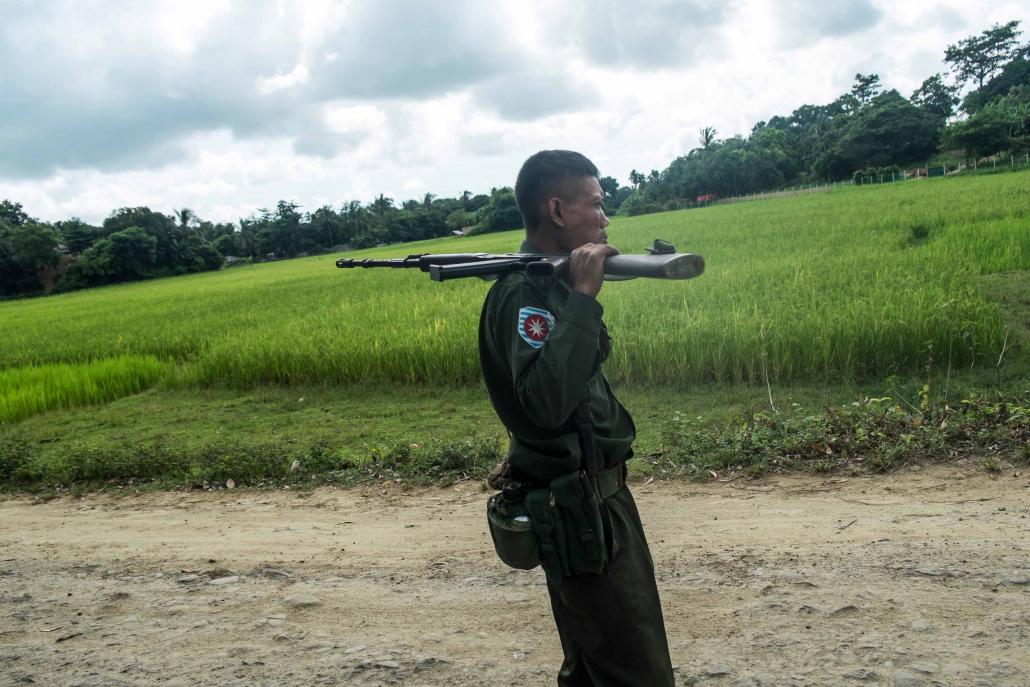 Mr Arsen Sahakyan, World Food Programme Myanmar's partnerships officer, also told Frontier that the organisation does not have access to affected areas in Maungdaw Township.
"Authorities are providing food assistance to people who moved from Maungdaw to Buthidaung and found a shelter in a monastery. WFP stands ready to provide any additional assistance as needed but no support has been requested by the government."
He added that there are reports of about 1,000 IDPs arriving in Sittwe from northern Rakhine and that WFP is currently assessing their food needs in order to provide assistance. 
One resident in a village in Buthidaung Township, who spoke to Frontier on the condition of anonymity because of security concerns, and who identified as Rohingya, said there had been a heavy military crackdown in his village since the October 9 attacks.
"Nobody can travel to the markets. Every time someone tries to travel somewhere they are stopped at army checkpoints. We are stuck inside our compound, it feels like a jail," he said, adding that there were army officers armed with guns every few hundred metres along the road.
He added that food rations had not reached his village.
"There is no electricity in my village, no light. As I talk to you, I am sitting in the dark," he said, while talking to Frontier by phone on the evening of October 20. "People are very afraid. Physically we are ok, but mentally everybody is scared because the things are hearing are getting worse every day."
An international specialist on Rakhine State, who also spoke on the condition of anonymity due to tensions in the state, called on the government to ensure that the military upholds the rule of law in its response.
"The actions of the military and BGP in northern Rakine are highly concerning, not only for people in Rakhine state, but for all Myanmar people," they told Frontier. "Cases of arbitrary arrest, torture and deaths of individuals detained without formal charges and without a trial have been reported, as well as rape of Muslim women by military and BGP personnel."
"The perpetrators of the October 9th attacks do need to be brought to justice — but such violent approaches are not what justice is supposed to look like in a democratic society," they added. "It is the responsibility of the NLD and its leaders to step in and ensure that rule of law is upheld; so far, they have not done so."
An earlier version of this article appeared in the October 20 edition of Frontier. This version has been updated with comments from various sources.