Easy pickings are a distant memory in one of the nation's most isolated jade mining areas, but that hasn't stopped hopeful fossickers.
By MRATT KYAW THU | FRONTIER
Photos TEZA HLAING
FORTUNE HUNTERS at the jade fields in a remote corner of Sagaing Region say there was a time when plucking the precious stones from the ground was as easy as harvesting potatoes.
Those times are long past in the mining area around Nansibon and Makyankha villages, about 45 kilometres from Hkamti, a trading town on the upper reaches of the Chindwin River.
The most prospective sites are in the hands of private companies, including a joint venture that involves the military-owned conglomerate Myanmar Economic Holdings Ltd. As a result, many of the thousands of fortune hunters who converged on the area to fossick for jade after new deposits were found in 2006 have had to find work as daily or monthly labourers for mining companies.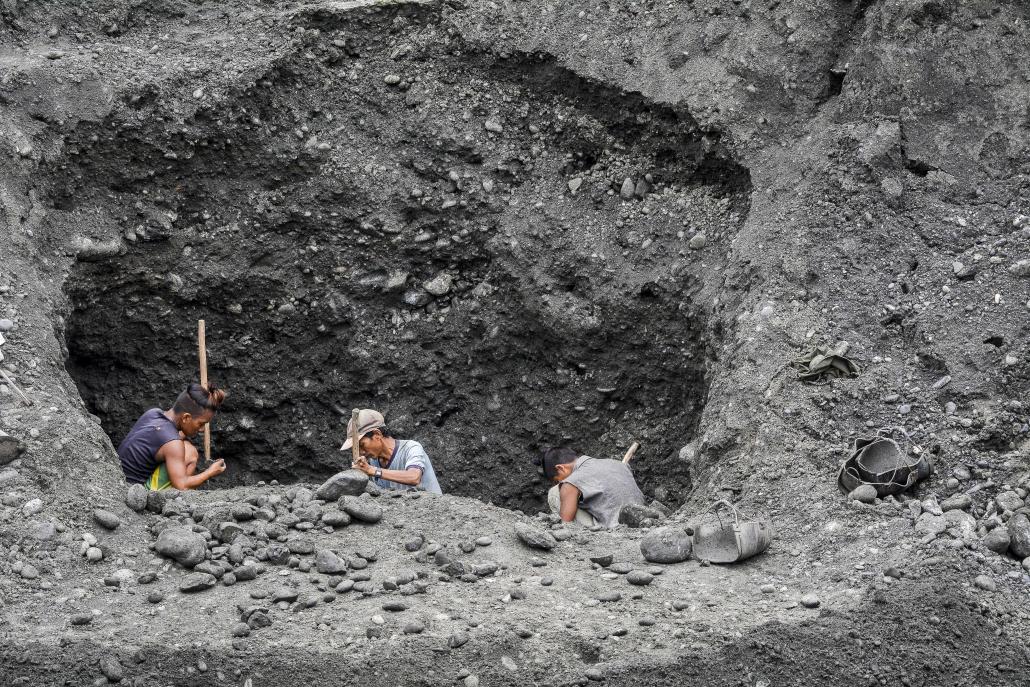 The area supports a population of about 20,000 fossickers and most of them make a precarious living searching through tailings dumped by the mining companies. Tensions have risen when fossickers have swarmed over mine sites. An attempt in mid-May by fossickers to storm a site operated by one of the biggest mining companies, the MEHL joint venture Imperial Myanmar Jade, ended with four men dead after security forces opened fire.
There are dozens of mining companies, legal and illegal, in the Nansibon-Makyankha area, where the earth is cratered with deep pits dug in search of the precious jadeite that the Chinese covet as "the stone of heaven".
Some of the pits were dug about 20 years ago. During the rainy season, they fill with water and turn green and stagnant. It's expensive to pump the water from the pits and most mining companies suspend operations for the rainy season and do not resume work until January and February, business owners told Frontier.
"It's only the fossickers who work during the rainy season; the mining companies don't do any work then," said Ko Thar Nge, 41, who moved to the region from his hometown of Muse, in northern Shan State, about 20 years ago.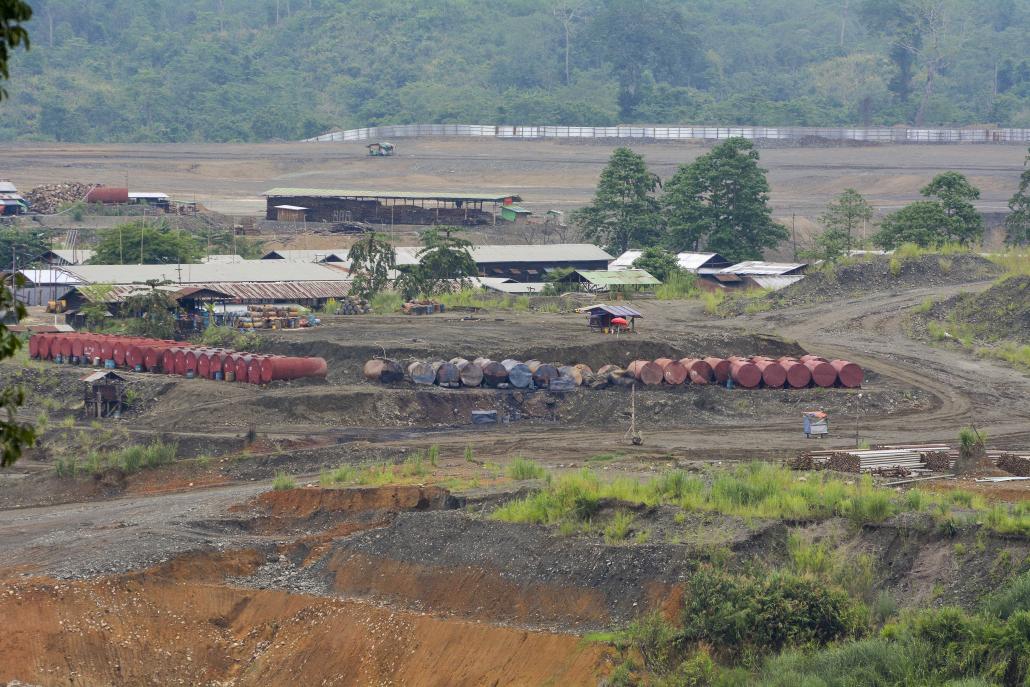 The area has attracted people from all over the country, but particularly Kokang Chinese, as well as Chinese nationals, who run restaurants or operate small mines. The jade mines have also been a boon for the original residents of the Nansibon-Makyankha area, who have opened shops and general stores to supply fossickers and jade traders.
Fossickers work from dawn until late afternoon. In dry weather they carry containers of water that they use to help expose pieces of jade in mine tailings. They like to work in light rain, when there's no need to lug containers of water, but they retreat to their tents in torrential downpours.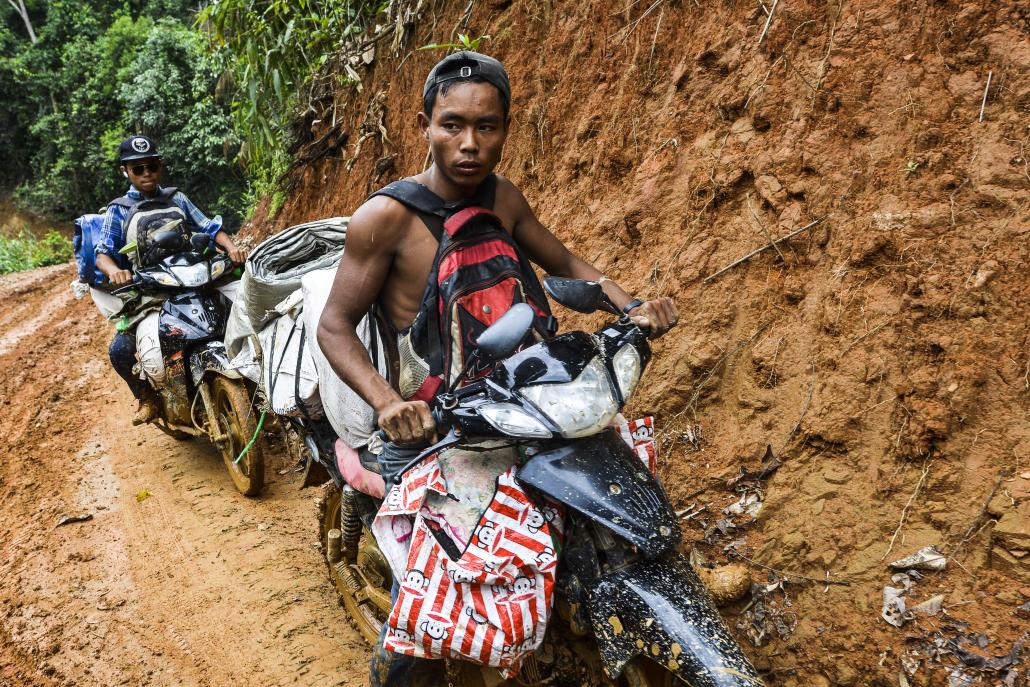 The fossickers' tent communities sprawl precariously across unstable tailings deposits, which are ever expanding when the mines are operating, as well as on patches of undisturbed ground. New arrivals strike their tents wherever they can.
Living or working on or near the tailing deposits can be deadly. Landslides are frequent and fossickers are constantly at risk of being buried alive under tonnes of rock.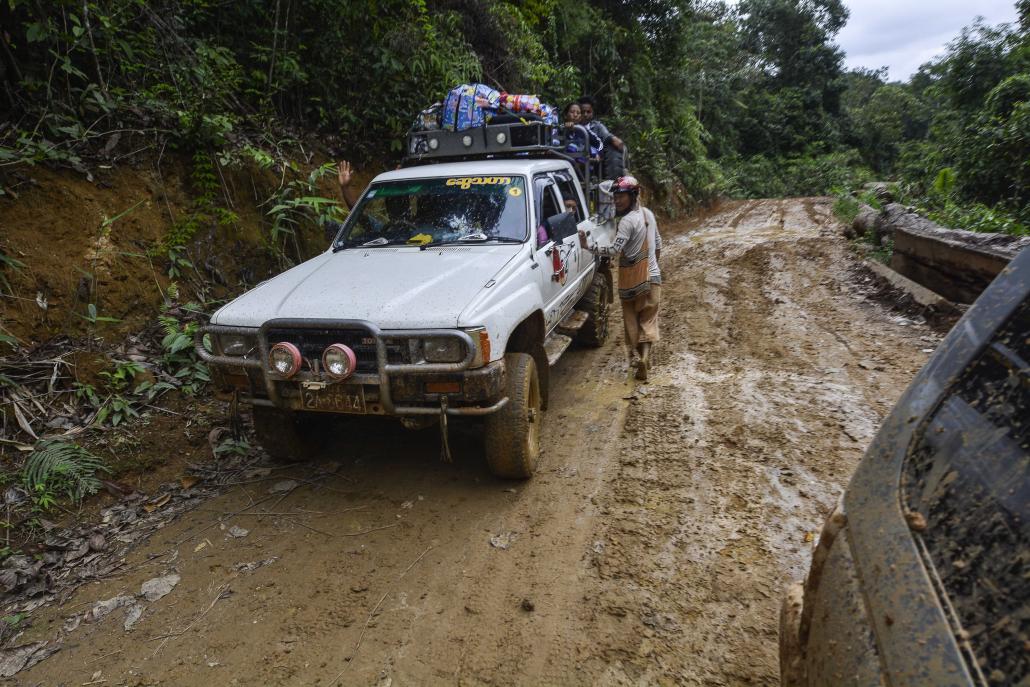 A dark-tinged joke the fossickers make is that they never ask how each other is doing, because the invariable answer is: "I'm here because I'm not OK."
"We are driven to search newly cleared soil and tailings deposits until we strike it rich," said Ko Min Tun, 38, who hails from Homalin Township, on the Chindwin River about 150 kilometres downstream from Hkamti.
As Thar Nge, the fossicker originally from Muse, showed Frontier around the mines, his eyes were constantly glued to the ground on the lookout for pieces of jade.
"I found an egg-sized piece of jade worth K80 million," he said. Thar Nge said the discovery was enough to buy him two cars, and to operate a restaurant in the area, but he continues to hunt for the precious stone.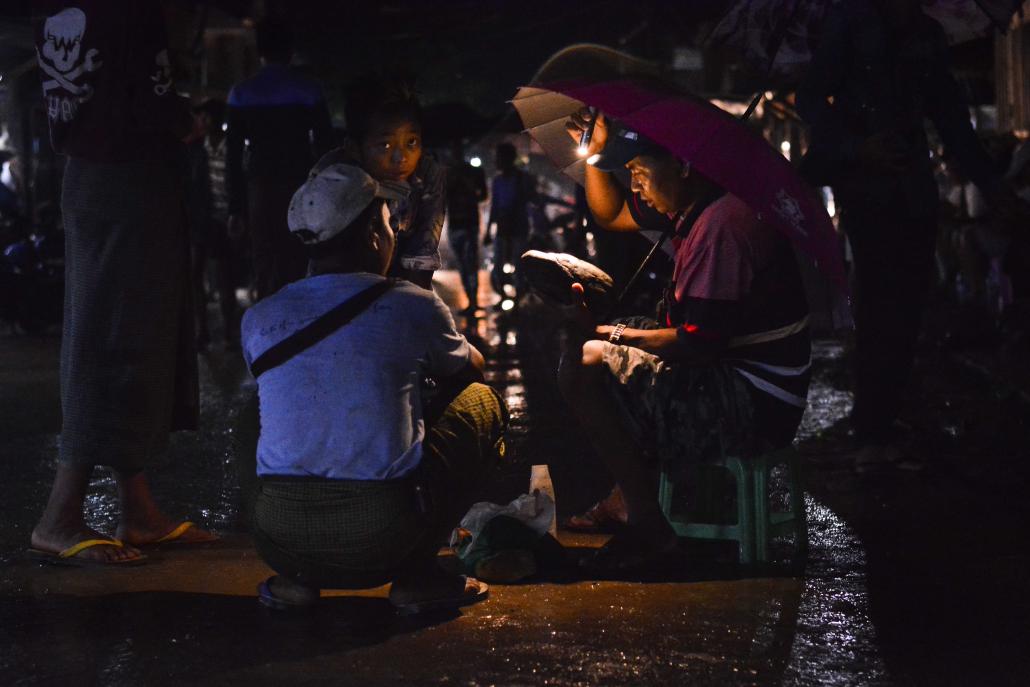 Fossickers walking in deep concentration with their faces turned downward are a common sight throughout the area.
The small pieces of jade they find that are called "eating jade" because they cover the cost of lunch or dinner are sold to the Myanmar and Chinese traders who set up stalls at the Nansibon market each day at 7pm. The jade market deals in stones worth from K30,000 and to K9 million. Transactions more than K10 million are handled by large-scale traders.
It's rumoured that in the past 10 years, about eight fossickers have struck it rich with large finds. The lucky ones keep their mouths shut, it seems.
"There's no man here who has become very wealthy that I'm aware of; the fossickers come here and leave after making small amounts of money to return to their home towns before they head to another jade mining area," said Thar Nge.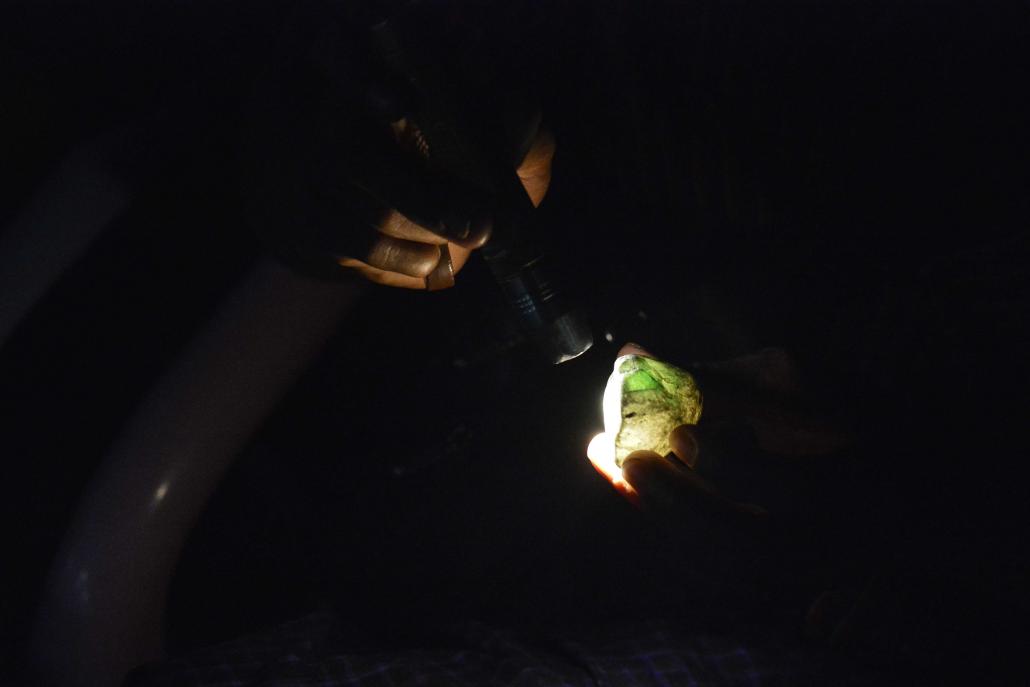 One indication of the jade money circulating in the area is the size of the donations given to Buddhist nuns as they stand outside houses and shops while on alms rounds.
In other parts of the country, the donations are usually about K100 or K200, but in the Nansibon-Makyankha area it is common for the nuns to be given K1,000 notes.
For every fossicker who gets lucky there are hundreds scraping to make a living. Many are stuck in a vicious circle because of drug abuse, a scourge of jade mining communities.
They spend their earnings from "eating jade" on drugs, especially heroin, and on consumer goods that are extremely expensive because of the cost of transportation to such a remote area, where roads are a mire in the rainy season and the Indian border is only about 50 kilometres from Hkamti over rugged mountain ranges.