Myanmar's most notorious Buddhist nationalist group has finished the week chastened after an extraordinary public rebuke from government, military and religious leaders.
By MRATT KYAW THU & SEAN GLEESON | FRONTIER
– U Wirathu facing possible court case for "disrespect to Buddhism"
– Sangha Maha Yanaka Committee disavows Ma Ba Tha, deflects consideration of police complaint
– Military chief condemns religious "extremism"
YANGON — After an extraordinary week in which government, military and religious figures rounded on Myanmar's most notorious Buddhist nationalist group, one of its members now faces potential legal action over an infamous speech denouncing a United Nations representative.
The leader of a civil society group calling itself "National Bodyguard" lodged a complaint against U Wirathu, one of the most prominent and outspoken members of Ma Ba Tha, at the Tarmwe Township police station on Monday.
Meanwhile, as the State Sangha Maha Nayaka Committee met this week to consider whether or not to dissolve Ma Ba Tha, Wirathu took to Facebook on Wednesday to allege the government was conspiring to disband Ma Ba Tha and return him to prison.
"I have seen that the ruling party and the new civilian government is stepping forward to target me as 'Enemy Number One' to destroy the whole Ma Ba Tha group to the end," he wrote. He later characterised the new administration as "a woman dictator's government" in a pointed reference to de facto head-of-state Daw Aung San Suu Kyi.
Wirathu was sentenced to prison in 2003 for inciting anti-Muslim hatred in his sermons, spending nearly a decade in Mandalay's Obo Prison before being released in a 2012 presidential amnesty.
The police complaint alleges that Wirathu showed "disrespect to Buddhism" in a January 2015 address to protesters at Tarmwe's Kyaikkasan Grounds. Addressing the demonstration, Wirathu singled out UN Special Rapporteur Yanghee Lee for a burst of vituperative criticism, referring to her as a "bitch" and a "whore".
"Don't assume that you are a respectable person because of your position. For us, you are a whore," Wirathu told the crowd to enthusiastic applause, in a speech later widely shared on social media.
Lee had aroused the ire of Ma Ba Tha for criticising the four so-called "race and religion laws" sponsored by the nationalist group and later enacted by the last government, which were widely condemned by rights activists as a flagrant attempt to introduce discriminatory measures against Myanmar's Muslim population.
U Win Aung, the chairman of National Bodyguard — a group that provides emergency medical relief to accident victims on the Yangon-Nay Pyi Taw Highway — said on Wednesday that he had planned to raise a complaint against Wirathu after the speech was made, but felt it was finally possible to do so this week.
"I had a plan to sue him but I couldn't do it," he told Frontier. "But now it's the right time."
Win Aung said that the police had no direct authority to handle the case and would need to forward it to the State Sangha Maha Nayaka Committee, the body charged with regulating the country's Buddhist orders which this week preoccupied itself with a discussion on Ma Ba Tha's future.  
For its part, the Sangha has absolved itself of responsibility for taking action against either Ma Ba Tha or Wirathu.
On Tuesday, it issued an unequivocal public rebuke, effectively shooting down Ma Ba Tha's claims to be an officially recognised association under the Sangha in a statement carried by government media the following day. In an equally unprecedented move, Thursday's edition of the state-run Global New Light of Myanmar pulled no punches in describing Ma Ba Tha as an "ultra-nationalist organisation that promotes ideals of racial and religious purity".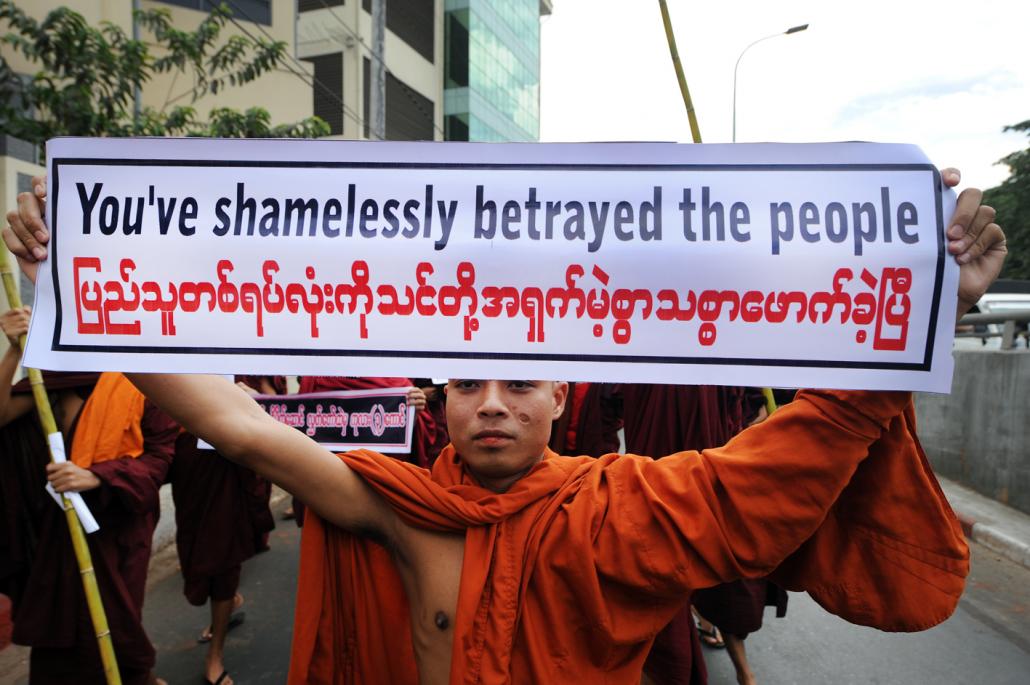 A plenary session of the Sangha's 47-member executive was held over Wednesday and Thursday and opened to the public, but discussion of either Ma Ba Tha or the police complaint against Wirathu were conspicuously absent from the proceedings.
At the end of the two-day meeting on Thursday afternoon, Sangha director U Tun Nyunt told Frontier that the committee was not responsible for making rulings on judicial matters, adding that a decision on whether to prosecute Wirathu was a matter for the legal system and the government.
Dramatic change in fortunes
In its short existence, Ma Ba Tha has earned international attention and condemnation, established a parallel monastic education system aimed at propagating its nationalist views among Myanmar's youth, fostered close links with regional Buddhist extremist groups in Sri Lanka and Thailand, and at its strongest point appeared set to make a decisive impact on last year's historic election campaign.
Now, patience in official circles for activities of Ma Ba Tha — known in English as the Association for the Protection of Race and Religion — appears to have finally worn thin.
Yangon Chief Minister U Phyo Min Thein was condemned in a July 7 statement signed by the association's leaders after telling an audience of Myanmar nationals in Singapore that the nationalist group was "not necessary". The statement threatened nationwide protests if Ma Ba Tha did not receive a pledge for the government to take disciplinary action against Phyo Min Thein, along with an apology from President U Htin Kyaw and Aung San Suu Kyi.
U Win Htein, a spokesman for the National League for Democracy who has publicly clashed with Wirathu in the past and was once incarcerated in the same prison as the firebrand monk, told Frontier the following day that the party had no intention of heeding Ma Ba Tha's threats.
"In the constitution, religion and politics are separated and NLD upholds the same policy. So we have nothing to say regarding Ma Ba Tha's demands," he said.
Ma Ba Tha's leaders abruptly backed down from their protest threat after Religious Affairs Minister Thura Aung Ko met with the Sangha, reportedly as part of discussions about Ma Ba Tha's future.
Aung Ko had earlier said Phyo Min Thein made his comments in a personal capacity and had the right to express his opinion, adding that the Religious Affairs Ministry would not be censuring the chief minister as Ma Ba Tha had urged.
Senior-General Min Aung Hlaing also appeared to weigh into the dispute this week during a visit to Rakhine State, in an apparent departure from his earlier position. The military chief had in the past refrained from commenting on Ma Ba Tha, but had made a number of public statements which alluded to the importance of safeguarding the Buddhist religion — the association's self-stated raison d'etre.
According to a statement posted on the military's Myawady news portal, Min Aung Hlaing told military personnel in Sittwe earlier this week that all communities in Myanmar needed "to protect and safeguard their own religion and culture in a fair and just manner without extremism."
History of hate
Along with several other nationalist organisations, Ma Ba Tha has throughout its three-year history stood accused of inciting hatred against Muslims in Myanmar, at a time when numerous cities and towns across the country have been rocked by flashes of communal violence.
In some instances, observers have alleged the association operated with the tacit support of sympathetic senior members of the Union Solidarity and Development Party.
Numerous news outlets have alleged that Ma Ba Tha enjoyed the patronage of former USDP heavyweight U Aung Thaung, a former industry minister during the military regime and one of the wealthiest men in the country before his death in Singapore last year.
Elsewhere, former Ayeyarwady Chief Minister U Thein Aung was last year implicated in assisting campaign devised by Ma Ba Tha to shutter Muslim-owned slaughterhouses in the delta region.
The Buddhist nationalist group campaigned fervently in support of the USDP during last year's election, praising former President U Thein Sein for promulgating the four "race and religion" laws sponsored by Ma Ba Tha campaigners — an apparent defiance of a constitutional restriction which prohibits the use of religion for political purposes.
Following the NLD's landslide victory, Ma Ba Tha also campaigned against changes to a constitutional clause that bar individuals from contesting the presidency if their family members hold foreign citizenship — a provision which effectively bars Aung San Suu Kyi from the presidency.
For years, Wirathu had said he objected to the idea of an Aung San Suu Kyi presidency, telling The Irrawaddy in 2013 that he would support the re-election of the USDP and that the democracy icon would usher in "chaos" if allowed to take the reins of government.
Additional reporting by Nyan Hlaing Lynn and AFP. Title photo: U Wirathu addresses a July 2014 community meeting in the aftermath of deadly communal riots in Mandalay. (Steve Tickner / Frontier)