The Thilawa Special Economic Zone is one of the country's most successful projects, but some relocated land users say they deserved better compensation.
By KYAW YE LYNN | FRONTIER
Photos HKUN LAT
IN THE middle of the Bago River between Yangon's Thaketa and Thanlyin townships, the tall piers of a new Japanese-funded bridge are slowly emerging.
The existing 2.2-kilometre long bridge, which was built with financial and technical assistance from China between 1988 and 1993, is often heavily congested, particularly during the morning and even peak hours.
Scheduled for completion by the end of 2022, the new bridge reflects the fact that Thanlyin is no longer a sleepy backwater. This is largely thanks to the Japanese-backed Thilawa Special Economic Zone, which continues to expand, making the old bridge a bottleneck of connectivity between the commercial capital and the zone.
But the new bridge is far from the only improvement to Thanlyin's infrastructure and connectivity.
At the opening ceremony for a new four-lane highway between the bridge and the SEZ on February 21, Yangon Region Chief Minister U Phyo Min Thein observed it was one of the best roads in the country. Any driver who travels regularly between Thanlyin and the SEZ would certainly agree.
"Thanlyin also has the most developed and successful economic industrial zone outside of the Yangon metropolitan area," Phyo Min Thein was quoted as saying by state-run daily The Global New Light of Myanmar on February 22.
In planning, implementation and management, the Thilawa SEZ is regarded as one of the country's most impressive success stories since the transition to democracy began in 2011.
Developed by a Myanmar-Japanese consortium, the SEZ had five factories when its first phase was officially opened in September 2015. It has since grown to 117 investments from 19 countries and territories, said Daw Than Than Thwe, joint secretary (1) of the Thilawa SEZ Management Committee.
"There are 81 factories operating in the SEZ and others are under construction," Than Than Thwe told Frontier in late February. "Thilawa is obviously a success story; we should keep it up."
However, not all residents of Thilawa have shared in the success of the project, and some farmers despair at not receiving what they would consider to be fair compensation for being moved off their land.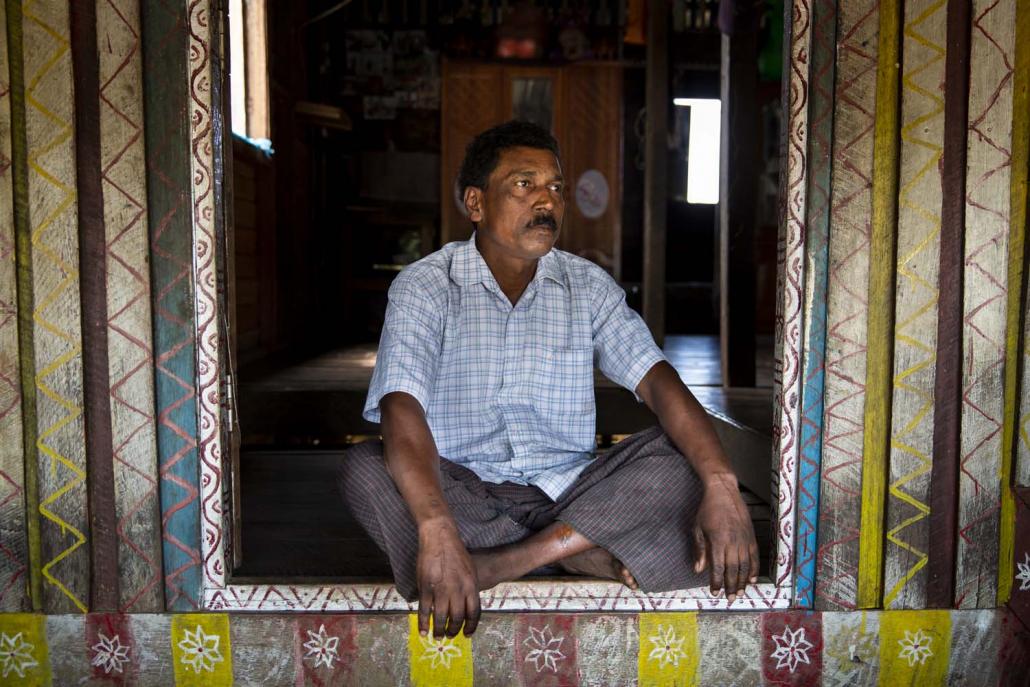 A model for other SEZs
During planning for the SEZ, a four-party group was appointed by the government in 2013 to conduct a social impact survey of residents living within the 2,500-hectare (6,200-acre) site designated for the project.
The group brought together representatives of government departments involved with housing, immigration, planning and land records, the SEZ management committee, the Japan International Cooperation Agency, a partner in the project, and a third-party survey group.
One of the group's roles was to prepare a list of land-users ahead of a cut-off date of October 2015 set by the government for compensation claims from those who faced relocation because of the project.
The SEZ management committee said earlier this month that it had been agreed that three categories of compensation – for land, crops and social losses – were to be paid to farmers and residents.
The compensation issue has been complicated by the confiscation of 5,027 acres (about 2,030ha) by the military government in 1996-97 to build an industrial zone, known officially as Kyauktan-Thanlyin Industrial Zone, and locally as the Malaysian industrial zone.
Although this land had already been confiscated, many of the original owners continued to cultivate on it because the Kyauktan-Thanlyin zone never materialised.
When the U Thein Sein government allocated the land for the development of Thilawa, it decided that no additional compensation would be paid for any of the 5,027 acres because it had been under government management since 1996-97, said Than Than Thwe.
The government instead paid higher than usual rates of compensation for crops and social losses, which includes the inconvenience of being relocated and resettled.
"For example, we paid compensation of about K100,000 for a cashew tree to cover four years of harvests," she said. The standard compensation for a cashew tree covers one harvest.
Land users on an adjoining 760 acres received compensation at a rate of K2.5 million per acre of farmland and K2.7 million for an acre of plantations.
The SEZ management committee said it was unable to say how many land users from the 760 acres received compensation.
Information from the management committee shows that families in Zone A, which covers 405ha at Thilawa, were also provided with a house valued at K2.5 million on a plot of land measuring 25 feet by 50 feet "in a designated resettlement area, as well as one-time support of K3 million for social losses and monthly losses of food".
However, the current government adjusted the compensation for people relocated from Zone B, which covers 700ha and is being developed in phases. So far 224ha of Zone B has already been developed, while another 38ha is under construction.
Families in Zone B were provided with a house valued at K6 million on a plot of land measuring 40 feet by 50 feet in a designated resettlement area, but did not receive the K3 million one-off payment.
Thilawa was the first such project in Myanmar which involved a social impact survey to determine its effect on land users, Than Than Thwe said.
"That was our first such experience and it was very systematic," said Than Than Thwe, who is also a director of the Department of Conservation for Parliament and Residential Housing under the Ministry of Construction.
"As the process was conducted by four different groups, no one could manipulate the outcome," she said, adding that while government departments drew up the list of those eligible for compensation, it was checked by JICA.
The government has said that land users relocated for the China-backed Kyaukphyu SEZ in Rakhine State will receive compensation packages similar to those provided for the Thilawa SEZ.
"In the Thilawa Special Economic Zone, there has been compensation for local residents for social losses, some housing assistance, and vocational training, in addition to compensation for land," deputy commerce minister U Aung Htoo was quoted as saying in early February by the American broadcaster, Radio Free Asia.
"It will be the same in Kyaukphyu; local farmers will be given compensation for their farmlands and their crops. On top of that, we will also give compensation for social losses," he said.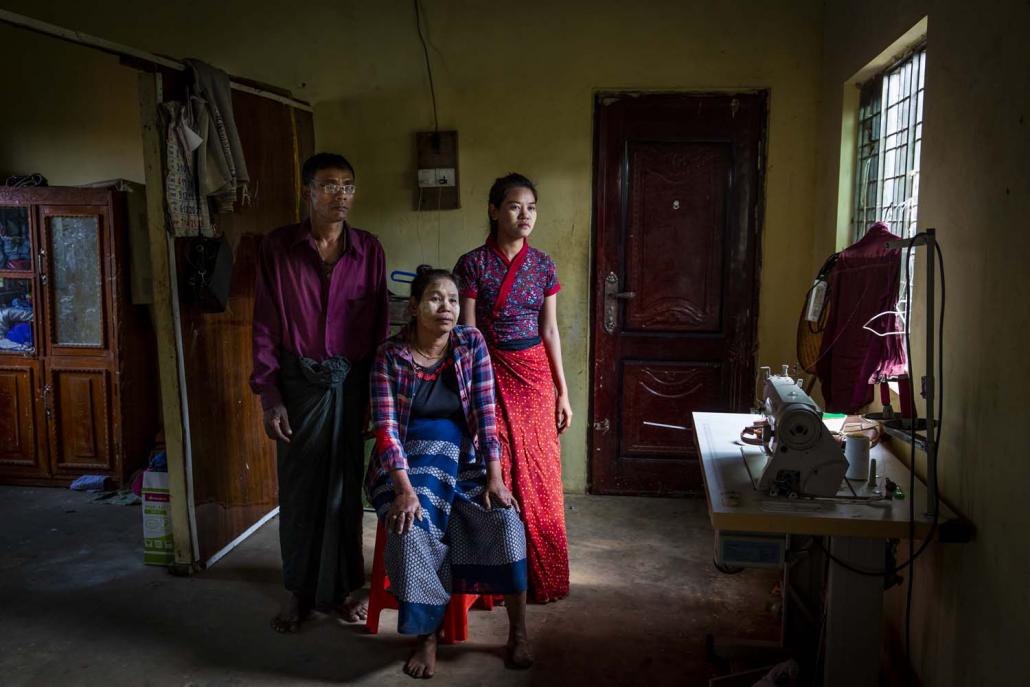 Corruption, compensation and complaints
However, activists and residents at Thilawa have accused the authorities, especially village, ward and township administrators, of manipulating the situation and misusing compensation.
Ko Pauk Sa, a watermelon farmer on government land near Shwe Pyauk village in Zone B, was relocated in 2017 after being allocated a house in a designated resettlement area, Myaing Thar Yar Ward Three in Kyauktan Township. He says he was cheated out of his crop compensation.
"We were recorded as residents in Shwe Pyauk village since 2013, and there were Google Maps photos, but someone else took the crop compensation that was supposed to be for me," he told Frontier at his home in late February.
Pauk Sa, who is also known as Ko Aung Ko Latt, said the authorities had taken photos of him and his disabled wife at their house in Shwe Pyauk village each year since 2013 to have evidence that they were living in the area.
Pauk Sa said he learned in 2017 that compensation for his watermelon crop had been paid to another man. He alleged the man doctored a photo of Pauk Sa's wife, replacing her face with that of his own wife in order to claim K340 million in compensation for 17,000 watermelons ­­– double the amount Pauk Sa had actually cultivated.
"But they forgot to change my wife's limbs and toes," he told Frontier, referring to her deformities. "I pointed that out and tried to force them to take back the compensation from [the man] and give it to me. But I finally gave up because I am alone and they are a group of people with power."
Exasperated by the situation, Pauk Sa wrote to the Anti-Corruption Commission but in a reply dated November 23, 2018, it told him it could not become involved in land ownership disputes and was not able to take action.
U Mya Hlaing, who heads the Thilawa Social Development Group, said Pauk Sa's experience was similar to many villagers displaced by the SEZ who had not received the compensation to which they believed they were entitled because of "manipulations" by the local authorities. The social development group was formed by activists in 2015 to advocate for fair compensation for those relocated because of the Thilawa project.
"I am not claiming that the whole process is bullshit, but there are many loopholes," Mya Hlaing told Frontier at his house in Thanlyin's Alwansut village.
"To avoid repeating these mistakes in implementing other projects, the government should admit there were problems and learn from it," he said. "The process is pretty good, but it is not perfect."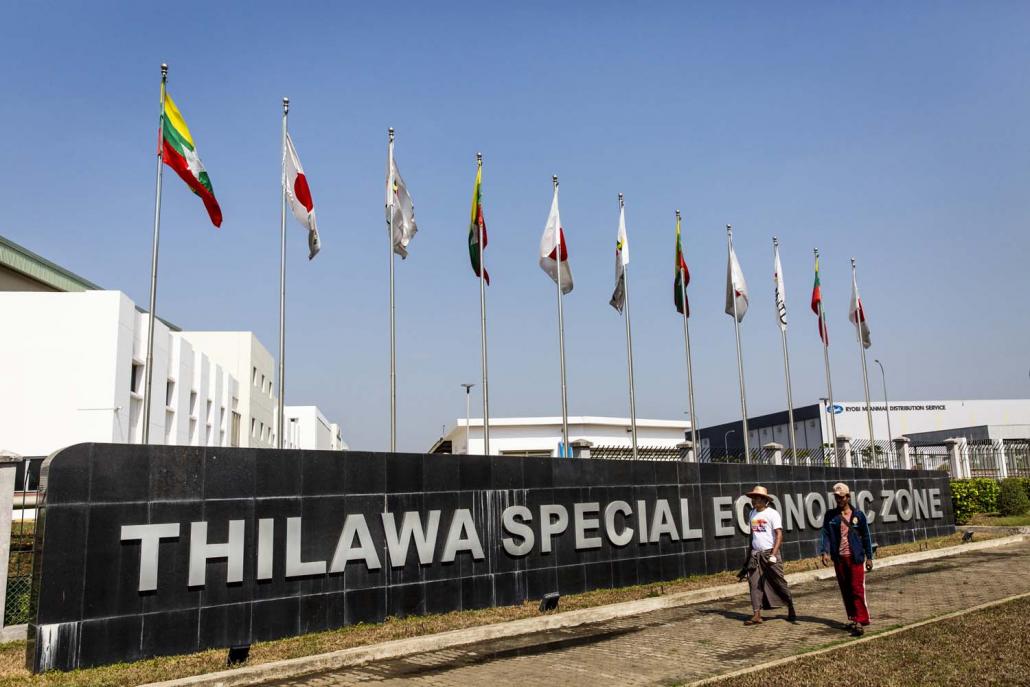 Fresh controversy
But a fresh dispute over compensation is threatening to disrupt work on the 38ha phase of Zone B that is presently under development.
Among the land users relocated in 1996-97 after the military regime confiscated their land were residents and farmers of Phalam village, who were resettled at Aye Mya Thida ward in Kyauktan. When the project known as the Malaysian industrial zone failed to go ahead, they began farming the land around their old village again.
In early February, three farmers at Phalam village received notices from the Thilawa SEZ management committee advising that they were on land in Thilawa Zone B where farming was prohibited from 2020.
U Maung Sein, 55, one of the three farmers, told Frontier that about 100 families lived in Phalam before 1996-67, but the number had declined to about 40 families before work began on the SEZ.
"There are only 17 families in our village now," Maung Sein said, adding that most of the families who moved to the resettlement area at Myaing Thar Yar in Kyauktan in 2015 did not previously own farmland.
"They didn't own land, so they accepted compensation for crop and social losses and moved, but we can't. We just simply cannot accept the compensation. We also deserve compensation for our farmland," he said.
Maung Sein said he already received compensation of K20,000 an acre in 1996-97 for his 13 acres. However, he said nearby farmers whose land had also been confiscated in the 1990s but later allocated to military-owned Myanmar Economic Corporation, rather than the Thilawa SEZ, had received additional compensation of K25 million an acre from MEC.
Than Than Thwe said the management committee was assessing the demands from Maung Sein and other farmers, but that it was unrealistic for them to expect compensation from the government at the same rate as that provided by private companies.
The authorities seem reluctant to evict the residents of Phalam. Site preparation work near the village for the next phase of the SEZ was halted on February 18, after the 17 households sent a letter to the environmental conservation section of the management committee to complain that the work had damaged the health of elderly and young residents. The letter said the committee should solve the compensation issues before proceeding with construction.
When Frontier visited the village on February 19, there was no work taking place in the immediate vicinity of Phalam, but about 20 metres away bulldozers were still levelling ground for the construction of roads and drainage. The remaining homes in Phalam were a small island of greenery and bamboo in a sea of excavated yellow soil.
"They told us to stop growing paddy from now on, but they haven't provided any compensation for the land. They want us to move from this area but just provided a small amount of compensation. How can we survive without compensation or without being able to grow paddy in future?" said Maung Sein.
He vowed to fight on for fair compensation, adding that he would seek to work with other farmers who lose land due to the expansion of the SEZ.
"As they expand the industrial zone, there will be more farmers who face a similar fate to me. We will join hands with them to demand fair compensation."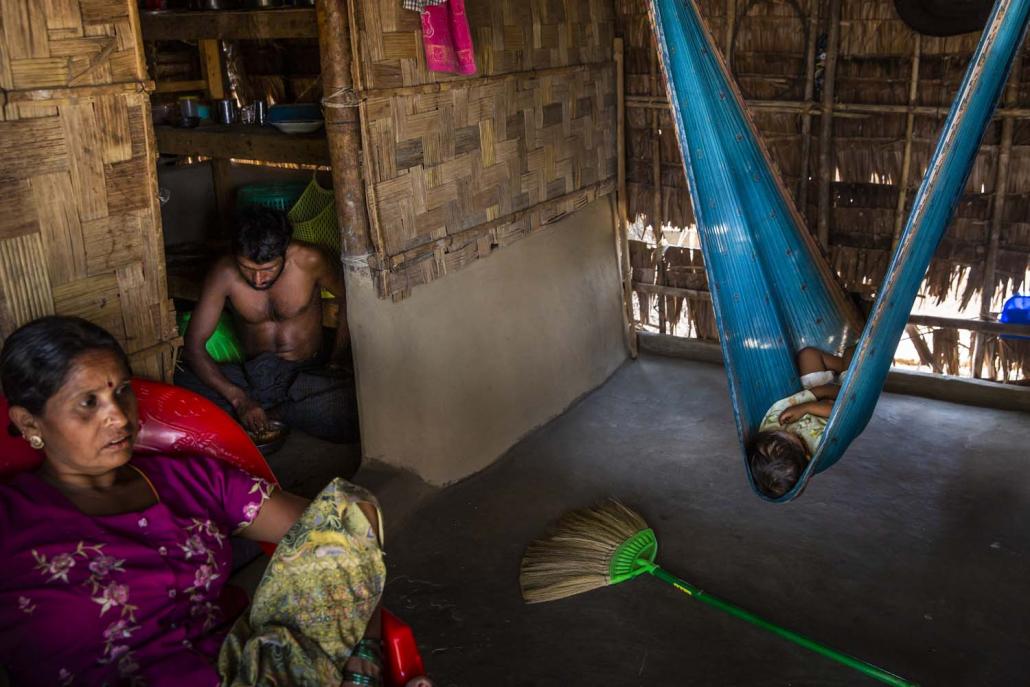 'They deserve support'
Pyithu Hluttaw MP Daw Aye Mya Mya Myo (National League for Democracy, Kyauktan) accused the regional and Union governments of ignoring the suffering of residents and farmers affected by the Thilawa project.
Aye Mya Mya Myo said the 5,027 acres for the Malaysia industrial zone was forcibly seized by the junta and since the project was not implemented the land should be regarded as the farmers' land.
"When the government announced its intention to build the Thilawa SEZ in 2013 we all welcomed it, but the government failed to ensure that farmers received fair compensation," Aye Mya Mya Myo said.
She said the current regional government had also refused to pay compensation for land on the grounds that compensation of K20,000 an acre was paid for confiscated land in 1996-97.
"The government has a duty to correct these wrongs, but sadly it is still following in the footsteps of the previous government," the MP told Frontier.
Aye Mya Mya Myo said that as well as paying fair compensation to residents and farmers, the government should also provide long-term support to enable farmers to transition to working in industry.
"These people are farmers, they work the land; giving them money [compensation] is not enough," she said. "They deserve to receive long-term support."
TOP PHOTO: Upturned earth at the construction site for Zone B of the Japanese-backed Thilawa Economic Zone. (Hkun Lat | Frontier)
Correction: An earlier verison of this article incorrectly stated that farmers whose land was confiscated in the 1990s but later allocated to military-owned Myanmar Economic Corporation, rather than the Thilawa SEZ, had received additional compensation of "K2.5 million" an acre from MEC. The correct compensation figure was K25 million an acre.