Two commercial vineyards in the Shan Hills have become popular tourist attractions as they strive to create a wine culture in Myanmar.
By JARED DOWNING | FRONTIER
The rows of neat grape vines, nestled in the Shan Hills and soft green in the sunset, were apparently worth a selfie.
Five young girls had lined up to take the photo with five full glasses of Aythaya white wine. Mr Bert Morsbach, at the end of the bar with a glass of his own rosé, looked on in pride.  
"That is what I like to see," Mr Morsbach said. "Wine culture in Myanmar."
Wine culture in Myanmar is what the German entrepreneur set out to create from scratch in 1999, choosing to pursue his lifelong dream of owning a vineyard in a country almost totally devoid of the crushed grape.
Myanmar 1st Vineyard Estate, at Aythaya in southern Shan State, has a vineyard, winery and restaurant and remains the largest of Myanmar's two producers of Western style wine, the other being Red Mountain Estate. Still, Myanmar-made wine is still eclipsed by imports, which account for more than half of the million bottles of wine consumed in the country each year. That's a massive increase from a decade ago, but is still only the equivalent of half a glass of wine per person each year.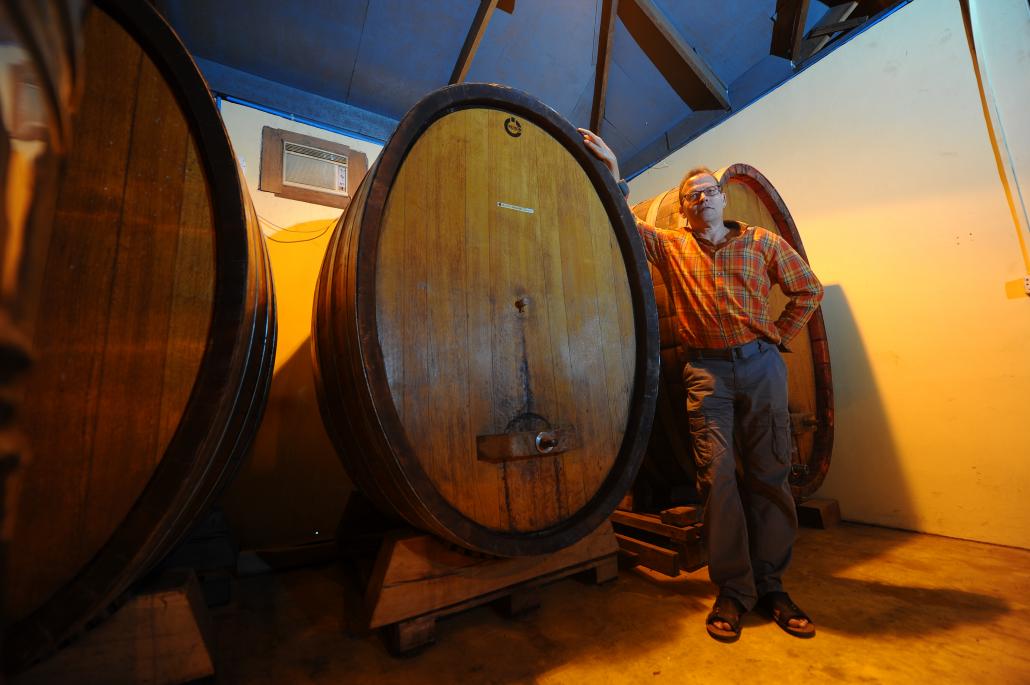 China, by contrast, consumes 1.5 bottles per capita a year. 
Myanmar's relatively new winemakers are out to shed their tourist-wine reputation. Mr Morsbach wants to see the domestic wine industry double in the next few years, creating a market for higher quality products and putting Myanmar-made reds, whites and rosés on the global menu.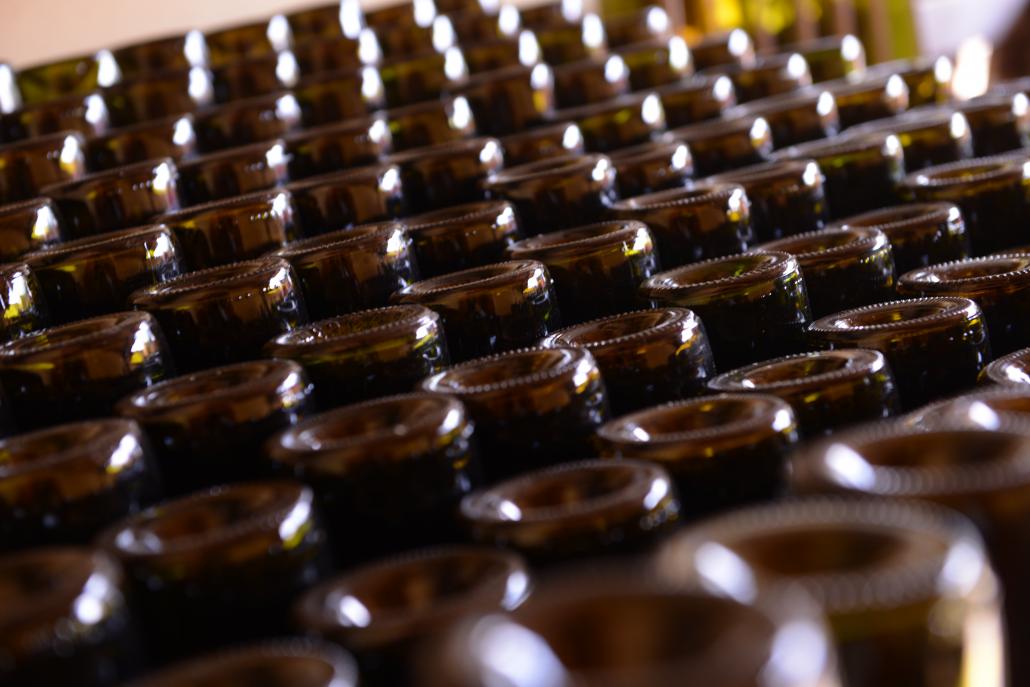 Myanmar nouveaus
It would be a feat that flies in the face of wine history.
"It is no accident that Myanmar has not had wine in the thousands of years humans have been making it," Mr Morsbach said.
Grapes do not grow well in Southeast Asia because most wine-making varieties cannot produce fruit in the region's relatively short days and hot, wet climate. Winemakers have only been able to grow wine-making varieties in highland areas such as the Shan Hills, which have cool nights and limestone-based soils, and only by using modern agricultural techniques.
The result of their persistence has been a new product category, the so-called New Latitude Wines cultivated in tropical climates.
"This is totally new," said Hans-Eduard Leiendecke, a Myanmar 1st Vineyard Estate partner and its resident viticulturist, overlooking rows of Shiraz, Cabernet Sauvignon and Sauvignon Blanc vines. "This is a challenge for me to do pioneer work."
Mr Leiendecke grew up at his family's winery in Germany. He joined Myanmar 1st after answering a positions vacant ad in a German wine magazine for a viticulturalist and has spent the last nine years working with Mr Morsbach –to establish a domestic wine industry almost from scratch.
There is a modest table grape industry in central Myanmar, founded by Italian interests in the 1960s, but Mr Morsbach and later Mr Leiendecke had to learn to grow the delicate, complex grapes suitable for wine the hard way. They experimented with different grapes and parasite-resistant rootstock, and sponged each plant with a hormone naturally produced in Europe's frosty nights. Some varieties would not produce fruit because there was not enough sunlight. Fungus, in a region drenched with four months of rain, became a kind of super villain. Sometimes a lesson cost an entire harvest to learn.
As business grows, Myanmar 1st sources some grapes from contract farmers, each of whom needs to be trained and provided with rootstock. Mr Morsbach and Mr Leiendecke created an entire Myanmar language encyclopedia for fungus.
"We want them to be successful, because if they don't grow grapes, we don't have the grapes and we are not successful," Mr Morsbach said.
Although the finished products of this new winemaking ecosystem are not particularly varied, they have established a strong presence in the domestic market.
Aythaya wines are on sale at about 400 outlets throughout the country, said Mr Morsbach, including in about 80 percent of the higher-end hotels. Red Mountain sells about 120,000 bottles a year and Myanmar 1st Vineyard Estate about 200,000, plus 50,000 more imported in bulk from Monte Vino in South Africa.
The quality, of course, depends on the drinker.
An acquired taste
"I'm looking for consistency, if it's something that's a little more expensive that's OK, but give us something that shows Myanmar at its best," said Jane Brooks, a partner of Sharky's restaurants and artisanal food stores in Yangon, who oversees a growing list of fine wines from France, California, New Zealand and elsewhere.
Sharky's founder U Ye Htut Win spent 20 years in the restaurant industry in Geneva, and then made a name for himself in Myanmar marketing top-quality products made from local ingredients. Mr Morsbach said U Ye Htut Win was optimistic about Myanmar's place in the wine spotlight when the country's wineries began bottling their first vintages, but Myanmar wines remain absent from the Sharky's menu. 
"They're young wine makers. I don't mean in the age of the people, but in experience. And I think it takes a while to get consistency," Ms Brooks said. "And we can offer better value for the same quality with some of the other wines we have."
Ms Brooks isn't interested in Myanmar products simply because they were made in Myanmar. She wants local products that are good in their own right. Myanmar wines are drinkable and approachable for tourists and locals, but not of a high enough standard for a sommelier's wine list.
This is no fault of Myanmar's winemakers, Ms Brooks emphasised, but simply an inevitable phase of an adolescent industry. In an field dominated by centuries-old winemakers, Myanmar's has started off comparatively well. 
"I'm sure it will have a place on Sharky's list," she said. "I respect Bert and Hans and the Red Mountain people because they're the experts. There are other hot country regions that have similar challenges and produce good wine, so I think it will come."
Mr Leiendecke admits that Myanmar 1st could be producing finer products if there was more demand.
"Many Myanmar people cannot discern the difference and don't want to pay the higher price," he said. "Premium products are just not affordable for the people, but we do have them in the pipeline."
High-end products may soon find a place in Myanmar, but the country first needs a wine culture, said James Ong, director of Yangon-based distributor Myanmar Fine Wines.
When it comes to the Myanmar wine on the market, Mr Ong is perhaps more forgiving. "It's pretty good quality," he said. "Drinkable at that price."
Myanmar Fine Wines became one of Myanmar's first licensed wine importers after the government allowed wine imports in May, but Mr Ong, who is from Singapore, has spent the last two years trying to establish a wine culture. In common with Sharky's, he does not sell Myanmar brands, but quality is not the issue.
"The people who come to my shop know what they want," he said. "And they prefer imported wines."
Myanmar who appreciate wine are usually affluent and have lived abroad and been exposed to Western lifestyles but often have their favourite varieties and suppliers cannot afford to experiment with anything else.
Mr Ong has spent the last two years trying to foster a wine culture in Myanmar. With the import ban lifted, he believes Myanmar's own robust wine culture will develop. The domestic wine industry will shed its tourists-only reputation as Myanmar's emerging bon vivants begin to taste and explore.
Wine culture
Tourists are an important source of income for both Red Mountain Estate and Myanmar 1st Vineyard Estate, which attract a steady stream of day-tripping visitors from nearby Inle Lake. Both vineyards have restaurants and for those with more time to enjoy the Shan Hills, Myanmar 1st has bungalows.
Tourist wine tastings and a showroom are essential, said Mr Leiendecke.
"If we were selling only wine, it would be very difficult to survive," he said, adding that Myanmar 1st would soon open another winery near Meiktila.
These attractions are quickly becoming the foundation of an emerging wine culture, said Mr Morsbach.
The tours and tastings are for many their first taste of what he hopes will become part of everyday living in Myanmar. The idea is not just to make and sell wine, but to bring people together and give them a chance to like and appreciate it.
"Most people in Southeast Asia don't know what wine tastes like, and once they have done this wine tasting, they say, 'Wow, this is a good tasting drink'," Mr Morsbach said. "My message to the people at large, would be: 'Give wine a chance'."