For the fourth installment in our travel series focused on wild swimming spots, we venture into northern Shan State to hike to hidden jungle pools, jump from 55-foot falls (well, almost) and try our hand at some tranquil paddleboarding.
By DOMINIC HORNER | FRONTIER
Lashio isn't usually at the top of most itineraries. The city itself doesn't boast much in the way of tourist attractions and if you're not already in the area then getting there can be time consuming and/or expensive.
There is one excellent reason to make the effort though: a wild waters tour with Myanmar Adventure Outfitters (www.myanmaradventureoutfitters.com), a social enterprise that is doing real pioneering work in northern Shan State.
MAO founder Byron Hartzler and his team have crafted something very special in Lashio: a tour company that gives you as an authentic adventure as you could hope for in Myanmar, while at the same time making a valuable contribution to the community. (If you don't believe me, just check out the amazing reviews on TripAdvisor.)
And it's not only wild swimming on offer. MAO knows all the motorbike and mountain biking trails, and also offers hiking and paddleboarding – they're even looking to expand into river exploration and pack-rafting. If you're after an unforgettable outdoor holiday away from the crowds, Lashio has your name in neon all over it.
I should point out that the three-day itinerary laid out here doesn't cover everything the company has to offer. I kept trekking to a minimum, didn't go near a mountain bike and wasn't able to visit every waterfall in the vicinity. This instalment is an overview of what's on offer, and why it really is worth the effort to get yourself up to Lashio.
Keep in mind that the area outside the city limits is restricted for foreigners and can only be visited with a guide, so it's best not to try and do this itinerary independently.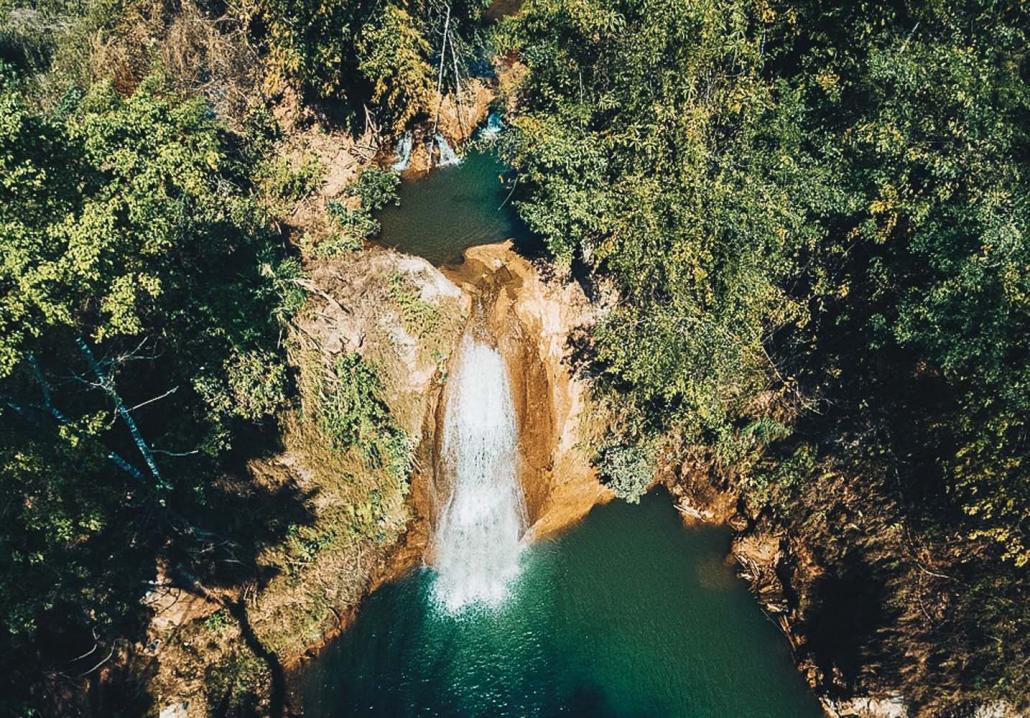 Day 1 – Mavic falls
I arrived in Lashio at midday from Yangon, had a super-quick meet and greet with Byron and the team, then hopped on a motorbike to visit Mavic falls, about 30 minutes outside of town. After following a narrow stream for 20 minutes we reached the falls, which make for a decent swimming hole and have a couple of formidable climb-and-jumps for the more athletic. In the evening, we rode into the local village and hunkered down at our appointed homestay.
Day 2 – Dark Horse Falls
The following day we rode down to Dark Horse Falls, which is one of the most spectacular waterfalls in Myanmar – no question about it. A nature-lover's playground of cascading steps, turquoise pools, face melting views and jumps – oh the jumps! Dark Horse has a range of jumps ranging from the "ooh, that looks fun" three-footers to the "ahh, get me down from here!" 55-foot (16.7-metre) head-spinners. I gave every one of them a go – except for the highest. I have to confess that after 15 minutes of dithering, fear had rooted me firmly to the spot and I couldn't find the guts to jump from that one. Maybe you'll be able to summon up more courage… but even without the jumps Dark Horse is nothing short of a wild swimming paradise – I can't recommend it enough.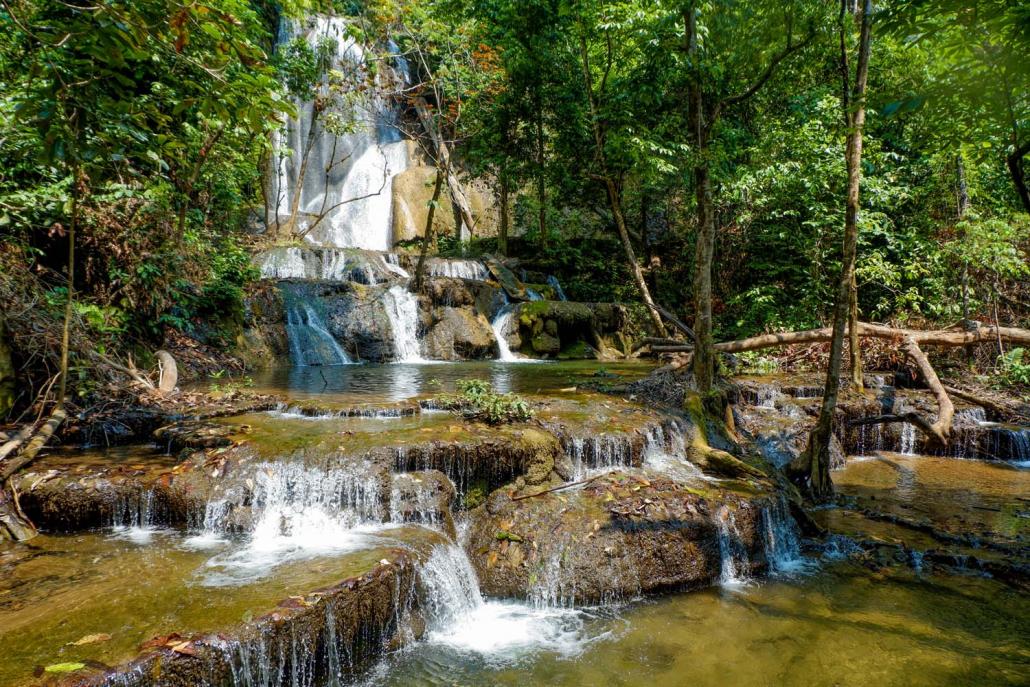 Day 3 – Hidden Tiger Falls/Humon Reservoir
Early in the morning we drove about 45 minutes out of Lashio to Hidden Tiger Falls – so nicknamed after a tiger was spotted around the falls a couple of years ago. Don't worry though, a determined pack of villagers armed with muskets had no luck tracking the beast down so the chances of you experiencing death by tiger are reassuringly low. Reaching the falls involves a brisk hike down through the jungle canopy and then a short climb to the summit. If I'm nit-picking, it's not the best spot for swimming but the verdant scenery more than compensates – it's a really lovely half-day trek.
To finish up we headed over to Humon Reservoir for some paddleboarding. Honestly, going into this I had low-to-modest expectations: Paddleboarding had always struck me as a bit of a daft novelty and after the wild-water ecstasy-bliss of Hidden Tiger and Dark Horse, a reservoir sounded like a bit of a comedown. But I was wrong. Once we got away from the slightly crowded main bank of the lake, it was the very definition of secluded tranquillity, and paddling across those dark, calm waters, was not only effortless but genuinely fun. I can now say something I thought I'd never say in my life: I'm into paddleboarding.
It was an unexpectedly wonderful way to end the trip, and before I'd even boarded my flight home I'd made up my mind that I'd be back in Lashio soon – if for no other reason than to conquer my fear and make that final leap.
Note: The writer travelled as a guest of Myanmar Adventure Outfitters.
How do I get there?
Flights run daily from Yangon and Heho to Lashio, and several times per week from Tachilek and Kengtung. Direct buses run nightly to and from Yangon/Taunggyi/Inle/Kalaw/Bagan and Mandalay. The daily train from Mandalay, which departs early in the morning, is a slow but pretty alternative.
How long do I need?
Between two to five days – it depends on how much you want to see and do.
How do I get around?
It's best to use a licensed travel agent or guide when visiting Lashio – flying solo is a no-no here.
When should I visit?
Dark Horse is only swimmable from December until June, but other sites are open year-round.
Where do I stay?There are a number of hotels in Lashio, while homestays in local villages can be arranged through Myanmar Adventure Outfitters (info@myanmaradventureoutfitters.com, +95 9795366426)
This is the fourth installment in my six-part "wild waters of Myanmar" series, which will take me to lakes, rivers, creeks, dams, waterfalls and remote beaches across the country. 
TOP PHOTO: Paddleboarding at Humon Reservoir. (Daniel Tran | Frontier)