For long-established Muslim communities in rural Mandalay Region, the right to vote is at the mercy of exclusionary laws and a bureaucracy steeped in discrimination.
By PYAE SONE AUNG | FRONTIER
It looked like any other corner of the central Dry Zone, Myanmar's Bamar Buddhist heartland. Bullock carts plied to and from fields of chickpea, sesame and onion, and farmers clad in longyis watched their cows and goats from under giant red silk cotton trees. These trees shaded them from a sun that remains fierce throughout the monsoon months while rain lashes the country's coast and mountain ranges.
But the welcome signs in both Burmese and Arabic that hung from the eaves of the bamboo-walled houses showed that the village of Khan Luu in Sintgaing Township was home to an unusual mingling of faiths.
The Muslim residents, who form the majority in Khan Luu, are one of several communities scattered across northern Mandalay Region, and in the environs of the old royal capital itself, who trace their ancestry to soldiers and learned professionals in the service of the Konbaung monarchs, whose rule was eclipsed by the British when they annexed Upper Burma in 1885.
Despite their cosmopolitan heritage, the Muslims of Khan Luu and nearby villages live in a poor rural area that has been largely isolated for the last century. This has only begun to change in recent years, particularly with the advent of better roads.
U Kyaw Min, a local farmer in his late 50s who invited Frontier to chat over a tea-leaf salad, said, "There are people of my generation who never have gone beyond Sintgaing. But nowadays university students and shopkeepers are commuting to Mandalay [30 kilometres to the north] on a daily basis because it only takes them an hour and a half."
He said the community's isolation from the rest of Myanmar till recently had caused local Muslims to form close bonds with their Buddhist neighbours. "The two communities have been living together for centuries, helping each other," he said. Lacking facial hair or any visible sign of his Muslim faith, Kyaw Min looked indistinguishable from any sun-tanned Bamar farmer of Upper Myanmar.
"Actually, it's only one community. We are all relatives. Interfaith marriage is very common here," he said, while adding sadly that this had become rare since the passage in 2015 of the Buddhist Women's Special Marriage Law, which was part of a package of four laws for the "protection of race and religion" sponsored by Buddhist ultra-nationalists.
"I am Muslim but I have relatives who are Buddhists," Kyaw Min said. "In some families, there's a Muslim grandfather and nephews who are Buddhist monks. We celebrate the religious ceremonies of both faiths, eating from the same deh oh [large frying pan]."
Kyaw Min and other Khan Luu residents said during Frontier's visit on August 23 that they hope to join their Buddhist neighbours in voting in the upcoming general election. Though this enthusiasm wasn't uniform – some said they had no interest in politics – those who intended to vote on November 8 expressed an overwhelming preference for the ruling National League for Democracy.
"The USDP is unpopular here because they deprived farmers of their lands", Kyaw Min explained, referring to the Union Solidarity and Development Party.
He said the military-aligned opposition party had not been forgiven for the confiscation in the 2000s, the last decade of junta rule, of almost 3,000 acres of farmland in the area by the military and the Union Solidarity and Development Association. The USDA was a junta-sponsored patriotic association that was transformed into the USDP in time to win the 2010 general election, with many former generals running as party candidates.
The Muslims residents of the nearby village of Tabetswe, whose heritage and warm relations with local Buddhists is similar to those in Khan Luu, were also hurt by this land grab. The local administrator U Aung Maung told Frontier, "The villagers are going to vote for the NLD in the election, because to be frank they have a bone to pick with the USDP over losing their farmland."
These villagers will also have the rare opportunity to vote for a candidate of their own faith. After being criticised for appeasing ultra-nationalists by declining to nominate a single Muslim candidate for the 2015 general election, this year the NLD has chosen two.
One of them is Daw Win Mya Mya, the NLD vice chair for Mandalay Region, who will contest the Pyithu Hluttaw seat for Sintgaing Township. The former political prisoner was injured in the 2003 massacre of party members in the Sagaing Region town of Depayin, in which the USDA was implicated, and is said to be close to State Counsellor Daw Aung San Suu Kyi.
Late last month, hundreds of Buddhist monks and dozens of laypeople signed a petition demanding that the NLD replace Win Mya Mya with a Buddhist candidate. The party has dismissed this fringe nationalist campaign and said it would stick by its candidate, and it is anyhow too late for parties to replace candidates.
But some residents of Khan Luu fear that the discrimination they suffer as Muslims at the hands of government officials will prevent them or their family members from being able to vote for the NLD, which many consider synonymous with party leader Aung San Suu Kyi.
Daw Aye Thin, whom Frontier encountered weaving silk cloth on the veranda of her home, said, "I want to vote for Aung San Suu Kyi in the coming election. But I am not sure my 19-year-old daughter will be able to vote because she has not yet got her NRC."
Aye Thin was referring to the Citizenship Scrutiny Card, often referred to as the National Registration Card, or NRC. The pink-coloured card is the primary identity document for Myanmar citizens and is essential for travel, access to education and formal employment, and the receipt of most government services.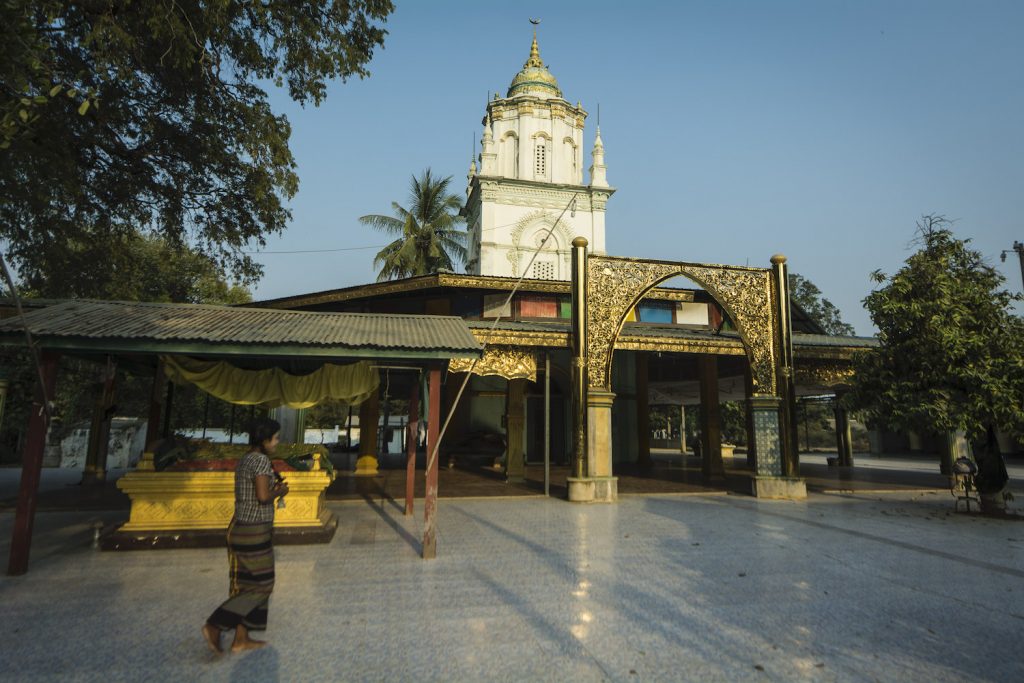 There is a common belief that the card must be presented at polling stations in order to vote. However, election officials told Frontier that, for anyone included in the voter list, a driver's license or labour card or any other common form of ID will be enough to identify themselves to polling staff. "If they don't have any kind of identification card, they can get a recommendation letter from their village head and still vote," said U Aung Hein, secretary of the election sub-commission for Kyaukse District, which contains Sintgaing Township.
However, it's not so simple for members of marginalised ethnic and religious groups, whose eligibility to cast a ballot is at the mercy of the discriminatory legal and administrative systems that govern citizenship.
More than just a form of identification, the CSC is the primary means by which people who don't belong to any of the 135 native ethnic groups, as recognised by the government, can prove that they are citizens.
The 1982 Citizenship Law grants citizenship automatically to anyone who is taingyinthar (of native ethnicity), but anyone who falls outside of the official list of 135 groups must prove ancestry in Myanmar stretching back three generations. Those who fail to meet this test may be granted subordinate forms of citizenship – naturalised and associate – which come with fewer rights, or have their application left pending for years or rejected altogether.
The constitution ties voting rights to citizenship. Ahead of the election in 2015, a clause in the electoral law that also granted the right to vote to holders of a "temporary certificate" was amended.
This formally disenfranchised hundreds of thousands of Rohingya Muslims (as well as an undetermined number of people of mostly Chinese ethnicity in Shan State) who had voted in the 2010 election and 2008 constitutional referendum, and who held white cards denoting "temporary" citizenship. President U Thein Sein had revoked the validity of these cards earlier in 2015, marking the first step in Rohingya disenfranchisement, and the large majority of Rohingya who remain in Myanmar will be unable to vote this year, too.
By law, the Muslims of Khan Luu and nearby villages should have no concerns over their ability to vote, or their entitlement to any of the other rights that come with full citizenship. They identify as "Bamar Muslims" and few people would dispute their centuries-long roots in this corner of the Dry Zone. But while their Buddhist neighbours and relatives face few problems in obtaining identity documents, their Muslim faith earns them a much higher level of scrutiny from suspicious immigration officials. This results in delays, extortion and sometimes outright obstruction.
The suspicion they receive is driven by a popular nationalist view that Islam is incompatible with a native Myanmar identity, such that one cannot be Muslim and also fully Bamar. Each CSC states the ethnicity and religion of the bearer, and when the Muslims of Khan Luu do receive citizenship cards, they are inscribed with words that mark them as foreigners.
Frontier was shown CSCs that described their bearers as being not only "Bamar" and "Muslim" but also "Indian, Pakistani and Bangladeshi", despite the latter two denoting membership of nation states established in 1947 and 1971, respectively – a long time after the ancestors of the Muslims of Khan Luu settled in the pre-colonial Bamar kingdom.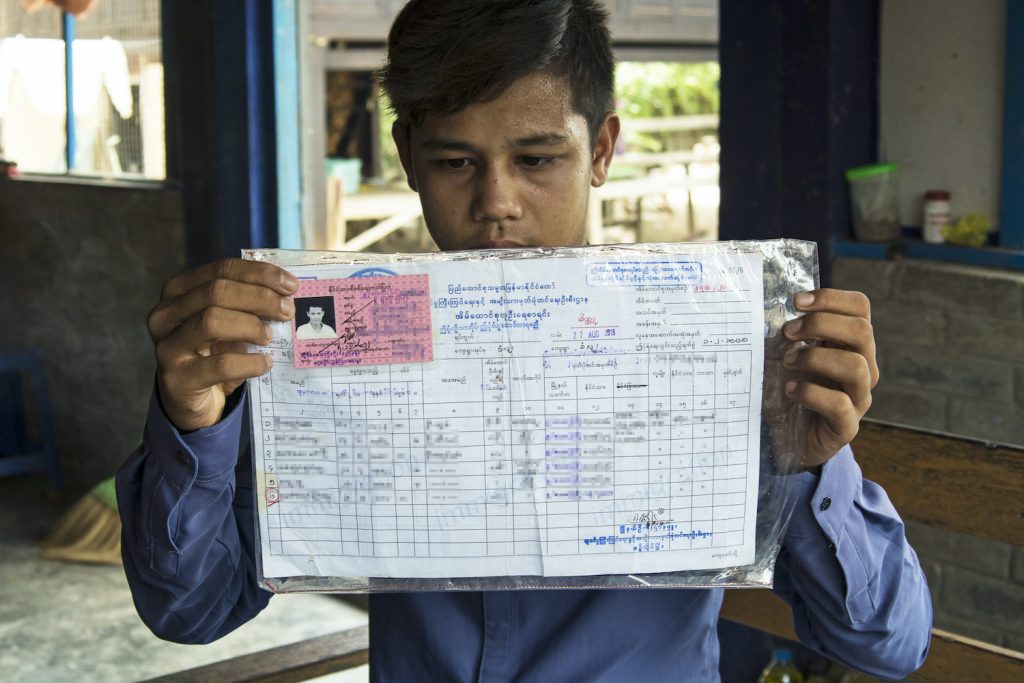 Regardless of these alienating descriptors, once in possession of a CSC the holder's claim to citizenship – and by extension, their eligibility to vote – is not in doubt. However, Muslims who apply for these cards are asked to pay hefty bribes that some households struggle to afford. Ko Nyi Nyi Kyaw, director of interfaith group Metta Campaign in Mandalay, said officials can demand up to K500,000 from Muslims, but the amount applicants must pay can swell to K2,000,000 if brokers are involved.
"This is outright discrimination based on religion, and it's institutionalised in the immigration department," he told Frontier at his Mandalay office.
Nyi Nyi Kyaw explained that while almost everyone experiences some measure of petty corruption, the bribes demanded from Muslims and members of other "non-native" groups were inflated by the number of bureaucratic levels involved. While the issuing of a CSC is typically approved at the township level for Bamar Buddhists, the applications of Muslims get passed up to the state or region level for special scrutiny.
Those who refuse to pay the large bribes must endure long waits, sometimes lasting years, meaning elections can come and go without proof of citizenship.
"I am 30 years old and I am thinking of voting for the first time in the November election," said Ko Myo Min Min, a field officer for Metta Campaign who is Tamil, an ethnicity of Indian origin that is not among the government's list of 135 native groups. "I got my NRC six months ago though I'd been constantly trying for a decade, since I was 19."
However, he said that, unlike him, many in the Tamil community in Mandalay had resolved to live on the margins, without seeking documentation or taking part in elections. "My community keeps a distance from a state apparatus that is always hostile to us," he said. "We avoid government offices as much as we can and discourage one another from associating with politics. Therefore, checking the voter list is out of question."
While the Muslims of Khan Luu are more eager to take advantage of new civic freedoms, the public display of voter lists, which took place nationwide between July 25 and August 14, prompted some to worry about being denied the vote. Though Frontier could not confirm an exact number, local residents said that out of about 1,500 people of voting age in Khan Luu, several hundred were missing from the voter list displayed in the village. A similar number was missing from the list in nearby Tabetswe village, where many Muslim residents also lack CSCs – including 50 of those who were included in the voter list.
However, election and immigration officials told Frontier the residents of Khan Luu and Tabetswe had nothing to fear. They said the large numbers missing from the voter lists was because of flaws in how those lists were compiled, which had nothing to do with ethnicity and religion and were replicated across the country. The widespread reports of errors and omissions in voter lists prompted Aung San Suu Kyi to express her displeasure during a teleconference on August 5 that included Minister of Labour, Immigration and Population U Thein Swe and Union Election Commission member U Myint Naing.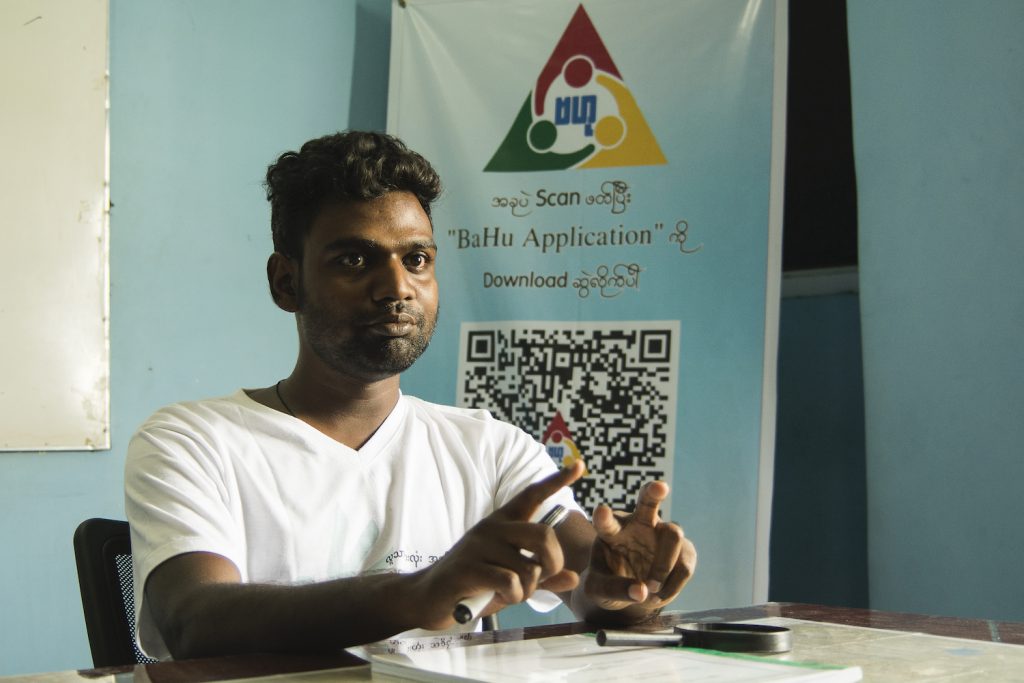 U Myint Aung, chair of Mandalay District election sub-commission, said the current voter lists were principally based on a door-to-door survey of residents undertaken between June and September last year. "If people were away from home while the voter lists were being made, they probably would have been left out," he said.
Myint Aung admitted that ward and village tract election sub-commissions largely failed to vet this data and instead "assumed it was accurate and computerised it. When the lists came out, many eligible voters failed to appear on the lists."
U Kyaw Yin Oo, director of immigration for Mandalay Region, said, "Despite the UEC's instructions, the new lists were not checked against the 2015 lists."
However, officials who spoke to Frontier said extra efforts were being made to improve the voter lists, with the help of forms filled out by people who found their names to be missing or details incorrect during the public display period, but also through more proactive steps.
They said the Department of Immigration was also making a special effort in coordination with village tract authorities to hand out citizenship cards, so as to maximise access to the vote. U Aung Maung, the village tract administrator in Tabetswe, told Frontier, "We are cooperating with township immigration officers to issue NRCs for those who lack them ahead of the election."
This drive to issue citizenship documents is taking place under the immigration department's Thitsar programme, which has been underway since 2015 and succeeded the Moe Pwint programme that ran from 2010 to 2015.
During the August 5 teleconference with Aung San Suu Kyi, immigration minister Thein Swe claimed that nearly 6 million citizenship cards had been issued under the Thitsar programme. But on the instructions of the President's Office and the UEC, the programme is being intensified ahead of the election, with immigration officials targeting communities where last year's voter survey identified large numbers of people without citizenship cards.
Khan Luu is one of these communities. A few days before Frontier's visit, township immigration officials issued citizenship cards to about 130 mostly Muslim residents, and these officials were expected to return soon to issue more. Over in Tabetswe, no cards had so far been issued to the hundreds of residents who lack them, but the village tract administrator said he had been told it would happen soon.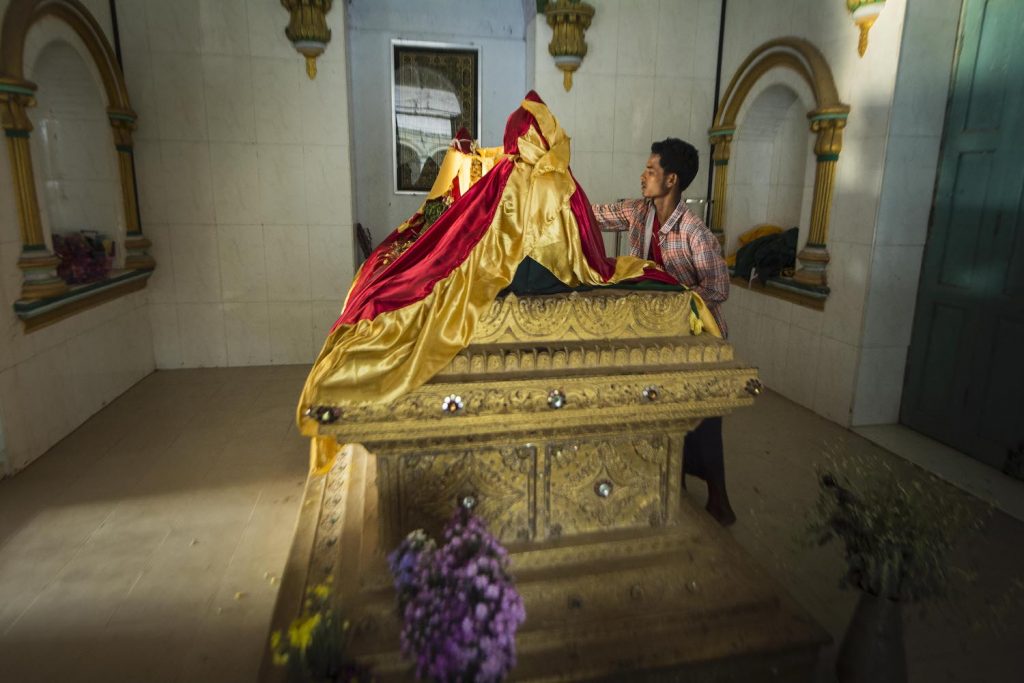 This fast-tracked process is a welcome development for the Muslims of Khan Luu and Tabetswe who are receiving citizenship cards for the first time, because it spares them from the usual process that is beset by long delays and demands for bribes.
However, discriminatory procedures remain in place, with Muslims asked to provide more documents to "prove" their citizenship, and Mandalay Region immigration director Kyaw Yin Oo said some are still rejected.
Card handouts take place on specified dates, when those seeking cards in a particular village are told by local administrators to gather at a monastery or community hall, awaiting township immigration officials. These sessions don't always go to plan. Kyaw Yin Oo said that in many cases, "only a few people showed up because rural people are poor and only interested in earning a living."
Staff at the immigration department are also stretched. The immigration director for Thabeikkyin Township elsewhere in Mandalay Region recently resigned and has not been replaced, meaning the immigration director in neighbouring Singu Township must also oversee the process in Thabeikkyin. U Maung Gyi, a social activist who lives in Thabeikkyin's Ohn Sone village, told Frontier he was worried that "not everyone in our area will be able to acquire NRCs before election day".
Responding to this concern, Mandalay District election sub-commission chair Myint Aung reiterated that a citizenship card was not ultimately required at a polling station. He said that, on top of other common forms of ID being accepted, ward and village tract election sub-commissions will issue voter slips shortly before election day that will contain a voter's name, their designated polling station and the serial number next to their entry in the voter list. A similar arrangement was made ahead of the 2015 election, and was partly motivated by a desire to provide a form of ID for voters without formal documents.
But for those in Myanmar who are marginalised on the basis of ethnicity and religion, the ability to vote on November 8 depends ultimately on their recognition as citizens. The prospects for the Muslims of Khan Luu look broadly positive, thanks in part to targeted government measures. However, doubt will continue to plague their participation in Myanmar's political life for as long as their access to citizenship is constrained by exclusionary laws and a bureaucracy steeped in discrimination.