A half-hearted crackdown on the sale of imported liquor in Yangon has drawn attention to an increasingly bitter fight between liberalisers and protectionists.
By THOMAS KEAN and KYAW YE LYNN | FRONTIER
ON THE SHELF in a corner of whisky mogul U Aung Moe Kyaw's office, a book catches the eye: Waging Business Warfare: Lessons From the Military Masters In Achieving Competitive Superiority by David J Rogers.
For his critics, who allege that he is the main barrier to the government lifting a ban on foreign liquor imports, the product placement is almost too perfect.
But Aung Moe Kyaw, whose Grand Royal empire was valued at US$1 billion when ThaiBev purchased 75 percent of it last October, insists that his views have been misrepresented.
"We are not saying anything in opposition to liquor imports," he told Frontier in a recent interview. "It's not for me to give any idea or suggestion to the government."
Several government officials have told Frontier that Aung Moe Kyaw has complained about illicit imports of foreign spirits, which have been banned since 1995 but are easily available because of rampant smuggling.
U Myint Cho, the head of the Yangon Region Consumer Affairs Department, said Aung Moe Kyaw had even brought the issue up during a discussion with State Counsellor Daw Aung San Suu Kyi in Nay Pyi Taw in late August.
A complaint from the Grand Royal Group founder was one of the reasons why the Yangon Region government recently decided to crack down on the sale of imported liquor, Myint Cho said.
But Aung Moe Kyaw said the officials must have misunderstood the context of the discussion. "We requested to the Ministry of Commerce not only on alcohol products, but illicit trade. It is our national problem. I'd like to understand the policy on illicit trade, not [advocate] to ban alcohol products," he said.
When the government proposed liberalising imports of foreign liquor in 2014, Aung Moe Kyaw was an outspoken critic, telling The Myanmar Times that local producers created many jobs and should be protected from cheap imports.
Getting such an unequivocal statement out of him now is difficult. Frontier asked repeatedly for his views on liquor imports, but he either refused to answer or evaded the question. For the owner of a billion-dollar company that dominates its sector, he was surprisingly wary of expressing an opinion.
Aung Moe Kyaw said only that he wants to see a "level playing field", where all products are legal and taxed.
He also suggested that foreign spirits manufacturers were partly responsible for the widespread illicit trade in their products. Because smuggled products are not taxed, they are significantly cheaper for consumers than if they came through legal channels.
"We'd like to see more competition, the creating of consumer choice of the varieties of products. In the meantime […] the global players, they should understand and they should listen and follow the rules and laws of Myanmar."
One senior official in the Ministry of Commerce's Trade Department who favours liberalisation, speaking to Frontier on condition of anonymity, said Aung Moe Kyaw would not publicly express his opposition to allowing foreign liquor imports.
"He doesn't need to show his true attitude," the official said. "He has money and influence."
MLA opens up
Aung Moe Kyaw has also been accused of using the Myanmar Liquor Association as a tool for his own interests; one senior member told Frontier last month that the association could not speak to the media without Aung Moe Kyaw's permission. In defending the liquor import ban, trade officials have cited, amongst other things, the lack of lobbying by local players to have it lifted.
"Without a strong push, we can't propose any change [to the foreign liquor import policy]," U Zaw Min, a deputy director at the Department of Trade told Frontier recently. "A foreign group is pushing for the policy to be lifted but it is only interested in making a profit."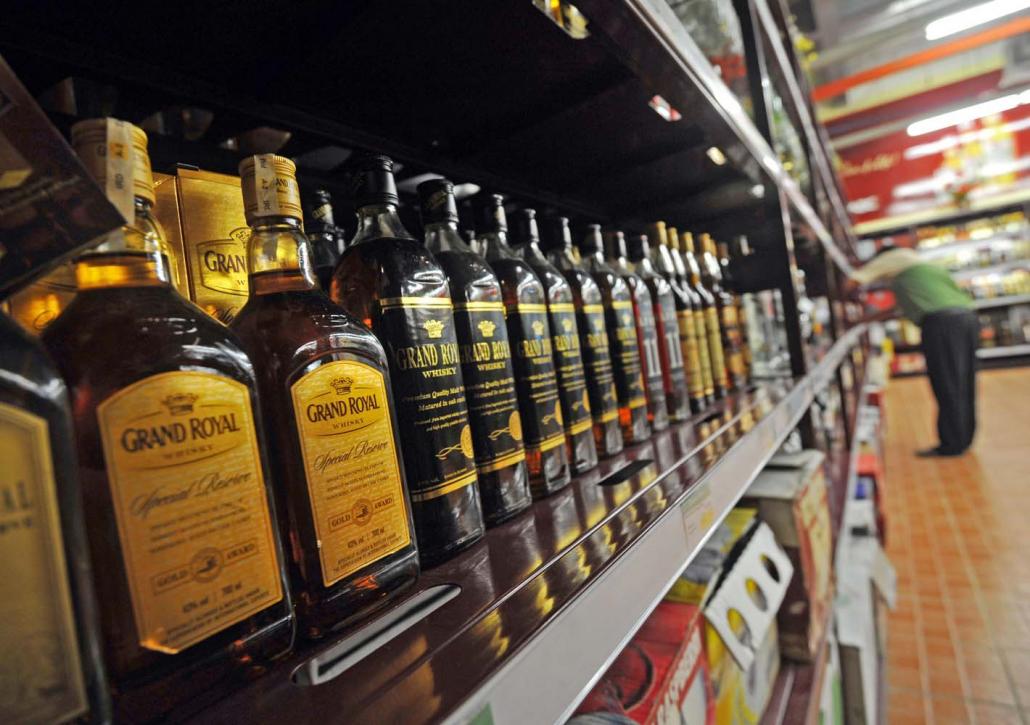 Aung Moe Kyaw insisted that reports of him wielding influence over the MLA were incorrect. "I'm not the chairman of the MLA. I have no right to control it … They will have some policy [on liquor imports], but I'm not a spokesman of the MLA."
He said he would propose to the association that it grants Frontier an interview but "whether they agree or not is up to them".
On October 18, MLA secretary-2 U Soe Lwin, who had previously declined multiple requests for comment, agreed to speak to Frontier on the phone.
He said the association had not yet discussed its policy on imports and whether it supported the government ban. "There will be a meeting later this month and we will discuss it at this meeting," he said.
Asked about the recent crackdown on the sale of foreign liquor at retail shops in Yangon, he said, "We don't have any comment on it. This is what the authorities have to do – they are enforcing the rules."
On this, the MLA and Aung Moe Kyaw seemed to be on the same page. "I believe that all the shops and everybody need to have the appropriate licence," Aung Moe Kyaw said. "It's very important to follow the rules and laws of Myanmar."
But the crackdown, announced to retail licence-holders at meetings in Yangon on September 29 and 30, does not seem to have been followed up with actual enforcement.
The Yangon Region Department of Consumer Affairs told licensed liquor retailers and wholesalers that they could no longer sell foreign liquor unless they could show it was legally imported, threatening them with prison terms of up to three years if they failed to comply. The order has effectively made it illegal for stores to sell imported liquor due to the decades-old import ban.
Initially retailers withdrew stock from shelves, but they continued to sell it out the back door. Within a few days though most had put the Johnnie Walker, Smirnoff and Jose Cuervo back on display.
Myint Cho from the Department of Consumer Affairs could not be reached for further comment.
Behind-the-scenes lobbying
Foreign and local stakeholders pushing for import liberalisation have characterised the recent crackdown as a flexing of muscles by those opposed to lifting the current import ban.
It's the latest shot in a battle that goes back several years but has risen in intensity over the past 12 months as foreign spirits players, frustrated by what they perceive to be hollow promises on liberalisation, have begun lobbying more aggressively for the government to open up the market in line with its World Trade Organization obligations.
While both sides have been reluctant to engage in public criticism of each other, behind closed doors discussions have occasionally become heated – to the point where threats have been made.
Foreign spirits companies have undertaken their advocacy primarily through the European Chamber of Commerce in Myanmar (Eurocham) and the Asia Pacific International Wine and Spirits Alliance.
In September last year, Eurocham teamed up with leading European wine and spirits companies to create the Wine & Spirits Committee. This committee drafted a chapter in Eurocham's White Book 2018: Trade & Investment Policy Recommendations arguing that the current ban on the direct import of foreign spirits "hurts Myanmar's economy, government and consumers".
They recommended that the government open the foreign spirits market through a "clear, effective and controlled system for licensing and the appointment of exclusive distributors" and said this would "promote legal trade and enable retailers and consumers to buy legitimate products from tax-paid channels".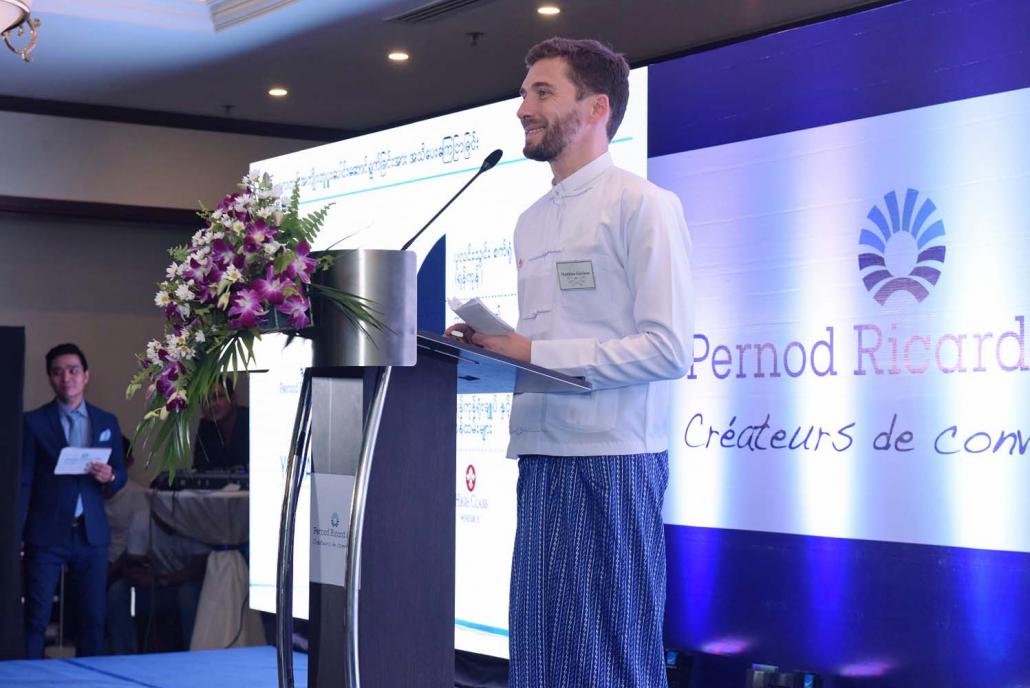 Although imports remain off limits for now, foreign investment is not. In May, Pernod Ricard acquired a majority stake in Access Myanmar Distribution Co Ltd, which was created in 2014 through a joint venture between local distiller Asia Beverages, Singapore-listed Yoma Strategic Holdings Ltd and private equity fund manager Delta Capital Myanmar.
On October 5, Access Myanmar Distribution unveiled Seagram whisky, which it describes as Myanmar's first locally produced "international" spirit.
"We believe that there is a strong potential to offer locally made premium quality spirits to the middle class Myanmar consumer who is looking for a better product and a better experience as well," said Mr Matthieu Glorieux, who represents Pernod Ricard Asia in the Myanmar partnership.
But local production of high-quality spirits "complements" rather than replaces the importation of premium brands that need to preserve their origin, he told Frontier. He gave the example of The Glenlivet, a range of single-malt whisky, which he said could only be produced in the particular part of Scotland with which it is associated.
Glorieux refused to comment on which groups or individuals might be opposed to import liberalisation. Asked about Aung Moe Kyaw's suggestion that foreign companies were somehow complicit in the illicit flow of foreign liquor into Myanmar, Glorieux said he was "a bit surprised" at the accusation.
"For me, the recent enforcement we've seen in Yangon cannot be the only answer. We know that the ban is ineffective. Therefore what's really our focus is to establish a legal channel for the import, distribution, retail and consumption – the full chain has to be legalised," he said. "In our view, this is by far the most effective way to regulate the industry."
Achieving a change in policy was about "bringing everyone to the same understanding", he added.
"We've been engaging with the government stakeholders for some time and we are hopeful that it could come to fruition. I think our arguments are widely accepted so it's just a matter of reaching consensus," he said. "But there are many parties in the decision-making process."