By EVA HIRSCHI | FRONTIER
YANGON — The sentencing on Monday of Reuters reporters Ko Wa Lone and Ko Kyaw Soe Oo to seven years in prison for possessing "state secrets" has prompted global outrage, but civil society and journalist groups in Myanmar are gearing up to fight what they say is an affront to press freedom, the rule of law and democracy.
Plans of action, still at nascent stages, have ranged from demonstrations in the capital Nay Pyi Taw to campaigns aimed at educating an often hostile public, susceptible to anti-media propaganda from the government, about the importance of independent journalism to democracy.
The verdict delivered in Yangon's Northern District Court was reported on and denounced in Myanmar's private newspapers on Tuesday. The popular national daily 7 Day featured a black rectangle on its front page and an editorial with the title "A sad day for Myanmar." State controlled papers, meanwhile, chose to bury the news in their middle pages.
On Monday, a group of journalists prayed and demonstrated at the Mahamuni Pagoda in Mandalay with banners reading "Free Wa Lone & Kyaw Soe Oo". A video shared on social media showed one reporter smashing his camera in angry protest.
On social media, statements of approval and disdain for the Reuters journalists from nationalist and pro-military users, clustering in particularly high numbers below a statement on the US Embassy's Facebook page, were met with statements of grief and anger using the hashtags #FreeWaLoneKyawSoeOo and #JournalismIsNotACrime.
Eighty-three civil society organisations have signed a statement condemning the verdict, including Athan, Action Committee for Democracy Development, Generation Wave, Equality Myanmar, the National Youth Congress, the Women's League of Burma, and a roster of youth, ethnic, environmental and other special interest organisations.
"We strongly condemn the punishment of the two journalists for simply carrying out their media work. This decision indicates that the entire trial process was neither free nor fair and was completely manipulated", the statement says.
"We call on the government, the military and all other relevant authorities to immediately and unconditionally release Wa Lone and Kyaw Soe Oo, protect freedom and promote accountability."
The open letter was sent to the offices of the president and the state counsellor, as well as to the military, the parliament and the Myanmar Press Council.
Among individual statements, a Rakhine reporters' group called the Arakan Journalist Association called for the release of Wa Lone and Kyaw Soe Oo so they could "swiftly return to a newsroom".
On Tuesday afternoon, the Protection Committee for Myanmar Journalists (PCMJ) hosted a meeting in Yangon where around 30 journalists deliberated on what to do next.
No final decisions were made but Ko Thar Lon Zaung Htet from the PCMJ told Frontier, "There were many good ideas on how we, as journalists from Myanmar, could respond to this attack on freedom of the press."
One idea was to ask journalists from across Myanmar to sign a petition to be sent to President U Win Myint, requesting that he use his presidential powers to release the two journalists in an amnesty.
Other ideas included wearing special bracelets in support of Wa Lone and Kyaw Soe Oo and attending government press conferences dressed in black. Some suggested that, instead of protesting in Yangon, they hold a demonstration in front of a government building in the capital Nay Pyi Taw, where police maintain tight, but rarely tested, restrictions on protest activity.
"We definitely won't stay silent. We will raise our voice and fight for justice", Ko Aung Naing Soe, a freelance journalist based in Yangon, told Frontier.
"The first step will be to change the public's opinion on journalists. In Myanmar, journalists are often regarded as state enemies or people with privileges. So we agreed on leading a campaign to make the population aware of the importance of freedom of the press," he said.
Ma Khin Myat Myat Wai, a reporter at The Voice Daily, told Frontier, "We also need to see what the Myanmar Press Council is going to do – whether they are going to put pressure on the government, since they are the representatives of journalists at the state level."
Myanmar's Press Council, though formally independent from the government, were muted throughout Wa Lone and Kyaw Soe Oo's eight-month trial, merely offering at the start to "mediate" their case with the government. They have yet to take a position on their sentencing.
At a press conference addressed by the wives of Wa Lone and Kyaw Soe Oo and their lawyers on Tuesday evening, lawyer U Khin Maung Zaw said, "I am extremely disappointed by the verdict, not just for the family members but also for Myanmar and our path to democracy. This verdict affects the democratization of Myanmar".
He stressed that they would do "everything possible" to get the journalists out of prison.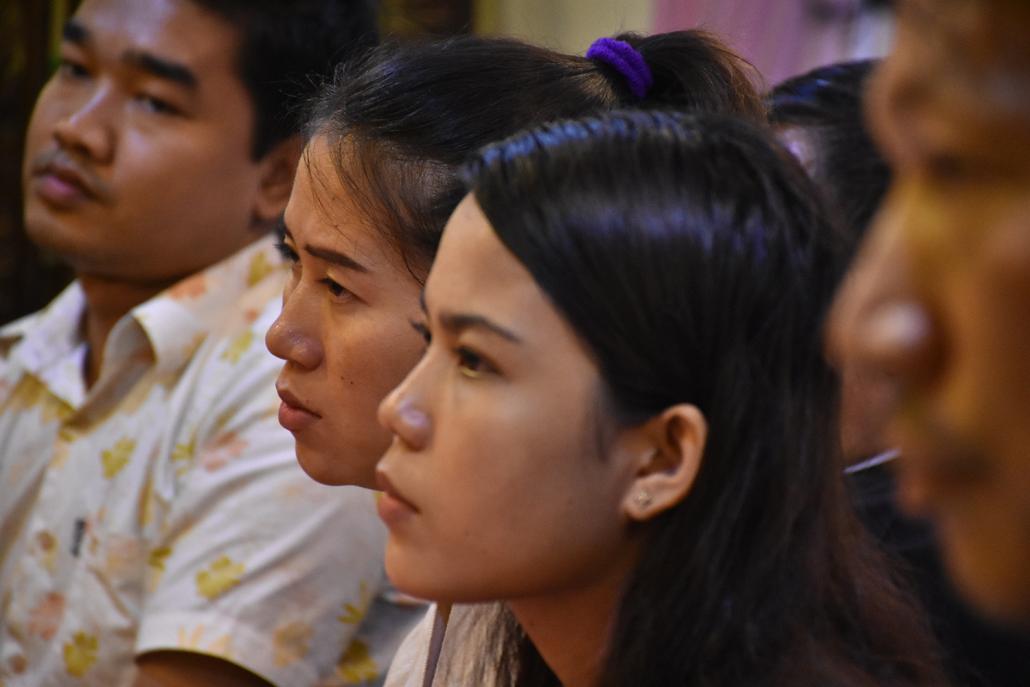 Asked about State Counsellor Daw Aung San Suu Kyi, who has refused to condemn the trial or the verdict, Wa Lone's wife Ma Pan Ei Mon said, "I feel very hurt. We used to admire her. I was very proud of our leader."
Kyaw Soe Oo's wife Ma Chit Su Win said, crying, "From one mother to another, I want to tell Daw Aung San Suu Kyi about my daughter. She is now three years old and very close to her father. She asked me, 'Why does father not come back to us? Does he not love us?' It was very hard for me to explain."
Aung San Suu Kyi has two sons, from whom she was forcibly separated during 15 years of house arrest under military junta rule in Myanmar between 1989 and 2010.
"My husband is an honest man who has done nothing wrong against the state. He works as a correspondent and he was put in prison for doing his job. That is unjust," Chit Su Win said.