With zero representation for Muslims in parliament, a group of Muslim candidates hopes to defy the community's marginalisation by winning seats in the November election.
By EI EI TOE LWIN | FRONTIER
For the past few months, family and friends have been trying to dissuade Daw Lwin Mar Tun, a Muslim dentist living in Yangon, from entering politics ahead of the November 8 general election.
"They tell me to look at what happened to the famous Muslim lawyer U Ko Ni," Lwin Mar Tun, 47, told Frontier. "He was assassinated despite doing his best for his country and community."
Ko Ni helped create the state counsellor position for Daw Aung San Suu Kyi and had been a strong advocate for constitutional change until a gunman shot him outside Yangon International Airport in January 2017. His murder was seen as a warning to people who want to remove the military from politics, and Ko Ni's status as a prominent Muslim in a climate of Buddhist nationalism made him all the more vulnerable.
Undeterred, Lwin Mar Tun plans to submit an application to run as a candidate for the Democratic Party for a New Society in the Pyithu Hluttaw constituency of eastern Yangon's Thingangyun Township.
"Everybody has to die some day," she said. "I wouldn't regret dying for something that I chose to do for the right reasons."
As a Muslim, a divorced mother and local business owner, her candidacy would bring diversity to the ballot. But first she must qualify to stand in the election – a goal shrouded in uncertainty following the Union Election Commission's rejection of most aspiring Muslim candidates in the 2015 election. Five of the six parties fielding mostly Muslim candidates, including those belonging to the Rohingya and Kaman ethnic groups, had more than half of their proposed candidates deemed ineligible five years ago.
Of the 6,074 candidates the Union Election Commission cleared to run in 2015, just 28 were Muslims, compared to 5,130 Buddhists and 903 Christians.
When the UEC was accused of discrimination in disqualifying candidates, it merely referred to sections 8 and 10 contained in the separate election laws for the Pyithu, Amyotha and regional hluttaws. These sections include provisions that candidates must be full citizens, and not hold "associate" or "naturalised" citizenship, which Muslims are often forced to accept under Myanmar's race-based citizenship law. But more than that, candidates' parents must also have been citizens at the time of the candidate's birth.
The report on the 2015 election by United States-based observer group the Carter Center said enforcement of these requirements was selective: "Multiple [election] subcommissions acknowledged that not all candidates were equally scrutinized on citizenship grounds and that they sought to identify individuals for scrutiny based in part on indications of foreign ancestry in application documents, or at times, physical appearance alone."
However, only 99 people were rejected as candidates in total, and 24 were later approved on appeal. The larger problem in terms of limited Muslim participation in the election was the reluctance of major parties to nominate them as candidates.
The National League for Democracy declined to nominate a single Muslim candidate in order to placate Buddhist hardliners, Ko Ni told The Irrawaddy three months before the election. No Muslims appeared on the ballot for the military-backed Union Solidarity and Development Party, despite the party having fielded several in the 2010 vote.
None of the Muslim candidates won in 2015, leaving a community comprising around 4 percent of the country's population, now estimated to be around 55 million, with zero lawmakers.
---
---
The prospect of this remaining the case for another five years prompted some of the Muslim community on July 20 to form the Equality Election Victory Committee, a 25-member group comprising legal experts, business and religious leaders and veteran politicians.
The committee will provide legal, logistical and fund-raising help to aspiring Muslim candidates until the deadline for candidate registration on August 7, after which electoral officials will spend a week scrutinising all aspirants against the strict eligibility criteria.
Although EEVC's membership is Muslim, chairperson U Nyi Nyi said the committee's focus goes beyond their religious community. "We are not only going to help Muslims but all minority candidates," he told Frontier. "We fully understand we Muslims are not the only ones facing discrimination in this country; other minorities have the same experience."
EEVC member U Phoe Hlaing said the committee would support candidates who stood against "a narrow-minded attitude based on race and religion".
"We need to create an inclusive political system," said Phoe Hlaing, who contested Yangon's Botahtaung Township constituency for the Muslim-led Democratic Human Rights Party in the 1990 general election.
He lost the vote but joined the NLD after the military ignored its victory at the polls. His support for the NLD has ebbed since 2015, when the party asked Muslims to back it even while denying them the opportunity to contest under its banner.
"Under the military regime, we were oppressed by only one group, but under the NLD government, we feel that we are being oppressed by the majority of people," he said.
The committee met on July 20 to finalise the proposed constituencies and has received the names of 20 aspiring candidates, said Phoe Hlaing, who expects at least five on the list to win seats – that is, if the election commission accepts their applications.
There are already signs that this year's election will be more inclusive of Muslims than the last. The list of more than 1,000 proposed NLD candidates the party released on July 23 included, to the surprise of many, two Muslims: U Sithu Maung and Daw Win Mya Mya, both former political prisoners and NLD veterans whose applications the party rejected in 2015.
Win Mya Mya has been nominated to run for the Pyithu Hluttaw constituency of Sintgaing in Mandalay, and Sithu Maung for the Pyithu Hluttaw seat of Pabedan in Yangon.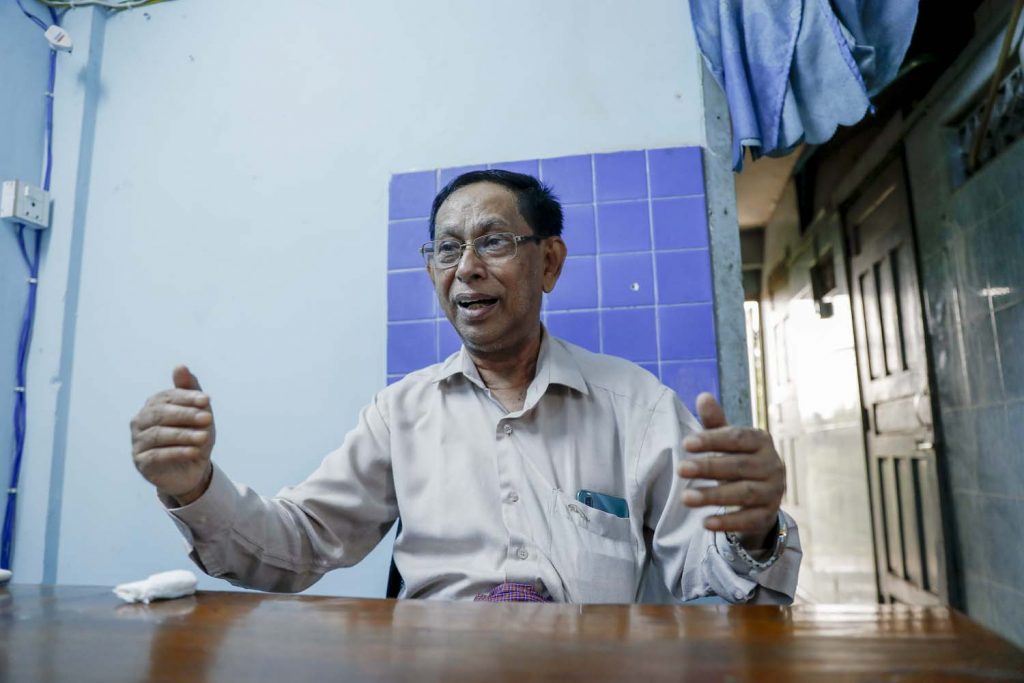 'We have to do this by ourselves'
Lwin Mar Tun said she was inspired to win a seat in the national parliament by the realisation that she could only create change from a position of power.
"Even if you have good intentions for people, barriers can prevent you from acting out your good will," she said. "I can better help people if I become a lawmaker."
She said she's confident of her chances because of her good reputation as the owner of Thingangyun-based Kaung Mon Dental Clinic, which caters to low-income patients, and through her charity work. This has included helping the victims of anti-Muslim rioting in the Mandalay Region town of Meiktila in 2013, assisting healthcare programmes in a rural village in Yangon Region's Twante Township, and supporting women in Yangon who are suffering from domestic abuse.
Born and raised in Thingangyun, Lwin Mar Tun wants "justice and equal rights for all people", she said – a vision shaped by the sense that she is not treated as an equal citizen in her own country.
For instance, in late 2019 she tried to renew her passport at the Passport Issuing Office, where she told to wait in an unmarked queue for those deemed to have "mixed blood". Once she reached the immigration officials, she was told to bring more documents. Presenting them with everything from her school identity card to her government medical staff papers, the officials questioned her for almost three hours, at which point she asked why the seemingly excessive scrutiny was necessary.
"They replied politely that they would not elaborate further," she said. If the passport office experience is anything to go by, then she expects her candidacy application will be subjected to "serious scrutiny".
"But I don't worry about my [citizenship] status, because my parents were born and still live in Thingangyun," she added.
In Yangon's Pabedan Township, which has a strong Indian Muslim heritage, U Kyaw Nay Min, the 48-year-old editor of Muslim affairs journal Chonn, is preparing his own candidacy application. Four other editors from the journal are also planning to run.
"Some political parties have invited me to run for them, but I prefer to run as an independent because I want to do things my way," said Kyaw Nay Min, who intends to contest the Pyithu Hluttaw seat for Pabedan. His four colleagues are preparing to contest seats in the Yangon Region Hluttaw for various townships.
In the 2015 election, many Muslims voted for the NLD with the hope of gaining equality and rights for minorities, but the party has fallen short, he told Frontier.
"We have to do this by ourselves in order to get our rights," said the father of four. "Local residents will vote for a candidate who will stand for them."
---
---
Although Kyaw Nay Min lives in nearby Mingalar Taung Nyunt Township, community leaders have backed his nomination to represent Pabedan. He claimed that Pabedan, whose population was recorded as 33,336 in the 2014 census, has more than 20,000 Muslim voters. Frontier could not independently verify this and voter lists do not state the religion of voters.
Kyaw Nay Min, whose community work includes the disruption of food to needy people during the COVID-19 pandemic, has some lofty ambitions were he to be elected.
He is part of a committee lobbying the government to permit the reopening or rebuilding of mosques across the country that were shuttered or burned during bouts of communal violence. The government's refusal to allow even the renovation of mosques destroyed by accidental fires or earthquakes has created a shortage of buildings for Islamic worship, meaning many Muslims need to travel miles to pray at overcrowded mosques.
As well as carrying this agenda forward in parliament, Kyaw Nay Min said he also would push for the 1982 Citizenship Law to be amended, because many Muslims with deep roots in Myanmar are being denied citizenship under the existing statute, which only grants automatic citizenship to members of the 135 officially enumerated "national races".
He also thinks that he and his fellow Muslim candidates could play a constructive role in resolving the deadly tensions between Buddhists and Muslims in northern Rakhine State, and addressing the official persecution of Muslims in the state.
"We know about our people," he said in support of his proposed role as a mediator. "We can work with them and we trust each other."
He said he had made a mediation proposal to the government last year but after an initial invitation to attend a meeting it had gone nowhere.
He also wants to help change Myanmar's electoral system from first-past-the-post to proportional representation, because "a winner takes all system" is "not fair" on minority groups in such a diverse nation.
Electoral results Rakhine State would undoubtedly look different if Myanmar's Rohingya were allowed to vote, even more so when the Muslim minority numbered about 1 million in 2015.
Many Rohingya held Temporary Registration Certificates, known as "white cards", that allowed them to vote in the 2010 election and elect Rohingya candidates to parliament. But President U Thein Sein cancelled these in early 2015. By the time ballots were cast later that year, most Rohingya were completely disenfranchised and destined to be represented by whoever their ethnic Rakhine neighbours chose.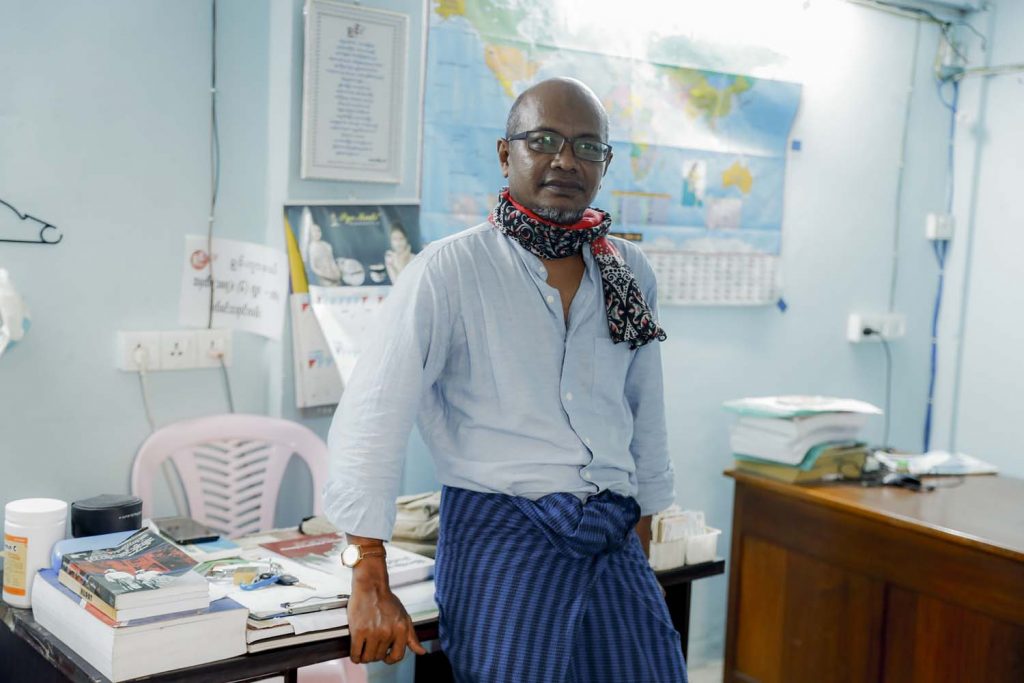 'Diversity is a force'
Although the NLD did not field any Muslim candidates in 2015, it still went on to win a sizeable number of Muslim votes, including in Yangon's Kyauktada, Botahtaung, Tarmwe, Pabedan and Mingalar Taung Nyunt townships.
"I voted for the NLD in Pabedan because they needed strong support from everyone to make change," said U Kyaw Soe Aung, general secretary of the Muslim-led Democracy and Human Rights Party.
His party submitted 18 candidates to stand in Yangon and Rakhine State ahead of the 2015 vote, but 15 of them were rejected as ineligible by the UEC.
The DHRP plans to contest 26 seats in the upcoming poll to voice concerns about human right violations against Muslims, which Kyaw Soe Aung said remained widespread despite the high hopes the community had for the NLD government.
"We gave our vote to bring about a democracy with equal rights to all people. But we have not seen an effective government response yet," he said. "To this day we are discriminated against and segregated."
Another Muslim-run party, the National Democratic Party for Development, will contest again with the expectation of attracting votes from people disappointed with NLD rule. Party members also have bitter memories of the 2015 election, when the UEC rejected five of its candidates, leaving only one to run in the poll.
"We plan to submit more candidates than in 2015 but I cannot give a specific number as the selection process has not been finalised yet," said NDPD vice chairperson U Khin Maung Myint. "We won't retreat, we will move forward to achieve our goal … We will be satisfied if we are allowed to contest, then we can happily respect the people's decision."
However, aspiring Muslim MPs do not have their choices limited to Muslim-run parties and running as an independent. The Bamar-run Democratic Party for a New Society is seeking minority candidates, including Muslims, to contest about 50 seats for the party.
"No one should be left behind if we really want to build a democratic union," party chair U Aung Moe Zaw told Frontier.
He said being inclusive was worth the risk of losing votes by fielding Muslim candidates. "I have a strong belief that everybody deserves to enjoy equal rights. I have been fighting for it since 1988 [when the party was founded in the year of the nationwide democratic uprising]. I'm still sticking to that."
U Aye Lwin, a prominent Muslim leader who served on the Advisory Commission on Rakhine State chaired by the late Kofi Annan, welcomed Muslims' enthusiasm and engagement with this year's election. However, he said they have little chance of winning and might end up drawing votes from national parties that are in a better position to achieve change in an environment where democracy is insecure.
"Our country is still in transition from one system to another. We have not yet achieved full democracy; it's neither fish nor fowl," he said, adding that "the transition would take more time" under a weak government based on a fragile alliance of parties.
Major parties ultimately need to be more inclusive and take on qualified Muslim candidates without discrimination, he said.
"It's very sad that people of different religions are automatically considered mixed blood," he said.
"Diversity is a force. The country needs to be able to take advantage of it."