Ethnic armed groups in Shan State have long used intimidation to recruit fighters, but the brutal tactics of the Shan State Progress Party are terrorizing villagers and prompting some to flee their homes.
By NANDAR and ALLEGRA MENDELSON | FRONTIER
On the morning of June 20, Daw Shristi Devi, 55, walked more than 20 kilometers from her village to a Shan State Progress Party camp near Lashio in northern Shan State.
The ethnic armed group had summoned the single mother of five to apologize on behalf of her eldest son for his refusal to enlist in the SSPP's armed wing, the Shan State Army-North.
Moments after arriving at the SSPP camp, Shristi Devi, along with 23 villagers who had also been summoned for the same reason, were forced into a vehicle by five armed fighters and driven away. She was separated from her family for more than six weeks.
"We didn't know where they were taking us. They could have done anything to us. We thought they would kill us," recalled Shristi Devi, who asked that her real name and village not be published for fear of reprisal.
Although the military coup on February 1 brought violence and fear into households throughout the country, for many in Shan State conflict has been at their doorsteps for decades.
The state is home to some of Myanmar's most powerful ethnic armed groups, and these ethnic armies have long been at war with each other and with the Tatmadaw. However, as power struggles and territorial disputes persist, the SSPP and its armed wing, one of the biggest ethnic armed groups in northern Shan, has acquired a reputation as the more violent and aggressive of the groups, especially in recruitment campaigns.
'We gave the money – that's why we are still alive today'
The June 20 incident is reflective of the SSPP's increasingly brutal recruitment tactics.
Taken against their will with no warning or explanation, Shristi Devi and the other villagers were moved three times after being abducted. At the final camp, where they were held for a month, they lived in tents with little food and not enough clothing. Shristi Devi remembers seeing over 200 people who had been abducted from other villages.
"It was intolerably cold. We didn't know we could end up here like this so we didn't bring any warm change of clothes or blankets. We had to wash the clothes again and again and re-wear them. And they didn't give us anything to eat except rice, oil, and salt," said Shristi Devi. "We spent most nights sleeping on the floor. It was such a nightmare."
A few days after arriving at the final camp in Keng Tung, the men were taken to SSPP headquarters in Wan Hai, over 380km away, to begin formal training. The eight women remained at the camp.
Shristi Devi was told that she would only be released after her son joined the SSPP or a fee of K10 million was paid (about US$5,000 at current exchange rates). Fearing for her safety, her community collected the ransom and on August 2 she was released, along with another woman from her village. However, she was told that paying the ransom would only protect her for one year.
"I am constantly worried because they only gave us a one-year contract to sign, which means that they will or can come back next year again and the same thing would happen again," said Shristi Devi, her voice shaking.
"We gave the money – that's why we are still alive today. But this is [only] one year's insurance. We don't know what will happen to us in the next few years."
The SSPP's conscription efforts track eligible recruits using what's known as "the list". In villages across northern Shan, families with members aged between 18 and 40, men and women, are entered on "the list", usually under the father's name. An annual draw is held by respective village tract administrators and SSPP branch leaders to decide who must join. If selected, the family must offer at least one person to begin immediate military training regardless of whether the family is from a village in SSPP territory.
Sai Muang, editor-in-chief of the Shan Herald Agency for News, has monitored conscription and forced recruitment by the SSPP since 2006. He says the June 20 incident is one of the most extreme examples of intimidation by the armed group, but it is not an isolated case. He says the SSPP's conscription programme has expanded over the past year, and now covers more than 50 villages. The increase has occurred amid a rise in fighting between the SSPP and the Restoration Council of Shan State (RCSS), and its armed wing is the Shan State Army-South.
"They [SSPP] have been recruiting in so many villages. They are now not just looking at the city or the number of people they can recruit. They are focusing on anyone above 18 and taking them," said Muang.
Sai Wi Zay Ya, 52, a community leader from the same village as Shristi Devi, has spoken to families throughout northern Shan who have been targeted in the forced recruitment campaigns. He believes that the SSPP's tactics have become more drastic in recent months.
In the past, if a recruit failed to comply with his or her conscription, their family could negotiate with the village leader to pay a fine. This is no longer sufficient.
"Before, it used to be directly dealt with by the village heads, without involving the villagers. Now, they don't accept negotiating with the village head and demand to talk to the parents directly. That's why now the head of the village has been conditioned to send the parents to their camp to deal with whatever they [SSPP] want," said Wi Zay Ya, who asked that his real name and location not be used for fear of reprisal.
"They have found that the tactic of taking parents away is an effective and easy way to threaten the sons to join the groups. So, they started implementing such tactics in other areas gradually."
These new tactics spread to Shristi Devi and Wi Zay Ya's village when the SSPP pushed the RCSS out of the region in April and took over administrative control. A representative from each family is required to visit one of the SSPP camps in person; families that refuse to go through this process risk having SSPP soldiers raid their homes and detain anyone they find.
Shristi Devi's eldest son was first recruited by the SSPP in one of its annual draws in 2015. For five years, her family paid an annual K4 million fine to the party in exchange for his freedom. Until this year, it was enough to ward off the party's threats, but due to the new policy she feared for her family's safety and felt she had no choice but to make the trip to talk directly to the party.
In other parts of Shan, the policies have been in effect for several years. Daw Nang Lee, 30, who lives in a village in northern Shan about 15km south of Shristi Devi's community, made a similar trip to an SSPP camp in 2019.
Her younger brother was first recruited by the SSPP in 2012 and joined up, but absconded after seven years. Nang Lee was summoned to a meeting with the SSPP at which she tried to issue a formal apology on behalf of her brother.
"This is the only way to deal with them if you want to be excused from not getting other severe punishments like getting arrested or beaten," said Nang Lee, who asked that her real name and home village not be used because the SSPP has in the past threatened and attacked residents of her village who have spoken out about the forced conscription.
Although Nang Lee did not face retaliation like Shristi Devi, her apology was rejected and her brother was again included on "the list". He has remained in hiding since he ran away.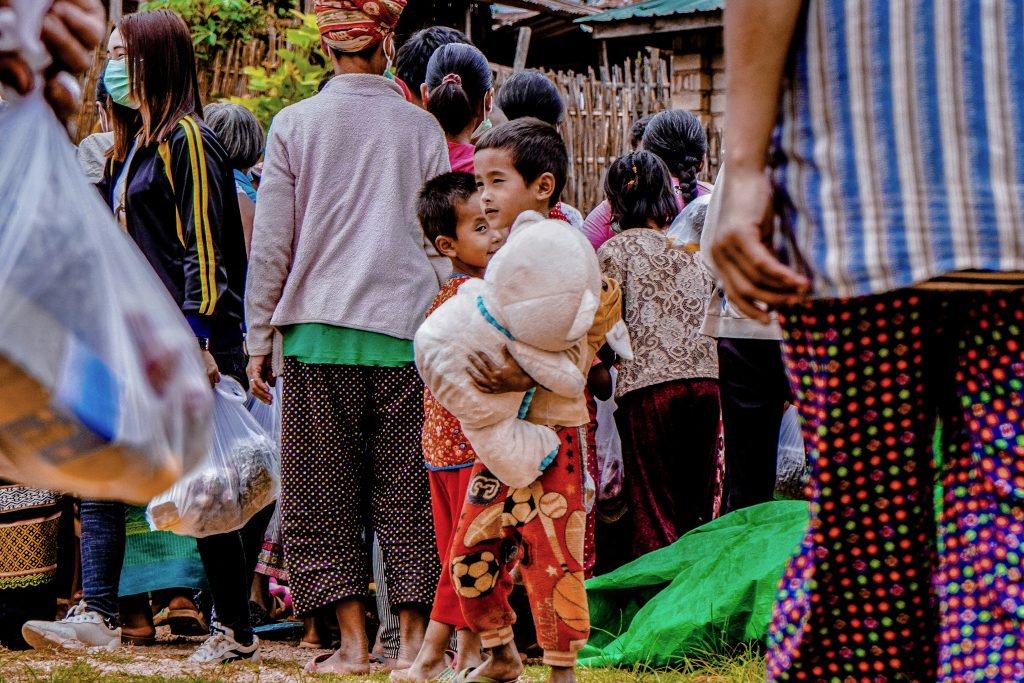 Decades of conflict in Shan State
For many families, the prospect of a loved one fighting with an ethnic armed group hangs over them like a death sentence. Reports of young people joining ethnic armed groups and never being heard from again are common.
"I feel that giving money is better than giving our sons and our lives because we don't know what they will make our sons do once they join the group. We don't know if they will ever come back or stay alive," said Shristi Devi.
"It is better we go [to apologise] because if we don't, the SSPP would come and raid our house and God knows what else they are capable of doing. I don't want them to even see my sons at all."
The fear of ethnic armed groups such as the SSPP has developed over decades of fighting, both against the Tatmadaw and between themselves.
The SSPP is allied with the Ta'ang National Liberation Army (TNLA), which represents the Ta'ang minority. Separately and together, the two northern Shan groups have clashed with the RCSS, based in the south of the state, since the TNLA was formed in 2009.
However, while the TNLA focuses its recruitment almost exclusively on Ta'ang, the predominantly Shan SSPP is known to target all ethnicities, including those living in territory outside its control. SSPP spokesperson and secretary, Colonel Sai Su said that there is "no discrimination against gender or religions" in the party's recruitment efforts.
The RCSS, while also violent, has developed a reputation as being a more protective force that is less likely to use fear-mongering tactics and extreme intimidation against civilians, especially in northern Shan.
Wi Zay Ya said he has witnessed the difference between the two groups firsthand. His village was under RCSS control until April when the SSPP pushed them out. He says the contrast between the two groups is significant.
"RCSS didn't torture or use violence towards us. They took things from us, but protected us in return. But [SSPP] are very violent and ask the villagers to do things for them forcefully and ask them to give [money]. They want us to buy them beer, and they torture the villagers so inhumanely," said Wi Zay Ya.
Muang has heard similar stories, but suggests that a preference for the RCSS might be misguided.
"RCSS has that strong mindset or value that is shared by many in Shan State: nationalism. Shan people love RCSS for that reason. It becomes easy for them to give anything to RCSS and hard for them to see them for what they really are," said Muang.
"They [Shan people] paint SSPP as the "bad guy" because SSPP is more cunning, and they collaborate and work with different armed groups, and are seen as traitors in the community."
Despite evidence of its crackdowns and harsh recruitment campaigns, the SSPP denies most allegations of violence. Sai Su said the group instills a sense of duty in its recruits and its leadership retains a tight grip on its fighters at all levels.
"There might be a possibility that lower-ranking soldiers are implementing this without us knowing but if this activity is truly happening on the ground, it is not ordered by us. But if we know anything about it, we would take serious action towards such violent acts," said Sai Su.
However, the SSPP does admit to punishing those who evade recruitment, conceding that a small number of those who refuse to join are arrested and held for 30 days under what it calls "house arrest" as part of a re-education programme. Sai Su says only about 30 people are held under the programme every year.
Yet, stories of mass kidnappings and intimidation campaigns have spread across Shan, terrifying families who worry that they could be the next target. Rather than waiting for their village to be raided, many have made the difficult decision to flee their homes preemptively, relocating to one of the many displacement camps scattered throughout the state where they feel safe.
Figures from the UN Office for the Coordination of Humanitarian Affairs (OCHA) show that since the beginning of 2021, 26,681 persons have been displaced in Shan, with more than 22,000 in the north where the SSPP has its stronghold, as of September 15.
This is a significant increase from 2020, when the OCHA recorded 8,600 internally displaced persons in northern Shan state over the course of the year. While active conflict continues to be a primary driver of displacement across the entire state, recently, fear of conscription has also become a factor, a senior international aid worker, who spoke on condition of anonymity, told Frontier.
"I don't remember a single case last year of people leaving their house because of fear of being recruited, but vis-a-vis this year it is different," said the aid worker.
"There are now reports of people being recruited forcibly, but even more reports of others fleeing their areas because of forced recruitment – because of reports they've heard and the fear of being taken in by the ethnic armed organisations."
Allegra Mendelson is a freelance journalist based in Phnom Penh. Nandar is a feminist advocate and storyteller, originally from Shan State.