Fighting in Magway and Sagaing regions is wreaking havoc with the livelihood of farmers, disrupting the harvest and preventing crops from getting to the market.
By FRONTIER
When junta forces arrived in Ayechanta village on January 29, Ma Hnin Aye* was forced to flee, leaving behind not just her home but also her entire harvest from the most recent growing season.
Hnin Aye, 34, grows paddy and small amounts of corn and peanuts on her 15-acre farm in Kyunhla Township, Sagaing Region, and was just beginning to sell her crops when she and her family were forced to flee their home.
"The harvest is being stored at the village monastery. It's about 300 baskets of paddy and some peanuts, and it's waiting to be sold. We also left some rice that had been milled for our own consumption back in the village," she told Frontier.
Ayechanta village's 70 households, mostly farmers, have had to temporarily abandon their homes three times since last November because of the presence of marauding junta troops. According to Hnin Aye, they torched two houses during a raid last December.
The farmers want to sell their harvest so they do not have to worry about it when they flee Ayechanta. But merchants and brokers will not go to the village because of a lack of security, Hnin Aye said.
Hnin Aye is among the tens of thousands of farmers and other residents of Sagaing Region who have been displaced by raids by soldiers and Pyusawhti members and fighting between junta forces and resistance groups. The fighting has been especially heavy in Pale, Yinmabin, Myaung, Kyunhla, Salingyi and Tabayin townships, where many who have fled villages have had their homes torched.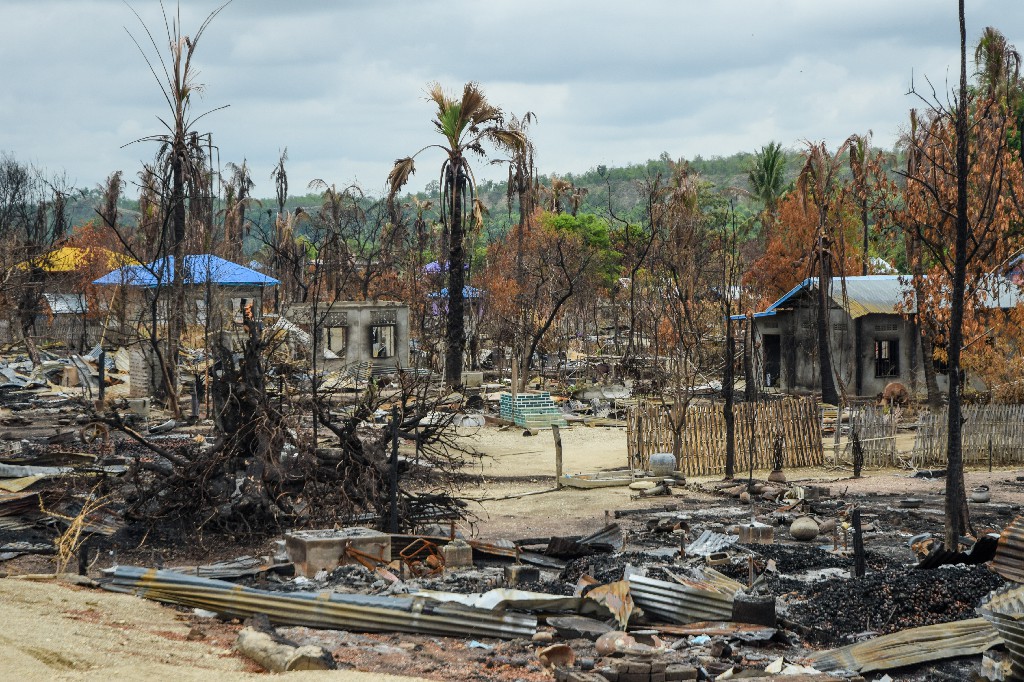 The challenge of getting to market
The reluctance of merchants and brokers to travel to villages due to safety concerns has forced farmers in Sagaing and Magway regions to take on the logistical and financial costs of transporting their goods.
One woman who farms 12 acres near a village in Magway Region's Myaing Township said she was eager to sell her crop of peanuts. "I want cash in hand because money is easy to carry," she said, adding that she did not want to store her harvest at home "because villages are being set on fire".
However, the precarious security situation is also weighing on the minds of the truck drivers who are usually hired by farmers to transport their crops.
"It depends on the security situation whether we decide to go," said Ko Myo Htet*, the owner of two six-wheeled trucks from a village in Myaing Township. "When we go, we dare not drive off the road in case we hit a mine; we drive only in the centre of the road," he said, adding that trucks were often stopped for checks by junta forces.
"We are not allowed to transport foodstuffs to the Myaing area. If they find food, they ask many questions. We give them money as a bribe to make things go well, not a lot, maybe about K5,000," he said.
In an effort to starve the resistance of supplies, the junta has been preventing rice and other staple foods from being transported into the Myaing area, which also has a devastating impact on civilians, though drivers are still allowed to carry crops out of the area.
In previous years after the harvest, Myo Htet would make the journey to the market town of Pakokku four times a week to deliver crops there, but since the coup, the situation has become unpredictable.
"I know the farmers don't want to store the harvest at their houses, so I try to go to town as often as the situation permits to sell their harvest. On the return trip to the village, they ask me to buy food products and I worry that if soldiers find it I could have my truck confiscated," said Myo Htet.
He said they charge K35 per viss (1.6 kilograms) to transport grain to Pakokku, which is only about 40 kilometres from Myaing Township.
There are hazards on the road, and one of the biggest is the improvised explosive devices used as landmines.
"My truck hit a mine last month; though there was not so much damage, only the back wheel was hit," said Ko Arkar Hein*, another trucker from Myoma village in Sagaing Region's Mingin Township, adding "farmers want to sell their harvest as soon as possible. In our village the only crop we have to sell now is paddy."
Arkar Hein said farmers in Myoma village sell their harvest in the regional capital, Monywa. But while the most direct route is 320 kilometres, because of ongoing conflict, drivers have been taking a detour that doubles the length of the journey.
"For security reasons, we dare not drive at night because of the danger of mines, which have already given me a scare," he said.
The cost of transporting the harvest to Monywa in the years before the coup was K100 per viss, but because of high fuel prices and the longer route, the cost has risen to K150 per viss, Arkar Hein said.
Disrupted harvest, falling prices
In addition to the raids by junta forces, anxiety over harvests being stored in villages and difficulty with transport, farmers in Sagaing and Magway also have to contend with unsold stock and lower prices.
Many farmers still have stocks of paddy, peanuts and black gram to sell that were harvested in November and December.
A woman in Myaing Township who grew three acres of black gram said she was unable to sell the crop because she was constantly fleeing fighting.
"I have heard that a basket [approximately 32kg] of black gram is fetching about K30,000. In previous years, it fetched about K40,000 a basket," she said.
Rising inflation since the coup has also made this drop in prices more dire.
Paddy farmers are also facing losses. In Sagaing Region's Kyunhla Township, farmers told Frontier the Aye Yar Min variety paddy was now only fetching K6,000 a bushel (approximately 20kg) amid weak demand because of a paucity of buyers. In 2020 and 2021, Aye Yar Min paddy was fetching K11,000 a bushel, they said.
"The price of paddy is K6,000 a bushel. But no brokers come to buy it, because it is too dangerous," Hnin Aye said.
A truck owner who often transports paddy to sales centres in Monywa said they were "full of rice" and the staple crop has become difficult to sell. Much of the rice grown in Myanmar is exported, but exports have dropped since the coup.
Farmers said peanut prices have also fallen from K2,900 a viss last year to K2,400. Corn and sesame were selling for similar prices as in previous years, with a bag of corn fetching K10,000 and black sesame K70,000 a bushel, but production costs have risen dramatically since the coup due to the rise in the cost of fertiliser and transportation.
U Thein Phyo*, who farms seven acres of sesame and bean in Ni Pa Sey Taw village in Yesagyo Township in Magway Region, said it used to be standard practice for farmers to store some crops until they could sell at better prices. "Now they dare not store crops because of the political situation and are selling for whatever price they can get," he said.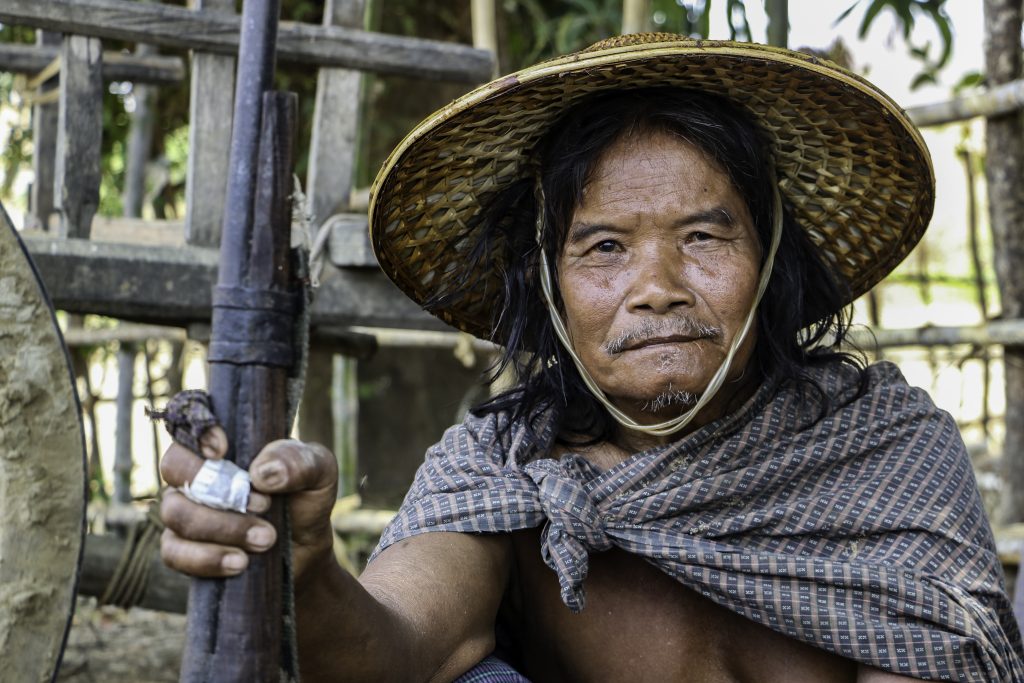 'We have to be prepared to run away'
Lower Sagaing Region and much of Magway Region are in the central dry zone and farmers there mainly grow monsoon and winter season crops.
Winter crops, which include chickpeas, black gram, peanuts and sunflowers, are harvested starting in late March, but many have been harvesting earlier than they normally would.
"We have to be prepared to run away. We had to run away twice in January. If we have to run away during the harvesting period, the crops will be wasted. There are so many hardships for farmers," said a man who farms four acres of sunflowers.
Many farmers in Sagaing and Magway have chosen to express their opposition to the military council by either not repaying government agricultural loans or not taking out a new loan.
State-owned Myanma Agricultural Development Bank lends to paddy farmers at a rate of K150,000 an acre and for other crops, it lends at K100,000 to the acre. The annual interest rate on the loans is five percent and farmers are required to repay the loan within a year. New loans, which are extended only if the previous year's loan has been repaid, were disbursed between May 26 and September 30 last year.
MADB said in January last year that it had allocated K1.4 trillion in rainy season loans to more than 1.6 million farmers with more than 10 million acres for 2021. MADB did not respond to Frontier's attempt to contact it by phone for information about the number of farmers who repaid loans and the number of new loans taken out last year under the military council.
In 2020, the National League for Democracy government disbursed K1.75 trillion in rainy season loans for farmers through the MADB, show figures published by the party.
Another farmer in Magway Region's Myaing Township she would never borrow from the military council. "Even though it is hard to make a living, we will struggle as much as we can," said the woman, who added that she borrowed nearly K500,000 from the MADB during the term of the NLD government that she will not repay.
In a speech on February 1 to mark the first anniversary of the military's seizure of power, Senior General Min Aung Hlaing said the national economy was based on the agriculture and livestock sector. He noted that 70pc of the population is farmers and that his government was trying to help farmers succeed.
"I do not believe anything that Min Aung Hlaing says," said a man who farms eight acres in Magway Region's Yesagyo Township. He added, "We do not rely on him. We just hope for the revolution to succeed and to work peacefully as before."
* indicates the use of a pseudonym for security reasons.