In Kayin State's Hpapun Township, the Tatmadaw's strategic ambitions have re-opened conflict with the Karen National Liberation Army and brought back bitter memories for local residents.
By BRENNAN O'CONNOR | FRONTIER
IN A DARK bamboo hut, lit only by a solitary candle and dying fire, I sip tea to ward off a mild hangover – the result of too much rice wine the previous afternoon while celebrating my birthday.
Mortar and artillery fire rumble in the mountainous jungle outside. Still, it could be worse, I think to myself.
The night before last, at another location, a Tatmadaw 60-millimetre artillery shell exploded about 300 metres from where I was preparing for sleep. I had been nudged out of my hammock moments earlier by Karen National Liberation Army mortars, so by the time the Tatmadaw's shell landed my trousers were on but only one shoe was tied.
Karen soldiers spilled out from the huts, guns in hand, and we took cover on a partially dry riverbed inside a ravine. Soon, I found myself running together with the other civilians towards a cave, trying awkwardly not to trip on my untied lace.
As the explosions continued, a young woman seated next to the cave entrance covered her face with her hands. A KNLA soldier nearby was seemingly unfazed by the fighting though; he busily studied something written on the wall of the cave.
Strategic attacks
Such attacks have become all too frequent since March 4, when the Tatmadaw deployed six battalions to KNLA-controlled territory in Kayin State's Hpapun Township, which the Karen refer to as Mutraw District. The purpose of the operation was to secure the area so that a road abandoned in 2012 could be upgraded.
Some Karen suspect the road construction is part of a ploy to wrestle control of the area from KNLA's 5th Brigade. In December, the Tatmadaw's Southern Command, based at Taungoo, Bago Region, sent the KNLA's political wing, the Karen National Union, a letter informing it of plans to upgrade the road. The KNU said in a March 16 statement that it had not given permission for the road to be upgraded. It added that the Tatmadaw's decision to move troops into its territory represented a violation of the Nationwide Ceasefire Agreement that the KNU and seven other armed groups signed with the government in October 2015. In February, two new groups signed the accord.
As of April 6, 2,417 people from 12 villages near the planned road have been uprooted by fighting, while a further 479 from four villages are ready to leave if fighting continues and Tatmadaw troops advance closer to their homes.
With fighting having been reported almost every day since March 15, there seems to be little hope of a quick return for displaced villagers, who are eager to prepare paddy fields before the planting season starts in early May.
Accessing the displaced villagers was difficult and involved a gruelling two and a-half day journey over steep mountains, by motorbike where possible and at other times on foot. It also required circumventing a Tatmadaw base and military road.
Going up one mountain, I cursed myself for bringing too much gear. But then a 70-year-old woman hunched over a cane with a large bag pushed past me. Sweaty and out of breath, I finally caught up with our group, who were resting in a clearing. Exhausted and sprawled out on my back, I noticed that the old woman and a girl who was traveling with her were chuckling at me.
Going down the sandy trails was just as difficult and I fell over several times. Apparently my running shoes weren't quite up to the task but the KNLA soldiers ahead of me wearing rubber slippers seemed to be doing just fine.
'I have no hope for this government'
The Karen soldiers provided security so we could navigate around the military road but did not take us all the way to the makeshift camps where the IDPs were sheltering.
The Karen Peace Support Network arranged for us to collect testimonies from the IDPs uprooted by fighting.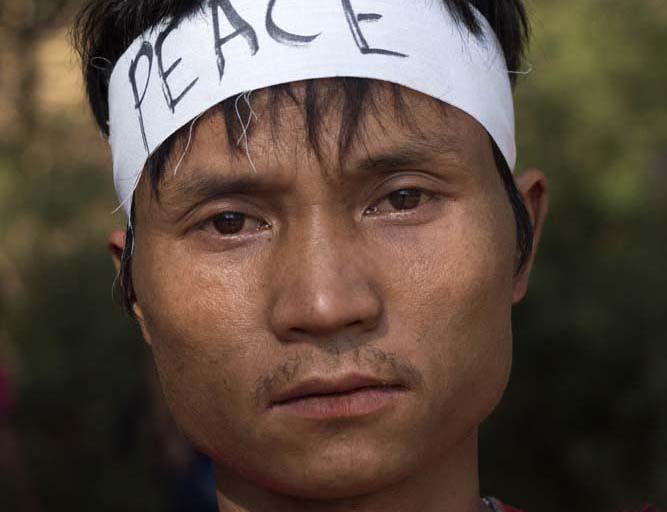 Naw Hsa Moo from KPSN said the IDPs were selling off their livestock at low prices because they were unsure what would be left when they were finally able to return home. Further exacerbating this dilemma, an entire year of income could be lost if they didn't get back to their fields before the start of the planting season. For those with so little to begin with, I shuddered at the implications.
A historic 2012 ceasefire between the KNU and U Thein Sein's government provided the opportunity for some to return to their lands in Mutraw District. The reappearance of Tatmadaw troops and resumption of fighting has dimmed villagers' hopes for an enduring peace. But the military's strategy indicated that such a confrontation was likely. It has used the past five years to construct many new military bases and roads in the area, while also refusing to demarcate boundaries with the KNLA. Meanwhile, political negotiations between the government, military and ceasefire signatories have stalled.
"I have no hope for this government because their soldiers are still coming into our village to take our food and threaten us," Naw Ha Mya said from a makeshift camp in a mountain valley. Her family fled their village on March 5 after being warned that Tatmadaw troops were in the area.
Ha Mya, 65, has lost count of the number of times she's been forced to flee from the Tatmadaw. She remembers the first time, though; she was just 15.
On one occasion, Ha Mya returned to the village to find a female relative, dead and tied upright to a tree. Because her clothes had been torn from the woman's body, Ha Mya suspects that soldiers raped and then murdered her.
Many Karen have similar stories. Hsa Moo from KPSN recounted how she had fled with her mother as a small child when their village came under attack from the Tatmadaw. While her father stayed behind to mind their pigs, chickens and ducks, Hsa Moo's mother cared for her children in the jungle for three days.
Defiant return
It's morning and residents of Lu Koh have returned to the homes they abandoned several days earlier, for a prayer ceremony and a protest organised by KPSN.
After the elders lead the prayer, they pass around bowls of rice alcohol – an important tradition for the animist Karen.
All the alcohol must be consumed today; there's a lot of it and it's rude to refuse an offering. Trying to get close to photograph the ceremony means that I'm on the receiving end of many bowls and soon get drunk. Even some of the younger attendees take part; one mother tips a bowl of less-potent alcohol to her baby's lips.
Stones are collected from the riverbank and placed in an upright cylinder-shaped structure made with split bamboo woven together. The small shrine will remain in place indefinitely, a lasting testament to the villagers' desires for peace and their hopes that the Tatmadaw will leave their area.
TOP PHOTO: Villagers from Taw Ku Mu Der sit around a small fire in a make-shift camp on a mountainside about one hour from their village on March 14. (Brennan O'Connor | Frontier)