By YE MON & BEN DUNANT | FRONTIER
YANGON — The verdict in the trial of Reuters journalists Ko Wa Lone and Ko Kyaw Soe Soe Oo has been postponed to September 3 because of judge U Ye Lwin's "poor health", according to a surprise announcement delivered in court on August 27.
Friends, family members, reporters and diplomats, including the US ambassador to Myanmar, crowded a small courtroom in Yangon's Northern District Court in Insein Township to witness the conclusion of an eight-month case that has been condemned internationally as an attack on press freedom in Myanmar.
Entering the courtroom in handcuffs, Wa Lone gave a broad smile and his signature thumbs-up gesture. Kyaw Soe Oo's small daughter, carried by her mother, cried on seeing her father appear.
In a session lasting under a minute, stand-in judge U Khin Maung Maung told the court that Ye Lwin, who has presided throughout the case, has been sick since August 24. There was no prior official warning about Ye Lwin's inability to perform his duties.
Before being taken back with Kyaw Soe Oo to Insein Prison, Wa Lone told reporters, "We are not afraid. There will be justice for us."
Defence lawyers U Than Zaw Aung and U Khin Maung Zaw both speculated that the postponement could be related to upcoming engagements at the United Nations, where Myanmar will come under further pressure over its handling of the Rakhine State crisis.
A UN Fact Finding Mission on military abuses in Rakhine and other conflict zones in Myanmar will present its findings to the UN Human Rights Council in Geneva this week, and the UN Security Council will discuss the Rakhine crisis in New York on August 28. Though not formally related, a guilty verdict for the journalists may heighten pressure on the government given the case's link to Rakhine State.
Khin Maung Zaw told Frontier, "Maybe they [the Myanmar government] are trying to shun the pressure. If the journalists are convicted, then a bad impression will be made at the UN."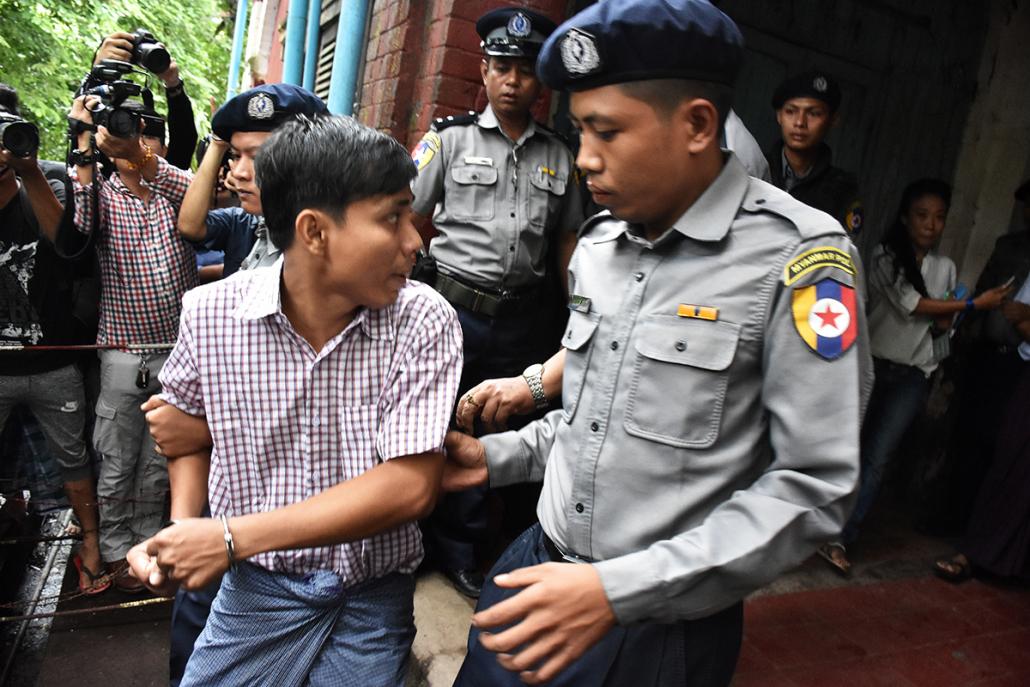 In a statement delivered afterwards, Reuters said it was "'disappointed not to have received the judge's decision today" concerning "allegations of a crime they [the journalists] did not commit. We look forward to receiving the verdict next week, when we very much hope that they will be acquitted and reunited with their families."
Wa Lone, 32, and Ko Kyaw Soe Oo, 28, were both arrested on December 12 in northern Yangon for allegedly possessing documents detailing security deployments in northern Rakhine State and have been detained ever since under the colonial-era Official Secrets Act. They face a possible 14-year sentence if convicted.
According to the journalists, they were arrested right after being handed rolled-up documents in a pre-arranged meeting with police officers at a restaurant, in what police whistle-blower U Moe Yan Naing told the court in April was a set-up ordered by a senior police commander.
The police have presented a different version of events that has been marked with inconsistencies. Under cross-examination by defence lawyers, one police witness claimed he burned the initial police report documenting their arrest, to explain basic discrepancies. Another claimed he had not known how to fill out a police report.
The defence also got prosecutors to admit in court that the contents of the documents found on Wa Lone and Kyaw Soe Oo had already been published in state media.
"The documents are not secrets. That's why they should not be sentenced," Khin Maung Zaw told reporters on August 27.
On the previous court hearing on August 20, where final arguments were heard, Wa Lone told reporters, "I believe the court will decide fairly, that we are not guilty, and I can return home to see my daughter."
Wa Lone's first child with his wife Ma Pan Ei Mon, 36, was born on August 10 and given the name Thet Htar Angel. Wa Lone's wife and child were not present at the court on August 27, or during the previous hearing.
The court proceedings since January have included testimony from 23 prosecution witnesses followed by four defence witnesses, with regular weeklong adjournments.
The journalists were arrested while investigating a massacre of 10 Rohingya Muslim men and boys by Myanmar security forces and local vigilantes in Inn Din village of northern Rakhine in September last year. The military later admitted to the massacre and declared seven soldiers had been sentenced to 10 years' imprisonment by court martial, though independent media have been unable to verify this.
The journalists told the court that, during their initial interrogation, where they were denied sleep and placed in stress positions, police said they could negotiate their early release if Reuters buried the investigation. However, it went on to be published in February under the title "Massacre in Myanmar".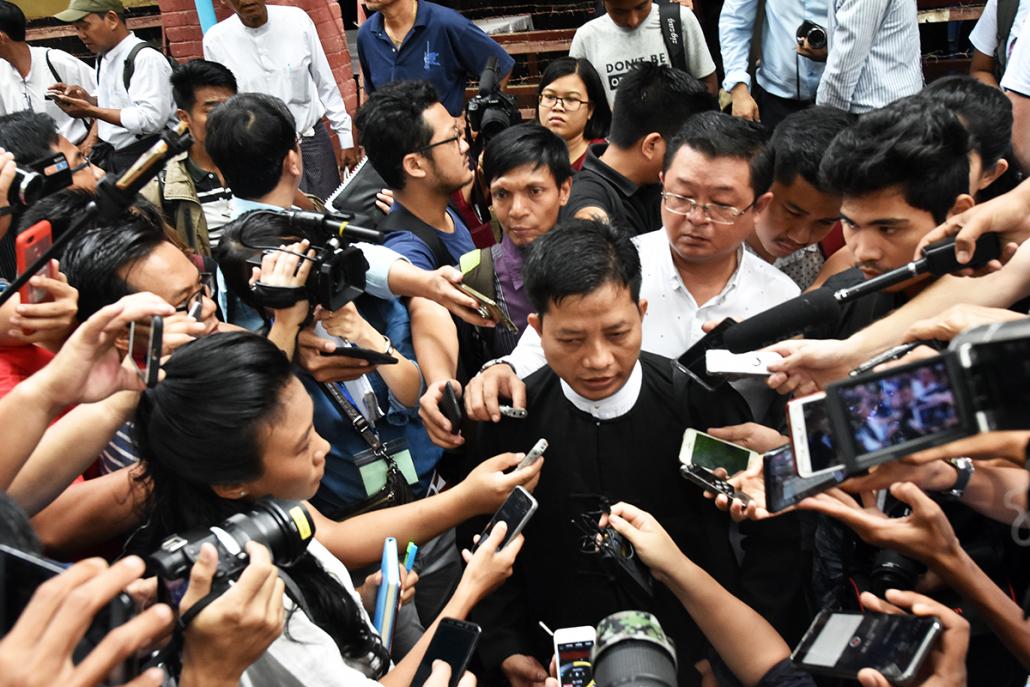 The case has been under intense international scrutiny and the embassies of Western countries have lobbied repeatedly for their immediate release.
Hopes that State Counsellor Daw Aung San Suu Kyi might intervene, due to her previous support for press freedom while in opposition, have been frustrated. In June, she told Japanese broadcaster NHK the journalists "were arrested because they broke the Official Secrets Act" and that the trial was "in accordance with due process".
After resigning from an advisory commission on Rakhine State in January, US diplomat Bill Richardson said Aung San Suu Kyi had "exploded" when he urged for their release.
Outside of journalist and some activist circles, support for Wa Lone and Kyaw Soe Oo has been muted in Myanmar, with some on social media branding them "traitors" for investigating an attack on the Rohingya, who are widely despised in Myanmar and considered "terrorists" and illegal immigrants.
Human Rights Watch deputy Asia director Phil Robertson said in an August 27 statement, ""Sending these two Reuters reporters back to jail for another week just because someone else can't read an already written verdict shows again how both common sense and justice is failing in Myanmar's judicial system."
"Eventually Myanmar is going to wake up and realize that these kind of politically driven prosecutions in a judicial system lacking both independence and competence are a major drag on the country's political, social and economic development," he said.