Yangon street vendors relocated by the municipal authorities to a night market on Strand Road say poor sales are making life difficult and are calling on the government to address the problems they are facing.
By SU MYAT MON | FRONTIER
Photos THEINT MON SOE aka J
"TO BE under the sun everyday without selling anything is really hard," said Ma Zin Mar Lwin, a banana vendor at the night market that opened on Yangon's Strand Road in November. When Frontier interviewed her at around 5pm, there were almost no people around and most of the vendors' stalls were empty.
Zin Mar Lwin said she was lucky if she could earn K10,000 a day selling bananas. But it wasn't always the case. At her previous stall on 8th Street in Lanmadaw Township, she said she could charge higher prices because there were more customers. There she said she sold four bags of bananas in two days, but that it can take five days to sell the same amount at her new location at the night market.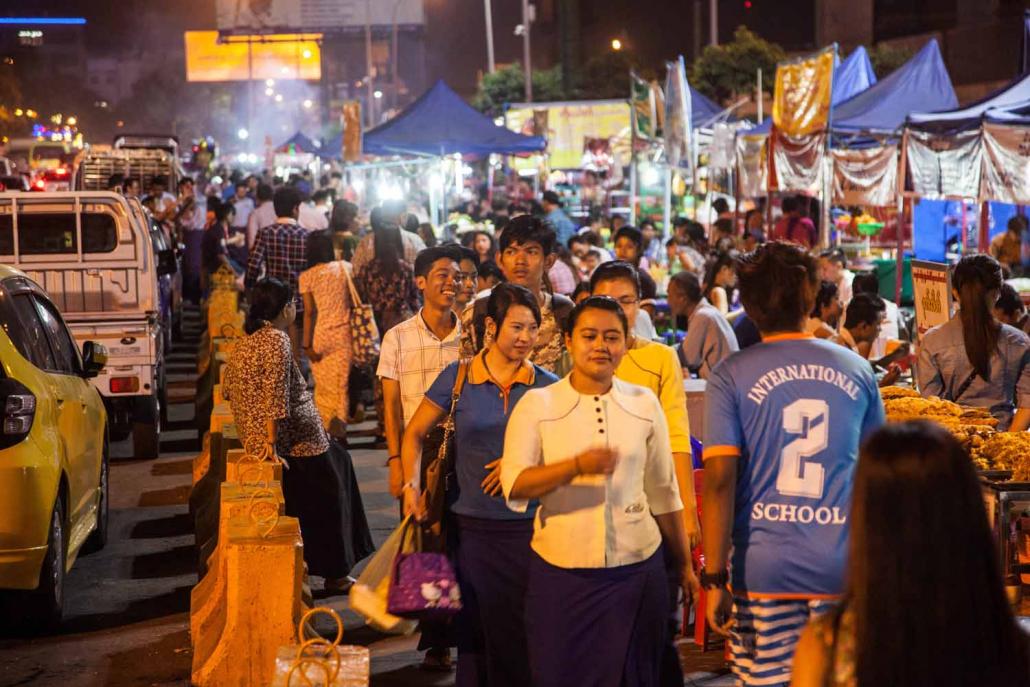 Many of those forced to relocate to the new market say that earnings have slumped since they moved and that they are struggling to make a living. The market, which is managed by the Yangon City Development Committee, is part of a regional government plan aimed at easing traffic congestion in the downtown area.
It opens from 3pm to 11pm daily from Pansodan Road in Kyauktada Township to the edge of Lanmadaw Township, near Thakhina Mya Park. The decision to ban vendors from downtown streets affected more than 4,000 footpath entrepreneurs, but only 1,600 were allocated spaces at the night market.
"The only reason we are sitting her all day long even though we can't sell anything is because we don't want to lose our place," said Zin Mar Lwin. "It is becoming difficult to earn enough just to cover the cost of housing for my family."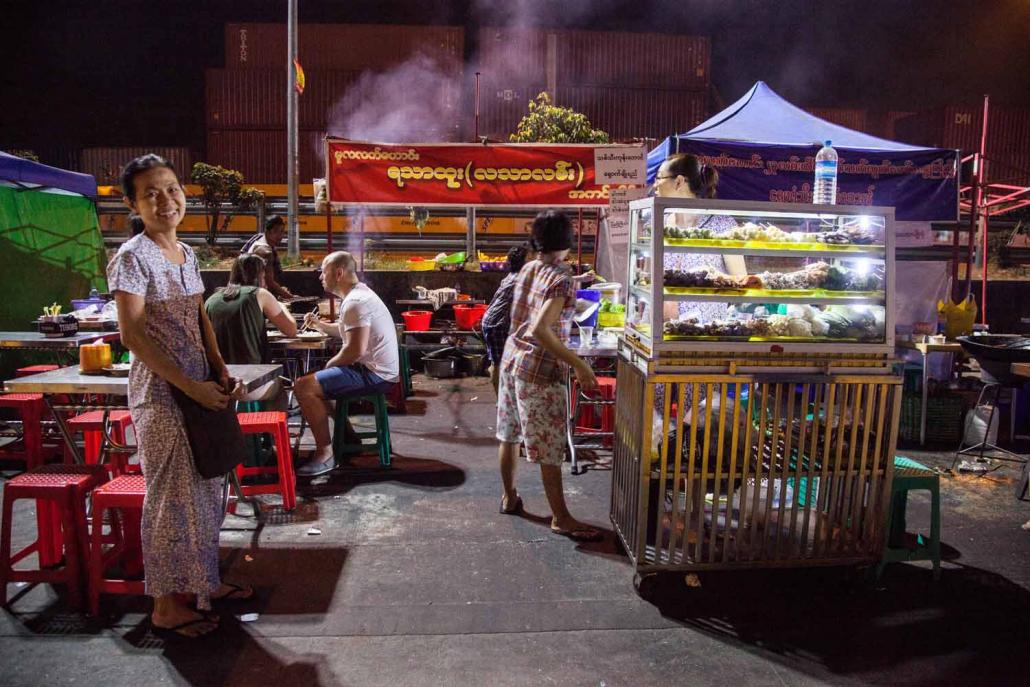 Zin Mar Lwin says customers are discouraged from shopping at the night market because it is beside a busy six-lane road. The only parking is on the street, on the opposite side from where the vendors are stationed. There have been three accidents near her stall since she moved there, she said.
The vendors are not happy, partly because they say the main cause of the traffic congestion in downtown is not their stalls but the huge increase of vehicles since car imports were liberalised in 2011. The vendors also complain that their counterparts in Latha Township have received preferential treatment from the authorities.
Another complaint is that vendors are being pressured to sell at the night market each day, with municipal officials checking to see which vendors are present. Those that fail regularly to come to the market are at risk of losing their allocated place, officials have said.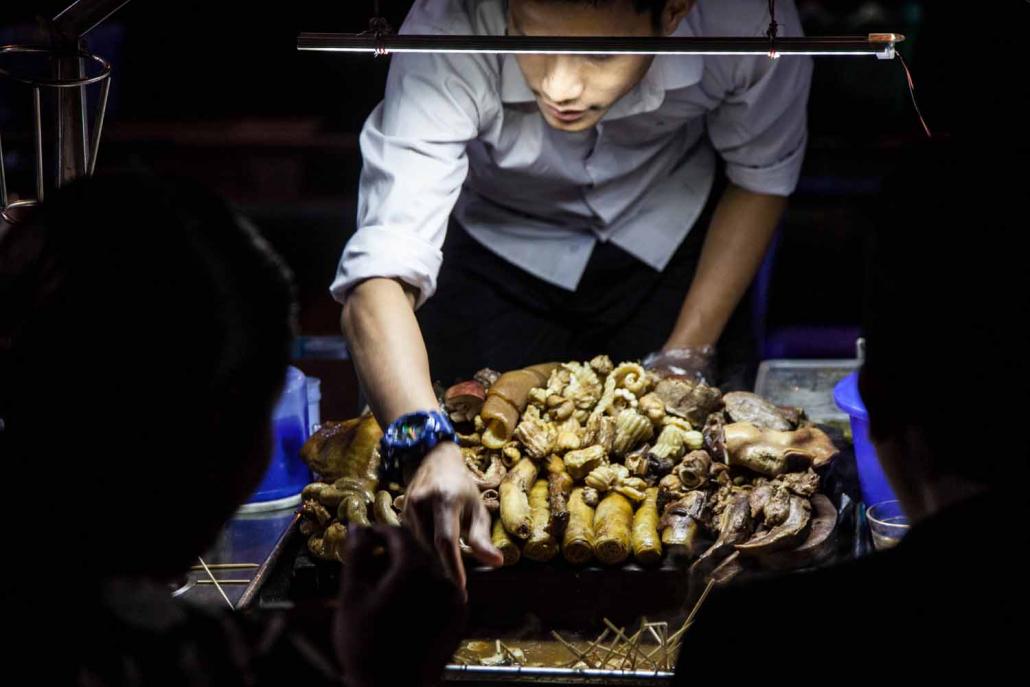 On January 18, street vendors held a protest where they called on the regional government to meet with vendors and speak with them about their concerns. Those present at the protest were a mixture of those not granted sights at the new market and vendors who are unhappy about the location. The protestors marched from Maw Tin Bridge in Lanmadaw Township to City Hall next to Sule Pagoda in the heart of the city.
Ko Aung Aung, one of the main organisers of the protest, said demonstrations will continue until the government agrees to meet with the vendors.
"We want to go back to where we used to be because the current location is not good for street vendors," he said, adding that he believed the intentions of Yangon Region Chief Minister U Phyo Min Thein were good, but that the impact on people's lives was not thoroughly thought through.
"The [government] do as they want without looking at the poor people," he said. "We are not privileged people and the government needs to think about our lives and how we can survive."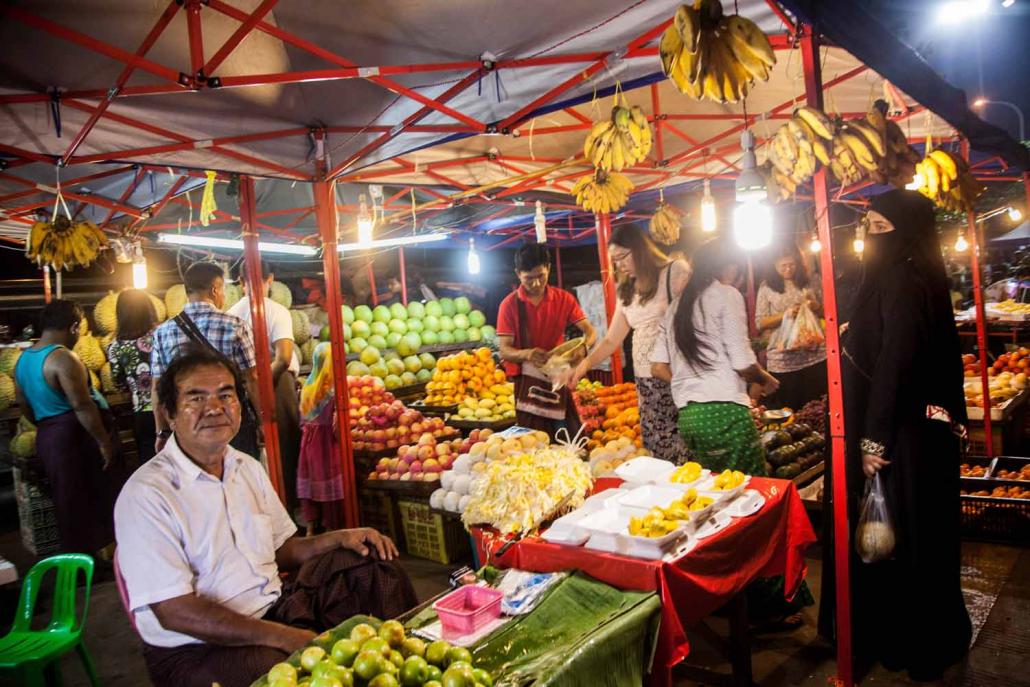 U Zaw Win, who sells Indian snacks on the Pabedan section of the night market, said there was not enough space for vendors and it was too exposed to the weather. Stalls will be buffeted by the wind and rain during the wet season, he said.
"I am losing every day, though I remain hopeful that the situation will improve," he said, adding that the cost of transporting ingredients by trishaw to his new stall had doubled from his previous stall, which was located on Anawrahta Road.
"I used to have regular customers, but now they don't come any more," he said. "We do not want to sell here."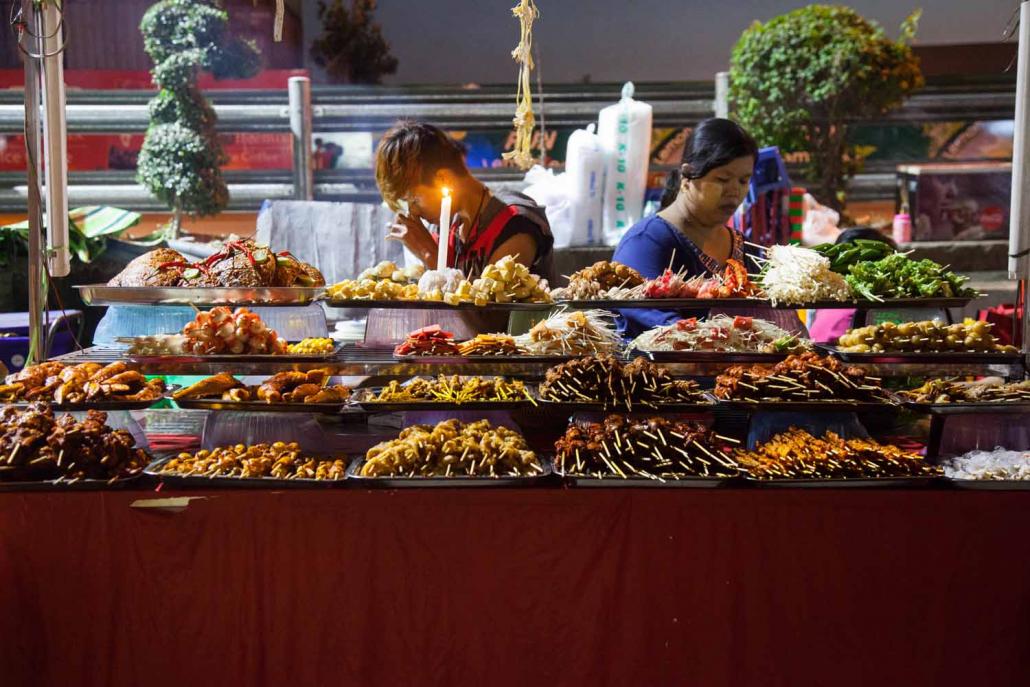 There was resentment among those who had to relocate to the night market that street vendors in the Latha section seemed to enjoy preferential treatment, he said.
These vendors, who have been relocated to sites on Strand Road at the southern end of 17th, 18th and 19th streets, have been given spaces measuring eight feet wide, twice as wide as those allocated to other vendors.
At a press conference at the Myanmar Journalist Network in late November, some vendors alleged that their Latha counterparts had received preferential treatment because they are "rich".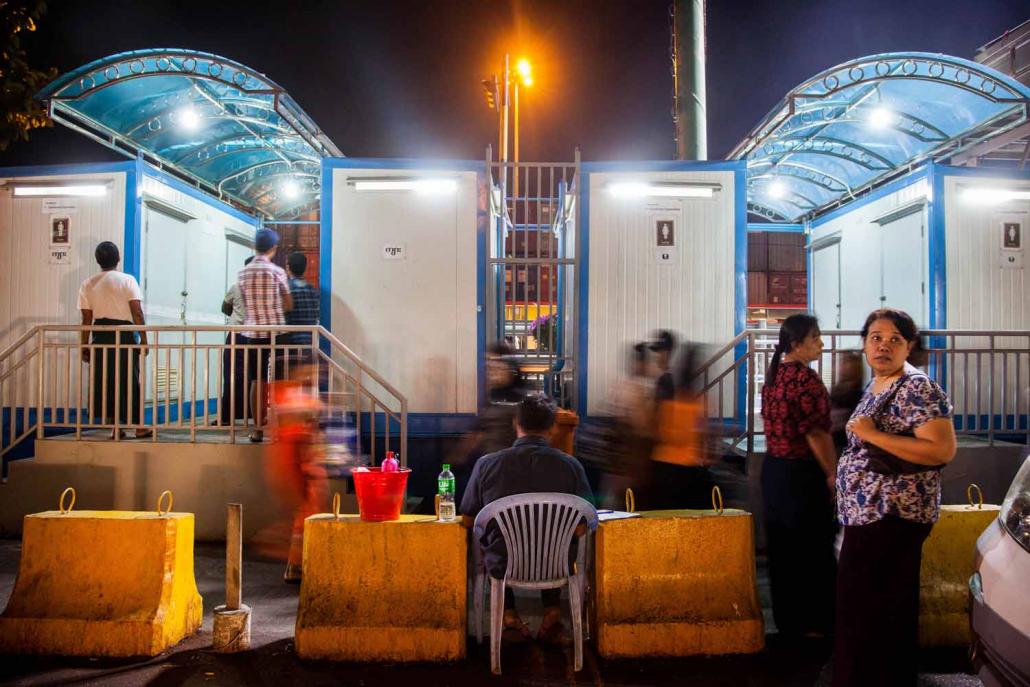 The Latha vendors also have another advantage: they have customers.  Apple vendor U Aung Than said the Latha area of the night market attracted customers because it was close to Chinatown and Nyaungpinlay Market in Lanmadaw.
"Street vendors in other townships along Strand Road suffer from a lack of customers; only this area has a lot of people," he said.
Still, he said he was not totally satisfied with the night market, adding that it would attract more customers if it was better organised. Dividing it into sections that offered similar products, such as fruit or food, would be more convenient for customers, he said.
One visitor to the night market in early January was Ko Aung Myint Oo. He previously sold seasonal fruit on Sint Oh Dan Street in Latha. When he shifted to the night market, he lost K50,000 in three days, so he closed his shop and rented his place to another vendor.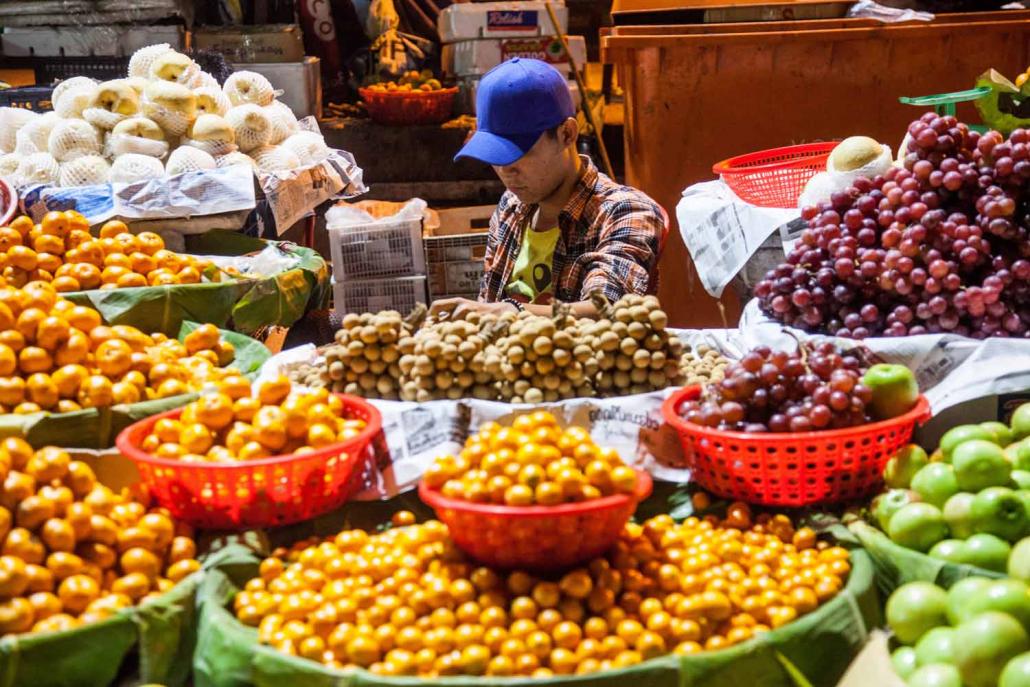 He said he was considering selling something else at the night market because fresh fruit was not popular.
"Many fruit sellers are getting into debt with their wholesalers," said Aung Myint Oo. "I think the night market might be a better venue for selling cooked food."
He said that although he understood why the regional government had created the night market, it had created hardship for many vendors.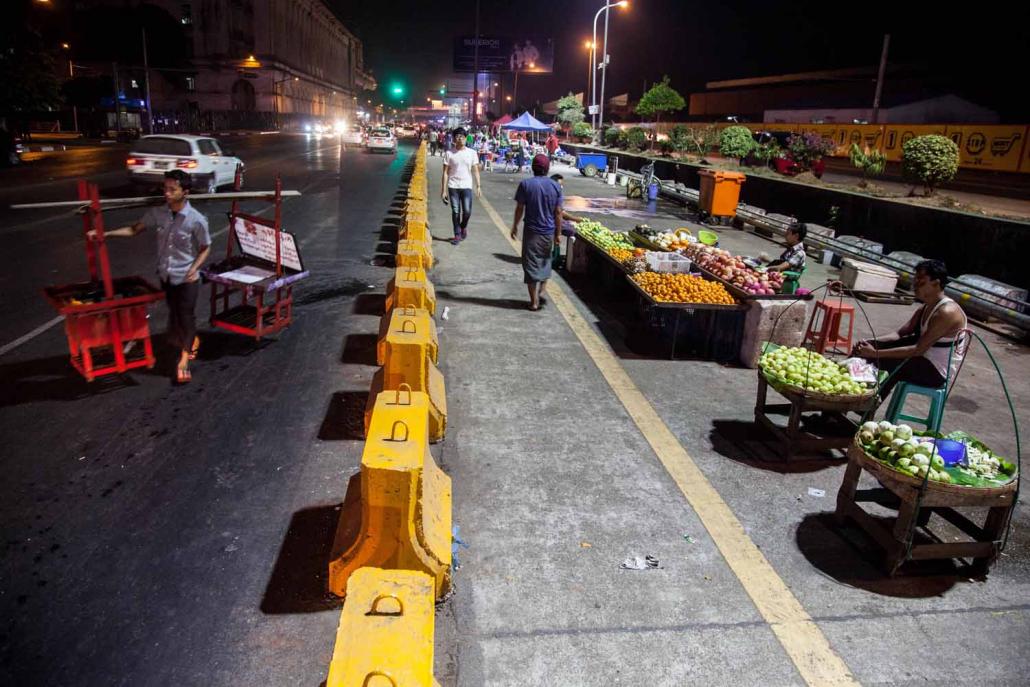 Aung Myint Oo said that if the authorities had required vendors to move gradually to the night market it would have made their lives easier than having more than 1,000 move simultaneously.
Despite the criticisms from vendors, authorities were quick to defend the move. U Nyi Nyi Oo, deputy head of the YCDC's administration department, said that some complaints were inevitable because you cannot please all of the street vendors.
"But it is obvious [it is a success] because no longer are the roads [in downtown] being blocked by the street vendors," he said.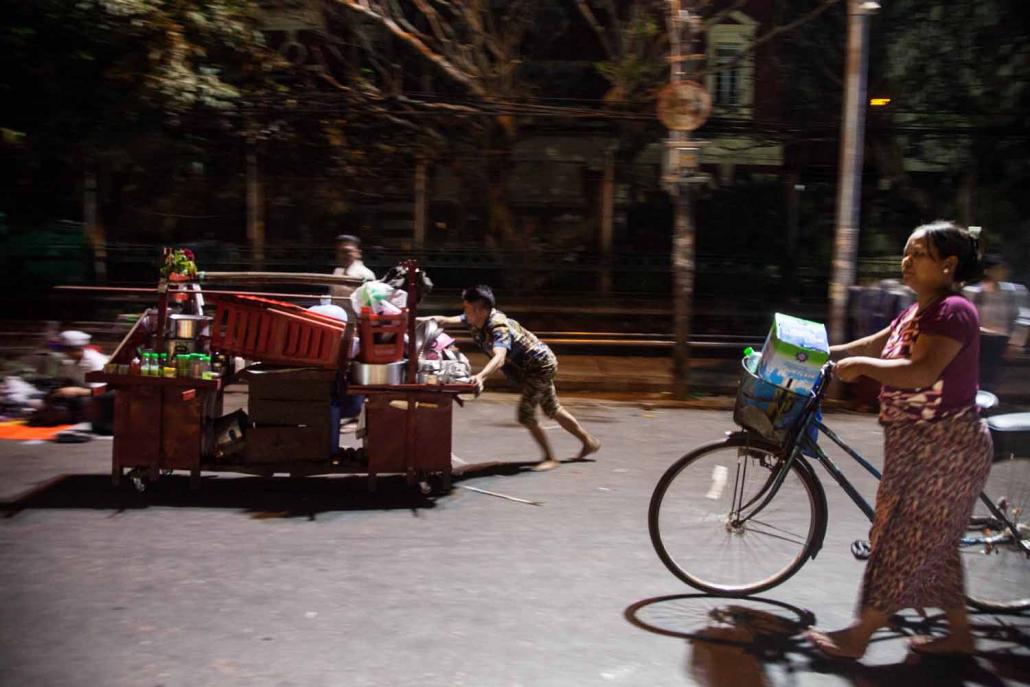 Daw Mya Hnin, who lives in Kyimyindaing Township and also previously sold fruit on Sint Oh Dan Street, said she had changed to selling vegetables at the night market because of better demand.
Business was not good, Mya Hnin said. "Many vendors have stopped stocking their stalls because of slow sales," she added. "They either rent the space to someone else, or show up just so they don't lose their place."