The question of citizenship for Muslims in Rakhine State is one of the government's toughest challenges – and a potential flashpoint for unrest and political instability.
By NYAN HLAING LYNN & THOMAS KEAN | FRONTIER
The government's recent decision to resume citizenship verification in Rakhine State has generated fresh debate about the future and rights of the state's Muslim community, most of whom are stateless.
Advancing the controversial project amid a climate of suspicion and intense nationalism will be among the most difficult challenges of the government's five-year term.
For decades, many Muslims in Rakhine languished in a grey area as holders of temporary identity documents known as white cards, pending a decision on their eligibility for citizenship.
Many had evidence to prove they had previously been granted citizenship, but it was withdrawn in the 1980s and early 1990s. More than 1 million people in Rakhine are stateless, says the United Nations refugee agency, the UNHCR.
U Thein Sein's government launched the pilot project to examine the credentials of citizenship applicants in Rakhine in June 2014.  It was quickly suspended because of protests from the ethnic Rakhine community.
Under the pilot, more than 200 Muslims were granted citizenship. They were a mix of Kaman, a recognised ethnic group, and "Bengalis", the term the government uses to refer to the community that identifies as Rohingya.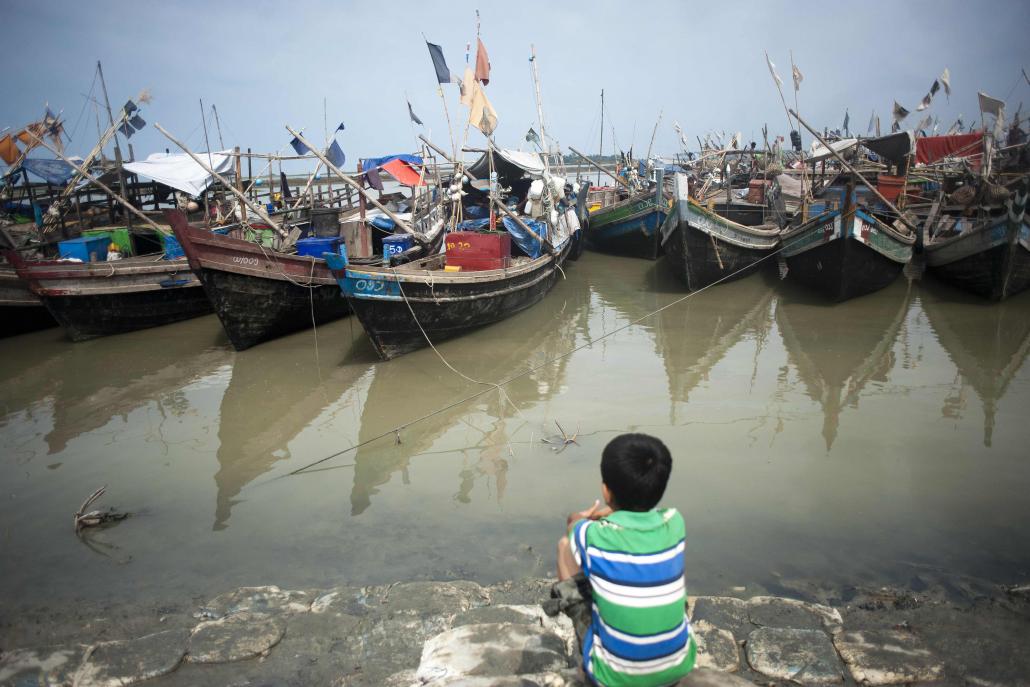 The program caused deep divisions in the Rakhine and Muslim communities. Many Muslims refused to participate because they did not want to identify as Bengalis. The decision to grant full citizenship to some of the Muslims incensed Rakhine nationalists, who said they were Bengalis masquerading as Kaman.
In mid-2015 the project resumed under another guise. Stateless residents were invited to apply for temporary ID documents known as green cards, introduced earlier that year to replace about 900,000 white cards declared invalid by presidential decree earlier that year. Green cards, like white cards, grant limited rights and are issued to those whose citizenship status remains unconfirmed.
It is this element of the citizenship verification process that the government resumed on May 1.
U Myint Kyaing, permanent secretary of the Ministry of Labour, Immigration and Population, said it was one of a number of projects in the ministry's 100-day plan.
Those who apply for green cards will receive "many benefits" as it will be the first step on the path to citizenship, Myint Kyaing said.
Muslim leaders in Rakhine are disappointed by the move. They say it is unclear when those who apply for green cards will acquire citizenship and in the meantime, they will gain few benefits.
Applicants will continue to be required to acknowledge they are the descendants of recent immigrants, a stipulation many contest. They will also be required to identify as Bengali.
Their reluctance to participate is obvious. At least 500,000 white cards were cancelled in Rakhine, where only 100,000 residents have applied for a green card. Of those, fewer than 20,000 have collected their new identity documents, said Myint Kyaing.
The 1982 Citizenship Law is central to the issue. Some see it as the root of the problem, while others argue it is the solution – if enforced properly.
Although the law applies to all residents it is often discussed only in the context of Rakhine State and the Rohingya. This makes it politically sensitive for the government to amend the law as any changes seen as helping Rakhine's Muslims to acquire citizenship would be fiercely opposed.
Change could be looming. U Tun Tun Hein, an NLD central executive committee member who sits on a parliamentary bill committee, told Frontier that the party was reviewing the law, but declined to elaborate.
He said it was one of 142 pieces of legislation that a commission headed by former parliament speaker Thura U Shwe Mann had recommended be reviewed.
The issue was raised in parliament on May 8, when Arakan National Party MP Daw Khin Saw Wai proposed that the government carefully scrutinize the credentials of citizenship applicants in line with the 1982 Citizenship Law.
She said Rakhine had been overrun by illegal immigrants from Bangladesh and the situation had been exacerbated by the large number of white cards issued in the state. Official figures showed that about 500,000 of the 600,000 white cards cancelled in 2015 were held by residents of Rakhine, she said, adding that hundreds of thousands more have no documentation at all.
"Although there is a just and fair law, sadly we are experiencing instability because the government has not been able to implement it properly," Khin Saw Wai said.
The often repeated claim that the law denies citizenship for Rohingya is incorrect: it denies them automatic access to full citizenship. However, the process for acquiring citizenship is opaque and bureaucratic, and the government can deny it to those who meet eligibility criteria.
The law was introduced when the country was ruled by General Ne Win, who declared that it would "solve all [the] problems" caused by earlier citizenship laws.
Ne Win's solution was controversial because it established classes of citizenship.
Residents whose ancestors were living in the country in 1824, the year of the first Anglo-Burma War, automatically qualified for full citizenship, as long as they were members of the 135 officially recognised ethnic groups.
Residents descended from immigrants who arrived after 1824 qualified as either associate or naturalised citizens, with fewer rights than full citizens, even in cases where they had qualified for full citizenship under the previous laws.
Ne Win characterised these groups – particularly those of Indian and Chinese descent – as untrustworthy, but said Myanmar had to accept them because it was unrealistic to send them back to their countries of origin.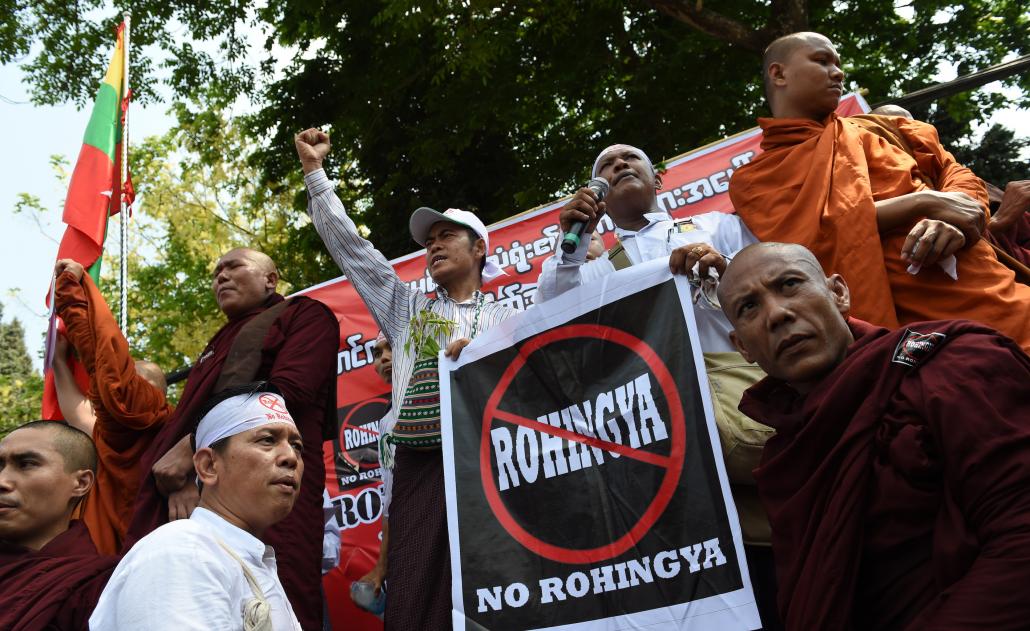 "We will extend them rights to a certain extent," he said. "We will give them the right to earn according to their work and live a decent life. No more."
Ne Win said that over time the classes of citizenship would disappear as the grandchildren of associate citizens became full citizens.
This has clearly not occurred in Rakhine, and rights groups have called for the law to be amended to remove the tiers of citizenship that they say are designed to exclude some groups from full citizenship.
In a submission to the UN Human Rights Council in March, UN special rapporteur on human rights in Myanmar, Ms Yanghee Lee, said it was crucial the law be "brought into line with international standards".
"In particular, provisions that provide for the granting of citizenship on the basis of ethnicity or race, which are clearly discriminatory, should be revised," she said.
Lawyer U Yan Naing, the head of the legal department at the National Unity Congress Party that fielded some Muslim candidates in last year's election, said the law needed amending because it was unconstitutional.
"The constitution doesn't mention anything about associate citizens; they are only mentioned in the law. A lower form of citizenship is inconsistent with the constitution," he said.
Those affected by the "associate citizen" designation have few obvious supporters in parliament, however.
Yan Naing said no Muslims were elected last year largely because the NLD did not field any Muslims among its 1100 candidates.
"We'll have to watch the policy of the NLD party. One of their main policies is rule of law, after all," he said.
Nationalist groups will be watching just as intently and they plan to respond if the law is weakened.
"It is difficult to comment without knowing what amendments [the NLD is considering]," said U Parmaukha, a prominent member of the Association for the Protection of Race and Religion, better known as Ma Ba Tha. "But the 1982 Citizenship Law is essential. We will protest if it is overhauled or scrapped."
Some Muslims in Rakhine say the issue can be resolved by avoiding the Rohingya/Bengali terminology for something more neutral.
"The government doesn't accept 'Rohingya' and the Muslims here don't accept 'Bengali'. We need to find a new name that can be accepted by both groups," said Ko Tin Hlaing, a resident of the That Kae Pyin refugee camp in the Rakhine capital, Sittwe.
Ko Win Tun Soe, director of the Association of Development and Peace for the Rakhine Community, said it was a misperception that Rohingya wanted to be recognised as an official ethnic group.
"We don't hope to be defined as ethnic nationals," said Win Tun Soe, 36, a Yangon resident. "What we want is a better future for our children."
It's not only affected groups that support citizenship law reform. U Thein Than Oo, a member of the Myanmar Lawyers' Network, said some sections in the law were "meaningless and illogical".
He said previous governments had exploited the citizenship issue for political gain. Under Suu Kyi's leadership, the new administration could draw a line in the sand and propose a real solution, he added. But it must also manage the political risks carefully.
"It is a good time to solve this problem when Daw Aung San Suu Kyi, an internationally respected person, is leading the country," he said. "But she can also get into trouble – and there are some people who will try to use the issue to cause problems for her."
In her press conference with US Secretary of State John Kerry on May 22, Aung San Suu Kyi said her government was focused on "practical solutions" in Rakhine.
"We are trying to find something, some way forward that would be acceptable to both. That is very difficult … [but] we will try to do the best we can to resolve the problem to the benefit of both communities."
Title photo: A Rohingya boy and elders walk at a market near Thel-Chaung displacement camp in the Rakhine State capital of Sittwe. (Myat Thu / AFP)