UNODC has been working with Myanmar on anti-corruption activities since 2012 but has significantly scaled up its work this year with additional funding from Sweden. A major focus is ensuring Myanmar's compliance with the UN Convention Against Corruption. Country manager Mr Troels Vester tells Frontier's Thomas Kean about the need for the government to turn words into actions and the under-resourcing of the Anti-Corruption Commission.
In December 2012 Myanmar ratified the UN Convention Against Corruption. How are you working with the government to ensure it complies with its obligations under that convention?
Last year Myanmar got what we call a review by two other member states on the Anti-Corruption Convention and out came a number of recommendations where Myanmar is not in line with international obligations. Some of them are step-by-step being implemented through laws, such as in July when they passed an extradition act, which was something that came out of that recommendation. Myanmar has also changed its Anti-Corruption Law – and this is also very positive – from only looking at bribery … now it has been expanded in the legislation to include trading in influence and extortion.
Myanmar is presently undergoing with us what is called a self-assessment. We're happy to report that in fact all sides of the government, especially the Anti-Corruption Commission, but also Ministry of Foreign Affairs and others, have taken this review very seriously. No area has been blocked; all in all we see it as a step-by-step approach and things are going in the right direction.
The Anti-Corruption Law has been amended three times since 2014. What is the substance of those changes?
The most important [change] has been the expansion of the [definition of] corruption. Others have been the age limit of commission members or how many members the commission should have. These things are for each government in the world to decide on. The convention against corruption calls for and recommends for governments to have an anti-corruption commission but the design of it and the role of it is pretty much up to each government.
Some governments have created anti-corruption commissions that only have a function on prevention and no investigative power. This is unlike Myanmar, which is actually giving the commission an investigative power … but [there is a] simple lack of capacity for the moment. So what we're doing is a training needs assessment for all investigative powers and staff and after that we'll be rolling out investigative courses.
I assume last year's review recommended further amendments to the Anti-Corruption Law. We haven't yet seen an amendment bill to address the recommendations – are you aware if a bill is being drafted?
Yes, we can confirm that. There is an internal review in the commission and other parts of the government to review the recommendations and a draft bill is on the way to parliament. This draft bill has not been reviewed by UNODC or anybody else, at least not for the moment, and I'm not sure there's a need to review it because we have the recommendations [from the review].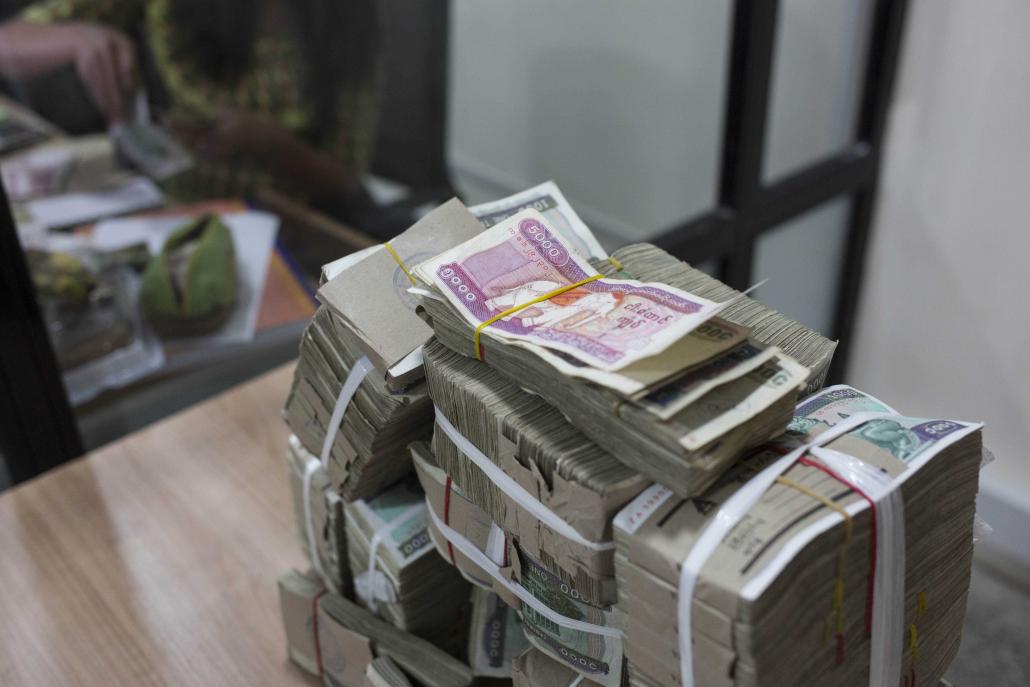 We have every trust … that the commission wants to be in line [with the convention] and the draft law is coming. But one thing is to draft a law and the next thing is to implement it. So depending on how this law is going to look there's going to have be some training.
There's also a standing request by the commission to basically have more staff. Because they are extremely understaffed and investigations of this nature are very large.
Do you think the anti-corruption commission has a credibility problem?
I'm not the right person to answer it because for the moment we actually see things going in the right direction. There's a lot that has to be done but it wouldn't be fair to say the commission is not doing anything about corruption.
Looking at the cases that the commission has opened recently, you're looking at judges, you're also looking at senior police officers, so it wouldn't be fair to say that nothing is ongoing against people with power. It is ongoing and we'll have to see how the process develops, and I think the Myanmar public and the Myanmar institutions are beginning to take the issue more seriously.
I guess my question on credibility was more about public perception. If the public believes – even incorrectly – that the commission is ineffective, doesn't that undermine its work? And then how do you go about rectifying that – do you need a high-profile prosecution?
Well, that's not a bad idea. If you do have major cases and investigations, the trust by the people comes back – we can see that in Indonesia, where they have really been doing some big cases.
But please keep in mind there's a major difference when it comes to civil society in Myanmar and also – again, I like to compare with Indonesia because it's a best practice. Indonesia's civil society is very strong on corruption. They know what corruption is, they know what it's not. They've become almost a watchdog. The Myanmar civil society doesn't have that capacity. Myanmar civil society is concerned about corruption but without having a full understanding of what is corruption, what are the mechanisms, what are their roles.
What are some of the other activities that you're planning, in addition to the UNCAC reviews?
We have presented an idea to the commission officially that we proposed to make a national strategy against corruption, because you need a whole of government approach. You can't just have a strong commission but the government as such is weak. We will present to them how to do that and we hope they take it up … because we need full government involvement in this – you need commerce, trade, forestry and environment.
How do you prioritise between grand corruption, the really big examples that we often think of, and the petty corruption, which a lot of people might be complicit in and might not even see it as a problem?
A line has to be drawn between the two and the way to deal with them is also completely different. It's an old point but I'll mention it again, of course, it's government salaries. In Myanmar, salaries are extremely low. If you have two children and a sick mother, you can just imagine, how are you going to survive?
And then there's the major scale corruption, this is not because you have a crying baby at home, it's because you are greedy, and you have access, and you have power. In Myanmar, both things are ongoing of course and it has to deal with having the right legislation in place, having good enough prosecutors and investigators, and of course you also need a clear process. It has to be a fair trial.
It's a whole criminal justice response – you can't just fix the investigation part of the commission, it's not enough. There has to be a full government willing to do something about it because if not the case will fall apart somewhere else.
One of the issues at the moment, as I understand it, is that the law doesn't criminalise the paying of a bribe.
That's correct. Too much of the legislation is only going one way, and that's against the corrupt government officer. It doesn't really target the company that is asking for that extra help or that extra licence and that needs to take place as well.
In a recent interview, Anti-Corruption Commission member U Thin Maung said that if they criminalised the paying of bribes, they wouldn't get any complaints. Do you agree with that?
To an extent he's right on a certain type of complaints. But I think [if the law is amended then] complaints will come in from multiple other sources, if it's followed up by proper witness protection, if it's followed up by strong civil society, or very good government officers, because government officers can also report cases. And if you have a case where a person or company is trying to bribe or has an intent to bribe, and the government officer says no, they can bring that case to the commission … I think a lot of new respondents will come forward with cases [if the law is changed].
Presently investigations seem to be based only on complaints, rather than any sort of surveillance or investigations that they have initiated themselves.
That's absolutely correct and that is a problem. For the moment they need somebody to complain and we're also working with them and it's one of the recommendations that they should be able to start their own cases, especially if there's another government officer reporting it. For the moment there seems to be a tendency that they need to get a real complaint from somebody.
For the moment what has happened is that the commission is also swamped in cases. There needs to be a better and faster review of cases: Which ones are important? Which ones are not? Who do we delegate that to?
There are incidents around the world where the best way to destroy an anti-corruption commission is to get a lot of your friends – thousands of them – to submit complaints to the commission and then you bury them [in complaints]. It can be done because the bar is not set, so any little [case can be submitted].
Where do you think the NLD government has made progress on corruption, and where has it gone backwards or not made progress?
I don't think it has gone backwards. … I think there are a lot of right things said by many members of the government and there's a strong will.
But it needs to be expanded upon to get real success. Showing commitment and saying the right things changes very little if nothing takes place on the ground, and by that meaning code of conducts, meaning prosecution of cases and investigation of cases, meaning allowing the commission to get the budget it needs, to be very specific.
If the commission is limping around, and not having enough staff, and not having enough resources … even gasoline for the car – even the simple things – if you don't have a state budget for gasoline for your investigating officers, or you get so little that you can barely drive, how are you going to investigate?
So I think one thing that could be done is giving basically from the state budget the resources that the commission needs to have proper staffing and having money to do proper operations.
Is that a real example? The Anti-Corruption Commission doesn't even have fuel for its cars?
That's not an example just on the commission. That's an example for many countries in Southeast Asia when investigating drug cases, corruption cases, money laundering cases – so it's not just picking on Myanmar … Laos is also like that.
If there's no foreign donor to go in and supplement the state budget, or you don't have law enforcement agencies … going in and supporting with operational funds, the investigations stops pretty early. There's no state budget.
TOP PHOTO: Teza Hlaing | Frontier