Work permits, compulsory medical checks, four year caps on employment terms: two draft laws up for consideration next week could make life much, much harder for foreigners in Myanmar. 
By SEAN GLEESON | FRONTIER
For foreigners of all nations and repatriates coming home, living and working in Myanmar is on the verge of becoming much more difficult.
Two draft bills for consideration in the next Union parliamentary session, which begins at the end of January, are proposing the most radical overhaul of the regulation of non-citizens since the introduction of the 1982 Citizenship Law.
The Ministry of Labour, Immigration and Population, which was responsible for introducing the draft laws, told Frontier the bills are in line with international standards and a necessary measure for ensuring that foreigners don't take jobs that could be filled by locals.
Yet if the bills are enacted in their current form, experts say they would put an egregious burden on foreign residents and employers, undermine business confidence, introduce an unparalleled windfall for township-level corruption, and potentially erode both the privacy and travel freedoms of foreigners to a degree not seen since the junta era.
Work permit introduction
At the centre of the overhaul is the plan to create a new Union-level committee which will assess the credentials, contracts and physical health of almost every foreigner living in the country before granting a work permit to formalise their employment.
Under the draft Foreign Worker Law, prospective employees from outside Myanmar would be required to present evidence of relevant qualifications or work experience, undergo a medical examination within a week of arriving in the country and finalise an employment contract within a month. After four years, they would be required to leave the country.
Employers would need to send these documents to the township office of the Labour Ministry, along with twice yearly reports on the continued employment of any foreigners. Foreign workers or employers who fail to meet their obligations under the law would face fines and possible imprisonment.
While exemptions are granted to United Nations employees and the diplomatic corps, the vast majority of foreigners living in Myanmar would be subject to the act. At least 17,000 foreigners lived in Yangon Region alone at the time of the 2014 census, a number that has risen sharply in the years since as recent political and economic reforms began to bear fruit.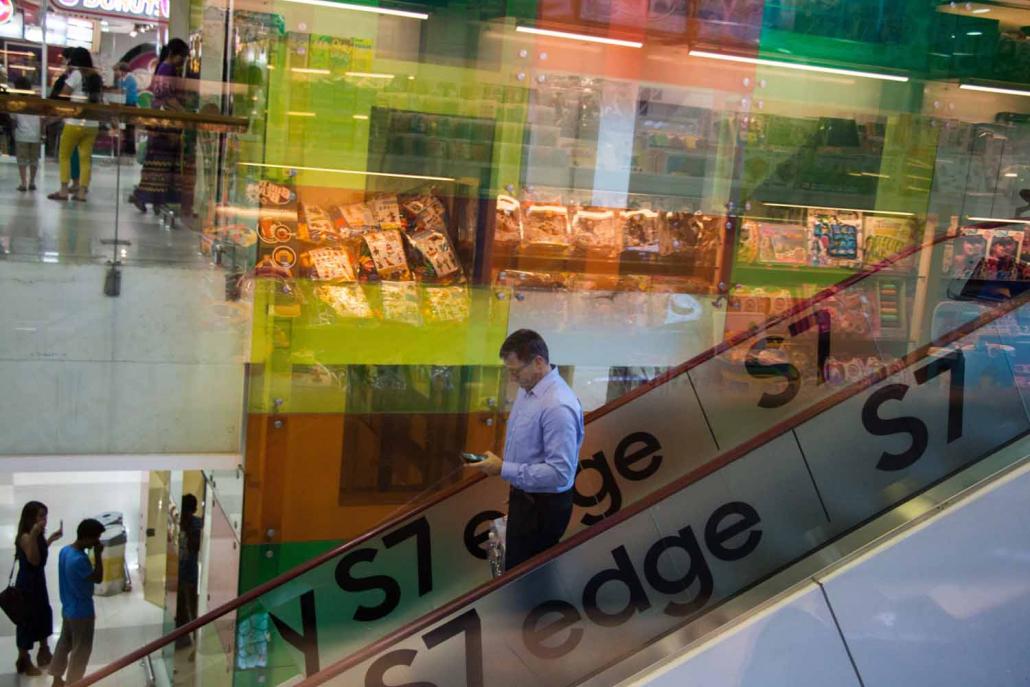 Mr Alexander Bohusch, a Yangon-based attorney for German law firm Luther, authored a December briefing document on the draft laws to outline the obligations foreigners would face under the new laws. Speaking to Frontier, he said that while the introduction of a work permit system would ultimately be beneficial to foreign investors, the implementation of the current drafts may prove difficult.
"The lack of a work permit system is not only a burden to Myanmar's authorities, rendering the enforcement of tax and immigration obligations nearly impossible, but also a problem for foreign investors having to deal with the legal uncertainty concerning their foreign employees," Bohusch said. "The current situation may even result in practical issues with the handling of cross-border matters, such as double-taxation of foreign employees who are unable to sufficiently prove their Myanmar residence to tax authorities abroad."
"It would however be very important to implement the new legislation in a feasible manner. Even now, every employment contract — both for foreign as well as Myanmar employees — has to be approved by and registered with the relevant authorities, a task that is hardly achievable due to their limited resources. If similar processes are generally introduced for the selection of foreign employees, it may unduly delay the development of Myanmar's economy."
"We would therefore hope for a more customised system, in which the level of scrutiny reflects the interest of Myanmar to protect its labour market, but also takes into account the undeniable current lack of skilled labour and need for foreign expertise and knowledge transfer."
U Myo Aung, the permanent secretary of the Ministry of Labour, Immigration and Population, defended the drafts and insisted that the work permit system would be administered efficiently, without any unnecessary delays to either foreign workers or employers.
"It wont make any delays, I think," he said in a phone call with Frontier. "The personnel and departments will be appointed for these procedures and they can handle it well. Even in Thailand, there are no delays while running this process, so we shall do it well too."
Precarious living
In theory, foreigners residing in Myanmar require a Foreigner Registration Certificate to stay in the country for more than 90 consecutive days without incurring a visa overstay penalty or possible legal sanction.
The onerous FRC application requirements have led many foreign workers to reside in Myanmar on short-term business visas and fly out of the country to apply for a new entry permit — often with the tacit consent of their employers.
On the face of things, the draft Law Concerning Foreigners would encourage those foreigners who can afford these regular sojourns to continue to shirk the application process, in order to avoid a number of severe restrictions placed on the domestic travel of FRC holders.
The bill, which is slated to replace three existing colonial-era laws governing the conduct of foreigners, would require everyone with an FRC journeying in Myanmar away from their residence for more than 24 hours to apply for approval at their local township immigration office, as well as registering their arrival at the nearest immigration office to their destination.
Similar provisions under the Ward and Village Tract Law, which applied to Myanmar nationals, were last year repealed by the Union Parliament on the grounds they were used to unfairly harass and extort both political activists and members of the wider public.
The new draft law was "not only unnecessary red-tape that reduces efficiency, but it's also a clear breach of fundamental human rights such as the right to privacy and a family life, and the right to freedom of movement," Ms Vicky Bowman, director of the Myanmar Centre for Responsible Business, told Frontier.
"It will hit Myanmar tourism too. The new destination and community-based tourism products that the government wants to promote to spread income and jobs from tourism, have a major market in the foreigners who live and work here. Foreigners in Yangon won't want to take a quick trip to Ngapali if they have to navigate the MoLIP offices in their township and then on arrival."
While legal loopholes in the draft currently allow foreigners to avoid this process, it is likely that in years to come many more foreign workers would be subject these registration requirements.
Last October, immigration officials and worried landlords knocked on the doors of a number of foreign worker residences in Yangon, demanding their inhabitants registered their occupancy through the so-called "Form C" document, a long-dormant requirement under the 1948 regulations drafted for the 1940 Registration of Foreigners Act.
In the days previous, notices had appeared around town informing landlords that they could face up to two years' imprisonment for housing foreigners who had not filled out Form C applications.
The form requires an FRC number to complete, though Bohusch told Frontier that in practice immigration officials had processed forms without FRC details, so long as applicants had a valid business visa. While the draft Law Concerning Foreigners would repeal the 1940 act and its regulations, future bylaws could make FRC registration mandatory for all private residential leases.
The draft Law Concerning Foreigners also appears to grant the government powers to deport foreigners without judicial review, marking a formal return of the notorious immigration blacklist that was allegedly dispensed with by the Thein Sein government.
Under the bill's provisions, either the Minister for Labour, Immigration and Population or their permanent secretary can order the immediate deportation of an individual who "infringes the sovereignty of the Union or purports to do so" without a court hearing, and with the deportation order remaining in effect until rescinded by either official.
A similar regime applied during the junta years in order to bar human rights campaigners, exiled activists and journalists from the country. More than 2,000 names were removed from the blacklist in 2012, with a further 600 removed in July 2016.
Since then, a number of Myanmar rights activists, who were stripped of their citizenship after leaving the country during the junta years, have quietly reported new difficulties in acquiring visas to return home.
Late last year, photojournalist Greg Constantine was prevented from attending his own exhibition in Yangon, after learning at the airport that he was on the database of people barred entry to the country.
One legal analyst based in Yangon, who asked not to be named, said that while in theory anyone deported by ministerial fiat would have the right to seek judicial review of the decision, Myanmar's ongoing issues with access to justice would make the successful appeal of such a decree highly unlikely.
Political imperatives
Work on reforming the laws regarding foreigners has been underway since 2008, according to Myo Aung, and both bills were earmarked for consideration by the government's Legal Affairs And Special Cases Commission, a law reform body headed by former Pyithu Hluttaw Speaker Thura U Shwe Mann.
However, the recent introduction of both drafts to parliament appears to have been expedited by growing public concern about an influx of foreign workers in the construction and retail sectors, which has led to complaints about the lack of adequate regulation among lawmakers.
Of particular concern in the Yangon Region Hluttaw is the proliferation of K5K shops, largely owned by Chinese nationals and selling homewares and assorted goods at a flat 5,000 kyat price, which were operating without permission from the Yangon City Development Committee.
The Myanmar Times reported in October that MPs called on greater government action against the merchants, along with real estate brokerages and various other foreign-run, unlicensed and untaxed service businesses.
Many construction labourers have also expressed their ire at the number of foreign nationals working on marquee construction projects around the city — for instance, the recently opened Myanmar Plaza complex in Yankin, built by Vietnamese developer HAGL Group with a team of largely Vietnamese workers — who are typically paid several times more than local workers.
Developers have countered that local labourers lack the necessary skills to work on some of the larger commercial projects than have been underway in Yangon in recent years.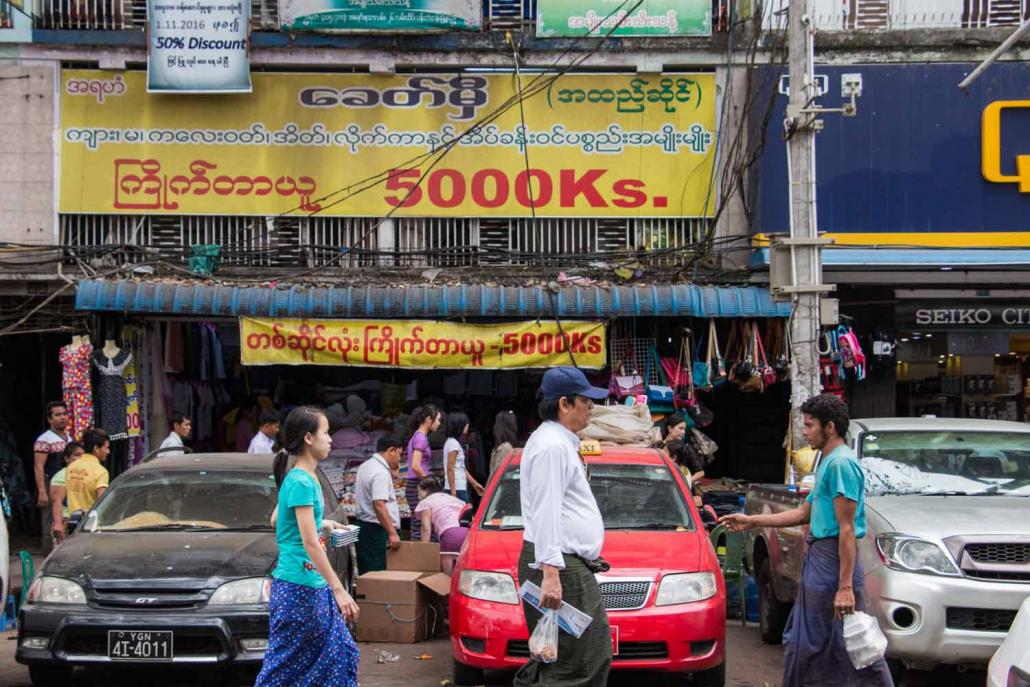 In response to the Yangon Hluttaw's deliberations, the Labour, Immigration and Population Ministry worked with YCDC and other government bodies to raid a number of K5K shops and construction sites in November in order to investigate whether a number of enterprises were employing unregistered foreign workers.
Much of the impetus behind the draft Foreign Workers Law appears to be safeguarding job opportunities for low-skilled workers in these sectors.
"The purpose of amending and enacting that laws is to screen the foreign workers to see if they are capable… and to avoid employing foreign workers in positions suitable for locals. These are the key points," the ministry's Myo Aung said. "It is the time to prepare for these kinds of cases now that the country has opened up its economy."
Previously, under the 2013 Foreign Investment Law, foreign companies were required to employ 75% of local staff in skilled roles within six years of commencing operations — a target deemed overly optimistic by investors, given the current shortfall of quality higher education and skills training available to the local workforce.
With the new Foreign Worker Law would come a new suite of local staffing rules, which would require employers to preference Myanmar workers and to pay foreign nationals the same rate for jobs which could be staffed by locals. How these determinations are made would be up to the Union committee scrutinising work permits.
Mr Tatwin Owen Edmunds, managing director of the HR firm Myanmar Con Yat, speculated that the government was hoping introduce the bill by the end of March 31, in order to lay the groundwork for the new regime and apprise companies of their responsibilities before the new financial year beginning in April.
"If you're a local company that hasn't hired foreign staff before or you're an international company, then the uncertainty is a worry… any uncertainty or change of rules always erases confidence," he told Frontier.
Like Luther's Bohusch and MCRB's Bowman, Edmunds said it was prudent for the government to introduce a work permit system, but was sceptical of the ministry's ability to administer it efficiently at a township level.
"In terms of the laws themselves, they're certainly very complicated — definitely not the simplest but at the same time not the most complicated you can get globally. But implementing them on a township level will be the real challenge."
"Practically speaking, generally how it works if you're a local company and you want to hire expat staff you'll do it," he added. "The local companies have the advantage of being able to send someone down to the labour office and have a chat to work it out… Chances are when the new rules come in they will say we don't know, leave it with us, and there will be lot of backlog in the labour offices as they get acquainted with the new laws."
For Bowman, the extra hurdles for both prospective employers and civil servants have the potential to entrench what is already a lucrative source of graft for township level officials, in order to smooth the passage of foreign worker applications.
"The first principle of being a responsible business is to observe local law," she said. "However if local law requires a business to constantly interact with government bureaucracy where each interaction is a potential request for 'tea money', a business will be forced to breach the second principle of responsible business, which is 'do not pay bribes'."
"Fighting corruption, improving the business environment, strengthening the rule of law… are all priorities of the government. So it's puzzling that the Ministry of Labour, Immigration and Population is putting forward these two laws, which undermine all of those government objectives."
Bowman added that if the government wanted to broaden the skills base of the local population, it needed to encourage both repatriates and foreign workers to share their expertise with Myanmar workers and help improve local business practices.
"At a time when Myanmar has huge skills gaps, if it is to grow, it needs foreign workers and capital," she told Frontier. "But both the Foreign Workers Law and the amendments to the Foreigners Law are sending a strongly negative signal about openness to foreign investment."
Additional reporting by Kyaw Phone Kyaw.