Zaykabar chairman U Khin Shwe has written to his powerful relative by marriage, who is close to the state counsellor and heads a high-level commission, to appeal the postponement of work on a big mixed-use project in Yangon.
By KYAW YE LYNN | FRONTIER
CONSTRUCTION INDUSTRY tycoon U Khin Shwe has turned to his relative by marriage, former general and parliament speaker U Shwe Mann, for help to revive his stalled Mya Yeik Nyo property development.
A member of Shwe Mann's parliamentary commission in Nay Pyi Taw confirmed to Frontier that Khin Shwe had submitted an appeal letter over a municipal decision that has halted work by his Zaykabar Co Ltd on a prime hill-top site in Yangon's Bahan Township.
The commission's secretary-general U Khin Maung Tun told Frontier on May 28 that it had received a written appeal from Khin Shwe over the decision to postpone work on the project near the Mya Yeik Nyo Hotel, which is owned and operated by Zaykabar.
The Commission for the Assessment of Legal Affairs and Special Issues is headed by Shwe Mann, one of whose sons is married to a daughter of Khin Shwe.
Shwe Mann, the third ranking member of the former military junta who was dramatically ousted as chairman of the ruling Union Solidarity and Development Party in August 2015, is a close ally of State Counsellor Daw Aung San Suu Kyi.
Shwe Mann has been head of the commission since it was established by the National League for Democracy in February 2016, a month before the party took office following its landslide win the previous year.
Khin Maung Tun said that Khin Shwe had personally handed the letter to Shwe Mann, "then he brought it to me and we registered it on Monday [May 21]".
He added that Shwe Mann was yet to respond to the letter.
"We are not clear yet what to do as he has not made any comment on it," Khin Maung Tun said. "I didn't even open the envelope, so I don't know what was in the letter."
Work halted
The mixed-use project will reportedly comprise 12 high-rise buildings, each of 24 stories and ranging in height from 382 to 412 feet (116 to 125 metres) , as well as a three-storey building, and will require investment of around US$500 million. Lawmaker U Aung Myat Kyaw (NLD, Bahan-1) said that because the area is zoned low-density and residential, developers are able to build to a height of 417 feet.
But the adjoining Kokkine reservoir, which distributes water to eight townships, has proven a sticking point. In mid-March, Yangon City Development Committee ordered Zaykabar to undertake safety measures to ensure that the project does not damage the reservoir or put public safety at risk.
Nearby residents who oppose the hill-top project say it would also obscure the view of the Shwedagon Pagoda and pose a threat to historic buildings, including the former Mayor's Residence and Mayor's Guest House, which are on Yangon's city heritage list.
In an interview with Frontier at his office in Mingaladon Township on May 20, Khin Shwe accused the YCDC of making problems for Zaykabar.
"We already had permission from [Yangon Region] Chief Minister U Phyo Min Thein. But now the project implementation has been delayed by the YCDC. It's frustrating," he said, before declining to speak further on the issue.
Contacted again on May 29, he declined to discuss the letter to Shwe Mann's commission.
However, Khin Shwe disputed earlier reports that said a British colonial-era building on the 13-acre (five-hectare) project site had been demolished as part of preliminary work conducted by state-owned China State Construction Engineering Corporation.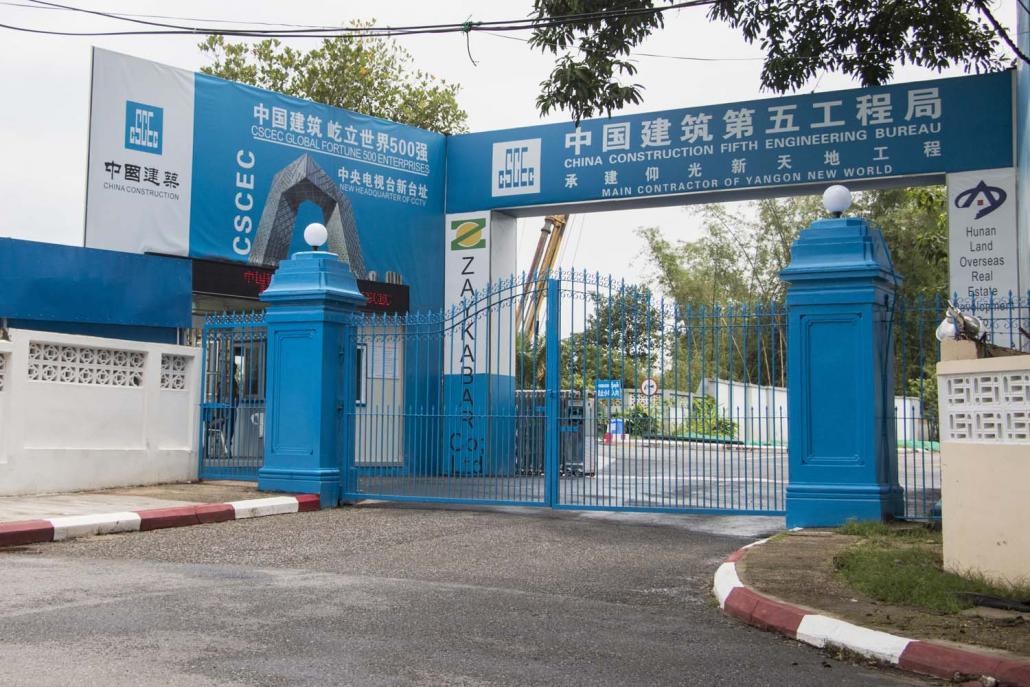 Khin Shwe said a white-coloured house used as a manager's residence by the Chartered Bank had been preserved. "We only demolished another house that was built in 1957 after the country's independence. It was only about 70 years old and is not a heritage building," he said.
The demolished house was renovated on the orders of former Military Intelligence chief, General Khin Nyunt, after being badly damaged when Cyclone Nargis hit Yangon in 2008 and its walls and roof were replaced, Khin Shwe added.
"I didn't demolish the heritage building – just the house that is less than 100 years old and has been heavily renovated," he said.
YCDC's Yangon City Heritage List lists two heritage buildings at the site: the Mayor's Residence and Mayor's Guesthouse.
Water worries
Save Kokkine Reservoir from Danger, the community group opposing the project, is headed by U Win Bo, who said it has sent letters to President U Win Myint and Union government ministers since April 18 that explain why residents want the work halted.
"We are just concerned for the safety of the reservoir; we are not calling for the total cancellation of the project," Win Bo told Frontier on May 30.
He said people living in the area did not like the project because it would disturb the environment and affect their quality of life.
A combined team of YCDC officials was scheduled to inspect the project on May 28 to assess the likely impact on the reservoir, a municipal official told Frontier on condition of anonymity.
"The team didn't conduct the inspection because the company had not finalised its safety measures. Once they are complete, the team will make a final inspection and present its finding to the chief minister," the official said.
The team's spokesperson, U Myo Thein, the deputy head of the YCDC's Engineering Department (Water and Sanitation), could not be reached for comment.
Khin Shwe insisted on May 29 that the project was being solely implemented by Zaykabar and there was no joint venture with the Chinese company. He said this was because under the terms of a lease for the land that Zaykabar signed with the military in 2014 it was not allowed to form a joint venture.
"The Chinese company is just a contractor," he said.
However, the residents' group opposed to the project believes Zaykabar has breached the contract by forming an unofficial joint venture with China State Construction Engineering Corp.
"The contract can be terminated by the military if it is found that Zaykabar broke the agreement," said Win Bo.
He said that, as far as he knew, the military was displeased with Zaykabar for bringing in a Chinese company for the project and over the reported demolition of a heritage building.
"I think that's why he [Khin Shwe] went to U Shwe Mann," he said.
TOP PHOTO: Excavation work is already well underway at the Mya Yeik Nyo site, including beside the Kokkine reservoir that distributes water to eight townships. (Supplied)