By KYAW LIN HTOON | FRONTIER
YANGON — Five ethnic Kachin civilians including a nine-year-old boy and an infant girl were killed early on August 31 in northern Shan State's Kutkai Township, after intensive clashes broke out in Maw Hit village between the Tatmadaw and members of the Northern Alliance.
Fighting started at about 6am in the jungle just north of Kutkai town, near the highway that connects the town to Muse on the Myanmar-China border. Alarmed by the fighting, residents of the majority-Kachin village fled to the house of the village head.
At 12.30pm a mortar shell hit the house, according to Mai Mai from the Humanitarian Strategic Team-Northern Shan State, a local CSO.
She said the shell killed five people from two families. Sumlut Htoi Ja, 34, was killed beside her daughter Zahkung Nang Pan, 14, and her son Zahkung Zau Hkun Lat, aged 9. Lajin Lu San, 18, and her four-month-old daughter Lasham Seng Hkawn were also killed.
"There was fighting the whole day until 2pm," said U Myo, a member of Kutkai-based civil society group Karuna. He said that at least 15 mortars were fired.
"After that, the whole township was scared and no-one dared to go outside."
Earlier that day, a woman and a man, both aged 21, were injured when a shell hit their house in the same village. Volunteers from Karuna and Brahmaso Humanitarian Aid took them to Lashio General Hospital, where they have been receiving treatment, Mai Mai said.
Frontier was unable to reach members of the Northern Alliance or the Tatmadaw's True News Information Team for comment.
As the fighting was taking place, representatives from the Northern Alliance were meeting the government's National Reconciliation and Peace Centre at Kengtung in eastern Shan State to discuss a bilateral ceasefire agreement aimed at ending the recent clashes.
Conflict has raged across Northern Shan since August 15, when three members of the Northern Alliance launched brazen coordinated attacks on military, infrastructure and other targets in Lashio and Nawngkhio townships and at Pyin Oo Lwin in Mandalay Region.
The attacks almost immediately sparked clashes and military operations across Lashio and Kutkai townships, closer to the border with China, resulting in the deaths of at least a dozen civilians and causing at least 7,000 to flee their homes. Neither side has claimed responsibility for most of the civilian casualties and incidents that have caused damage to homes, buildings and infrastructure.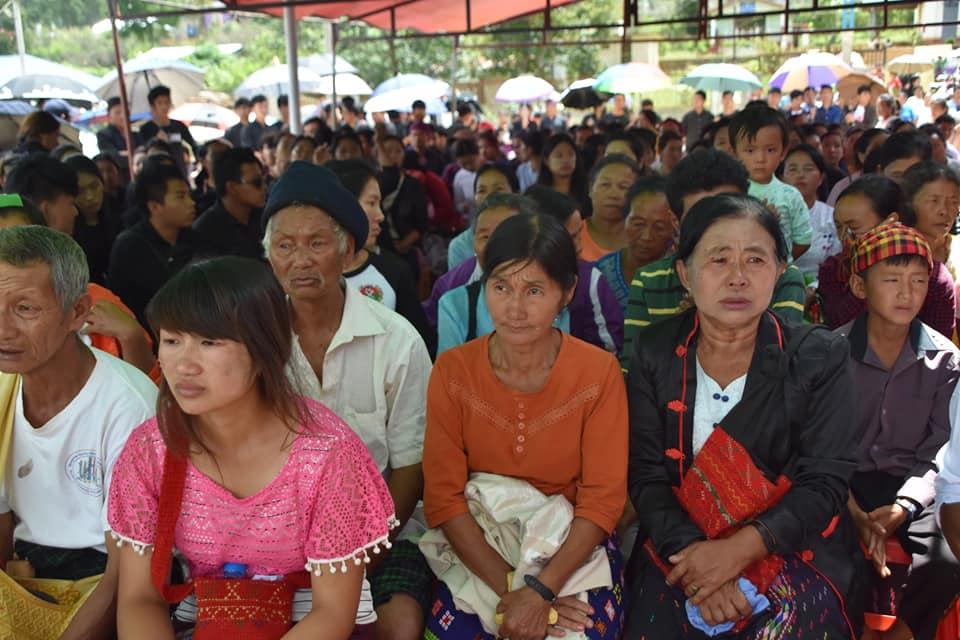 At the August 31 meeting representatives of the Kachin Independence Organisation, Myanmar National Democratic Alliance Army, Ta'ang National Liberation Army and the Arakan Army discussed ending the conflict in northern Shan State.
The meeting went smoothly and both sides agreed to meet again in mid-September, according to a joint statement released on August 31.
The talks focused on a range of topics, including recent fighting, the five civilians deaths earlier that morning, preventing further clashes and the resettling of IDPs.
While no Tatmadaw representatives attended, the military extended its unilateral ceasefire covering northern Myanmar for another three weeks, to September 21. Announced on December 21, 2018, the ceasefire had been due to expire later on August 31.
On the ground, tensions between the ethnic armed groups and the Tatmadaw show no sign of abating, as demonstrated by the civilian deaths in Kutkai.
"There is no such urgent and critical matter as civilians' useless and arbitrary deaths," said youth activist Ma Thinzar Shunlei Yi to Frontier.
"I want to warn all leaders with arms and political power to be sincere and committed to effective peace dialogue. Do whatever you can to bring positive peace."
After the meeting with the NRPC, journalists asked the Arakan Army's deputy chief Brigadier-General Nyo Tun Aung whether members of the Northern Alliance had attacked civilians.
"Our alliance is not one that kills its own races. We never shoot civilians," he replied, according to footage published by BBC Burmese.
Government spokesperson U Zaw Htay, who attended the meeting, said the civilian deaths in Kutkai were discussed, but that the topic was sensitive.
"We are trying to stop the warfare in northern Shan State as soon as possible," he said.