An avalanche of disinformation, misinformation and dangerous rumours has circulated on new platforms and mediums since the coup, and the junta's internet restrictions have only stoked the fires of falsehood.
By FRONTIER
To mark Union Day on February 12, the new military junta commuted the sentences of 23,000 prisoners.
Myanmar has a long tradition of mass prisoner releases, with heads of state exercising their pardoning powers, and they are usually timed for major national holidays. But this release – coming less than two weeks after a coup, at a time of high tension – seemed different.
With the stroke of a pen, the regime plunged much of Yangon into a state of fear.
Soon, social media went into overdrive with rumours of recently released prisoners being drugged up and dropped off in Yangon neighbourhoods to cause mayhem. But was this really happening?
Certainly, many people seemed to think so, but little concrete evidence to support this narrative has emerged. One Twitter video, with over 112,000 views, said there were "thugs" being dropped off to "cause trouble". But the people in the video, armed with sticks and bats, are actually members of a group trying to protect their neighbourhood. There's no sign of thugs in the clip, no explanation of what these thugs had done, and no evidence of property damage or violence. The Twitter user who posted the video did not respond to Frontier's request for comment.
The junta has however been responsible for violent acts that have contributed to the atmosphere of fear. Late night arrests of activists and protesters are on the rise, compelling citizens to protect themselves against police. A member of a neighbourhood watch group was allegedly shot dead by police in Yangon's outer northern Shwepyithar Township on the night of February 20. Ultra-nationalists, including some Buddhist monks, were caught on camera on February 18 smashing the windows of cars and attacking protesters.
However, the rumours on social media may have also contributed to real world violence against seemingly innocent victims.
In one such case, Frontier witnessed three men who were tied up and interrogated in downtown Yangon's Botahtaung Township for allegedly being sent to cause mayhem in the neighbourhood. None of them were said to have committed any specific crime. One of the men, who claimed he was Chin and could not speak Burmese, was beaten, his face bloody and puffy. The Chin captive and another were roughly interrogated, with locals grabbing them by the hair, slamming their heads against the wall, and splashing water in their face. At the end of the interrogation, they had their eyebrows and parts of their heads shaved to "mark them as criminals", despite having not committed any crimes.
The SMS switch
Myanmar's internet landscape has shifted dramatically since the February 1 coup, with the new junta employing internet blackouts, website filtering and draconian new laws in order to stifle dissent.
Facebook was previously the primary online destination for most people in Myanmar but the restrictions have sent many users to new corners of the web. The more fractured communications environment has resulted in new forms of disinformation, misinformation and dangerous rumours, many of which are being spread on Twitter or by SMS.
SMS communication is particularly ripe for disinformation when there's no internet available, because messages can still be distributed widely but are difficult to fact check. It is also harder to track and moderate harmful content on the medium.
The capacity of SMS to sow fear and confusion was particularly evident on Saturday, February 6, when the junta executed its second country-wide internet blackout, which lasted over 24 hours and coincided with the country's first mass protests. During this period, misinformation and apparent disinformation spread throughout the country via SMS on a large scale, suggesting a coordinated campaign.
That evening, phones from Yangon and Bago Region all the way to Rakhine State and Sagaing Region lit up with the same false message: State Counsellor Aung San Suu Kyi had been released from detention. Thousands poured on to the streets to celebrate the news, and some even set off fireworks. Without the internet, it took hours for the rumour to be debunked.
Some also received texts saying that President U Win Myint or National League for Democracy patron U Win Htein had died of a heart attack. Others were told that two young women who led a protest in Yangon that day were fake protesters hired by the military-backed Union Solidarity and Development Party to justify a harsher military crackdown.
Much of the information seemed intentionally designed to suppress protests planned for February 6 and 7.
Ma Po Mo Chit, 36, from Bago Region's Okpho Township, said she was preparing to protest at 1pm on February 6 but after the internet went down around noon, confusion soon spread.
"My uncle called to say that the protesters in Yangon had been paid. They hired two women and groups from the factory [to protest]," Po Mo Chit said. The "news" was confirmed by her nieces in Yangon. Ultimately, the confusion meant that only a few dozen people protested in Okpho later that afternoon.
Frontier was at the Yangon protest in question. The demonstration was led by two well-known female activists: Ma Ei Thinzar Maung and Ma Esther Ze Naw. Ei Thinzar Maung was an election candidate for the progressive Democratic Party for a New Society, and both had participated in a campaign to raise awareness about the military's brutal treatment of Rohingya Muslims.
While the two women are not NLD supporters, they are both fierce critics of the military. "We have always been opposed to military dictatorship," Esther Ze Naw told Frontier. The coup is "not an NLD issue, it's a national issue", she said, adding that she believed the disinformation about her and Ei Thinzar Maung was originally spread by "people who want to disrupt" the protests and "reduce public participation".
Esther Ze Naw said she wasn't disheartened by people's suspicion over her motives. "We see people's scepticism as a good thing. This is a time to think, as the military may be trying to deceive people in various ways," she said.
Back in Okpho, Po Mo Chit said when the internet was down, the only source of news was military-run television station Myawady, which she dismissed as propaganda.
"I saw stories about good soldiers and a film about the development of Myanmar. I only watched about 20 seconds and then turned it off," she said.
Later that night, she received calls and messages from people in Yangon about Aung San Suu Kyi's rumoured release, and was also told that veteran activist Min Ko Naing would address a protest the next morning. That turned out to be false, too.
"SMS messages were spreading quickly because the internet was shut down … Messages are sent to a lot of people. When we get a message, we can send it to about six people. It is effective in reaching out to many people," she said.
U Samuel Soe Lwin, a pastor who lives in Yangon's outer northern Hmawbi Township, heard a different story: that USDP members were posing as NLD supporters at protests in Yangon. "I heard it from my friend who lives in Yangon. I asked him for the source of the news, but he couldn't find it because the internet was down. He got that news from an SMS message," he said.
Although tens of thousands still took the streets on February 6 and the following day, Samuel Soe Lwin said he believed the internet shutdown had frightened many people and discouraged them from protesting. "When the internet shut down, I didn't know anything. I felt worried and hopeless," he said, recalling a flood of false information.
"In the evening, I also got SMS messages from unknown numbers that said Daw Suu had been released, Min Ko Naing would give a speech under the Hledan Bridge, and the United Nations is coming to hold talks with the military. And I heard that Win Htein and Win Myint were dead," Samuel Soe Lwin said.
U Kyaw Zayar Htun, who lives in southern Rakhine State's Thandwe Township, said he received a call from a friend in Yangon that Aung San Suu Kyi had been released, and in turn called other friends to share the news. "The news spread immediately around the township; it was so fast," he said, adding that he was soon able to confirm that the news was false, though it had been widely believed.
"I think the fake news was a counterattack by them," he said, referring to the military.
U Maung Maung Latt, an NLD lawmaker from Sagaing Region's Tamu Township, on the border with India, said he received messages that Aung San Suu Kyi had been released and Win Myint was dead, which he believes were spread by the military to "slow down" the protests.
"I think it was a psych war," he said.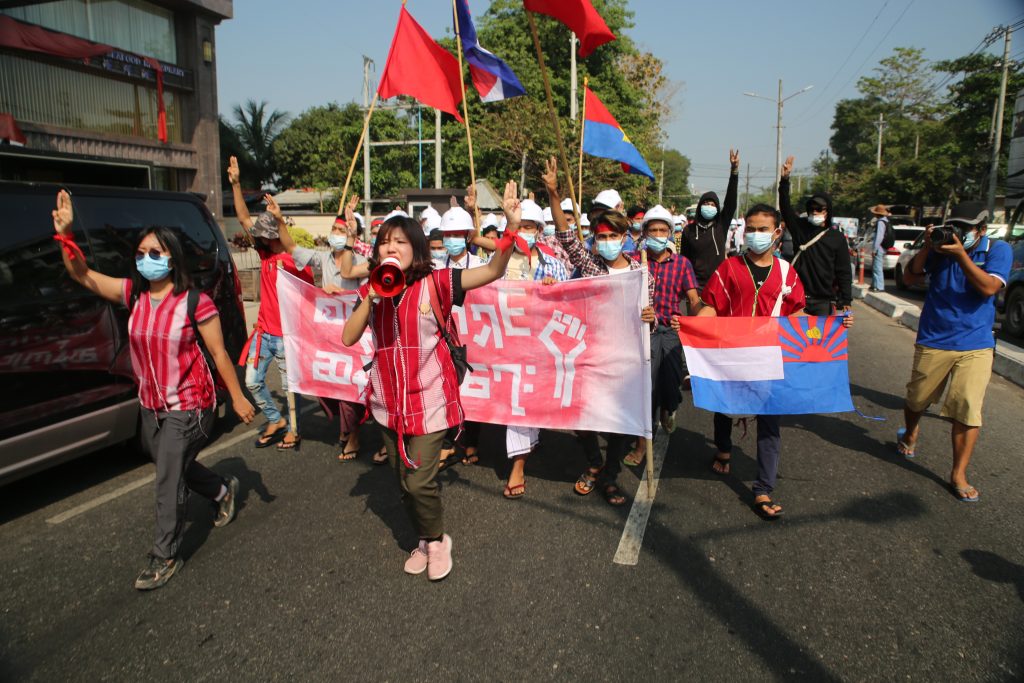 The rise of Twitter
One of the first steps the junta took in its internet crackdown was to restrict access to Facebook on February 3. Many instead opened accounts on Twitter, but before long the regime had banned this too. These restrictions prompted a 7,200 percent increase in the use of virtual private networks, or VPNs, in Myanmar as people sought to bypass the bans.
Frontier was unable to access data on the number of Twitter users in Myanmar, but data analysis of four popular hashtags – #AungSannSuuKyi_Government, #HearTheVoiceOfMyanmar, #RespectOurVotes and #SaveMyanmar – from February 1 to 4 shows a significant increase in their use after Facebook was banned. On February 2, for example #AungSannSuuKyi_Government had just 10 tweets, but on February 4 it had over 40,000. Overall, there more than 5 million posts on Twitter that used the hashtags.
Frontier selected a random sample of 141,146 of the accounts posting these hashtags to examine when they had been created. Of these accounts, 65,756 were created in 2021, representing 46.6pc of the sample.
Based on our analysis, Twitter had already seen significant growth in Myanmar over the previous few years, but nothing comparable to this surge. For example, 27,823 of the accounts were created in 2020, while just 10,896 of the accounts were created in 2019, 7,255 in 2018, and 6,899 in 2017. But among the sample, more accounts were created in the first 35 days of this year than in the previous four years combined.
This rapid increase in users has been accompanied by a rise in unsubstantiated rumours and misinformation – something the platform and many fact-checking organisations appear to have been unprepared for.
One dubious narrative that has taken hold on Twitter is that Chinese troops are on the ground in Myanmar. Some users pointed to unfamiliar badges on soldiers' uniforms as evidence of a Chinese military presence, although these were shown to be symbols from the Tatmadaw's Armoured Operations Command, the unit tasked with deploying tanks and armoured personnel carriers. Others insisted that the soldiers had Chinese physical characteristics, pointing to their skin tone and facial features.
This has raised concerns for the safety of ethnic Chinese in Myanmar. When the Burmese-Chinese Youth Association issued a statement condemning the coup, it also expressed concern over "anti-Chinese remarks" on social media.
Ko Sai Nay Nay Win, the association's president, told Frontier he had not heard of any incidents of violence against Burmese-Chinese people yet, but he is still "fearful".
"The main problem is that anti-Chinese Communist Party sentiment sometimes becomes anti-Chinese-Burmese sentiment," he said.
Mr Hunter Marston, a political analyst with experience in researching disinformation, said the rumours of Chinese troops seem like "prime examples of misinformation" rather than disinformation. Misinformation is false information that is spread by people who believe it to be true, in contrast with disinformation, which is maliciously spread to deceive people, often for political gain.
"I can't see how the Tatmadaw stands to benefit by spreading rumours of Chinese troops in the streets, even if it sows confusion and divisions," Marston said.
Ko Nyein Chan Aung, programme manager for the Myanmar ICT for Development Organization (MIDO), admitted the group was caught unawares by the mass migration to Twitter. "The reason we didn't prepare for Twitter before is because Facebook was the only widely used social media platform in Myanmar," Nyein Chan Aung said.
He said MIDO, which has been at the forefront of fact-checking efforts in Myanmar, is trying to focus more on Twitter, but has faced challenges. For example, due to Twitter's character count limit, misinformation and disinformation are more commonly spread through images and videos, which are harder to trace than written messages. Nyein Chan Aung also said MIDO has found it more difficult to track individual users on Twitter than on Facebook.
He added that MIDO and other fact-checkers are dependent on the reporting of credible media outlets to debunk false news, an increasingly difficult situation given the junta's animosity towards the free press.
Marston said that while Twitter was prepared to respond to disinformation about the US elections, it has yet to take similar action in Myanmar.
"[Twitter]'s Myanmar translation services are pretty limited, so it remains to be seen how much content moderation they are able to utilise in the Myanmar context. I personally haven't seen a policy response from Twitter's executives acknowledging the threat of disinformation and rumours in Myanmar around the coup," he said.
He also pointed to the lack of any evidence to suggest Twitter has been flagging "potentially inflammatory content", particularly in regard to the "supposed Chinese soldiers in Tatmadaw uniform".
Twitter did not respond to a request for comment.