Two altruistic organisations are creating and publishing books for children that carry messages aimed at fostering diversity, tolerance and peace.
By SING LEE | FRONTIER
My Beloved One is a heart-breaking but healing book published by the Yinthway Foundation about a girl recovering from the trauma of losing her family in Cyclone Nargis, which devastated parts of southern Myanmar in 2008.
To relieve her grief, the girl draws pictures of her village, salvages dying pot plants by re-planting them and collects photos of her family. These activities help the girl to understand and accept that anyone can face the sudden loss of loved ones.
The book is part of a series called "Trauma", which was launched after the cyclone. Another book in the series, The Day Cyclone Nargis Came, was written anonymously by a Yinthway staff member with many years' experience in early childhood education. The staffer visited the Ayeyarwady Delta after the disaster and listened to children who had been traumatised by the cyclone.
The Yinthway Foundation – yinthway means "our beloved children" – began in 1999 as the Network Early Childhood Resource Center and has since published more than 100 books. Most are for children aged under five but some are aimed at primary school readers. The titles include 19 books written and illustrated by children at Yangon International School and based on traditional Myanmar myths.
"Children are our future. We tell them stories to teach them to build a peaceful society, a peaceful country and a peaceful world," said Daw Nwe Nwe Aung, executive director of the Yinthway Foundation. It publishes children's book as part of its effort to promote early childhood care, development and education in Myanmar.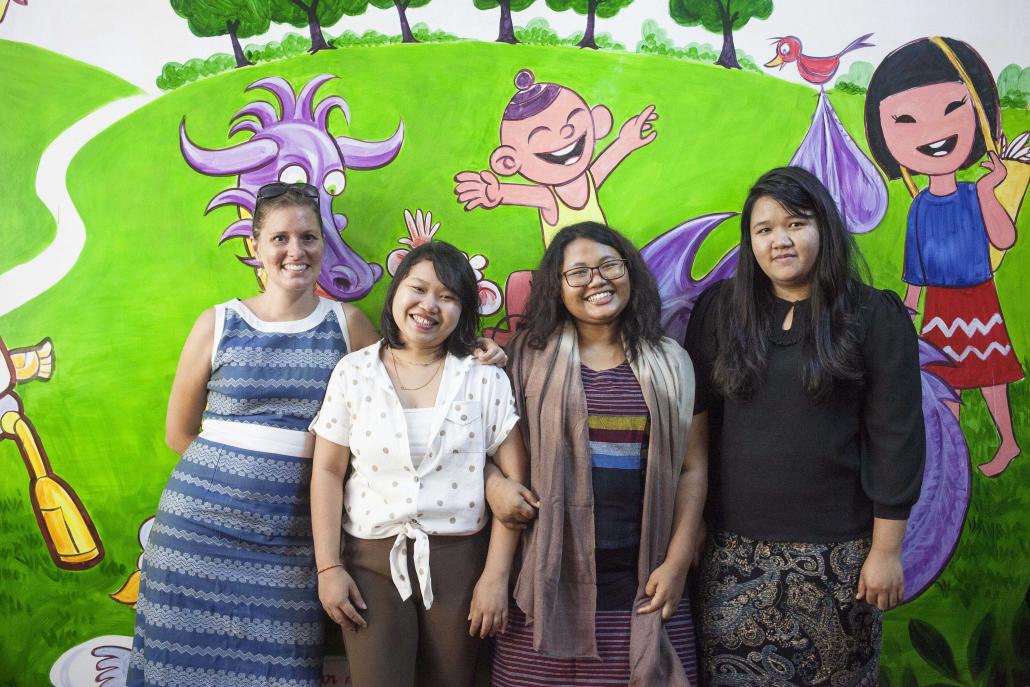 Books with positive messages for children about peace, tolerance and diversity are also created, published and distributed by the Third Story Project, a non-profit social enterprise founded in July 2014.
Of the 30 illustrated books published by the Third Story Project, eight were developed out of creative writing classes at schools and libraries nationwide. They were chosen from among hundreds of tales that children created after hearing stories told by Third Story Project staff.
"The children whose stories are selected receive a giant gift, including a complete collection of all our child-authored books," said Ma Ei Pwint Rhi Zan, project director at the Third Story Project.
The Third Story Project emerged from an English writing class for university students, teachers and journalists, who decided they wanted to work as volunteers to make a difference in their communities.
A class member wanted to start a library in her home village but found there was a shortage of children's books in Myanmar, a discovery that inspired the group to create its own publications.
The initiative was named after the Thone Htat Kyaung, or Three-Storey Monastic School – the venue in Yangon's Bahan Township where the classes were held.
An objective of the books published by the Yinthway Foundation and the Third Story Project is to create challenging situations for characters that help to foster empathy among children.
"We have questions for children at the end of our books, such as, 'Would you do this to this person if you were the character?'" said Ms Mindy Walker, an American who has lived in Myanmar since 2012 and is a volunteer adviser to the Third Story Project.
Nwe Nwe Aung said Yinthway's stories reflect real social issues and act as a change agent for the future by encouraging young readers to solve problems and think creatively.
One book inspires children to respect differences by telling the tale of a beauty contest among animal species. Another, aimed at encouraging a tidy appearance, is about an unkempt girl with a bird's nest in her hair.
The Third Story Project has four full-time and three part-time employees. Stories and illustrations are also provided by supporters from a range of backgrounds, who accept low payments for their contributions.
They include Ko Thant Zin Soe, a co-founder of the Third Story Project (and its most prolific author with six books to his credit, under the pen name Than Lwin Myint), who is a news editor at The Voice.
Ei Pwint Rhi Zan has a Masters degree in Electronic Engineering but has devoted her life to community development and is passionate about creating books for children. Though it's not only children who appreciate the Third Story Project's publications.
"In Shan State, even some of the parents have never owned a story book and they want one too," she told Frontier. "The children are so excited to own a book that they send pictures of them with the book and essay feedback on the stories. When their parents forget to discuss the story with them, they ask, 'Why don't you ask me questions?'"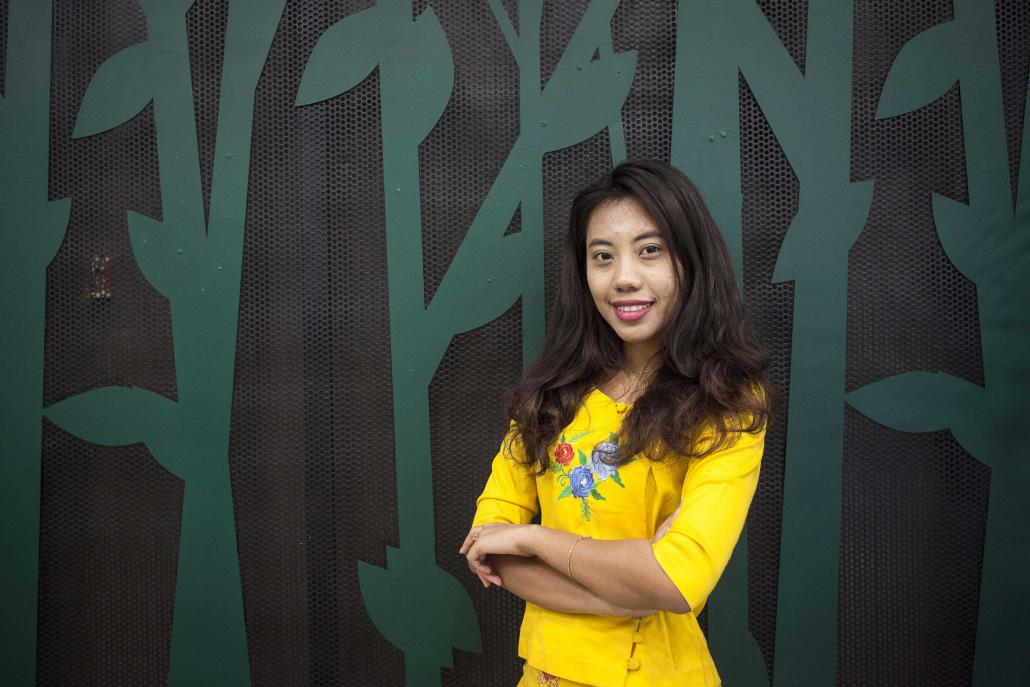 There have been many efforts to promote children's literature in Myanmar, but the number of new, original works on the market is limited.
One of the reasons, says U Chan Myae Win, a co-founder of well-known Innwa Books in downtown Yangon, is a lack of emerging writers of children's literature.
Some of the best-known children's books are reprints of works by famous writers from decades ago, Chan Myae Win told Frontier.
"We have some [recent] inspiring children book authors but they have yet to fill the gap left by legends from the past," he said.
He added that 30 percent of the children's books sold at Innwa are translations of popular English titles. The average price of a children's book is between K1,000 and K2,000, but can be as low as K500. Yinthway sells its publications for between K400 and K500.
Walker said Third Story Project books are affordable alternatives to translated foreign titles, with stories in a Myanmar context.
Yinthway has published some of its books in Kayin and Pa-O languages, while the Third Story Project has published 10 books each in Rakhine and Shan, and six in Chin. All were translated by volunteers.
Apart from accepting international funds for large batch donations, Third Story Project, whose stories are available for free online, donates one book to needy children for every book it sells at its 40 retail partners and online outlets.
It also has a scheme called "Pass it On", which allows tourists to donate a collection of its titles to libraries at monastery schools, orphanages and camps for the internally displaced, through Hla Day, a social enterprise that sells local crafts.
Walker said Third Story Project aims to provide books wherever possible, and has so far distributed more than 170,000 free books in more than half the townships in the country.
"Some children have never owned a book – they get really excited when they hold one in their hands," she said.
Nwe Nwe Aung said Yinthway does not have enough staff for distribution, but sells books from its Yangon office, as well as posters about learning for teachers and parents throughout the country. NGOs and schools are major customers, she said.
Yinthway is embracing the challenge of technology and is planning to adapt some stories for animation, Nwe Nwe Aung said.
TOP PHOTO: Theint Mon Soe aka J | Frontier