MRATT KYAW THU | FRONTIER
YANGON — About 200 truck drivers attempted to block a section of Strand Road last night as part of a protest against limiting their hours of operation.
The drivers began gathering on Strand Road near the corner of Home Street in Kyeemyindaing Township at about 10pm. Standing on the road or the roof of their trucks, they shouted "unite all drivers" and demanded that limits on when they are able to access Yangon's port area be relaxed.
Regional transport minister Daw Nilar Kyaw arrived at the protest late last night and tried to talk to the drivers, but the group had no spokesperson or leader to deal with the authorities. About 50 riot police arrived at 11:30pm but made no attempt to break up the protest.
Instead, some drivers began leaving the demonstration in the early hours of the morning. Those who remained tried to flag down more trucks to join the protests with varying degrees of success. If container drivers were unwilling to stop, some of the demonstrators pelted them with bricks and sticks – breaking several windscreens in the process. The last of the protesters finally dispersed around 9am this morning.
"I assume that they were demanding to extend the time limit [for operating hours]," said U Tin Myo Win, secretary of Myanmar Container Trucks Association.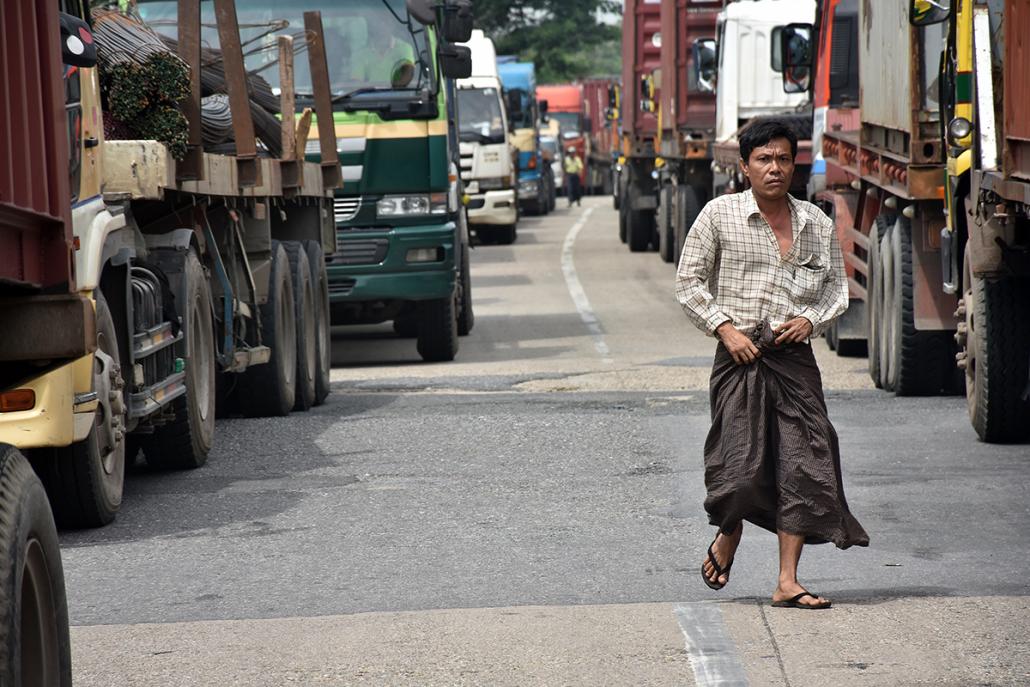 The spark for the protests was the recent enforcement of a regional government order from 2016, under which large trucks are only allowed to operate on Strand Road from 9pm to 6am.
The order has only periodically been enforced over the years, but on October 4 Nilar Kyaw reiterated the government's policy in the Yangon Region Hluttaw in response to a question from a lawmaker.
She added that the government announced on August 25 a limited extension of the hours, with a 90-minute window added in the middle of the day at the suggestion of the Myanmar Container Trucks Association.
Tin Myo Win said that after Nilar Kyaw spoke in the legislature police started enforcing the operating hours again without warning.
Drivers have also complained that they weren't informed about the August 25 announcement.
Tin Myo Win said Nilar Kyaw met association members at about 8am this morning.
"She said she would report the facts to the chief minister and review last night's protest," said he said. "The authorities promised to allow trucks from 11am to 3pm and 8pm to 6am but it's not official. They said the government will release an official statement after discussing it further today."