As American playwright Eve Ensler's The Vagina Monologues premieres in Yangon in Burmese, could "feminism" get lost in translation?
By TANVI RIISE | FRONTIER
"If your vagina could speak, what would it say?"
Colourful, heart shaped Post-it Notes were awaiting my fearless, powerful and yet somehow also vulnerable and feminine reply. It was a virtually impossible task, even for a liberated young female like myself. Tip-toeing around a giant knitted vagina, I made my way to the back of the champagne line in the garden of the French Institute in Yangon, where young and old expats alike were chatting, their engaged voices rising above the lyrics of fierce women from both sides of the Atlantic: Madonna, Destiny's Child, MIA, Amy Winehouse.
Tickets to the March 7 performance of the English version of The Vagina Monologues, a play based on the experiences of American women in the 1990s, had sold out in a few days, which was not surprising given the immense popularity of the play last year. It was decided that 10 percent of the proceeds of the performances this year would go to playwright Eve Ensler's global V-Day campaign and the balance to two organisations working to strengthen ethnic women's rights. Yangon's expatriates (myself included) were faithfully present, ready to laugh in the right places and clap at the right times, under glowing pink lights.
Later that evening, as I left the French Institute and wandered into one of Sanchaung's Muslim neighbourhoods, I immediately felt like I had entered – or rather exited – a distant universe. Passing boys playing football under dim street lights, I wondered whether The Vagina Monologues and its mission to empower women in Myanmar had all just been an embassy-funded illusion, reserved for those already familiar with its discourse.  
It would turn out that I was asking the wrong questions, too soon.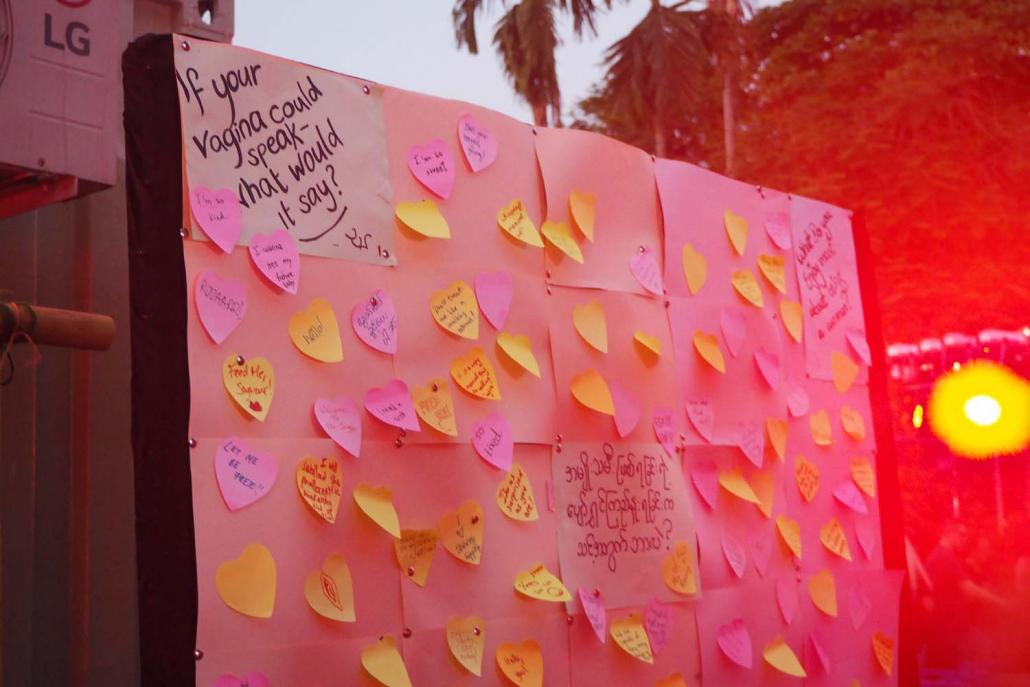 Words that matter
It's not easy being a "feminist" in Myanmar, partly because of linguistic turmoil. In a 2018 paper, Rainfall Gender Study Organization – which has been publishing Myanmar's first feminist magazine since 2015 – argued that misunderstandings and ambiguity over Burmese translations of words such as "feminist" cause many to dismiss feminism as a Western ideology opposed to both men and the nation's cultural notions of femininity. Older generation writers who struggled for gender equality, such as the prolific author Ju, 60, and her fiction's hard-nosed female characters, were never labelled "feminist" despite their impact on the self-perception of many Myanmar women.
Today, therefore, some see "feminism" and its perceived meaning as irrelevant or even inappropriate for Myanmar. "Because we value culture more than anything else, many people associate the word 'feminism' with Western culture, thinking that we are bringing it here and practising it. They are scared that they would lose the 'Burmeseness' in them if they use the word," said Ma Nandar, translator of feminist literature and co-director of The Vagina Monologues in Yangon.
In a similar linguistic vein, some feminists have highlighted the apparent ambiguity surrounding the use of the word "vagina" in Burmese. Writing in the Myanmar Times in 2015, journalist Ms Fiona MacGregor claimed that there was no sufficiently polite and precise term for "vagina" in Burmese, the language that most citizens speak. MacGregor argued that this lacuna presented as much of a challenge for health workers and lawyers as it did for women and women's rights activists.
While the claim that there is no proper word for "vagina" in Burmese has been contested, the outrage expressed by some on Facebook in response to the use of "pipi" for "vagina" in the Burmese event title of The Vagina Monologues indicates that it remains a sensitive topic. The posters that advertised the play symbolically covered the area of the vagina on an image of a woman's body with such objects as samosas, orchids or fruit, depicting something that is equally present in people's daily lives yet largely absent from public conversation.
It seemed that while some may support feminist agendas while rejecting the label of "feminism", half of the country's population may have a vagina while hardly ever talking openly about it. Until now.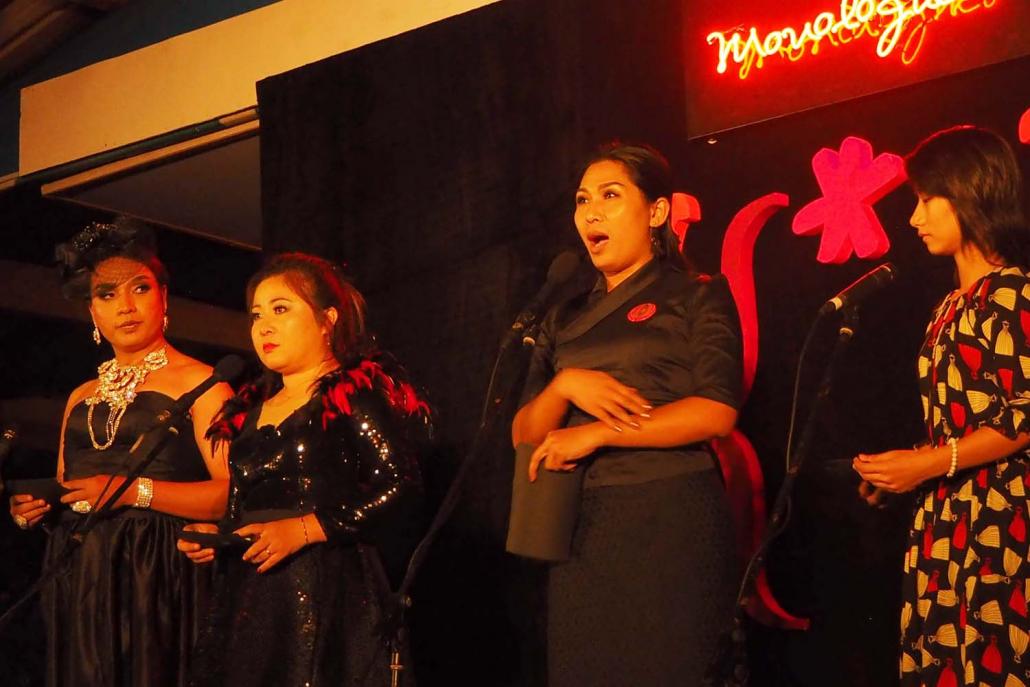 More than words
The evening after I saw the English version of The Vagina Monologues, I was back at the French Institute to see 12 of the monologues performed by Myanmar women in Burmese, an innovation of this year's organising committee. The largely Myanmar crowd was buzzing, and men and women alike seemed genuinely curious about what they were about to experience.
Among them was Ma Ohnmar Khan, who has lived in Germany since 2015 and was eager to see how women were responding to change in her native Yangon. "The fact that they're translating a play about 'vagina' into Burmese is so shocking to me!" she said. "I am very curious to see how this play will be performed and received in our culture."
I was curious as well. A study from 2015 had shown that translating The Vagina Monologues to Chinese had been a challenge for some translators, both technically and ideologically. As such, the translator could be understood as a sort of gatekeeper whose work reveals something about a culture's reception to feminism. For this year's translation to Burmese, an external translator was hired from Amazing Yaya Business Services, an established Yangon-based translation company that claims to be "LGBT-owned with zero tolerance to [sic] discrimination". Should be a good fit, I thought.
However, as Nandar and the group of performers she was directing soon realised, translating feminism required more than a substitution of words – it demanded personality, energy and ownership.
"After the initial translation we changed a lot of things to make it resonate more with Myanmar audiences – the language, the words, and the way we say it. We had to pick the right person to do the right monologue," Nandar told Frontier later over a coffee. "The performers also put their own experience in it. For example, one of them had inserted the name of her ex-boyfriend, who had done a similar thing that the monologue described. She tried to tell her story by feeling the pain of the character in the monologue."
The effect of this move was striking. With sparkling eyes, the performers delivered their respective characters' intimate experiences, the audience cheering, laughing, and shaking heads in disbelief. "Although I understand English, seeing the play in my mother tongue makes all the difference," a young woman told me.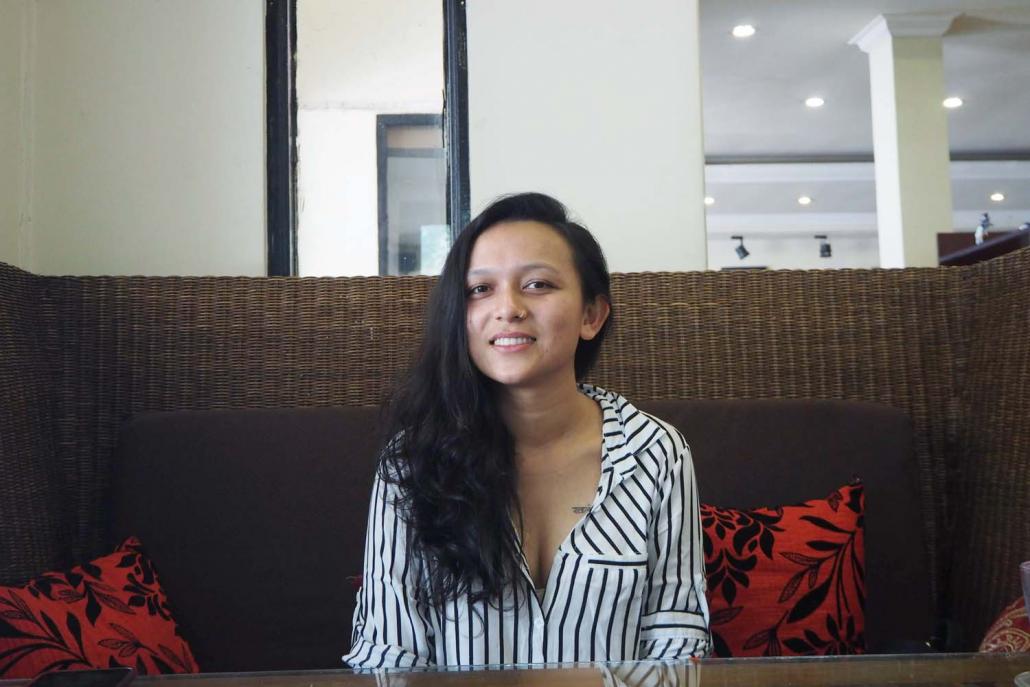 Feminism for everyone?
After the first evening I had been concerned that The Vagina Monologues would not fully resonate in Myanmar's cultural context. On the second evening I was convinced that it did. Nevertheless, it was clear that the audience at the Burmese version was hardly representative of the general Myanmar population, let alone that of Yangon. Some had lived abroad and more members of the audience spoke English than those in the crowd at the bus stop outside the venue. Ohnmar Khan shared my impression. "I wish all types of women and girls, not just those who are educated, would also come," she said.
Yet being educated or able to speak English does not grant any exemption from the challenges of oppression and sexual violence raised by The Vagina Monologues and experienced every day by women in Myanmar. Ohnmar Khan told me that although she had learned more about Western feminism in Germany, the questions at the heart of feminism had always been relevant for her. "Like many others, I come from a family where gender-based violence was part of the picture," she said. As such, The Vagina Monologues provided a space where women with different experiences could express themselves freely and find inspiration in each other's stories without the weight of social expectations on their shoulders.
Although "feminism" and certainly The Vagina Monologues sound Western, to dismiss it and them as "imported ideology" would be inconsistent with Myanmar's own history of democratic struggle, argued Nandar. "Democracy was not in our culture or system initially, but we embraced it and we practice it and we want it," she said.
"Many people died or went to prison for democracy. Why did we carry this Western ideology here? Because we think it's for the betterment of the country. We think that it's bringing the country back to its own power, rather than in the hands of a few," she added. "Feminism is also about that, bringing women to the same level of humanness than men have."
My initial questions of elitism and language had proved insufficient to understand how feminism in Myanmar was adapting and evolving. "Feminism" is a contested concept all over the world – perhaps its meaning in Myanmar will similarly always be in flux. Talking out loud about vaginas, whether they are called "pipi" or something else, will at least get the conversation going.
TOP PHOTO: Performers deliver their lines during the first Burmese language performance of The Vagina Monologues at the French Institute in Yangon on March 8. (AFP)