Forced recruitment in conflict areas is tearing families apart, although ethnic armed groups insist that all their recruits are volunteers.
By KHUN YAM | FRONTIER
THE SCENE at a camp for internally displaced people at Narhee village in southern Shan State's Mawkmai Township in 2017 could only be described as miserable. There were three long buildings next to each other on a north-south axis and the constant rain had left the space between them a mire.
Nang Ku's family had to stay in that camp for more than four months during the wet season in 2017, as did all the other residents of the Pa-O village of Mai Tasay, also in Mawkmai, which is about 200 kilometres by road via Loilem from the state capital, Taunggyi.
The Pa-O villagers were displaced because of a recruitment drive by the Shan State Army-South, the armed wing of the Restoration Council of Shan State, a signatory in 2015 of the Nationwide Ceasefire Agreement.
Nang Ku returned to Mai Tasay village two years ago after the IDPs were allowed to go home. But the homecoming was not a happy one for Nang Ku. She was haunted by the distress of a bitter truth and how much longer she could conceal it from her daughter.
Sometimes her daughter would ask, "Mum, why hasn't father returned home?" and Nang Ku would shed tears while her son looked on sympathetically. Nang Ku would recall the day, nine years ago, when she was separated from her husband, Khun Maung Law. Nang Ku does not remember the exact date when the SSA-S came to their village to recruit men to serve in their army; among those they took away was Maung Law.
There is a Burmese proverb: a wife without her husband is not decent in the eyes of other people.
Nang Ku was pregnant with her daughter and caring for her son, then aged five, when her husband was taken away. Anyone who spoke back to the recruiting teams could get into trouble. Power was in the hands of those who held weapons. Nang Ku had to swallow her wrath and her feelings.
She gave birth to her daughter the year her husband was recruited. When the little girl asked, Nang Ku said her father had gone away to work.
Some of the men recruited by ethnic armed groups never return home because they are killed in action or lost to disease. At least one former resident of Mai Tasay village is believed to have died in action, but Maung Law's fate was unknown for years.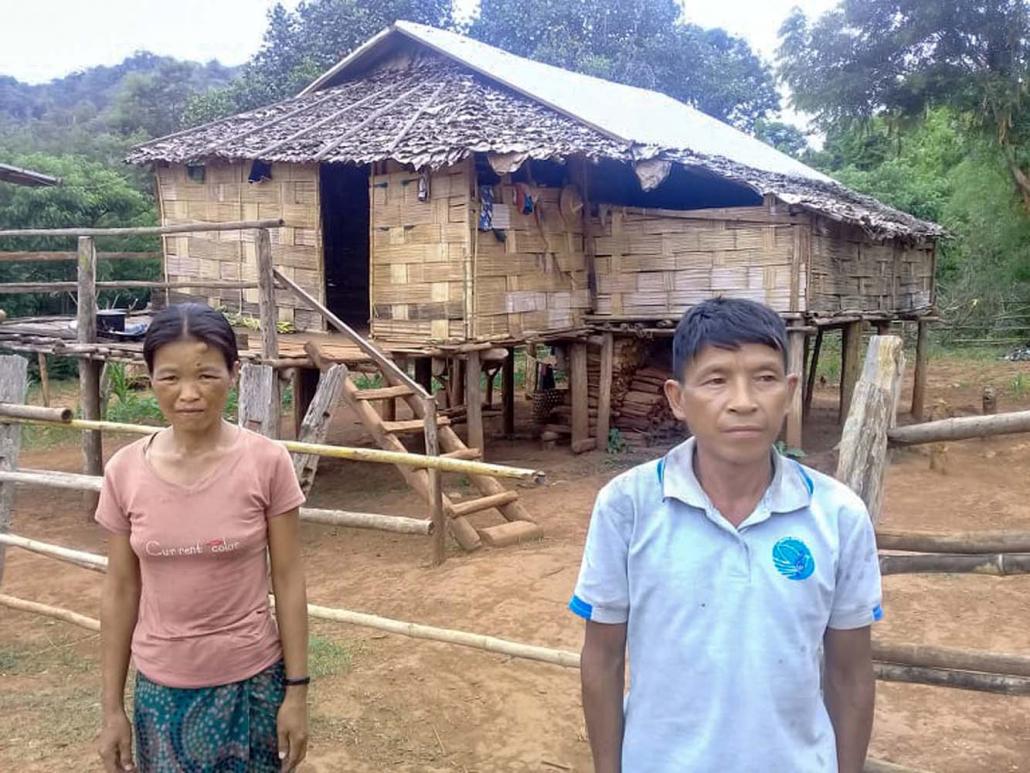 Entire villages displaced
Mai Tasay is on the western edge of Mawkmai, close to where the Pon Creek divides the township from neighbouring Hsi Hseng. Kayah State is not far to the south.
For residents of this corner of southern Shan State, armed conflict has long been a fact of life. The Tatmadaw, SSA-S and Pa-O National Liberation Army, armed wing of the Pa-O National Liberation Organization, are all active in the area.
In May 2017, when the SSA-S began recruiting in the area, the 95 residents from 25 households of Mai Tasay, and the 127 residents from 23 households in nearby Pon Zote village, all fled to Narhee.
Four months later, Nang Ku and her children, along with other displaced residents of Mai Tasay, were able to return to their homes following negotiations between the Tatmadaw and ethnic armed groups at local and state-level meetings of a Joint Ceasefire Monitoring Committee established as part of the peace process. The meetings produced a guarantee that villagers would be neither recruited nor required to pay tribute and paved the way for the return to Mai Tasay.
Unfortunately, the return coincided with the rainy season and the villagers had little to do for four months. Food was in short supply and they initially relied on supplies of rice and cooking oil that had been donated by well-wishers to the IDP camp at Narhee village. When the food supplies began running out, the villagers foraged in the forest for medicinal plants to sell and were able to make a living, said Khun Htee, the administrator of Mai Tasay village.
After they returned home, Nang Ku's son did what he could to support his mother. He worked beside her to cultivate their land and also took work as a day labourer. His desire to help support the family meant that he did not attend school regularly.
Child soldiers
Civilians, including children, continue to be recruited by armed groups in Myanmar, though there has been progress in tackling the recruitment of minors by the Tatmadaw since the government signed a joint action plan with the United Nations in June 2012.
When the joint action plan was signed, the UN named the ethnic armed groups that had been recruiting children as the Democratic Karen Buddhist Army, Kachin Independence Army, Karen National Liberation Army, Karen National Liberation Army-Peace Council, Karenni Army, SSA-South and United Wa State Army. 
Asked about recruitment, Lieutenant-Colonel Sai Oo from the RCSS public affairs office in the state capital Taunggyi told Frontier that most youth who join the SSA-S do so voluntarily. He declined to say if the RCSS had changed its recruitment practices at all since it signed the NCA in 2015.
The Ta'ang National Liberation Army, armed wing of the Palaung State Liberation Front, denies claims by villagers in its operational area in northern Shan that it practices forced recruitment.
TNLA spokesperson Major Mai Aik Kyaw said it wanted every Ta'ang (Palaung) family with two or more sons aged at least 18 to provide one to serve in the group.
He insisted that the recruitment of men and women was voluntary and that there was no punishment "if they don't want to join our organisation".
Mai Aik Kyaw said most of the women served as medics after undergoing training. "If a women is serving in the TNLA, her brother does not need to join our organisation," he told Frontier last year when it was investigating reports that six TNLA women medics had been found dead after being captured by the Tatmadaw in Shan State's Namkham Township.
The violation of children's rights in conflict areas in Myanmar was deeply concerning, Ms Virginia Gamba, the UN special representative for children and armed conflict, said in Yangon during a visit to Myanmar in May 2018.
"Not only the Tatmadaw but also ethnic armed groups have used child soldiers according to information about which I'm deeply worried," said Gamba, who urged action to address the situation.
A Tatmadaw representative told a workshop on forced labour in Nay Pyi Taw in January that more than 1,700 child soldiers had so far been reunited with their parents since 2007, when negotiations began that led to the 2012 joint action plan.
Colonel Tun Tun Win also said that the Tatmadaw had taken action against 379 personnel, including 65 officers, over the recruitment of child soldiers between 2007 and 2018.
In an updated statement released on March 31, the Tatmadaw said 96 officers and 352 other ranks had been disciplined over the recruitment of minors.
Gamba said the Tatmadaw should be doing more to address the issue.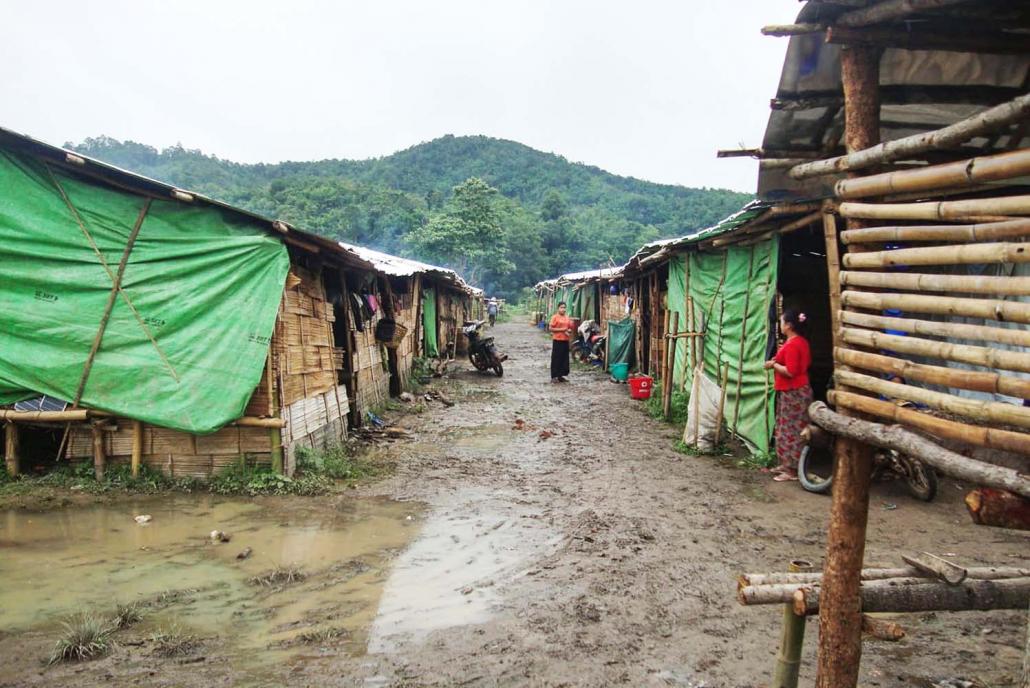 A family reunited
For years, Nang Ku cried alone because she missed her husband. The grief prematurely aged the 39-year-old, who cannot read or write. There were times, particularly when her children were misbehaving, that the stress of being a single parent was too much for Nang Ku and she would beat them. When that happened her daughter would say, through tears, "I want to live with my dad. I don't want to live with you. When my father comes back, I won't live with you."
Nang Ku no longer cries alone and her children are happy because Maung Law returned home on February 12 of this year.
Maung Law, 51, does not like to talk about his time in the SSA-S. "I just pray that such a thing never happens to me again; I don't want to fight anymore," he told Frontier last month. He did not learn until he returned home that the inhabitants of Mai Tasay had to flee in 2017.
Maung Law said that when he was recruited, the SSA-S wanted two recruits from the village but he was the only one available.
"The RCSS asked for two, but the village could give only one and that was me. I did it for the village, not because I wanted to," he said.
Maung Law said that during his nine years with the SSA-S, he fought in at least 10 battles and travelled as far as Mong Nai, about 170km east of Taunggyi.
"Sometimes I did not know whom I was fighting against. When I was told to shoot, I fired. I did not know if it was against the Tatmadaw or the TNLA. Sometimes we didn't know clearly," he recalled.
During his time with SSA-S, Maung Law was paid a monthly salary of THB400, or about K19,000 at current exchange rates. His years of hardship with the SSA-S have taken a toll on his body and he finds it hard to do manual work.
"I'm in trouble and my house is in a ramshackle condition," he said. "I tried to grow sesame but it failed; I don't know what to do for a living. If possible, I would like some help to rebuild the poor life of my family."
Maung Law's homecoming has enabled his son to return to school. There is only one primary school for the villages of Mai Tasay and Pon Zote and it has only one teacher who was absent for extended periods because of the security situation in the area.
Maung Law and Nang Ku have modest hopes for their son and daughter. Their own simple wish is to live in peace and cultivate their land for a living.
"I hate nobody; I blame nobody," said Nang Ku. "I do not want others to experience what we have experienced; I don't want to see the people suffer anymore."
TOP PHOTO: Steve Tickner | Frontier