In the second episode in Frontier's election talk show series, party leaders discuss federalism, the country's transition and how key reforms can be pursued even before constitutional change is achieved.
By FRONTIER
Candidates from three leading political parties have discussed the country's most pressing political and development issues in the second episode of Election & Our Future, a talk show series that aims to create a platform for political parties and their candidates to connect with voters.
The second episode featured U Ko Ko Gyi from the People's Party, Nai Tala Nyi, a candidate from the Mon Unity Party and U Maw Htun Aung, a candidate for the Shan Nationalities League for Democracy. They were joined by U Kyaw Min Swe, executive director of the Myanmar Journalism Institute, and Daw Khin Win Kyi, the manager of urban WASH at WaterAid Myanmar.
88 Generation activist Ko Ko Gyi began by discussing the need to better understand the views of ethnic minorities in order to resolve Myanmar's biggest political issues. Improving relations between Nay Pyi Taw and minorities would require real progress towards federalism, but he said constitutional change through either parliament or the peace process remained a long way off. "We expected the National League for Democracy would unite all revolutionary forces but it didn't happen," he said. "After the election, people of all different groups and parties must unite. This is the first most important thing for the country."
He said the emergence of new political forces like the People's Party was a positive for democracy in Myanmar. "Newly formed parties, no matter how many candidates they field in the election, can help to [act as a check and balance] on the government and as a result democracy can get stronger."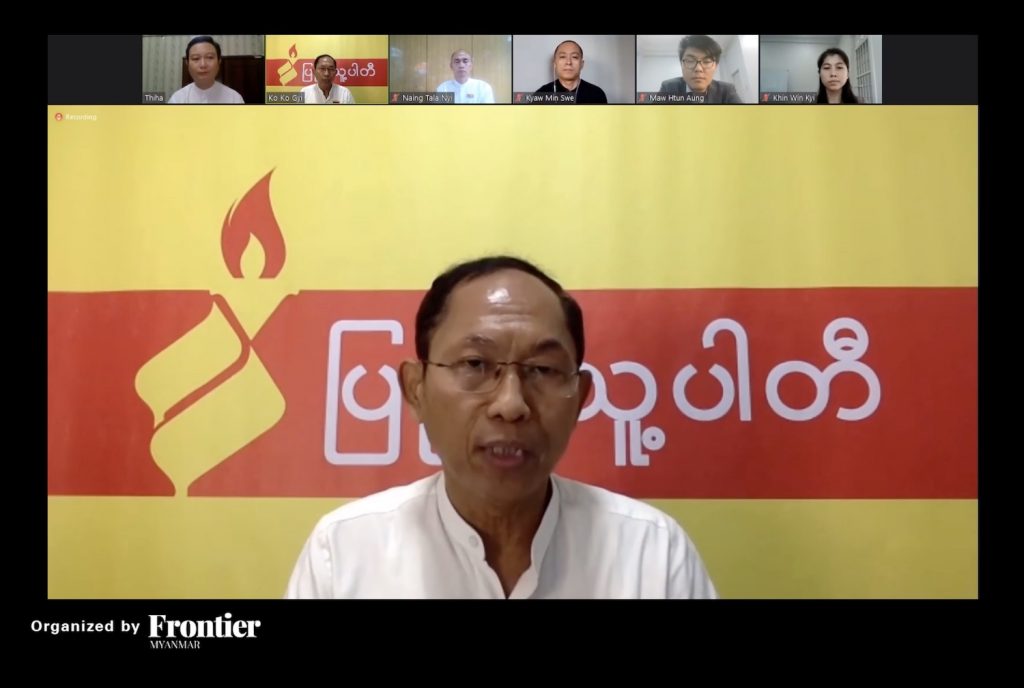 Maw Htun Aung said his experience in the non-government sector had taught him that while the constitution was a barrier, it was still possible to bring about real change through reform of laws and policies.
"Especially when working with the government, we have encountered bottlenecks. Sometimes it is due to government policy, rules and regulations rather than … restrictions in the 2008 Constitution," said the former country manager of the Natural Resource Governance Institute's Myanmar office.
As a lawmaker, he said he believed he could strengthen the peace process, undertake democratic reforms and pave the way to federalism. "If we can show that moves towards federalism are being undertaken in the hluttaw within the current constitutional framework, it will support the peace process," he said.
One of the big changes for this year's election is the consolidation of ethnic-based parties, and Tala Nyi of the MUP – which formed through a merger in 2019 – said he was confident of success on November 8 because government policies had "aroused our ethnic nationalism". "We have experienced two democratically elected governments now and from that we have come to believe that we can take part in politics only if Mon parties win seats," he said. "So we believe most Mon people will support our party."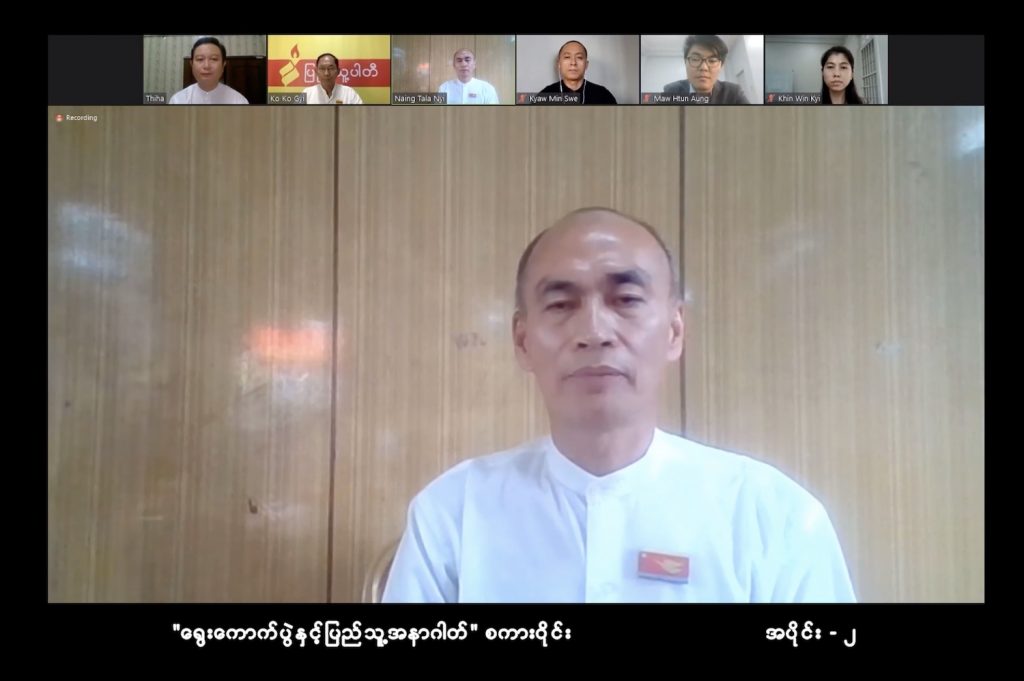 Often referred to as the fourth estate, the media is considered to have an essential role in a vibrant democracy. But Kyaw Min Swe warned that the survival of private media in Myanmar was in doubt due to economic and political challenges.
"The government said that they are transitioning to democracy but they have not liberalized to meet democratic standards," he said. "The Ministry of Information has not relaxed the role of state media … we even see that they are strengthening the role of state media. This is an indirect threat to the survival of private media. And journalists are finding it harder and harder to contact news sources from the government and parliament."
Khin Win Kyi from WaterAid Myanmar said there were sometimes challenges working with the authorities for a range of reasons, particularly lack of capacity, budget and coordination. "But there are also many successes from cooperation with the government," she said.
One of the areas WaterAid is focusing on is supporting access to WASH facilities in informal communities, as they often receive little state support. "Government support doesn't reach these areas … but we have some difficulties to help them because the needs are so great," she said.
Each week the talk show features representatives from a range of political parties, including ethnic-based parties, who will discuss the challenges that many citizens are experiencing in their daily lives, and which areas the parties will prioritise if their candidates are elected. The talk shows, which are supported by WaterAid Myanmar, an international NGO that focuses on improving water, sanitation and hygiene (WASH), also feature development sector and civil society leaders.
As well as the top political issues, the shows will highlight the current situation of WASH in Myanmar, where 9.6 million people are still living without clean water and 19.2 million people don't have access to decent toilets. WASH-related issues vary from region to region in Myanmar, and this talk show aims to raise the awareness about the challenges around improved drinking water supply, access to improved sanitation and education on hygiene practices.
The panel for the third episode will feature representatives from the Chin National League for Democracy and the Democratic Party for a New Society, together with Daw Thinzar Shunlei Yi, an award-winning youth advocate and activist, and Dr Min Ko Ko, project manager for WASH and health at WaterAid Myanmar.
The first episode featured Daw Thet Thet Khine of the People's Pioneer Party, U Jan Hkung of the Kachin State People's Party and U Stephen Tun Tun from the Kayah State Democratic Party, as well as U Alex Aung Khant, executive director of Urbanize, and Dr Than Htut, a senior adviser for WASH and health at WaterAid Myanmar. All episodes are moderated by U Thiha, a trainer at Yangon Journalism School.