Timber traders say Myanma Timber Enterprise is giving their industry a bad name and want it replaced with an independent agency tasked with ensuring compliance with international export standards.
By SU MYAT MON | FRONTIER
THE TIMBER industry has called for an independent monitoring body to replace state-owned Myanma Timber Enterprise, which has been accused of hurting exports by failing to comply with international standards for transparency and accountability.
An independent third party body was needed to assure foreign buyers that Myanmar was complying with international timber industry standards, said U Barber Cho, secretary of the Myanmar Forest Certification Committee.
"If there was a third party in the Myanmar timber trade it would improve its image and help to achieve better [export] market access," he said.
The problems facing the industry include the difficulty of monitoring supply chains to ensure compliance with international standards, Barber Cho told Frontier.
The Myanmar Forest Certification Committee was formed in 2013 and comprises 18 members from the sector, including businesspeople and forestry experts.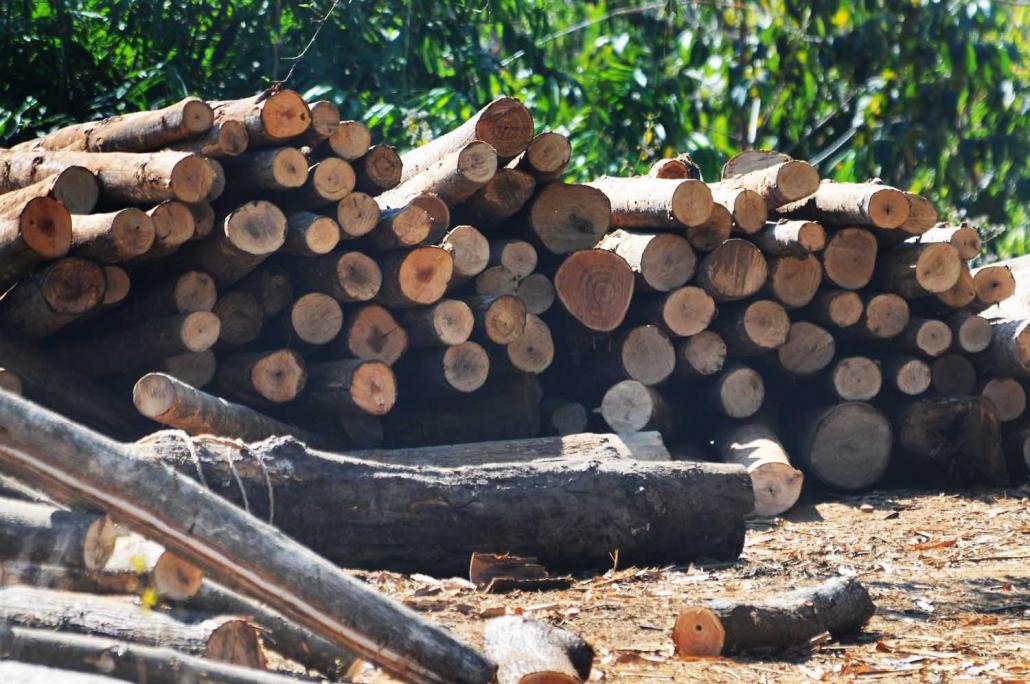 It issues guidelines on where and how much timber should be extracted but has no authority to monitor actual logging.
"That is why a third party was needed. If there's a third party we can work together with them," Barber Cho said.
MTE deputy general manager U Aye Cho Thaung declined to comment on the "third party" proposal but told Frontier that MTE was fulfilling its duty to monitor timber extraction.
"MTE is issuing the documentation to prove that exported timber is legal," he said. "If somebody contacts us, we always help. When we look at the logs, we can know where the logs came from, when it was extracted and so on. But nobody contacts us."
In 2016, the government introduced a one-year ban on logging nationwide, and a 10-year prohibition on extraction in the Bago mountains.
Aye Cho Thaung said MTE was preparing to resume logging in the 2017-18 financial year and was introducing a computerised system to more easily trace timber.
"In the past, all the data was on sheets of papers. We are going to use computers to record and trace timber so that our Yangon office can easily get data on any log just by clicking on a computer."
The Sweden case
Inadequate compliance was highlighted last November in a precedent-setting ruling by a Swedish court involving a shipment of Myanmar teak.
In a decision hailed by conservation groups, the Swedish administrative court upheld a ruling that a trading company imported the teak in violation of the European Union Timber Regulation, enacted in 2013.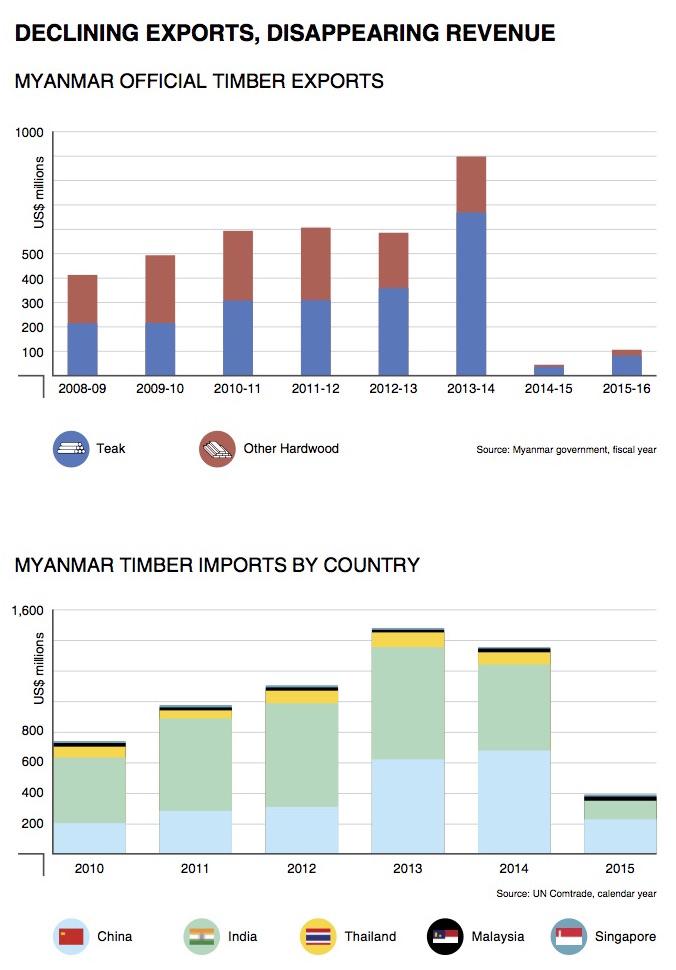 The EUTR bans the sale of illegal or high-risk wood in EU markets and requires importers to undertake the due diligence necessary to ensure their risk of importing illegally logged timber is negligible.
The court's ruling came after the Swedish Forest Agency found that the trading company could not demonstrate who harvested the teak or where it was felled before it bought the timber from MTE.
The court confirmed an earlier ruling that documents supplied by MTE failed to provide information about the timber's origin, the logging company that harvested it and whether it had complied with Myanmar forestry laws.
The court banned the company from selling Myanmar teak in the EU until it can comply with EUTR due diligence rules.
Among the groups that welcomed the ruling was London-based watchdog, the Environmental Investigation Agency.
"The ruling means that no Burmese teak can be legally placed on the EU market until the [MTE] addresses illegality and transparency within the supply chain," Mr Peter Cooper, EIA's forest campaigner, said at the time.
In a briefing paper it had released the previous month called Overdue Diligence, EIA said it was impossible to mitigate risk involving Myanmar teak because the MTE had so far been unwilling or unable to provide information required under the EUTR.
In a response to the ruling, the MTE issued a statement saying it has "clear instructions/procedures for the traceability of [the] timber supply chain", but added that a more reliable, data-based system would be developed.
Aye Cho Thaung from MTE said that it had not been contacted about the case.
"If they contact us and give some data – like who is the buyer and where it has come from – we can try to trace that teak," he said. "I heard that it's a Singaporean company. We also don't know if that teak has been exported legally from Myanmar or illegally across the border."
Private sector push
The MTE, under the Ministry of Natural Resources and Environmental Conservation, has a monopoly on the harvesting and sale of timber to traders and exporters, but relies heavily on subcontractors.
MTE is not required to make public information about extracted timber volumes, subcontractors or revenues, the Myanmar Times reported in December.
Barber Cho said regulations governing the international timber trade require governments and the private sector to work with a third party, but existing regulations were a barrier to the creation of a third party monitoring organisation in Myanmar.
However, he questioned whether the government was aware of the importance of establishing an independent agency.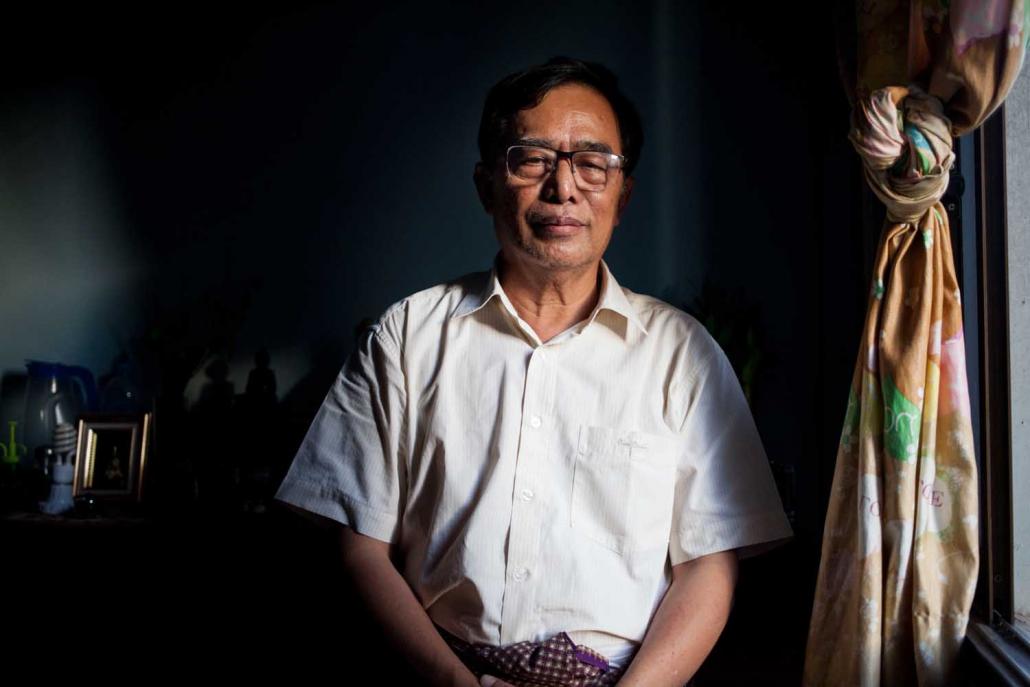 The need for such a body was discussed at a meeting in Yangon on February 20 between the Global Timber Forum, European Timber Trade Federation, International Wood Products Association, the Myanmar Forest Products Merchants Federation and timber exporters.
Participants were unanimous on the importance of a third party monitoring organisation and agreed to jointly lobby the government for the creation of a third party.
"The government should assist merchants who are trying to work according to international regulations by forming the 'third party'. If the government helps us, it will benefit everyone in the long run," said U Sein Win, president of Myanmar Forest Products Merchants Federation.
On February 25, the MFPMF was reported as telling a news conference that Myanmar was also trying to join the Voluntary Partnership Agreement for the EU's Forest Law Enforcement, Governance and Trade action plan, established in 2003.
The FLEGT plan's objective is to reduce illegal logging by strengthening sustainable and legal forest management, improving governance and promoting trade in legally produced timber.
U Thein Che, managing director of Myanmar Technologies Industries Company, said that the Ministry of Natural Resources and Environmental Conservation would play an important role in the formation of the third party.
"Only if the ministry supports it then the situation will be okay when dealing with other countries," he said.
Disappearing forests
Forest management is an important issue in Myanmar because of the rate at which the country's forests are being destroyed.
A United Nations Food and Agriculture Organization report in 2015 said Myanmar had the world's third highest annual deforestation rate, after Brazil and Indonesia.
The report said that in the five years to 2015, Myanmar's average annual loss of forest cover was more than 546,000 hectares (1.3 million acres), about the same size of Brunei.
The previous year, the EIA said in a report that an analysis of Myanmar's forestry and trade figures revealed a US$6 billion "black hole" in illegal logging and timber exports.
The report, Data corruption – Exposing the true scale of logging in Myanmar, said the "black hole" was an indication of widespread criminality and official corruption in the industry.
The huge scale of some illegal logging operations was revealed in January 2015 when 155 Chinese nationals were arrested at camp in Kachin State near the border with China. The raid on the camp also resulted in the seizure of 1,600 logs and more than 400 logging trucks and other equipment, state-run media reported.
A court in Myitkyina angered Beijing when it sentenced 153 of the Chinese to life imprisonment and two others to lesser terms in July 2015. They were among 7,000 prisoners released in a presidential pardon about a week later in what the government said was "a goodwill gesture".
In a November 2015 report, the United Nations Office on Drugs and Crime quoted Eleven Media as reporting that 700 Forestry Department officials were facing disciplinary action over timber smuggling, which was increasing because of corrupt officials.
"There is a strong need to protect the country's natural resources for future generations," said the UNODC report, Criminal justice response to wildlife and forest crime in Myanmar, which called for confronting illegal logging and the illicit timber trade to be given high priority.
"Improving criminal justice responses to the illegal exploitation and trade in timber and wildlife will remain an important challenge for Myanmar," the UNODC said.
"The protection of individual protected species (such as rosewood, teak, tigers, pangolins, and others), which are in short supply or are endangered, and for which there is an external demand, must be tackled in a more sophisticated way," it said.
"The Myanmar government must deploy criminal justice resources, and prioritise their use, if they are serious about combating crimes in the forest sector."