Myanmar's only female photo collective fosters a sense of community and challenges stereotypes about photography.
By VICTORIA MILKO | FRONTIER
IN A crowded gallery in downtown Yangon, four photographers from Myanmar and Bangladesh sat at the front of the room, answering questions about the challenges they face in their professional and personal lives.
Something they had in common was agreement that being a woman impacted the way they are treated and perceived by society.
"Because we have women's bodies, we are treated differently, by both men and women," one of the photographers said. "This is why we have to have each other."
The discussion occurred during one of the latest events held by Myanmar's only all-female photo collective, the "Thuma Collective", which has been working to develop and support a community of women photographers in Yangon and beyond.
The collective – thuma means "she" in Burmese – had humble beginnings, starting as a series of informal meetings for woman photographers in Yangon, said co-founder Ma Yu Yu Myint Than.
"We have some challenges that we face as women photographers, such as harassment and discrimination," she told Frontier. "So only from woman to woman can we really share and understand the situations that we face."
After several meetings attended by a core of supporters, Yu Yu Myint Than and another photographer, Ma Shwe Wutt Hmon, decided they wanted to create a formal group.
"It's a big responsibility to launch and be part of a group like this, so we started a three-month pilot project," said Yu Yu Myint Than, as Shwe Wutt Hmon nodded in agreement. "Within three months everybody who wanted to join had to photograph a mini-story. And after that if they were sure that they really wanted to do it, then they were in."
On October 13, 2017, after months of meetings and planning and taking lots of photographs, the collective made its debut at Myanmar Deitta, a not-for-profit civil society organisation and gallery space that provides support and resources for documentary photography, filmmaking and multimedia production. The work of the collective's members was exhibited at the debut event, at which photographic prints were also available for sale.
In 2018, the collective sold a limited edition handmade book featuring the work of members, something that Yu Yu Myint Than regards as a major accomplishment.
"The book is timeless. We launched it last year, but now that it exists maybe it can travel the world until we are like 50 or 60 years old," she said. "It's kind of a big moment in history for Myanmar photography."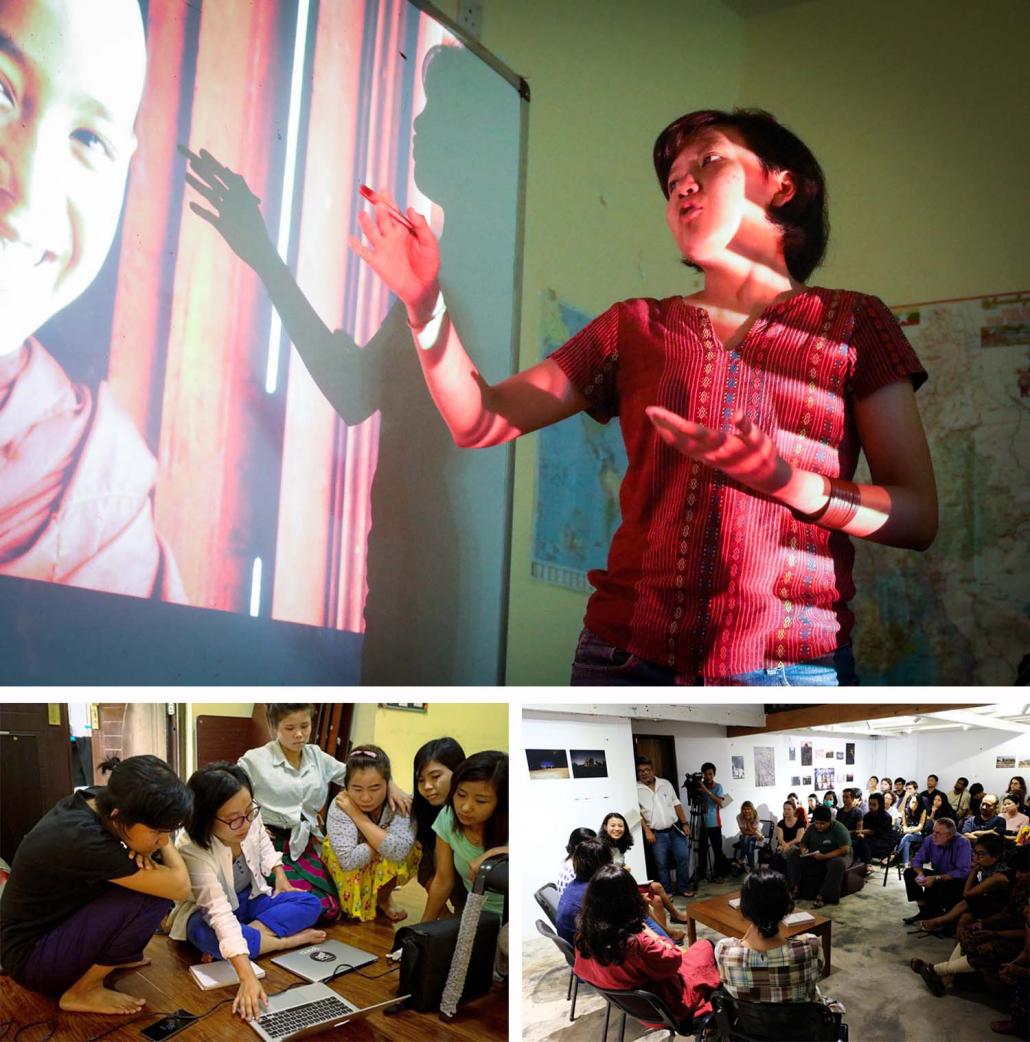 Challenging stereotypes
Supporting women in photography is not the only goal of the Thuma Collective, said Yu Yu Myint Than. She wants to help diversify photographic styles in Myanmar as well.
"When people think of Myanmar, they only expect images like poverty, the struggle of the Myanmar and the news photography," she said. "Our work is the kind of [material] that they never see; personal stories, and work from women's perspective."
Her observation is supported by the 2017 report, Gender in Myanmar News, by the Myanmar Womens Journalist Society, and Denmark-based International Media Support and Sweden-based Fojo Institute, which often work together in Myanmar.
"In general, images of men and women adhere to the gender stereotypes," the report said. "Women are twice as likely to appear like victims, are less likely to appear active and more likely to appear passive," it said. "And men are three times as likely as women to have their name mentioned in the bi-line, which attributes visibility and importance to those men while doing the opposite for women."
Such a situation is not unique to Myanmar. In 2016, World Press Photo and the Reuters Institute for the Study of Journalism published the startling statistic that only 15 percent of news photographers are women.
In response, organisations such as Women Photograph, which runs an international platform to promote female and non-binary photographers, have formed with the goal to "elevate the voices of women visual journalists". Women Photograph maintains an online directory of female and non-binary members that editors and clients can easily search to find people throughout the world for photography assignments.
"Photojournalists are responsible for how we see the rest of the world; it's how we access imagery of people we may never meet and places we may never visit," said Women Photograph founder Ms Daniella Zalcman in an interview with photography platform 500px. "If we want to document those people and places with nuance and sensitivity, we need to be doing it as a diverse community of storytellers."
Thuma Collective has developed camaraderie with other groups in the region, such as the Kaali Collective, a women's photography group in the Bangladesh capital, Dhaka.
The recent partnership between the two groups resulted in the "Bridging the Naf" exhibit at Myanmar Deitta, as well as photography zines that showcased issues of identity, international politics, and social acceptance through the artists' photography.
In the short time since it was established, Thuma Collective has most likely had an impact on women photographers in Myanmar, said Myanmar Deitta founder, Mr Matt Grace.
"I think they probably inspired a lot of young women that maybe thought about photography, but only would ever think of it as a very, very part-time or amateur or hobbyists sort of pursuit," Grace said, adding that the collective had helped women to realise that they can produce work, have exhibitions and be exhibited internationally. "You don't have to shoot straight-up photojournalism, you don't have to shoot conflict, you don't have to shoot very literal, politically motivated photography," he added.
The Thuma Collective is planning to host a second anniversary exhibtion to showcase members' work from the past year.
The group is also admitting new members, said Shwe Wutt Hmon.
"It'd be great to have new members, but it can be a large commitment," she said. "But I have the belief that in a few years our members will be an established part of Myanmar's photography scene."
To see more of Thuma Collective's work you can follow them on Instagram @thuma_collective or on Facebook.
TOP PHOTO: Members of Kaali Collective from Bangladesh (first and second left) and Thuma Collective (centre and second right) participate in a conversation about challenges facing women in photography at Myanmar Deitta in Yangon. (Victoria Milko | Frontier)