By SU MYAT MON | FRONTIER
YANGON – About 20,000 people on Tuesday attended an interfaith prayer for peace at Yangon's Aung San Stadium organised by the National League for Democracy.
Held in response to the crisis in Rakhine State, the event saw participants pray for all people across Myanmar to be prosperous and peaceful.
But it was also an opportunity to show support for a government that has been under intense international pressure over its handling of the conflict in Rakhine State, which has seen more than 500,000 Muslims cross the border into Bangladesh since August 25.
Attendees wore t-shirts with messages of support for the government, such as "We Stand With Daw Aung San Suu Kyi", and some held large portraits of the state counsellor.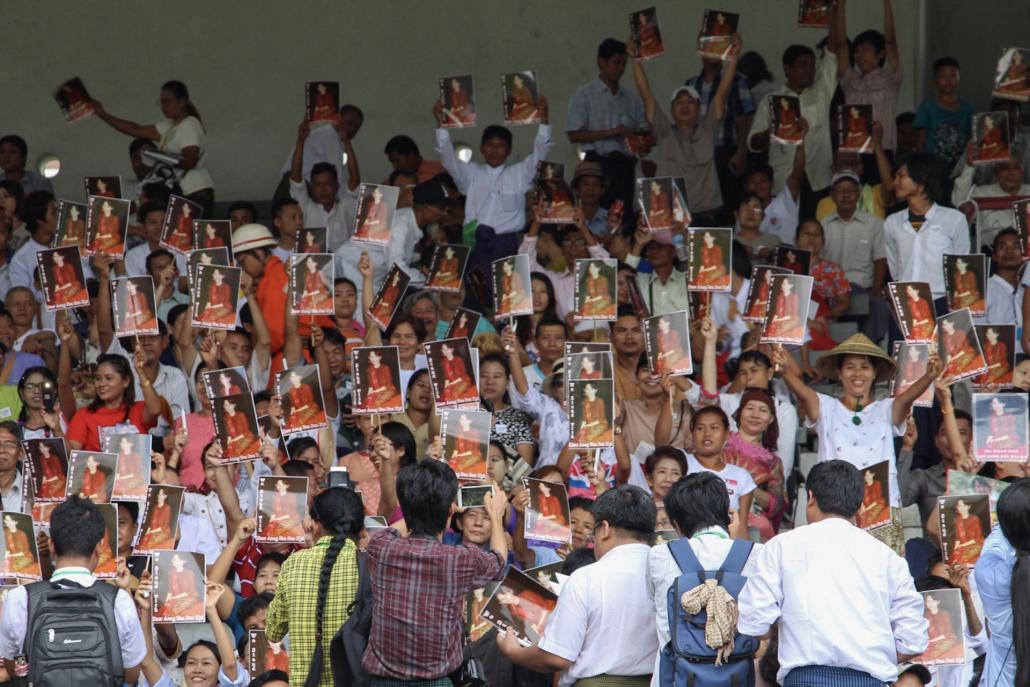 Many people told Frontier that they attended to show the "real situation" in Myanmar – that there was unity between its peoples, regardless of race and religion.
Daw Khin Ngwe Than, a Muslim from Bahan Township, said she hoped the event would correct common misconceptions about Myanmar.
"Myanmar is not like people outside the country seem to think," she said. "So I came here to reveal that we are living together peacefully with different religions in same community."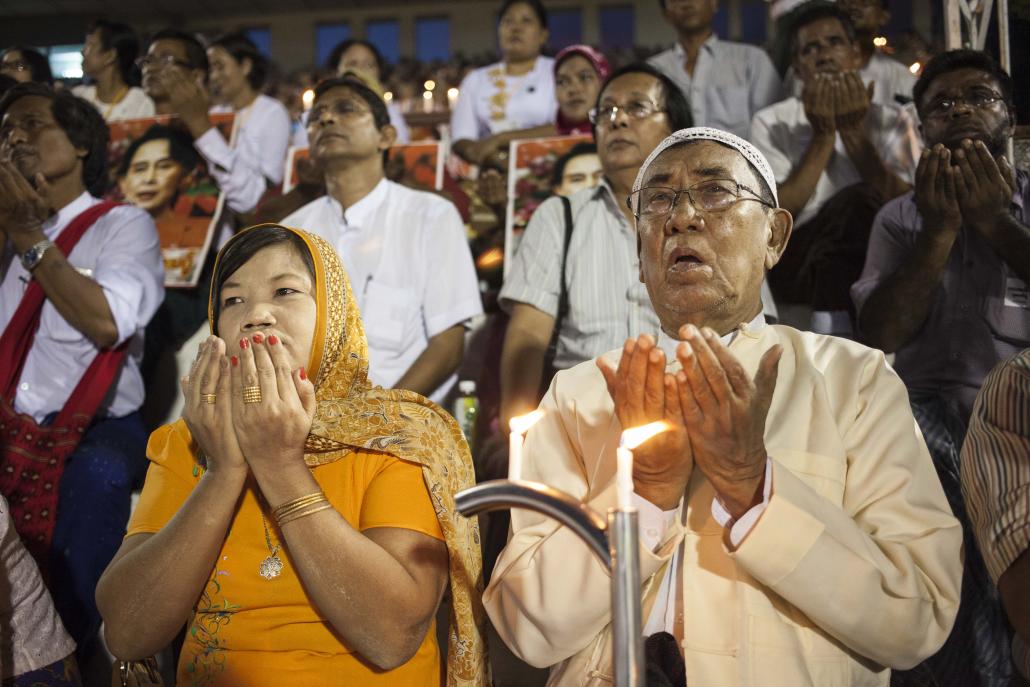 Yangon Region Chief Minister U Phyo Min Thein officially opened the ceremony by lighting a candle, after which many in the crowd did the same.
Several local religious leaders, as well as a guest religious leader from South Korea, took part in the ceremony, with their speeches all drawing loud applause.
The highlight was Cardinal Charles Maung Bo's address, which focused on the country's political situation. He said Myanmar was a country undergoing a historic transition and Aung San Suu Kyi was the only person leading the country towards a democracy in which everyone has equal rights.
On Rakhine State, he said the world was watching closely, pointing fingers at Myanmar and telling it what to do. At this moment, he said, the country needs to be united. "We want the world to know that we have the morals and ability to manage our own problems," he said.
He said that Aung San Suu Kyi had never sought international accolades and they could all be taken away. "But what they cannot take from Daw Aung San Suu Kyi is the love given by the people of Myanmar to her," he said.
While it is important not to ignore international concerns and Myanmar should strive to uphold its image, the world also needs to understand and help the NLD government, he said.
The event was also attended by senior NLD officials, government ministers, foreign ambassadors, and civil society and NGO leaders.