Drug addiction is blighting communities throughout Myanmar, but in one Sagaing Region township a woman bearing a bucket of used syringes has galvanised a fightback.
Words & photos by KYAW LIN HTOON | FRONTIER
On a sunny December day in Kawlin, a prosperous Sagaing Region market town, former heroin user Ko Thein Soe sat at a teashop outside the town's government-run hospital, smoking cigarettes as he waited for his daily dose of methadone.
U Thein Soe, a 39-year-old divorcee, began using heroin in 2003 while working at a jade mine at Hpakant, in neighbouring Kachin State, where drug addiction is rampant. Once a year he would visit Kawlin, his home town, about 280 kilometres by road north of the regional capital, Monywa.
"There were drug dealers and users in Kawlin when I was young, but I wasn't interested in trying [heroin] then," he told Frontier. "When I was working in the jade mines in Kachin State, it made my mind stable and enabled me to focus on my work."
He stopped working in the jade mines in 2018 because the four siblings he had been supporting became financially independent. He returned to live in Kawlin, where he found a job as a backhoe driver and married a lawyer.
Support more independent journalism like this. Sign up to be a Frontier member.
But though he seemed to be settling down into a quiet, stable life, he continued to use the purest form of heroin, known internationally as "Number 4" and resembling white powder.
"After only six months, my wife left me," he said. "She knew I was using the drug, and as a well-educated person she may have also suspected that I had HIV because of the symptoms I exhibited, but at the time I didn't know that I was HIV positive."
HIV is rife among jade mine workers, thanks to the sharing of dirty needles, though Thein Soe said he also had sex with prostitutes in Hpakant.
As well as his daily dose of methadone from Kawlin Township General Hospital, he receives the anti-retroviral therapy tablets he needs to treat his HIV.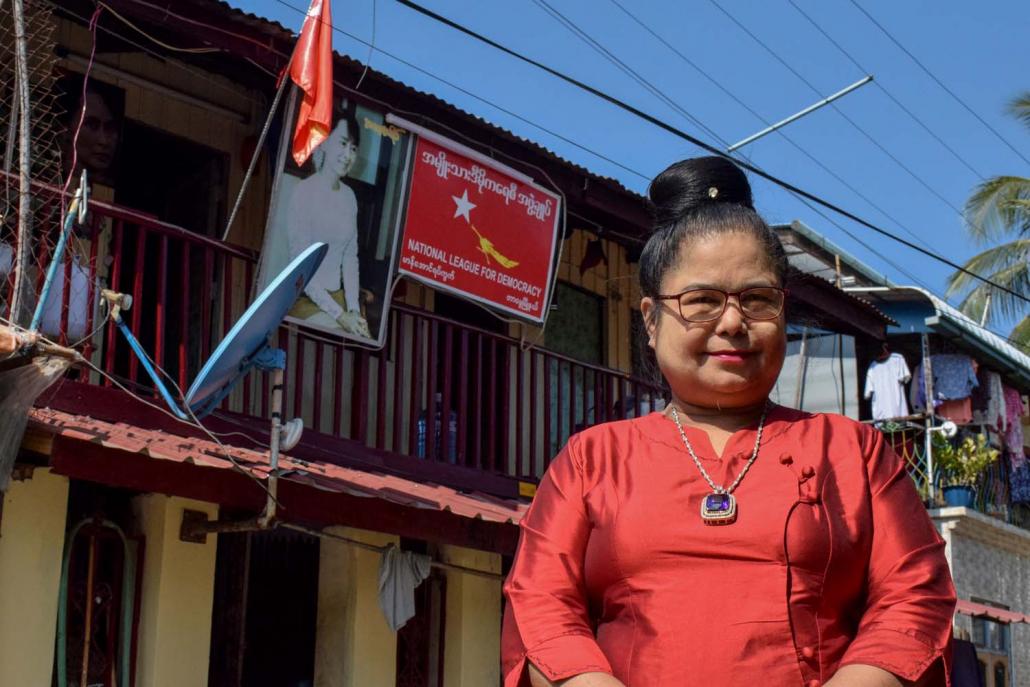 Daw Mi Mi Kyi outside the National League for Democracy office in Yangon's Tarmwe Township, where she fled after receiving death threats in Kawlin. (Kyaw Lin Htoon | Frontier)
A bucket of syringes
Thein Soe is one of many Kawlin residents whose lives have been blighted by addiction, and whose recovery is being helped by government health workers struggling with meagre resources.
Drug addiction in Kawlin became headline news last December after a woman confronted visiting Sagaing Region Chief Minister Dr Myint Naing with a bucket full of discarded syringes while he was addressing a town hall meeting with local officials. The woman, Daw Mi Mi Kyi, 55, also sarcastically suggested during the December 15 meeting that the regional government host a syringe collection festival in Kawlin.
That night, a haystack was set on fire close to Mi Mi Kyi's home in the village of Kyun Hla Khone, in what was regarded as a warning from drug traffickers.
When Frontier visited Kawlin in late December she had left for Yangon after receiving death threats, presumably from traffickers, that were communicated via local intermediaries.
In a later interview at her sister's home in Yangon's Tarmwe Township on December 27, Mi Mi Kyi, who is an executive member of the Kawlin branch of the National League for Democracy, admitted being frightened by the threats.
"Mother Suu has taught that we should not be afraid of doing the right thing and telling the truth," she said, referring to State Counsellor Daw Aung San Suu Kyi, who heads the NLD. "Of course, I am afraid, but I have to speak out because drug abuse has been a problem in my township since I was young."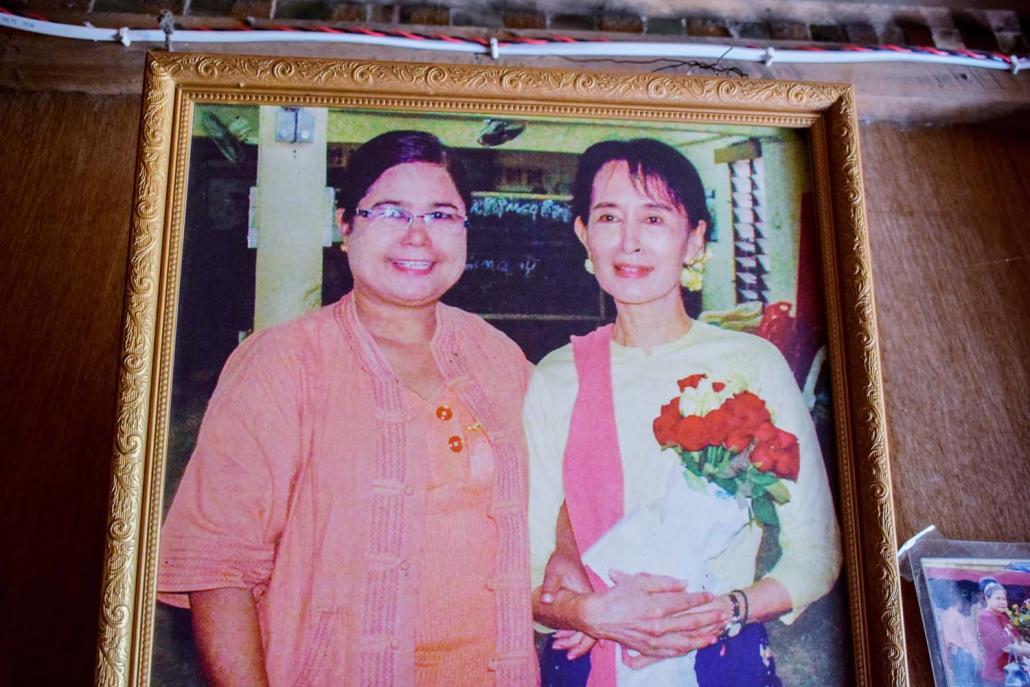 A photo of Daw Mi Mi Kyi in an NLD jacket with party chief Daw Aung San Suu Kyi adorns a wall of Mi Mi Kyi's sister's house in Yangon's Tarmwe Township. (Kyaw Lin Htoon | Frontier)
But Mi Mi Kyi's village in particular has long been associated with heroin trafficking, multiple sources in Kawlin Township told Frontier.
"Kyun Hla Khone is one of the most notorious villages in Kawlin for drug trafficking," said Police Major Aung San Oo, 42, the township's police chief, who was transferred to Kawlin 18 months ago. "But there are some other, bigger villages with more powerful drug gangsters."
He added that police only dared approach these villages when accompanied by "brave and strong" anti-drug volunteers from the community; otherwise they would be outnumbered by the gangsters and their supporters.
Township police have filed nearly 300 drug cases, involving an equal number of arrests, in the past three years, with most being for heroin trafficking. They include 81 cases in 2017, 129 cases in 2018 and 79 cases last year. In Kyun Hla Khone there have been eight cases, involving 13 arrests, over the past two years.
"We go there often in response to tip-offs, but the problem is that the houses of suspected traffickers have double fences," Aung San Oo said, referring to the erection of tall galvanised iron sheets behind the usual bamboo fences that enclose the village houses, making it difficult to gain access to the compound or see what is happening inside.
He added that even if they approach one of these fortified residences with a warrant in hand and demand to be let in, the residents are able to quickly dispose of any heroin they have by dissolving it in water. Regardless, he and other local residents said, drug sellers generally don't keep large amounts of narcotics at home, but store them at secret locations in nearby areas of jungle.
Aung San Oo and other local officials were scolded by the chief minister for their apparent failure to tackle drug trafficking in Kawlin after Mi Mi Kyi interrupted the town hall meeting last December.
"I have set a policy to crack down on drug abuse and I often told you to report complaints about people selling drugs, even if they are your children or relatives. What are you doing? Now, she has confronted me with a bucket of syringes," Myint Naing was quoted as saying by Daily Eleven.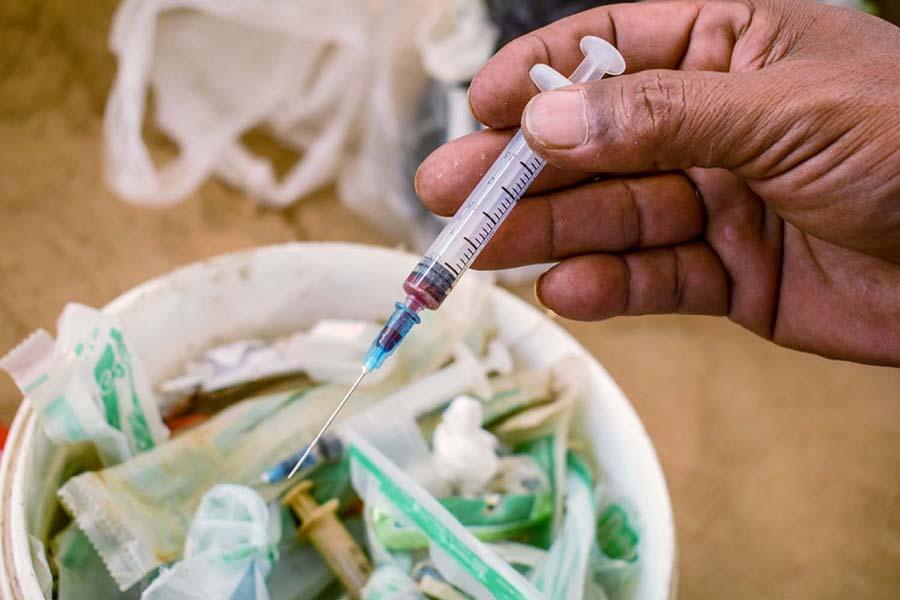 Leader of the Kyun Hla Khone anti-narcotics team U Ba Sein shows Frontier a syringe used to inject heroin, from among a bucket of used needles collected by the team in the village. (Kyaw Lin Htoon | Frontier)
A family business
Two days after the chief minister's December 15 visit, township police arranged a meeting of Kyun Hla Khone residents at which a community-based anti-narcotics team for the village was formed.
Kyun Hla Khone, which is about 1.6 km north of Kawlin, has about 500 residents, but only five volunteered to join the anti-narcotics team at the meeting. Another two people who were not at the meeting, including Mi Mi Kyi, later joined the team.
"Even on that day, as the police officers and a third of the villagers were at the meeting, drugs were being sold from a house in the village," said U Ba Sein, 51, the leader of the newly formed team. "We got that information from a reliable witness, but when police raided the house they were not able to make any arrests because the suspects had disposed of the drugs."
In this environment, Ba Sein fears for his wife and his two daughters, one of whom is disabled.
"Every time I go shopping at the market, I worry about my wife and kids being murdered or raped or robbed at home by drug users," he said. "That's why I want this evil thing to disappear from my village."
Another Kyun Hla Khone resident, Daw Nwe, 63, a mother of four with three daughters living at home, has similar concerns. "We don't dare to go outside after dark," she said.
Kyun Hla Khone means "hill with beautiful teak trees", but Daw Nwe said the drug problem was so bad many locals had started jokingly calling it "Four Hla Khone". "Now, all the teak trees are gone and Number 4 has taken their place," she said.
Anti-narcotics team members say the village only has about 20 resident drug users and that most buyers travel to Kyun Hla Khone from other villages and from Kawlin town. But when Frontier asked team members to point out the houses where drug dealing occurs, they refused to do so. Exploring the village on a motorbike lent by the villagers, Frontier saw more than a dozen houses with the double fences including galvanised iron sheets.
At the edge of the village was a Buddhist monastery where the abbot welcomed Frontier for a chat. He revealed that families profiting from drug trafficking were among the monastery's donors.
"I try to teach them that they must not do such bad deeds, but they don't listen," the abbot said. He added that, although the police had often arrested village residents for selling drugs, "The problem is that if the father is arrested, his wife will continue to sell drugs and if she is arrested, the sons and daughters will continue the business; when they are arrested the parents will have served their sentences and return to selling drugs."
"It's not only immediate family members; they also work with other relatives to sell drugs," he said.
He said the drug scourge would never be stopped if the police continued to focus on arresting village-level dealers, rather than bigger fish trafficking drugs across the region.
U Soe Win, the Yangon-based president of the Myanmar Anti-Narcotics Association, agreed that arresting low-level sellers is ineffective but added that drug trafficking is rooted in far deeper problems facing the country, which police by themselves are unable to solve.
"Successive governments have tried hard to tackle drug issues in Myanmar, but I've realised that we won't achieve anything until armed conflict ends throughout the country," said Soe Win, who is a retired police major-general and former member of the Central Committee for Drug Abuse Control.
"Everybody knows drug trafficking provides the funds that armed groups use to buy their weapons," he told Frontier in an interview close to the MANA office in Yangon's Sanchaung Township in early January.
Myanmar is the second-largest producer of opium in the world, after Afghanistan, but poppy cultivation has declined against a surge in the production of methamphetamines, which take a cheap tablet-form called "yaba" as well as a premium crystal form known as "ice". These drugs are produced in areas controlled by non-state armed groups who are variously allied with or opposed to the government. While they are largely produced for export, cheap yaba and heroin are also sold across Myanmar.
In the absence of a comprehensive peace settlement to decades of conflict, which remains a far-off prospect, Soe Win said MANA was campaigning in towns and villages to raise awareness about the personal and societal costs of narcotics abuse. The association also helps drug users by offering them counselling, advising them on safer ways to inject, and referring them to clinics where they can receive methadone and other forms of treatment.
This approach, premised on public health and respect for the human rights of drug users, is aligned with Myanmar's National Drug Policy but conflicts with the punishment-oriented provisions of the amended Narcotic Drugs and Psychotropic Substances Law. The law and the policy, both of which were promulgated in February 2018, together amount to a muddled government response to drug trafficking and addiction.
A critique written in March 2018 by Mr Renaud Cachia, a researcher for the Netherlands-based Transnational Institute, said, "While the National Drug Control Policy clearly places the focus on public health and development, the amended Drug Law continues to heavily lean on criminal justice and still prescribes extremely harsh prison penalties for both drug users (when caught with small quantities of drugs for their own use) and small-scale subsistence poppy farmers."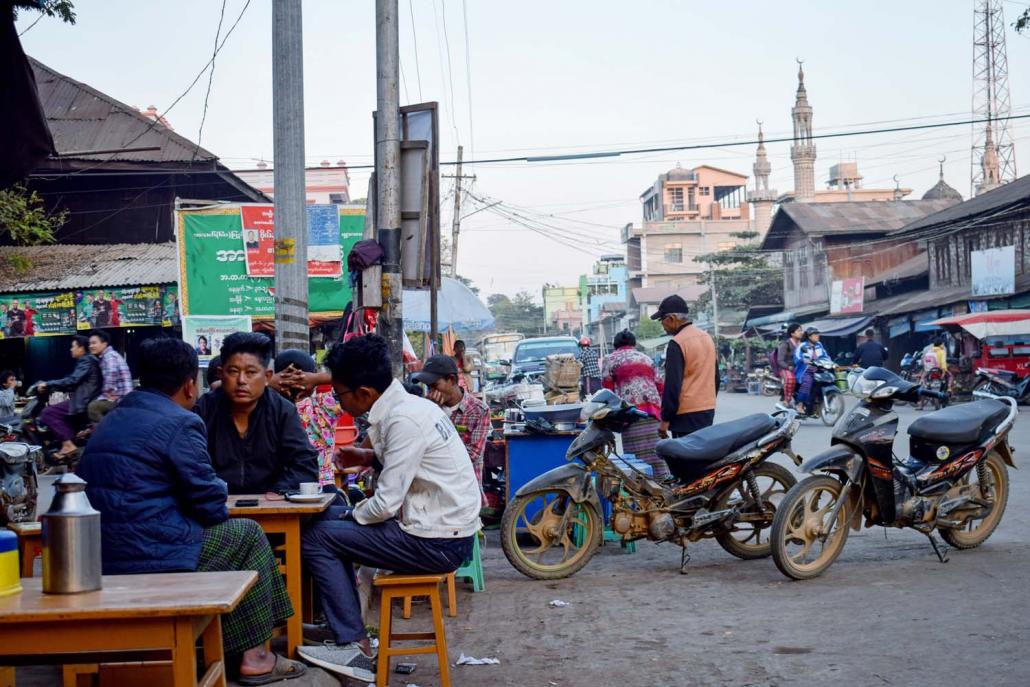 Downtown Kawlin in December. Health workers say the number of people in the town who use drugs is increasing every year. (Kyaw Lin Htoon | Frontier)
Collusion?
When Frontier visited Kyun Hla Khone in late December, Ba Sein was not at home; residents said he was patrolling the village with two police officers.
When Frontier found Ba Sein on patrol, he explained that since the village anti-narcotics team was formed, two policemen had been assigned to patrol the village once a day. "But they don't dare to enter the village without someone from our team; that's why I provide an escort for them," he said.
Since Mi Mi Kyi confronted the chief minister, some villagers have been openly critical of the township police, suspecting that they might be colluding with drug dealers.
Frontier raised this suspicion with Aung San Oo at his home in the compound of the township police station. The police chief denied taking bribes and said he was quite sure that his staff were not taking money from drug dealers. "The figures for the number of arrests and cases filed for drug offences support my denial," he said.
"However, we do not have enough officers to police all 54 wards and village tracts in Kawlin Township," he said, adding that there was only one police officer to every 1,700 residents in the township.
He said he was thankful for Mi Mi Kyi's challenge to the chief minister on December 15 because it had helped him grasp the seriousness of the situation.
However, Pyithu Hluttaw MP U Myo Zaw Aung, who represents Kawlin for the National League for Democracy, said it was possible that police and drug traffickers were colluding. "I have never seen anyone accepting bribes with my own eyes, but I don't believe that the police are free of corruption," he told Frontier.
"The police have been aware of the notorious situation in our area long before it was highlighted by Daw Mi Mi Kyi on December 15," he said. "The police can cite figures about arrests, but they do not satisfy me when I compare their numbers to the reality on the ground."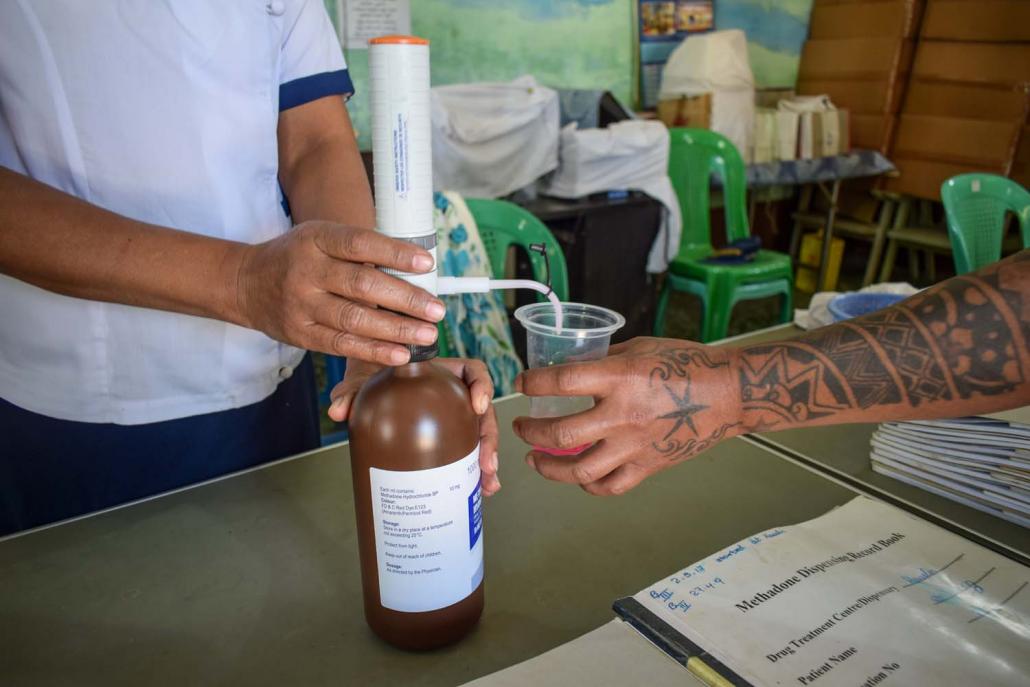 A recovering drug user receives a dose of methadone at Kawlin Township General Hospital. (Kyaw Lin Htoon | Frontier)
Methadone and MANA
Former heroin user Thein Soe is one of more than 200 out-patients who receive treatment at a methadone maintenance therapy centre at the Kawlin Township General Hospital. The centre, which occupies a building in the hospital compound, was originally built to accommodate monks but has been used to provide MMT for six years.
"Of the 202 people, more than 50 have contracted HIV/AIDS. One is a woman and two are aged under 18," said senior nurse Daw Thida Myint.
Thida Myint is assisted by two volunteers provided by MANA but is the only health care professional at the centre. The head of the hospital, Dr Moe Swe, said budgetary constraints meant the government was unable to appoint more professional staff, and left them dependent on the little outside help they receive.
"MANA is helping us, but that's it. There is no other domestic or international non-government organisation in the township that focuses on the drug issue," he told Frontier, though he said the methadone was donated by "Western" countries he was unable to name. "If those donations ended, we would not be able to treat the patients needing methadone from our own budget."
A Frontier investigation last October revealed that low domestic production and strict controls on imports and distribution had created a critical shortage of opiates, including painkillers. Though many hospitals and clinics are turning to the black market to fill the gap Moe Swe said Kawlin hospital had to depend on government supplies.
When Frontier visited, the hospital had run out of stocks of opium tincture, or OT, which is used to help wean in-patients from their dependence on opioids such as heroin, starting with multiple daily doses and steadily decreasing, in a detoxification process that commonly lasts three months. This depletion was linked to both the staffing shortage, which seemed destined to persist, and the strict distribution controls.
The hospital has only two doctors, and Moe Swe's assistant, who is planning to resign as a government service doctor, was on leave. This meant that Moe Swe was unable to travel to Yangon – almost 900km away – to collect more supplies of OT, which can only be released to the head doctor or assistant head doctor of a government hospital. It was unclear how much longer patients at Kawlin would have to wait to begin their detoxification treatment.
In the meantime, Moe Swe said that for drug users trying to overcome their habit, a daily dose of methadone minimised harm not only for the patient, but also for society.
"If they don't have any money and are craving for heroin, they will do anything to get the cash they need to buy the drug," he said. "So using the harm reduction approach, and treating them with methadone, helps to reduce crime in town."
Ma Su Sandar Lin, 25, has been working for MANA in Kawlin for more than six years. She said her experience of treating drug users at the clinic had helped her to shed commonly held prejudices.
"Before I joined MANA, whenever I encountered addicts I was afraid and reacted in an insensitive way," she told Frontier. "Now, as you can see, my behaviour with them has changed a lot."
"The relationship we have with them is similar to that between teachers and students," she said. "Sometimes we gently scold them when they miss their daily dose of methadone or misplace their registration book, but most of the time we treat them with kindness."
Thida Myint, who has decades of experience as a nurse but earns only K230,000 (US$156) a month, said the number of drug addicts in Kawlin had increased every year and the under-resourced clinic was struggling to cope with the challenge.
The best strategy for dealing with drug abuse was prevention, including by raising awareness about the harm caused by addiction, she said. "But, when people become addicted, the best approach is to help them instead of discriminating against them."
"That's all we can do."
TOP PHOTO: Kyaw Lin Htoon | Frontier