The whiff of corruption hangs over a street market in downtown Yangon, where a family-led gang has run a rental racket for years.
By MRATT KYAW THU | FRONTIER
A CAT-AND-MOUSE game between street vendors and municipal officers has been playing out on the streets of downtown Yangon for decades.
Concerted attempts by the Yangon City Development Committee, the city's municipal authority, to move street vendors off main thoroughfares have had patchy success.
In November 2016, Yangon Chief Minister U Phyo Min Thein established a "night market" on Strand Road for relocated street vendors. Located between heavy lanes of traffic, the market has been a flop, and wares continue to be sold on pavements outside permitted hours.
The sight of YCDC officers chasing vendors off footpaths is common in the downtown area. Small groups of uniformed YCDC officers are also regularly seen stationed along busy roads to deter street vendors from setting up their stalls before 3pm, when they are permitted to sell until midnight.
However, there is one street where vendors do not appear to fear the attention of YCDC personnel: Kwet Thit, near Pazundaung market. One side of the street is in Mingalar Taung Nyunt Township and the other is in Pazundaung Township.
The street is 7.6 metres (25 feet) wide and 50 metres (164 feet) long but it is so crammed with vendors and semi-permanent stalls that its width stops at about three metres.
"Most of the stalls are occupied by people from Thaketa [Township]," said Ko Myat Thwin, 30, who owns two ground floor shops in the street.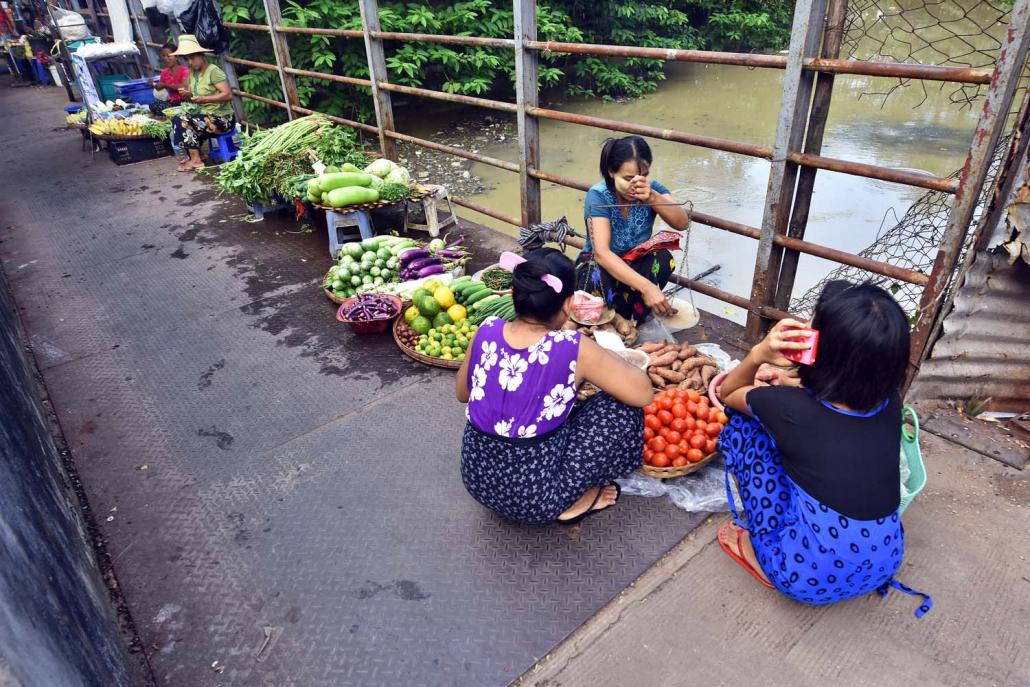 Vendors have been selling flowers, fish, fruit and hardware in the lane for more than 10 years. Before 2015, a gang controlled by a family in Thaketa collected a municipal levy from the vendors. A vendor who asked not to be identified told Frontier that the YCDC had given the gang the "authority" to collect the levy.
"We didn't need to pay the YCDC because they [the gang] dealt with the YCDC. They did whatever they wanted and people dared not complain," the vendor said.
A woman vendor said she had been paying municipal levies to the gang for eight years. "Not to YCDC, only to them," she said.
The gang's activities were curbed in 2015 after a woman, whom gang members had beaten for not handing over money, complained to the Pazundaung township administrator. But the gang still wields power in the street, including by renting out many of the stall spaces.
"I rented a space from them, so I cannot talk about them," said a woman vendor who asked not to be named.
Vendors say the gang rents out spaces measuring six feet by six feet (about 2m by 2m) for K2,000 a day and those 10 feet by six feet (about 3m by 2m) for K5,000 a day.
A man described as a gang member who sells fruit in the street declined to speak to Frontier.
Residents said the activities of the gang and the sporadic oversight of the YCDC had not led to any semblance of order.
Myat Thwin said that in June 2016 vendors had blocked access to his two shops and he complained to Pazundaung YCDC, but no action was taken.
Undaunted, Myat Thwin kept pressuring the YCDC and about six months later it arranged a compromise under which the vendors agreed to move back three feet from his shop front – even though, as the shop owner, Myat Thwin was formally entitled to ten feet of clear pavement.
The compromise failed to hold, however. "At first, they stepped back but a few days later their stalls were back to where they had been," he said.
Myat Thwin said that, now, if a complaint is made against the street vendors, Pazundaung YCDC staff will arrive the next day and issue notices requiring them to remove their stalls. "But the street vendors are still there," he said.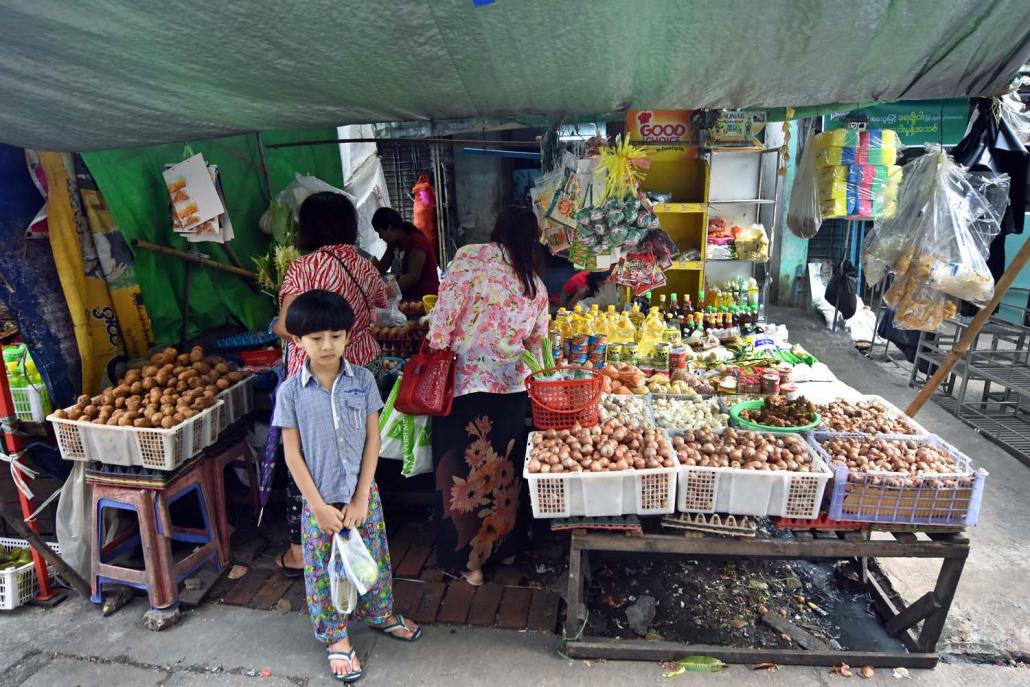 Under a YCDC by-law that took effect on October 1, street vendors who operate without a municipal licence are liable to fines of between K50,000 and K100,000, and one year in prison for a repeat offence.
Meanwhile, the owners of unlicensed temporary or permanent stalls, such as those made from bamboo on Kwet Thit Street, are liable to a fine of up to K1.5 million, and six months imprisonment for a repeat offence.
Asked about Kwet Thit Street, officials at Pazundaung YCDC gave a variety of answers.
U Sit Myint, 57, administrator of the Pazundaung municipal office, said the township did not have enough staff to monitor street vendors.
U Aung Swe, 54, the assistant administrator, said the township's staff "on the ground" had not reported the situation on Kwet Thit Street.
However, Frontier saw YCDC staff sitting in chairs and monitoring the entrance to the street.
Aung Swe said that they were not aware about anyone letting stall spaces.
Myat Thwin said that in December 2016 he had complained directly to City Hall, YCDC's headquarters, about the illicit letting of spaces and was directed to the head of the southern district, with whom he was able to discuss the issue.
"Later, he said the Pazundaung office had sent documents saying the problem had been solved, but it is obvious that the township office lied to the district office," he said.
Residents of Kwet Thit Street strongly suspect that members of the Thaketa gang and some YCDC officials are working together to make money from the street vendors, including through the renting out of spaces.
However, that would be news for Aung Swe.
"I've never heard of corruption in my township," he said.
TOP PHOTO: Steve Tickner | Frontier